Long before the Spaniards arrived in the Philippines to see natives in the most arresting fabrics worn in a tribal manner, Chinese traders exchanged silk for these durable wovens. Here are the 8 top indigenous weaves that may someday go global. Say hello to our national fabrications and their exotic names, they are durable and weather friendly colorful fabrics which was practical yet strikingly beautiful. It can happen, already local designer Patis Tesoro, for instance, has met with Salvatore Ferragamo, Valentino and Giorgio Armani who are interested in piña, known internationally as pineapple organza.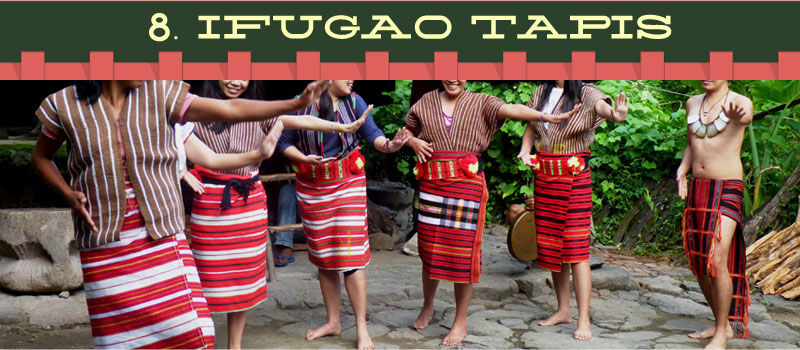 Among cultures in the Philippines, Tapis may generally refer to a single rectangular piece of cloth one wraps around oneself as clothing, but usually specifically applies to a colorful hand-woven wraparound skirt which was commonly used by women throughout the Philippines before the arrival of European colonizers, and which is used by some indigenous tribes today. The tapis worn by the Cordilleran women of Northern Luzon, known locally as the alampay, is the most prominent example.
It is worn by wrapping the cloth around one's waist and holding the ends together with the use of a tightly tied sash. It generally reaches down to knee length, and the weaving pattern of describes the culture and temperament of the wearer's tribe.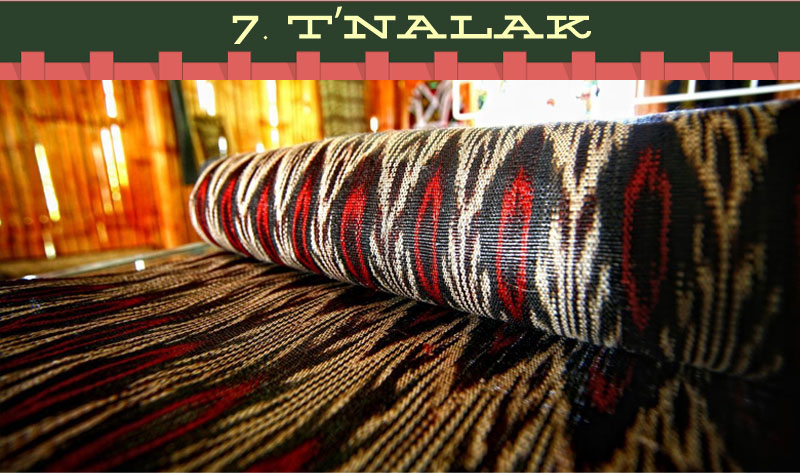 Nalak is a special kind of hand-woven abaca fabric unique to the ethnic T'boli tribe of Southern Mindanao in the Philippines. The rich color comes from vegetable dyes and the natural pigments from tree barks. There aren't many tinalak weavers anymore, in fact Philippine cultural institutions have declared the weavers from the T'boli tribe as national creative artists to support their weaving tradition.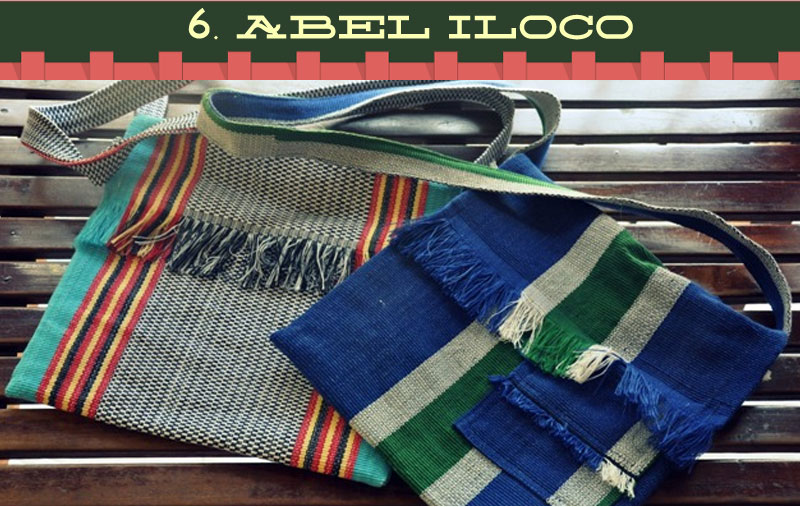 The material used to make the abel fabrics are cotton yarn locally called "sagut". The northern Philippines, particularly, grew cotton plants whose flowers were then intricately and lengthily processed in the homes to produce yarn. On the whole, abel-weaving follows a very intricate process – from preparing and dyeing the yarn, to arranging different colors of yarn to produce the desired design, and operating the wooden handloom with the synchronized movement of both hands and feet.
Abel Iloco can be made into structured fashion forward garments because it has a strong weave and it can be cut on the bias and has a good drape. It is known throughout the country and overseas for their durability. As a whole, products from Ilocos handlooms are utilitarian: for that matter, traditional crafts of the Ilocanos are meant for day-to-day rugged wear.
Dr. Antonio Morga, A Spanish chronicler, wrote in 1610 in his "Sucesos de las Islas Filipinas" that the American Plain Indians heavily favored the thick and coarse type of cotton blankets coming from the Ilocos, presumably shipped to Mexico via the galleon trade.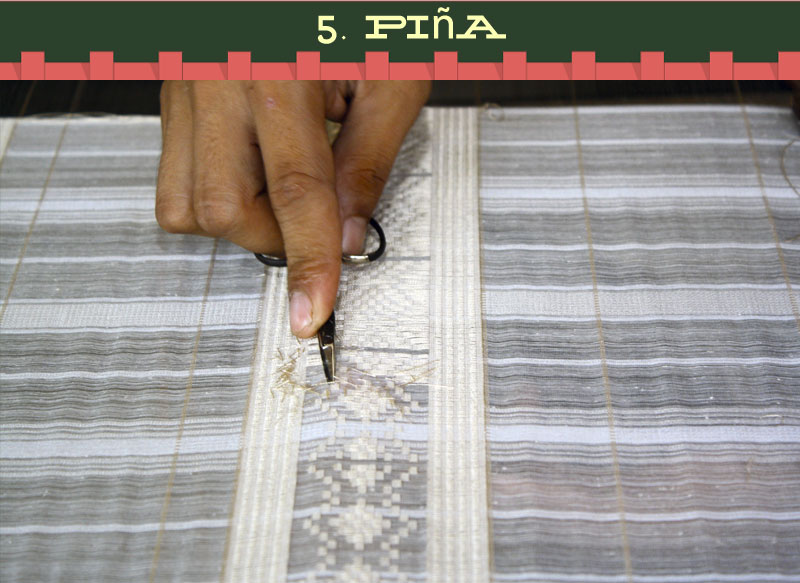 Piña fiber is the ingenious fabric derived from the leaves of the Spanish Red Pineapple, and is the finest of all Philippine hand-woven fabrics.
Pineapple fibers are an ivory-white color and naturally glossy. This delicate and dreamy cloth is translucent, soft and fine with a high luster.
The traditional decoration for this fabric is a style of hand embroidery called calado. An embroidered piña garment is called piña calado. These handwoven fabrics are colored with vegetable dyes originating from leaves, and bark of different trees.
Pina fiber is often blended with cotton, abaca, and silk to create wonderful light, breezy fabrics. When woven with silk, it's called piña seda or piña-silk. Piña jusi is blended with jusi (abaca or silk) for strength and sheerness and is less expensive than 100% piña.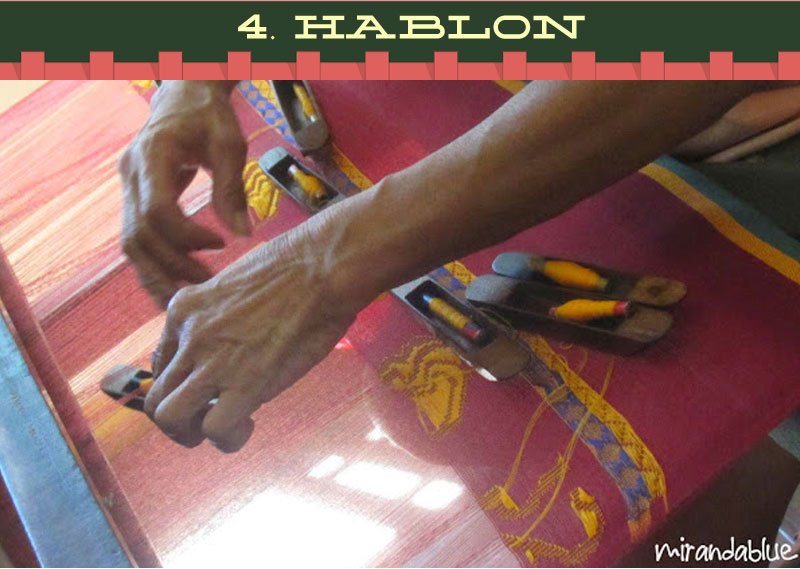 The Hablon handloom-weaving industry is making a comeback in Miagao, Iloilo. Hablon refers to the hand woven textile, made of jusi (banana fiber), piña (pineapple fiber), locally grown silk threads, cotton, rayon, and other indigenous materials that creates an attractive textile of emerald, lavender, pink, tangerine, and crimson colors. Traditionally known for products such as the multi-colored, checkered patadyong skirt, bandanas, and household items (mosquito nets, blankets, table runners, etc.), Hablon fabric is emerging into a versatile and unique textile, currently making waves in the Philippine and international haute couture particulary by designer Nono Palmos for Nora Aunor.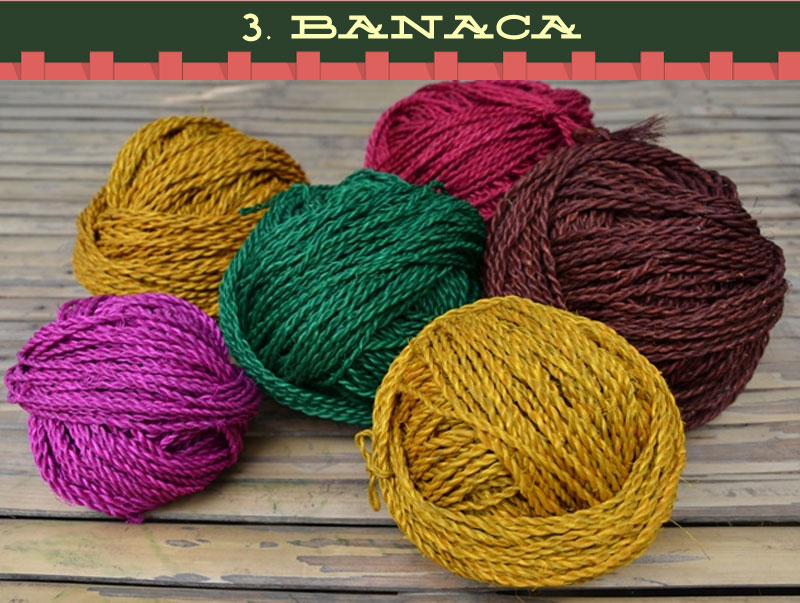 Once used to make common products such as slippers and ropes, the abaca is repurposed into a luxury eco textile.
A pioneer in the local eco-fashion movement, designer Fernandina "Dita" Sandico Ong sustainably produced her signature fabric from the exotic plant musa textilis. She christened it "banaca," because abaca belongs to the banana family called Musaceae.
"I'm leveling up the look by adding more embellishments and coming up with bigger wraps," she says. Sandico Ong is underscoring her forte as the "Wrap Artiste."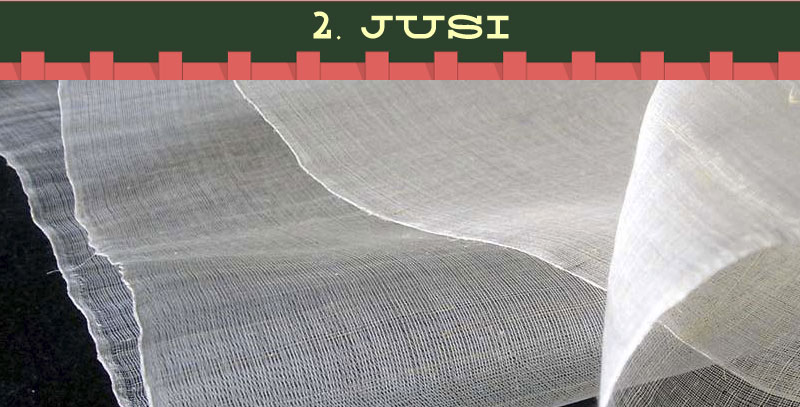 Jusi originated during the Spanish colonial period. Also from pineapple, this is a sheer stronger and tighter weave than pina and is tradionally worn as Barong Tagalogs.
Our indigenous fabrics really become world class when our young designers mix all elements, infusing pina, hablon, abel iloco in modern fashion. Our fashion editorials using all of the above. Also fashion shows in US and Europe where media, buyers and audience were stunned by our local textiles and wovens, the colors, embroidery that they have never seen before.
Do you have anything to add on this list? Share them with us at the Comments Section below!