Less than a week into 2020 and news of a possible brewing World War 3 was already trending online. Amidst all the Tala dance covers, KPop hashtags, and celebrity pun name memes is news of an imminent threat that could signal the start of more chaos and destruction. Are we really on the cusp of another terrible war that tear apart nations and cost countless innocent lives?
How did the countries involved even get here? Here's what you need to know
On January 3, Iranian commander Qasem Soleimani was reportedly killed in a drone strike by the United States
To understand the gravity of this act, one must first understand who Soleimani is and the power he holds. Quasem Soleimani is the second most powerful man in Iran next to Supreme Leader Ayatollah Ali Khamenei and has been the head of the Revolutionary Guard's Quds Force (Iran's elite unit that handles overseas operations) since 1998. He is considered by many Iranians as a national hero.
Also killed in the attack was Abu Mahdi al-Muhandis, deputy head of Iraqi Popular Mobilization Forces (PMF).
Pentagon released a statement confirming Soleimani's death
— Donald J. Trump (@realDonaldTrump) January 3, 2020
The US airstrike that killed Soleimani was ordered by American President Donald Trump. CNN reports that it was meant to "'terminate' a top Iranian commander who was plotting 'imminent and sinister attacks' on Americans."
The US believes Soleimani to be a terrorist and had at one point called him and his troops a "foreign terrorist organization."
Iranian general Esmail Ghaani, Soliemani's successor, has stated that Iran will be taking "actions" against the US as revenge for the general's death.
But what's the root of the problem?
This is the largest crowd I've ever witnessed in my life. I've never seen Iranians so unified, ever.

This is Suleimani's funeral in Ahvaz, Iran.

Trump has no idea what he has done.pic.twitter.com/ScUhduX96S

— Amir (@AmirAminiMD) January 5, 2020
While the United States has long been blaming Soleimani for hundreds of deaths of Americans from various attacks in recent months including the December 27 strike that killed an American contractor, tensions between Iran and the US date back for decades.
In the 2000s, it was known that Iran was developing its nuclear program. Iran said their nuclear activities were peaceful but many countries did not believe that. In 2015, a special agreement was made between Iran, US, UK, France, China, Russia, and Germany. It stated that Iran had to limit sensitive nuclear activities and allow international inspectors to monitor their practices. In return, the United Nations had to lift the sanctions they put on Iran that crippled the country's economy.
In 2018, President Trump decided to pull the US out of the agreement and put the sanctions back on Iran especially keeping an eye out for their oil exports. This move clearly put a strain on the Iran-US relations and every action after that was delicate.
In the age of social media, everything is turned into a joke
me when the government comes knocking on my door for the draft pic.twitter.com/gitX4Q1qHi

— James Charles (@jamescharles) January 3, 2020
"jokes are how we cope" you as a western living in europe, america or austalia have nothing to cope with! war will never touch you! american wars never touch american soil, its poor people in the global south who will pay for it in their blood and in their lives and dreams!

— M (@lesbianweiying) January 3, 2020
Americans are making a joke out of something that will kill millions here in the Middle East. Our lives are in danger. We're worried about our future. This is disgusting. https://t.co/T6mzbYfAli

— yousef (@yousefslym) January 3, 2020
yeah ngl this 'we joke to get us through trauma' thing ain't applicable this time lol, it is not your trauma to joke about

— galatians 4:16 ⁷ (@chornwolloms) January 3, 2020
I'm sure you've all seen the WW3 memes and Americans joking about avoiding being drafted to the army. Sure, anybody could appreciate the humor in times of distress, but we feel that you have to draw a line somewhere. We have to be grounded in the fact that war is real. There are real people dying, real societies being torn apart. It's time to pack up the memes and instead create awareness that this war should be avoided at all costs.
On January 8, Iran carried out a ballistic missile attack on airbases housing US troops in Iraq
Iran took & concluded proportionate measures in self-defense under Article 51 of UN Charter targeting base from which cowardly armed attack against our citizens & senior officials were launched.

We do not seek escalation or war, but will defend ourselves against any aggression.

— Javad Zarif (@JZarif) January 8, 2020
No casualties were reported from the more than a dozen ballistic missiles launched. After the Iranian missile attacks, Iranian Foreign Minister Mohammad Javad Zarif took to Twitter to say that they "do not seek escalation or war, but will defend ourselves against any aggression."
For his part, President Trump also posted boasting about America's military saying "We have the most powerful and equipped military anywhere in the world, by far!"
All is well! Missiles launched from Iran at two military bases located in Iraq. Assessment of casualties & damages taking place now. So far, so good! We have the most powerful and well equipped military anywhere in the world, by far! I will be making a statement tomorrow morning.

— Donald J. Trump (@realDonaldTrump) January 8, 2020
Which countries will be involved in the mess once it turns into a full-blown war?
For the first time in the history of Iran, the red flag has been hoisted over the dome of Jamkaran Mosque which means IRAN has traditionally announced a war. This matter has gotten very serious now.
Memes apart, I request you all to pray for PEACE 😔#WorldWarThree pic.twitter.com/iYEAX3qcNv

— Mohsin javed (@Mohsinj15518000) January 4, 2020
In the event of a future war, alliances are going to be forged. Those who are poised to support Iran could be found both inside and outside the Middle East. Islamic nations such as Iraq, Lebanon, and Syria are loyal to the late General Soleimani, therefore, they will side with Iran. Outside of the Middle East, Iran is allied with Russia and Venezuela.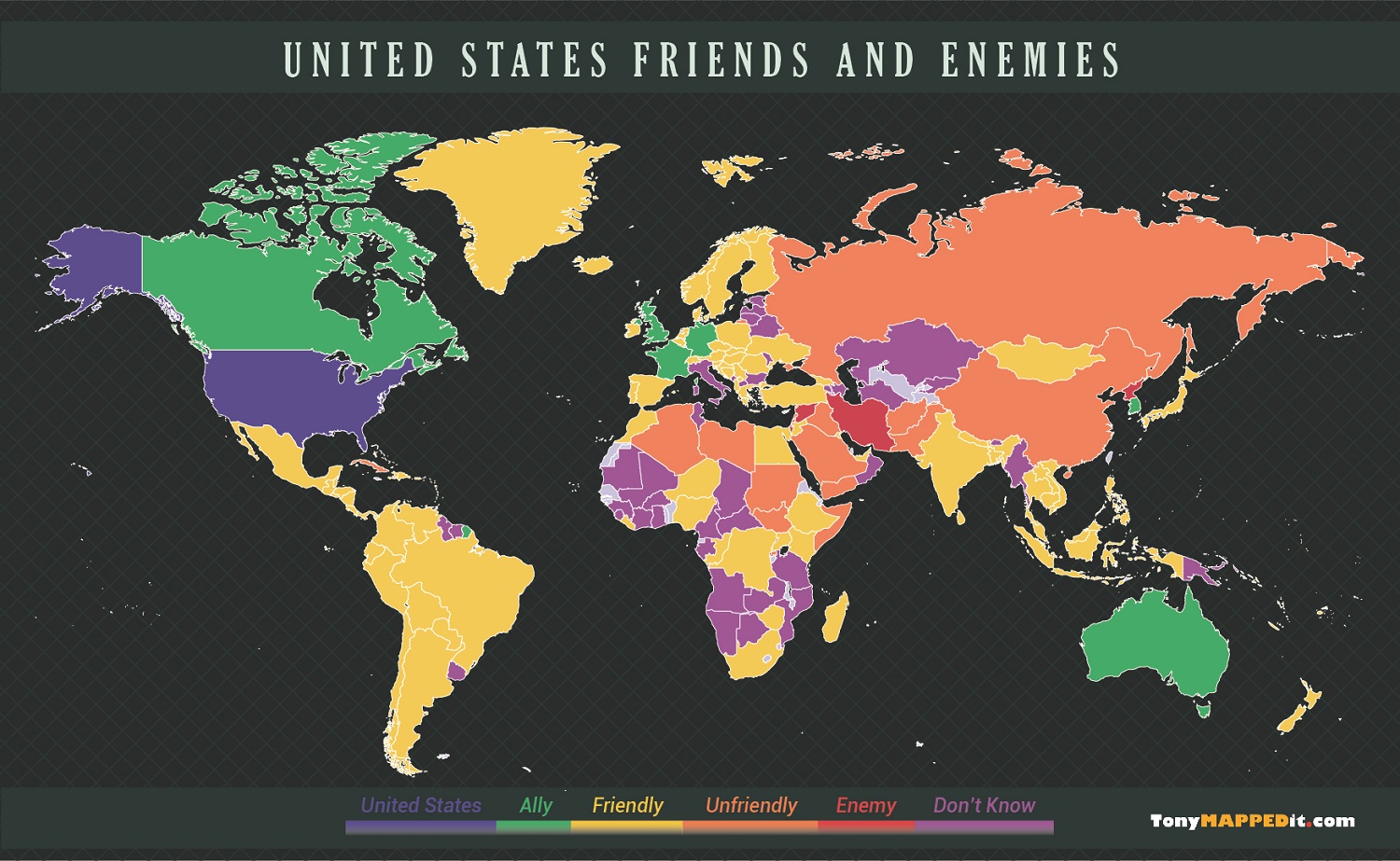 On top of being a global superpower since the 18th century and a military superpower today, the United States also has a lot of allies to choose from—including, potentially, the Philippines.
Currently, there is yet no declaration of war between Iran and the US
War is not a fucking joke. It is a destructive and selfish act. 4,424 U.S. soldiers and an estimated 600K Iraqi civilians died in the Iraq war over WMDs that did not exist. So please stop with these #WWIII memes and instead call your Congress members and tell them #NoWarWithIran.

— Ryan Knight 🏳️🌈🗽 (@ProudResister) January 3, 2020
While tensions between the two countries are still high, they've yet to actually declare war. All these news of attacks are just the two countries skirting around the idea. But it's not too late for Iran and the US to step away from the brink of World War 3.
Because nobody ever really wins in war
THIS IS WORTH A VIEWING pic.twitter.com/T81Mkuap5C

— miguelito (@w0rldleadir) January 4, 2020
Resources from entire countries get depleted, innocent lives are taken, anger and mistrust are sown, and millions mourn over war. There is nothing good about war. If anything, it clearly shows how little humans have progressed since the last two World Wars. The weapons being used might be advanced and the tactics might be new but the results are the same: bloodshed and death. Maybe we shouldn't mock beauty queens after all when all they wish for is "world peace." We clearly need it.
Got anything else to add? Share it with us below!