Worst MRT and LRT Moments of 2017
Dec 30, 2017 &nbsp • &nbsp Kyzia Maramara
In times of hardship and rush hours, know that you can never rely on MRT and LRT. Sure it takes you to where you need to go, but with casualties: hour-long lines, sweaty people, heat, and the accidents. We can't even call it "occasional accidents" because they happen almost every day nowadays. Whenever we see 'MRT' trending on social media sites we just roll our eyes because we know it'll be the same news.

Here are 8 times MRT and LRT failed us this year. Looking forward to a better year ahead!

[
1. When a woman's arm was severed by the MRT
A 24-year-old woman's right arm was severed after she had a dizzy spell and fell from the platform of MRT Ayala station. She fell into the gap of two coaches just as it was leaving. Despite the accident, her family are thankful for all the miracles involved: first was there was a doctor around who did the first aid, second, it wasn't her body that was harmed, and third, the doctors from the Makati Medical Center was able to reattach their daughter's arm.
2. When the coach decoupled leaving operators 'baffled'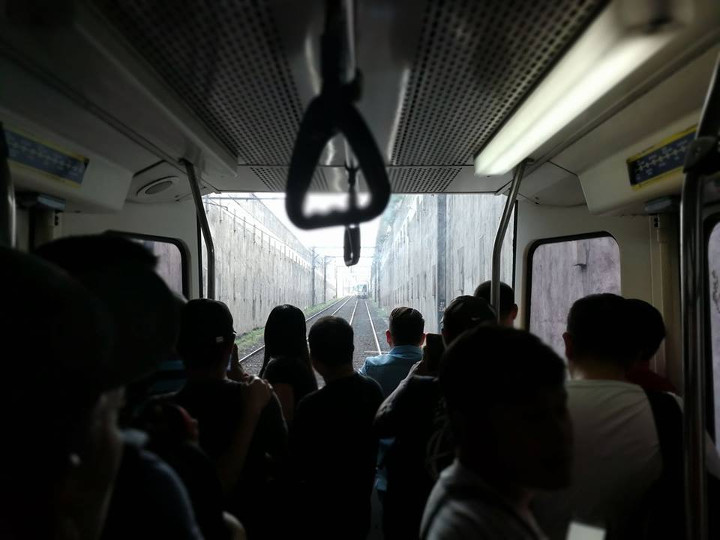 It was a normal rush hour at the MRT Line 3 when a coach detached from the train forcing passengers to walk to the next station. Authorities say they are baffled by the incident; it could not have been a mechanical error because "it only takes human intervention to detach the couplers." There's also the problem of the missing black box that acts like a CCTV for the coaches. Whatever the problem was, it's just another normal day in the lives of MRT commuters.
If you want to know how the passengers dealt with it, check these memes.
3. When LRT-1 dragged a man across a platform
A man's foot got stuck in the door of a moving LRT causing him to lose his balance and get dragged. He was rushed to a hospital and admitted to the ICU after doctors diagnosed him with internal bleeding in his brain. Aside from that, he also suffered injuries on his face including a broken nose. He explained that he stuck his foot at the door because he thought it would open automatically as it usually does. Authorities explained that not all of the LRTs have that technology.
4. When the LRT doors were open while the train was moving
Posted by Jason Ibe on Monday, November 27, 2017
Ever wondered what it feels like to be part of Divergent's Dauntless faction? The passengers aboard this LRT ride sure did. In yet another glitch, the LRT 1 from Vito Cruz to Quirino station malfunctioned and failed to close its doors. It's a good thing it was a skip train, there were few passengers inside. This has also happened back in 2016 but the train travelled two stations and with more passengers aboard. It's a good thing nobody was hurt during both incidents.
5. When people were late because of a diaper
We've had our fair share of bizarre excuses for being late but this one seems to be the most bizarre of all: the MRT operations were halted for over an hour because of a diaper hanging on the train lines. It might sound funny but the chaos it caused was not. The MRT had to limit its trips from North Avenue to Shaw Boulevard and hundreds of passengers needed to find an alternative. Add that to the fact that nobody probably believed them why they were late until they saw it in the news.
Also, what kind of irresponsible person would throw that diaper?
6. All the times passengers were forced to walk along the tracks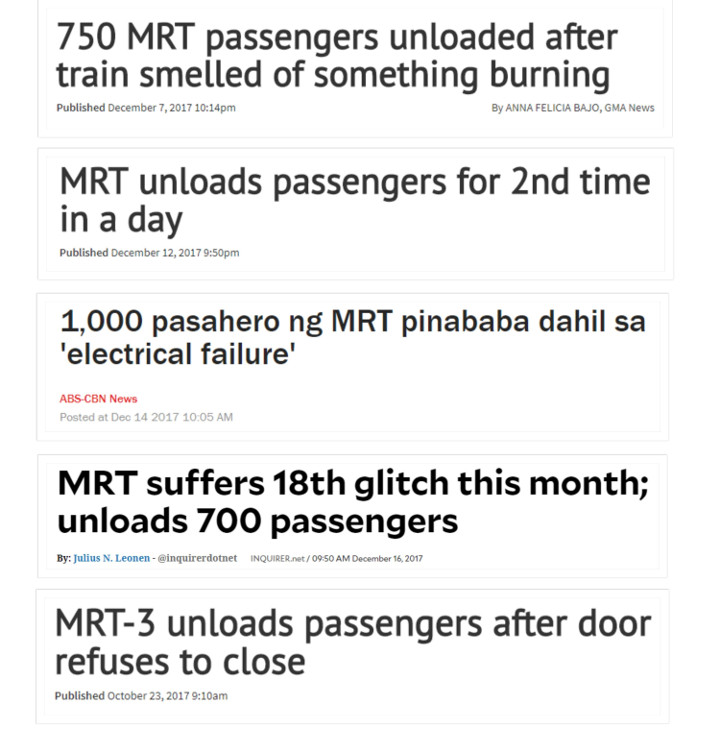 There have been so many times MRT passengers were forced to walk along the tracks because the train stopped working in the middle of the ride. These passengers not only had to walk back to the platform, they also had to deal with the fact that they were sure that particular MRT would lead them to their destination, instead, it left them hanging. The MRT can't even commit, guys.
7. When the seat of an MRT caught fire midtrip
A seat in the MRT caught fire just as the train was pulling into Santolan station. Due to the incident, operations were disrupted (what's new?). The regulator board under the seat in coach 66 caught fire; the train's operator put it out with a fire extinguisher. Fortunately and surprisingly there were only a few passengers aboard and nobody got injured.
8. Every single day the MRT develops a blockbuster line
Daily Pinoy problem, but make it festive.

Photo by Mark Flores pic.twitter.com/1VNai3y7jV

— Karl (@KBOMolina) December 2, 2017
Does this one really need an explanation?
What's your worst experience at the MRT/LRT this year? Share it with us!