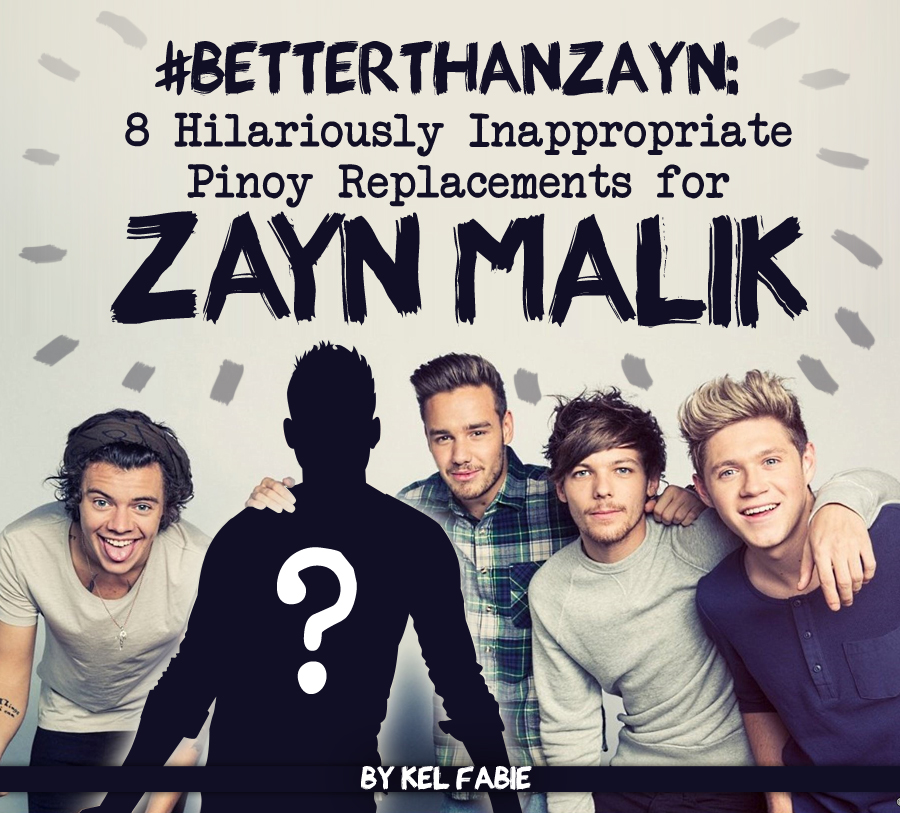 In the most shocking bit of entertainment news in recent weeks, One Direction is now headed in at least Two Directions, now that Zayn Malik has officially quit the group. The Philippine fanbase ended up being the first victim of his departure, as he missed the manila leg of One Direction's world tour before officially leaving the boy band altogether. An earthquake at a cigarette factory couldn't possibly have seen nearly as many hopes crushed thanks to this development.
Minus One Direction? What will they ever name themselves now?
This is a tragedy. And I'm sure I could definitely help out by offering capable performers who could very well replace him. But where's the fun in that? Here now are 8 hilariously inappropriate substitutes for Zayn Malik, with little regard for the logistics or feasibility involved.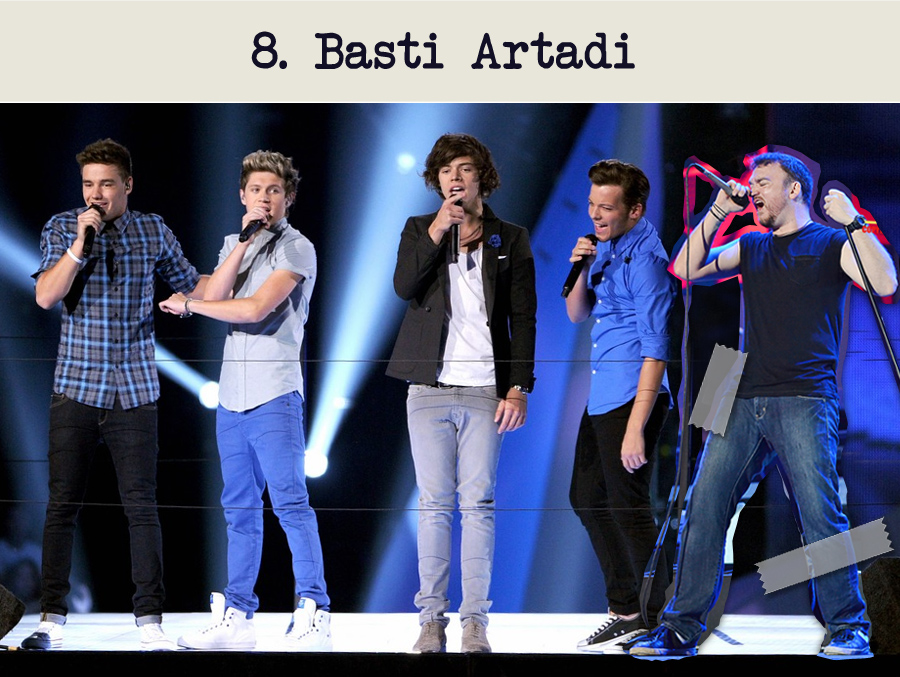 Who He Is: Lead singer of Wolfgang. A rock icon.
The man exudes coolness with everything he does. People worship the ground he walks on, although he definitely hits a different age demographic compared to the rest of 1D.
Of course, you just know he'll take the piss out of being a member of One Direction every chance he gets, because he's Basti f'n Artadi. Something like this, for example. But maybe that's exactly why we'd want him in there.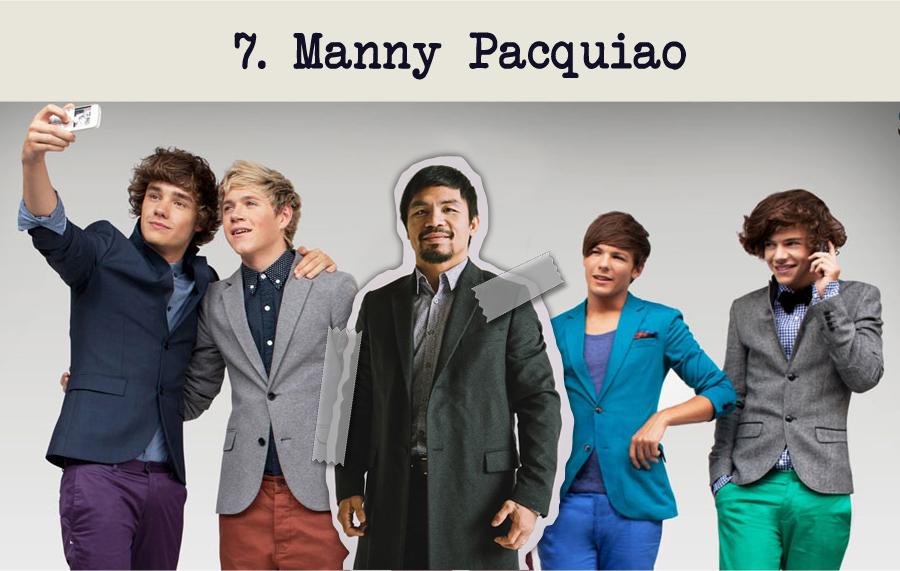 Who He Is: Really?
Not only does he have the name recognition and a singing career to boot, this man even had hair that wouldn't look out of place in a 1D lineup, either. True, that was mostly chalked to being a weird phase for Manny nowadays, but hair grows back.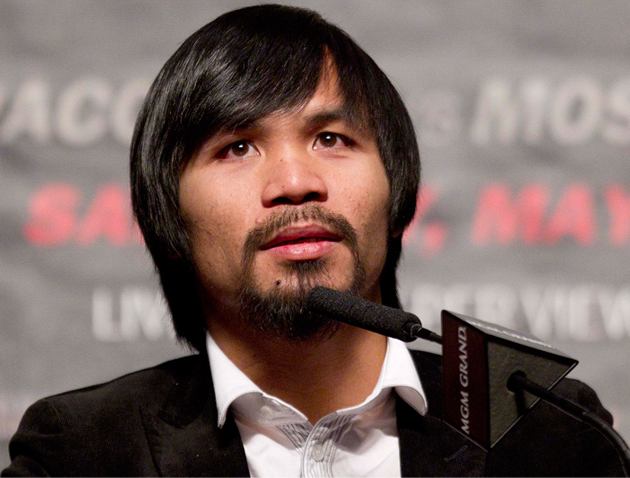 If Mayweather fought Manny while he looked like this, Floyd would knock himself out…
Manny Pacquiao is guaranteed money in the bank in pretty much any endeavor he undergoes. There's no way One Direction could lose out on having him as part of their group.
Except…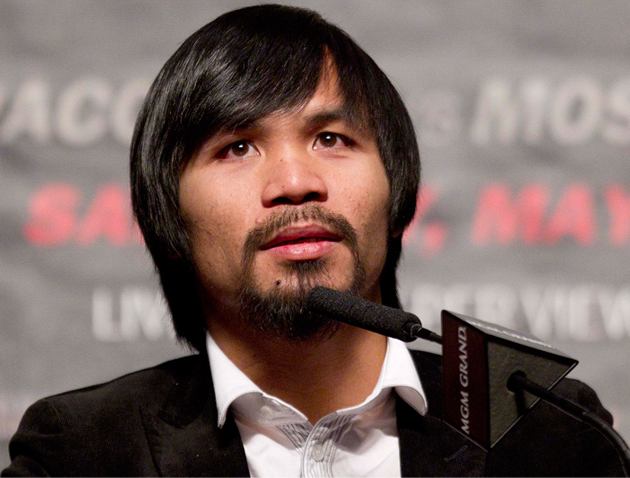 I still can't believe this was a thing.
Who He Is: The Amir of Philippine rap. Abs na tinubuan ng tao.
Carlos Agassi is a heck of a lot more ripped than anyone from One Direction. Maybe he could be the group's fitspiration, so that they could all get even bigger than they already are, in more ways than one? And, oh, yeah. He "raps."
I'm sure you could also pick a FlipTop stalwart like, say, Batas, as if to herald the gritty reboot of One Direction, but there's just something about Carlos Agassi's insistence on rapping to mask his obvious lack of talent that really just makes him fit so well with the group.  I'm sure I'm missing other factors that make him a perfect fit, but I can't quite put my finger on them just yet.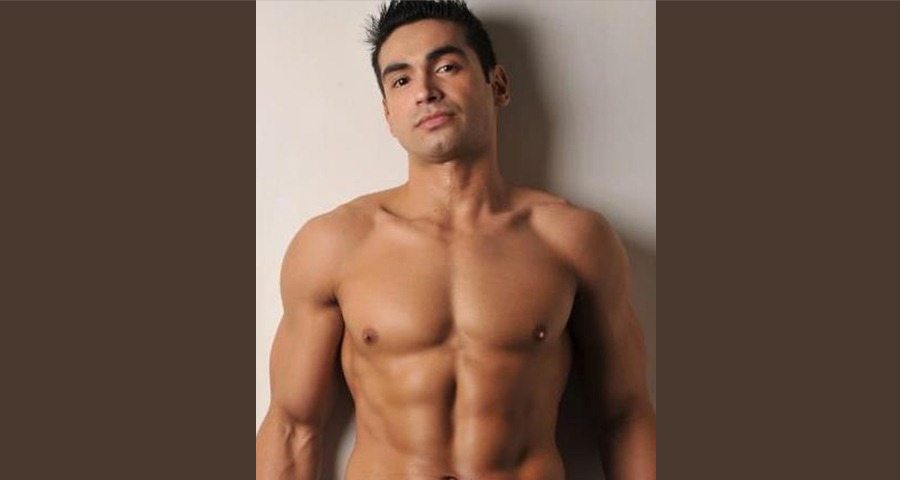 I'm sure some of you wish you could, though.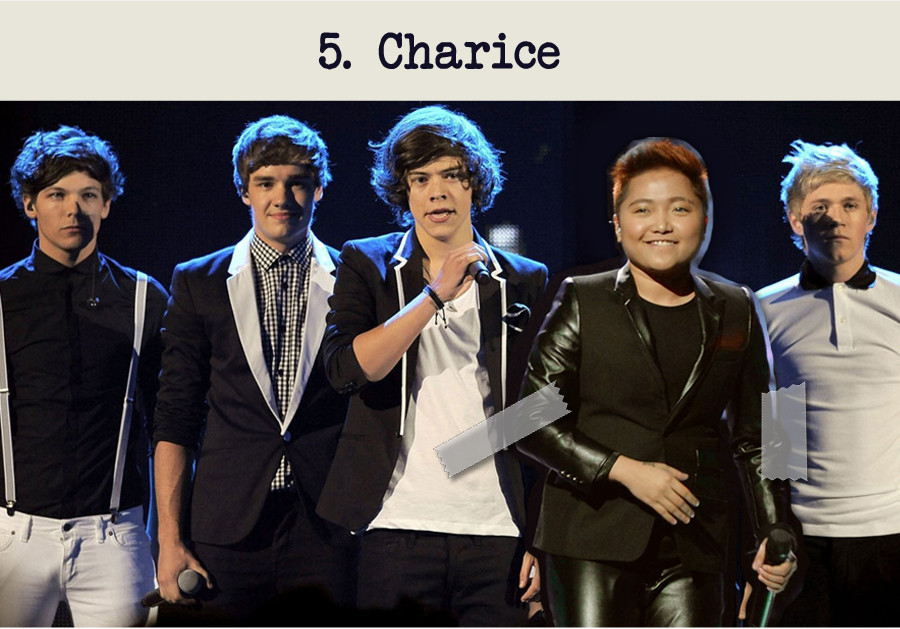 Who She Is:  "The most talented girl in the world," according to Oprah Winfrey. Worldwide pop sensation, and the first ever solo Asian artist to score a top 10 in the Billboard 200 with her single "Pyramid."
You want to infuse talent in 1D in a hurry? You bring the heavy guns in with Charice.  Oh, sure, it kinda ruins the whole "boy band" thing, but it's pretty clear that given recent developments in Charice's life, they'd still be headed in "One Direction." And that's what makes her beautiful.

Who He Is: An ASAP stalwart, this crooner is often dubbed as the "Michael Buble of the Philippines," and he's married to Maricar Reyes.
Richard Poon brings a different flavor to 1D with his Harry Connick-influenced stylings, which could help mature the group's sound over time. He also brings a certain kind of automatic virality when you make a hashtag out of his name, as the #Poonatics were quick to discover.
I would have put former child star and now comebacking actor BJ Tolits in this spot, but I'm trying to avoid putting anyone in this list that would make the average Pinoy reader go, "who?!?"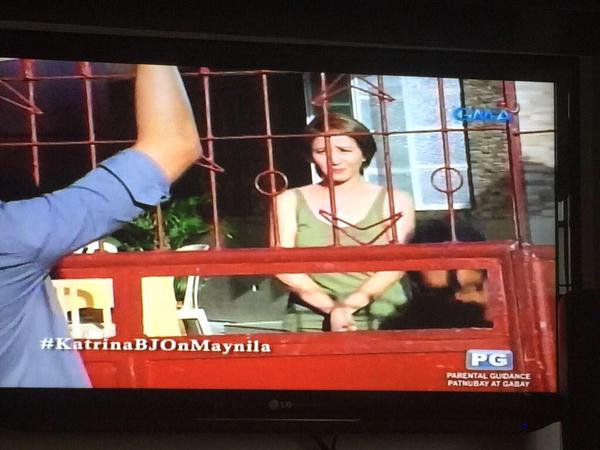 His hashtags are the stuff of legend, though.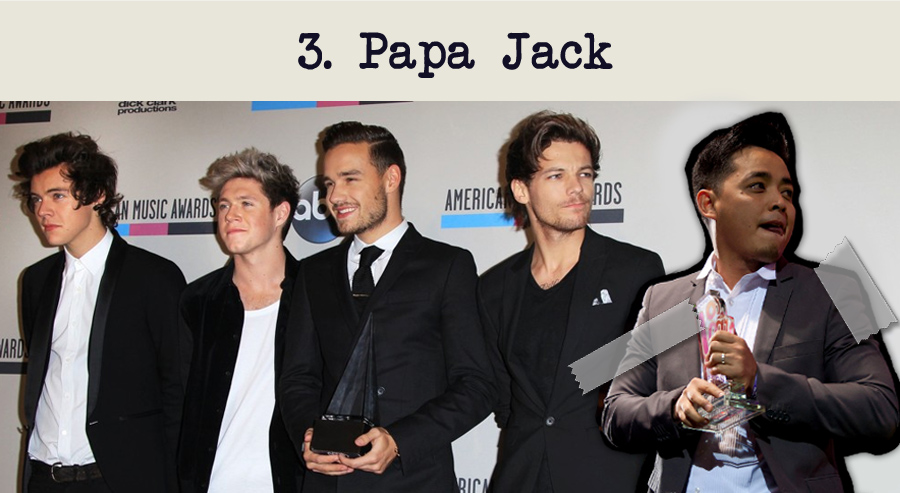 Who He Is: Probably the most popular male DJ currently active in Philippine radio, unless Mo Twister or Chico Garcia have something to say about that. Infamous for his "advice" program on Love Radio, "True Love Conversations."
Someone needs to go through all the fan mail of One Direction, and who better than Papa Jack himself? Not only will he be performing with the group onstage when his time comes, he's going to even dispense advice and tell crestfallen fans to say "thank you, I love you, and goodbye" whenever one of his bandmates breaks the heart of yet another tween Directioner.
And yes, he does sing! In fact, he performs in that bastion of musical talent, Padi's Point, on a regular basis. Clearly, a perfect fit for Henry, Niall, Liam, and Louis!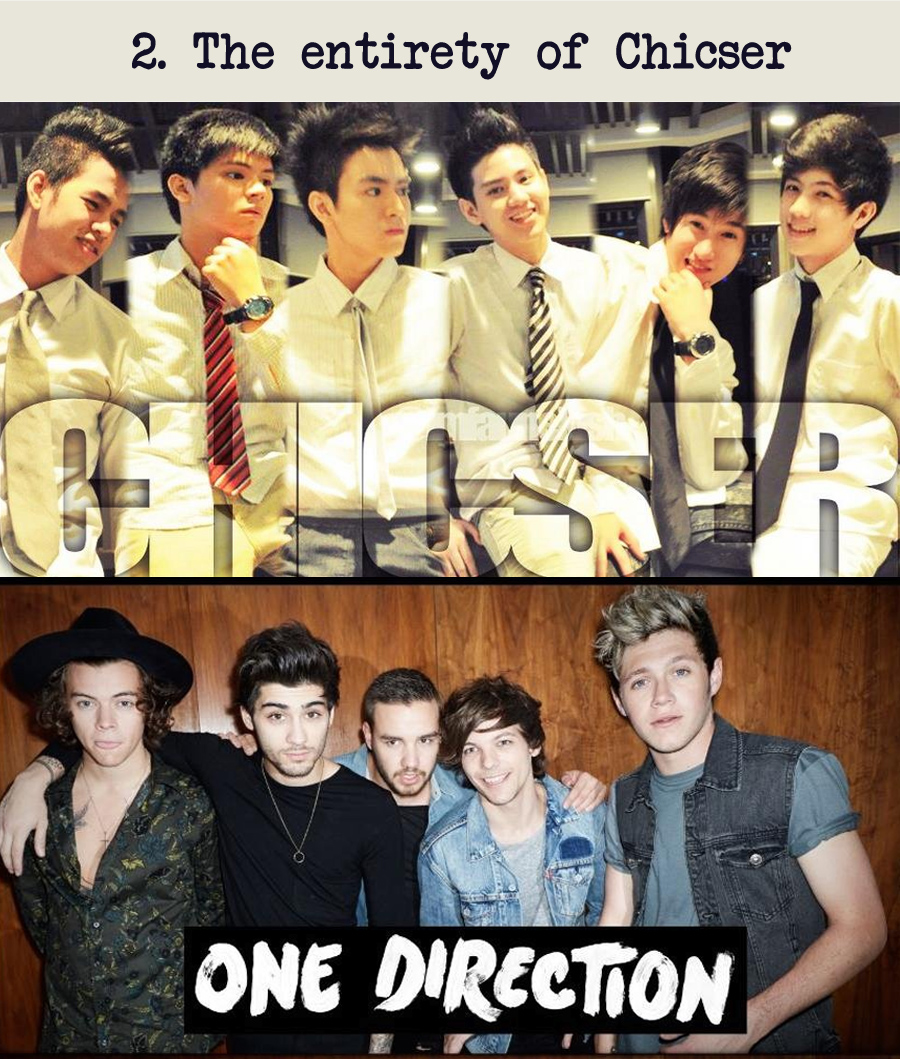 Who They Are: Who Chicser is cannot be explained. They need to be experienced.
There's really only one reason why I would love for Chicser, the Pinoy off-brand version of One Direction, to be absorbed by the original, really: so I get to ignore two terrible music acts for the price of one. Then again, Chicser's "talent" makes 1D look like the second coming of the Rolling Stones. They're that bad.
If 1:43, XLR8, Chicser, Justin Beiber and One Direction could come together to form some kind of supergroup, I'd be even happier, knowing I can ignore even more talentless hacks all in one go.
Who He Is: The former lead singer of Side A. Does he own the rights to "Forevermore?" because that'd be an awesome song for One Direction to work with!
Joey Generoso left Side A practically on the same day One Direction announced that Zayn was leaving the group. Somewhere, Arnel Pineda must be very proud.
Coincidence? I think not.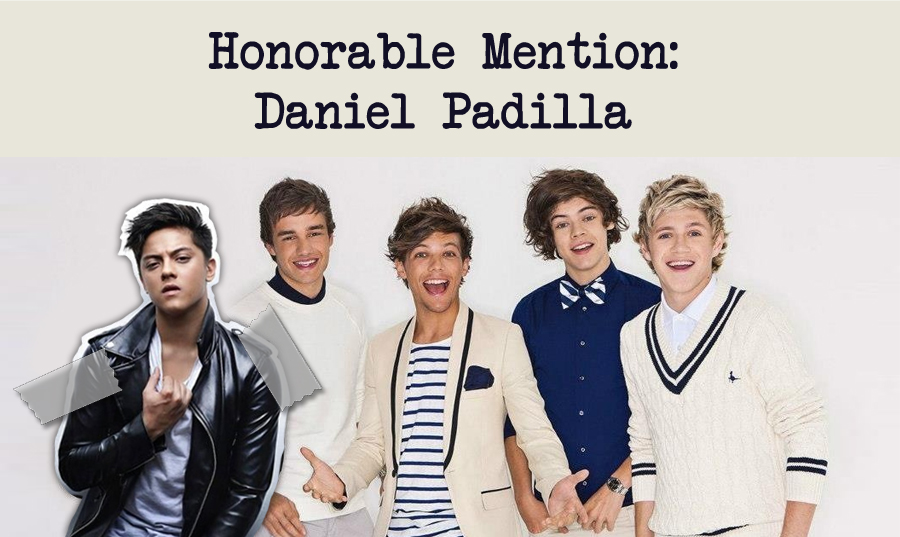 Who He Is: The guy ne ne se kenye ne eng lehet.
Let's face it, guys: the only reason Daniel Padilla isn't on the main list is that everyone expected him to top it so much, it would be anti-climactic to see him there.
Who else do you think could be #BetterThanZayn? There are so many possibly hilarious answers to that question, and we'd love to hear it from you! Comment here, or Tweet about it using the hashtag, and maybe we could have another 8List, this time, from your answers!