8 Albums to Look Forward to in 2015
Jan 7, 2015 &nbsp • &nbsp Timmy Potenciano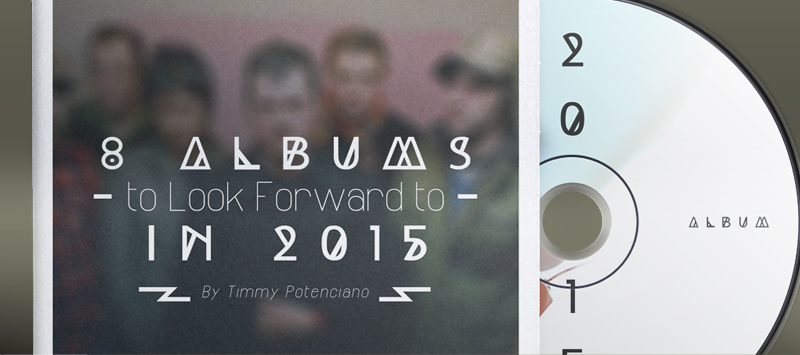 Happy 2015, music junkies! As with every year, there are lots of things to look forward to in the world of music. From long-awaited album releases, tour dates, up and coming stars and beloved band reunions, it's certainly no easy stretch to narrow a list of the new year's most anticipated albums down to just eight contenders. But since I'm sticking to a theme (this is 8List, after all), here are some of the albums to look forward to in 2015.


The iconic Queen of Pop's newest album is set for a March 10 release under Interscope Records, but has already come under fire on social media for touching on controversial themes such as Jesus Christ and perceived racism. Nonetheless, Madge's collaborations with EDM producers Diplo and Avicii assure the listening public of brand new dance anthems, at the very least.

Rapper Kendrick Lamar exploded onto the scene in 2012 with the release of "good kid, m.A.A.D. city," cementing his position as a force to be reckoned with in the world of hip-hop. Lamar, who hails from the gang-ridden city of Compton, CA, has held details of his sophomore release close to his vest, but his collaboration with legendary West Coast emcee Dr. Dre leaves hip-hop heads assured that the new album shall be one of the genre's most anticipated releases of 2015.
Named after a failed relationship from a woman from Montreal, resident indie pop weirdos Of Montreal are slated to release "Aureate Bloom," their 13th studio album. Known for visually stunning sets and quirky stage antics, the highly prolific (and eccentric) vocalist Kevin Barnes describes the album as an emotionally open piece of work. We're fairly sure Of Montreal is still going to steer us onwards towards weirder aural frontiers with the LP, expected to drop on the 3rd of March.

It's been eight long years and nary a peep has been heard from Issaquah, WA's Modest Mouse, until this year. Following fifth album "We Were Dead Before the Ship Even Sank," the newest opus shall be released under frontman Isaac Brock's record label, Glacial Pace. Little is known about the new LP, aside from collaborations with Nirvana's former bassist Krist Novoselic and Outkast's Big Boi. Nonetheless, indie fans will be thrilled to know that the album drops on March 3rd of this year.

Very little needs to be said about Bob Dylan, as his illustrious contribution to music and popular culture has inspired countless artists and musicians for over five decades. Beginning in the 1960's as a poster boy for anti-war and civil rights movements, Dylan, whose real name is Robert Zimmerman, is set to release his 36th studio album in February 2015, three years after the release of 2012's "Tempest."

With no official dates or even a title, the critically-acclaimed, London-based trio has remained tight-lipped about the release of their third studio LP. Known for their slinky, slow electro-pop tunes (which are mostly about sex), the xx stunned listeners into rapt attention with their self-titled 2009 debut. Via a newsletter, the xx revealed that the album has been recorded in multiple cities, including Reykjavik, the capital of Iceland (where post-rock icons Sigur Rós and alt-rock queen Bjork are from), and Marfa, TX.

In September of 2014, seminal riot grrrl band Sleater-Kinney released "Bury Our Friends," a track that led many fans (including myself!) to speculate a reunion and the release of a new album. Ten years after the release of 2005's "The Woods," the three-piece band composed of guitarist Carrie Brownstein, vocalist Corin Tucker and drummer Jane Weiss, broke up the following year. Sleater-Kinney has indeed reunited and is currently gearing up for a US/Europe tour in 2015. "No Cities to Love" is slated for international release on January 19th and January 20th in the US under the historic Seattle, WA-based Sub Pop Records.

The moment producer Nigel Goodrich tweeted a photo of Radiohead frontman Thom Yorke and guitarist Jonny Greenwood in the studio tinkering with synthesizers, fans everywhere went nuts. After the release of 2011's eerie and electric "King of Limbs," the black and white photo is confirmation that Grammy award-winning Radiohead are indeed back in the studio, assuring fans previously left high and dry (pun intended) about the band's ninth LP would not be disappointed, with no alarms and no surprises (pun intended, again) in 2015.
Did we miss anything? Share more 2015 albums in the comments section below!