Here's What P67 Billion Could Do for Our Healthcare System (and More)
Aug 13, 2021 &nbsp • &nbsp Kyzia Maramara
Breaking news: The Commission on Audit (COA) reported deficiencies in the Department of Health's (DOH) management of pandemic funds amounting — you might want to sit down for this — 67 billion pesos. Yup, that's billion with a 'b.' And that 302-page COA report was made for only 2020. If you can't imagine how huge this amount is, check TikTok star Humphrey Yang's visual explanation:
That's a-freaking-lot. And while P67 billion is shocking, the COA report notes other deficiencies DOH needs to address. Here are just some of the notable figures that the audit uncovered:

Health Secretary Duque did say that these astounding numbers can still be accounted for. But let's think about how that P67 billion could make a difference if it were spent properly. Just how much can P67 billion do? Here are a few things the government could've allocated it for.
Pay health workers the wages they deserve
Philippine Statistics Authority's (PSA) 2018 Occupational Wage Survey
revealed
that healthcare workers earn lower than the national wage average for health professionals (P18,108).
A nurse working at a private hospital earns an average of P14,942 per month while a medical and lab technician earns P15,077. On top of the small earning, the Special Risk Allowance for these professionals often doesn't go above a few thousand pesos. P67 billion could hike up the amount they take home and better compensate them for their service. They are, after all, literally risking their lives for everyone else.
Purchase, transportation, and storage of vaccines
P67 billion is equivalent to 183 million Novavax jabs (P366) or 109 million AstraZeneca vaccines (P610). That also equates to 28 million Pfizer jabs (P2,379).
Back in December 2020, the President signed a 4.5 trillion budget for the Philippines. From that budget, we have "P72.5 billion for the purchase of storage, transportation, and distribution of COVID-19 vaccines." If you add P67 billion to the mix, we could get more vaccines, open more vaccination sites, and get Filipinos their jabs faster.
Here's Where the P389-M for the Manila Bay White Sand Project *Could've* Been Spent
Here's Where the P389-M for the Manila Bay White Sand Project *Could've* Been Spent
Kyzia Maramara | Sep 08, 2020
Upgrade healthcare facilities
Sa Php 67 BILLION kayang doblehin ang buong pondong nilalaan para sa Public Health Program ng DOH, 70+ DOH hospitals, Lung Center, NKTI, PCMC, at Heart Center!

Transparent and accountable leadership can make a great deal of difference in saving and changing lives for the better!

— Sarah Elago (@sarahelago) August 11, 2021
Currently, hospitals in NCR Plus areas have reached their full capacities. And almost two years into the pandemic, we're still at a loss on how to deal with it. There are 66 DOH hospitals in the country aside from Government-Owned and Controlled Corporations (GOCC) specialty hospitals like National Kidney and Transplant Institute, Philippine Heart Center, Philippine Children's Medical Center, and Lung Center of the Philippines. A budget as huge as P67 billion could've done so much to strengthen each hospital's pandemic response.
Upgrade medical equipment and supplies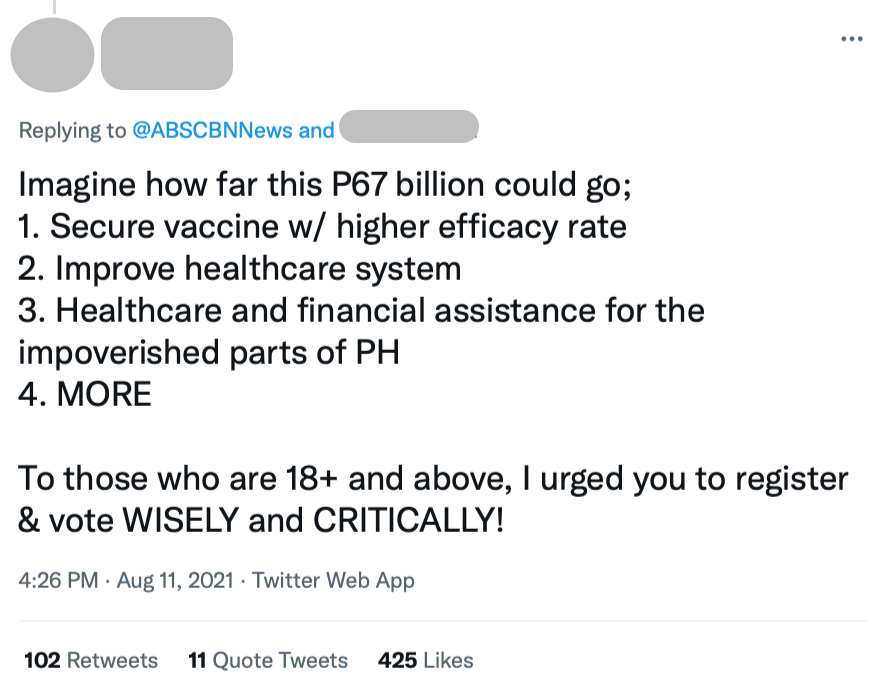 The report by ABS-CBN said that of the P67 billion, at least P69.942 million worth of medical equipment and supplies weren't used. This was "due to factors that could have been avoided if proper procurement planning was followed." P67 billion could've provided hospitals with more beds and oxygen tanks or, at the very least, PPE supplies and free food for its workers.
Boosting testing and contact tracing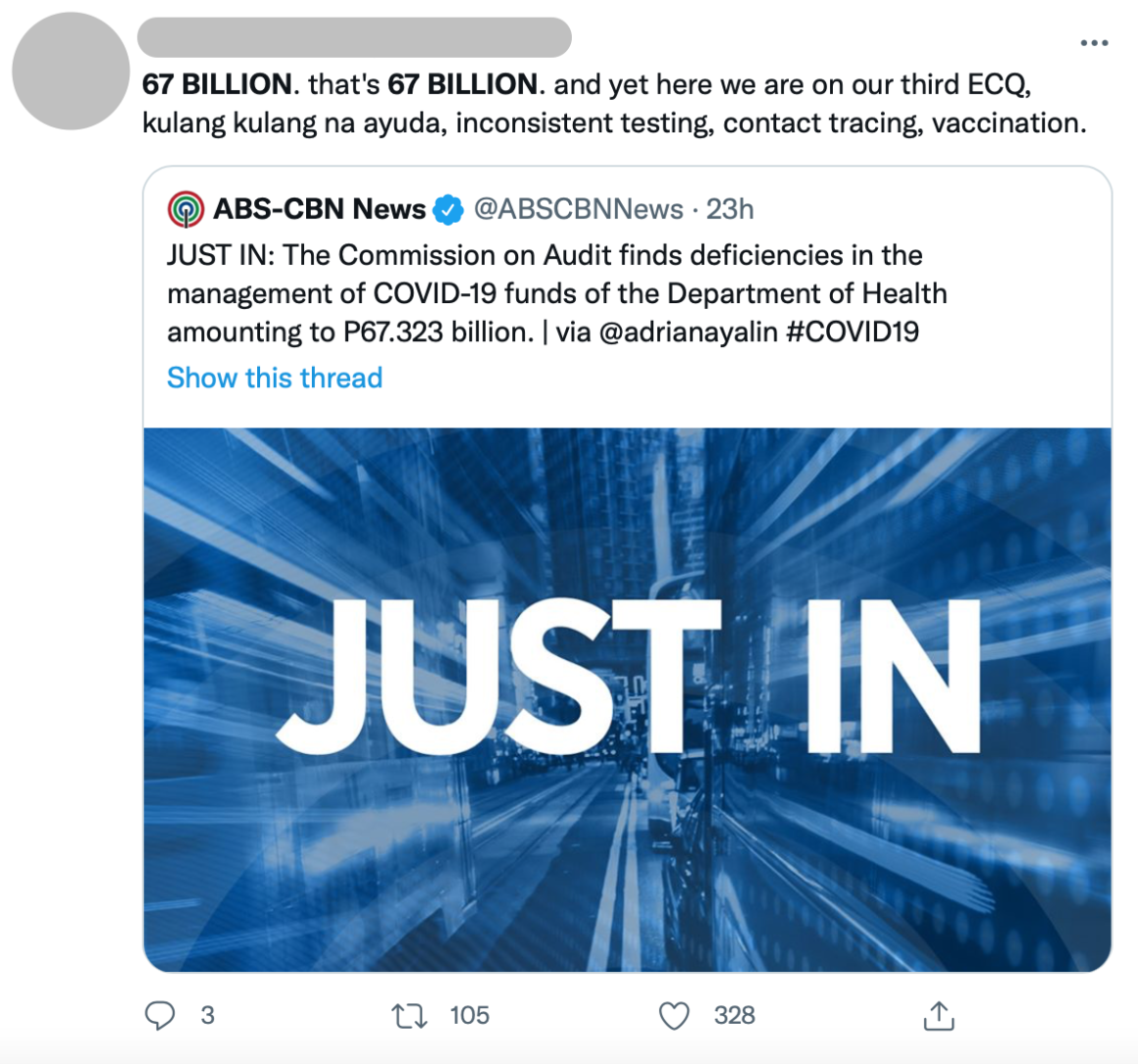 You only need a small portion of P67 billion to develop top-notch contact tracing systems. That would be a huge help. The budget could be allocated for better COVID-19 testing — additional testing sites and more testing-on-wheels for every barangay. It could even make quarantine facilities better.
Helping Filipinos pay off their healthcare bills

P67 billion is a jaw-dropping amount. ABS-CBN further reports that P275.908 million of that was spent on "cash allowances, gift certificates, and grocery items [that] did not have legal basis." Instead of only a few people benefitting, why not spend it on those in need? An average Filipino could spend anywhere from P400,000 to millions on their COVID hospital bill. P67 billion would have helped so many COVID-stricken Filipinos who are struggling to pay off their medical bills. It could also pay back double PhilHealth's P28 billion debt to public and private hospitals.
Ayuda for low-income households

That P67 billion could immensely help for other things as well outside the health sector, first and foremost as ayuda for Filipinos stuck in ECQ. DOH's deficient amount is equivalent to 1.7 billion kgs of rice or 3.3 billion canned goods to distribute to some 18 million poor households. It could even be an additional P5,153 cash aid for each of the 13 million residents of Metro Manila.
Lastly, gadgets for students and teachers

While the pandemic continues, face-to-face classes are unlikely to resume. This means students will have to rely on gadgets and the internet once again to keep learning. But what about those who still can't afford functional laptops? Though the educational system obviously isn't under the DOH's scope of responsibilities, that money could have helped so many students and teachers. Let's say a decent tablet could be bought for P10k, that's 6.7 million tablets for students. Halve that amount so you can dedicate laptops for teachers, too and you'll get 3.3 million tablets and 1.6 million laptops.
What do you think? Any ideas what the P67 billion could've been used for?
Check us out on Facebook, Instagram, Twitter, and YouTube and be the first to know about the latest news and coolest trends!