8 Creepiest Dolls That Will Haunt Your Dreams
Jul 5, 2019 &nbsp • &nbsp Kyzia Maramara
We're all scared of something. It could be something as rational as heights, spiders, or the vastness of the unexplored ocean. Or it could also be something as irrational as dolls. But let's be real though, dolls are one of the creepiest things on this planet! Especially old raggedy ones with pigtails and dressed in lace, like miniature evil humans with eyes that follow you everywhere. Countless movies and TV shows built on this premise heightened our fear of dolls. But did you know that beyond fiction, there are actual dolls that are said to be haunted?
Annabelle
Annabelle is probably the most famous haunted doll, she's so famous she has starred in three movies, two of which are named after her. The original Annabelle doll was a Raggedy Ann Doll and looked nothing like what you now see in the films. Stories say she was originally owned by Donna and Angie, nursing students. They would find Annabelle in different positions and rooms in their apartment and they claim she sometimes leaves them hand-written messages saying 'Help us.' Annabelle is currently at Warren's Occult Museum in Monroe, Connecticut.
Robert the Doll
Robert the Doll is over 100 years old and is currently exhibited at the East Martello Museum once owned by Key West, Florida painter and author, Robert Eugene Otto. The doll was given to Otto when he was about 4 years old, he named the doll after himself. Neighbors claim that they saw the doll move from window to window even when nobody was home and Robert's parents claim that they sometimes hear their son talking to the doll. Because of the stories on Robert the Doll, it's exhibit became one of the most popular tourist attractions in Key West, Florida.
Upcoming Horror Flicks for the Rest of 2019
Upcoming Horror Flicks for the Rest of 2019
Kyzia Maramara | Jun 21, 2019
Joliet
Joliet the doll curses the girls of any family who owns her. A woman named Anna said that the doll was passed from mother to daughter in her family. Its curse was they will bear a daughter and a son but the son is fated to die at 3 days old. The family believes that the spirits of the dead sons inhabit Joliet but exactly why they can't just throw the doll away to save their sons are a mystery. And how sad is it that Anna's family consists of mostly girls now? (Hopefully not Joliet, and not spelled that way if so.)
Amanda the Doll
Amanda sounds like a friendly name for a doll, but Amanda the Doll is anything but friendly. According to legend (A.K.A the internet), Heinrich Handwerk originally made the doll back in 1884. A hundred years later, it was sold on eBay in August 2003, only to be put up for sale again after the owners didn't want her anymore. In total, she was auctioned off 20 times. Stories say that when Amanda doesn't like living in a certain house anymore, she wrecks things so her owner has to give her up.
Amanda is currently in the hands of paranormal investigators in Atlanta, Georgia where people say they sometimes hear her make scratching noises from her box. Yikes.
Harold
Harold is the first haunted doll ever to be sold on eBay in 2003. The listing in its original auction sparked the interest of many paranormal investigators. Stories say that the people who owned the doll had a number of unfortunate things happen to them, including deaths of loved ones and sudden grave illnesses. Check out where Harold is now and log on to haroldthehaunteddoll.com.
This Week in Weird: Scientists Predict What Humans Would Look Like in 2100 and It's Nasty
This Week in Weird: Scientists Predict What Humans Would Look Like in 2100 and It's Nasty
Kyzia Maramara | Jun 29, 2019
Islas de las Muñecas (Island of the Dolls)
This island is located south of the center of Mexico City where hundreds, if not thousands, of dolls in various states of decay are found. The island was originally owned by Don Julian Santana who discovered a young woman who drowned. He also found a doll floating, and assuming it was owned by the girl, hung it in a tree nearby as a sign of respect. After that, he experienced supernatural things that troubled him so much that he placed dolls everywhere to appease the soul of the drowned girl's spirit. When he died, the place became a great tourist spot where visitors bring more dolls.
NSFW Trump Troll doll
Two years ago, Chuck Williams started a Kickstarter campaign where he asked people to fund a large number of factory-made vinyl Trump Troll dolls. The campaign was a success with over 9,000 backers who pledged more than $435,000. This Troll doll is probably the creepiest of it all as it can access social media, particularly Twitter, and tweet haunting things. This is also the only doll that has the power to ignite a war between powerful countries.
Bato dela Rosa doll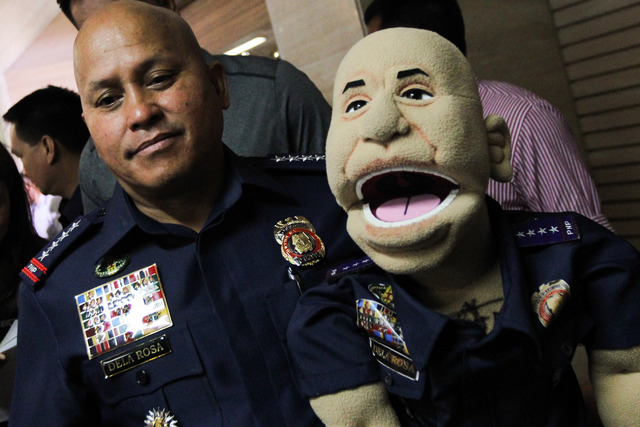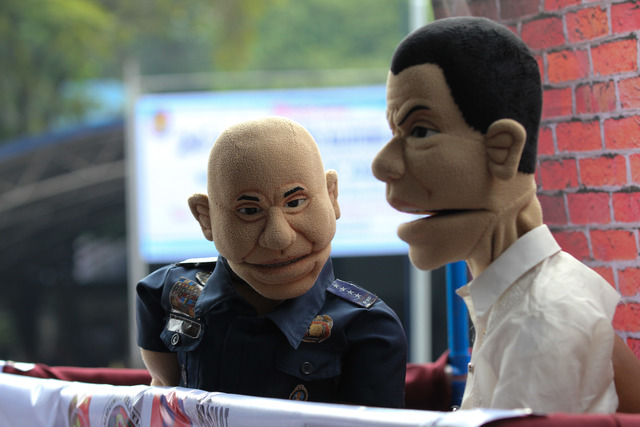 Okay, it's a puppet. But still.
Know any more creepy dolls we can add to this list? Share it with us below!