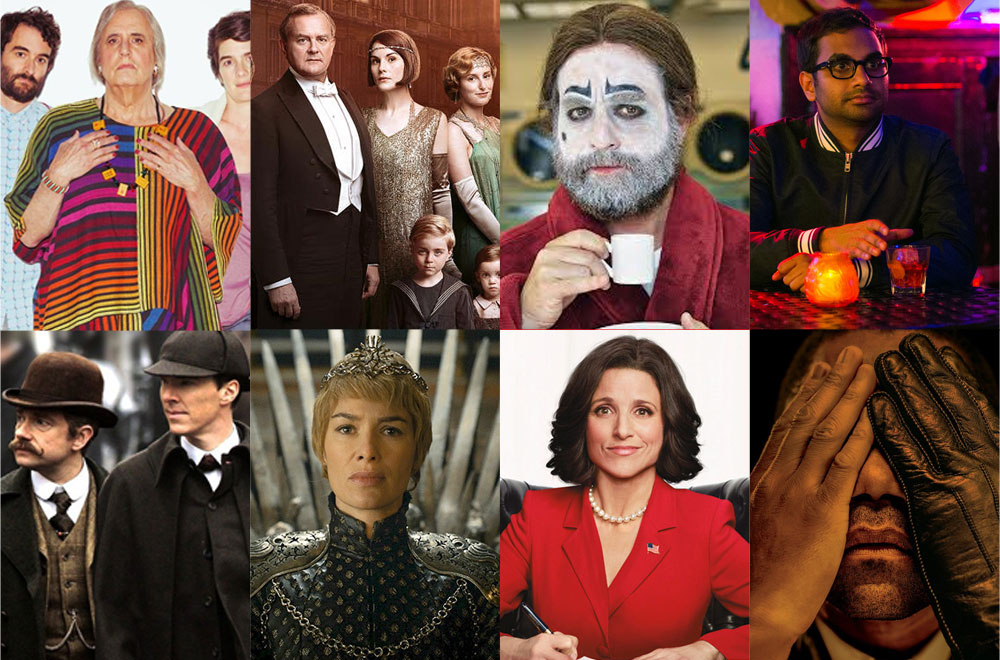 8 Emmy Award-Winning Reasons to Binge-Watch These Shows

by 8List

#Emmys2016 just wrapped up last week and it highlighted that television is more diverse and dynamic than ever. The top three networks who brought home the most number of awards are not even broadcast TV networks (HBO, FX & Netflix).
The awards show came with surprising wins and some expected ones, but all worthy of your binge-watch time, nonetheless. So, instead of just making fun of our own shortcomings on TV, let's watch these award-winning shows to inspire us that making good TV shows is still an art.
8. Transparent (Amazon)
Referred to as the first show that broke the glass ceiling for transgenders, Transparent is a heartwarming drama that identifies itself as a comedy—a cute parallelism to its subject—leaving you confused whether to cry or laugh, while entertaining you all the same. This show revolves around a retired college professor who finally opens up about how he identifies as a woman.
You might know the lead actor as George Bluth, Sr. in Arrested Development, but Jeffrey Tambor finally made a breakthrough in his acting career as transgender Maura Pfefferman, enough to win him a back-to-back Emmy for Outstanding Lead Actor in a Comedy Series. Jill Soloway also won an award for Outstanding Directing for a Comedy Series.
These wins for Transparent put a spotlight on LGBT rights. "Please give transgender talents a chance," Tambor said in his acceptance speech. "I would not be unhappy were I'm the last cisgender male to play a female transgender on television."
7. Downton Abbey (PBS)
Emmy host Jimmy Kimmel jokingly introduced a new rule: an Emmy winner must be present to win. "If we call your name and you're not here to accept, the Emmy goes to the next name on the list. It's called the Maggie Smith rule." British actress Maggie Smith, who may be more recognized as Professor Minerva McGonagall in the Harry Potter series, has been nominated for an Emmy nine times and won three but has never attended the awards night.
But alas, she won again the Outstanding Supporting Actress in a Drama Series award for her role as Violet Crawley in the period drama Downton Abbey. For everybody's benefit, Kimmel followed through his rule and snatched the award, saying: "Maggie, if you want this, it will be in the lost and found." Hours later, Smith signified her interest to receive the award through her Twitter account. "I was very astonished and pleased to win the award. I feel the Emmys have been overly generous to me," she wrote. "If Mr. Kimmel could please direct me to the lost and found office, I will try and be on the next flight. Love, Old Maggie."
Set in the fictional Yorkshire country estate of Downton Abbey against the backdrop of historic events during 1910s, this period drama has garnered the most number of Emmy nominations for any international TV series in its six-year run. It just recently wrapped up its final season so you won't have to worry about cliffhangers when you binge-watch this.
6. Baskets (FX)
It would be unfair to judge Baskets based on just a few episodes. This new Zach Galfianakis-starrer is the story of Chip Baskets, a failed professional clown in Paris who moves back to his hometown in Bakersfield, California to be a local rodeo clown instead. Its bold wit features deadpan comedy, the delivery of which by the terrific cast overcompensates the show's occasional lack of relevance.
Baskets' revelation, however, is the genius acting prowess of former Family Feud host Louie Anderson, who cross-dresses for the role of Christine Baskets, Chip's mother. Whether this is again another nod to diversity or a mere appreciation of talent, Anderson won the Emmy for Outstanding Supporting Actor in a Comedy Series for this role – his first-ever Emmy win. "I am (sic) not always been a very good man, but I play one hell of a woman," Anderson jokes in his acceptance speech.
5. Master of None (Netflix)
Known for offering ingenious original series, the streaming platform Netflix released a brand-new comedy that The New York Times called, "the year's best comedy straight out of the gate." Master of None is Aziz Ansari's first attempt as a showrunner, writer, director and lead actor and the brilliance of the show is so good, one would think Ansari should have been given the break sooner.
Ansari, known as Tom Haverford in comedy series Parks and Recreation, stars as a struggling actor who navigates the dramatic turns of his professional and personal lives. The premise of the story might be something we all have seen before but the writing and acting gives us a fresh perspective. With excellent execution, humor and heart, Master of None is the non-cheesy, slice-of-life rom-com (with a touch of Hollywood satire) you've been wishing for.
Writing duo Ansari and Alan Yang won their first-ever Emmy win for Outstanding Writing for a Comedy Series. Ansari (of Muslim descent) and Yang's (whose parents were originally from Taiwan) win again underscore the diversity issue—a topic that's not missed in their show. In his acceptance speech, Yang said, "There's 17 million Asian-Americans in this country, and there's 17 million Italian Americans. They have The Godfather, Goodfellas, Rocky, The Sopranos. We got Long Duk Dong, so we've got a long way to go."
4. Sherlock: The Abominable Bride (PBS)
This modern take on Sherlock has developed a cult following so strong, it can wait years for a three-episode installment. So, to the fans waiting for the next season since February 2014, the TV special episode The Abominable Bride is a treat. Though a stand-alone episode, it still has all what the Sherlock fans love about the series: the mind-boggling mysteries, the unconventional cinematography and the dynamic chemistry of the lead duo Sherlock Holmes and James Watson, played by Benedict Cumberbatch and Martin Freeman, respectively.
The special episode balances the continuity of the series and its capacity to be an independent chapter. It presents the characters in an alternative reality—in the 1890s Victorian London setting of the original Sherlock literature. Touching on the timely issue of feminism, the show was able to showcase its capacity to execute a period drama, the versatility of its actors and the timelessness of its stories.
In the last Emmys, Sherlock: The Abominable Bride won the award for Outstanding Television Movie.
3. Game of Thrones
If you haven't been watching this fantasy drama like the rest of the world, its recent Emmy domination in the drama category might convince you. In addition to being the most nominated and awarded show in the technical category (Creative Arts Emmys), Game of Thrones wins its 2nd consecutive Emmy for Outstanding Drama Series. Its most popular episode, "Battle of the Bastards", also won both Outstanding Directing and Outstanding Writing for a Drama Series. In addition to that, its stellar cast of Kit Harrington, Peter Dinklage, Emilia Clarke, Lena Headey and Maisie Williams each got a nomination for their respective acting categories.
Investing heavily on costumes and animation, this epic proves that the small screen is no excuse for small productions, and quality does not mean sacrificing commercial viability. Taking home 12 total Emmys this year, Game of Thrones broke the record for receiving the most Emmy awards for a drama series in a single year.
2. Veep (HBO)
Where better to get your comedy fix than the back-to-back Emmy winner for Outstanding Comedy Series Veep?Among all politics-based shows today, only Veep unapologetically shows the gritty environment of Washington, D.C. and makes a high comedy form of satire out of it. Leading its excellent cast, Julia Louis-Dreyfus also wins her fifth consecutive Emmy win for Outstanding Lead Actress in a Comedy Series within the show's five-year run.
Louis-Dreyfus plays Vice President Selina Meyer who, after an unsuccessful bid for the presidency, settled to be her party's VP candidate. Along with her staff, she learns and navigates the incredible maze of politics and the confusing road to the presidency. It's her on-spot comedic timing and the genius material that takes the absurd with humorous angle shot in mockumentary style that makes the show a favorite among the Academy.
Proof of Louis-Dreyfus' comic prowess is her acceptance speech: "I'd also like to take this opportunity to personally apologize for the current political climate," she said. "I think that Veep has torn down the wall between comedy and politics. Our show started out as a political satire but it feels now like sobering documentary. So I certainly do promise to rebuild that wall and make Mexico pay for it."
1. The People v. O. J. Simpson: American Crime Story (FX)
American Horror Story co-creator Ryan Murphy took the show's signature mystery-thriller experience and used it to tell the story of one of the most infamous crimes in America. The People v. O.J. Simpson, the first offering of the limited series format of FX's American Crime Story, was the runaway winner last Emmys. Based on the real-life murder trial of NFL star and actor O.J. Simpson, the show won an Emmy for Outstanding Limited Series.
There was not a second that is boring unlike other legal thrillers, thanks to its all-star cast led by Cuba Gooding, Jr. as Simpson, Courtney B. Vance (who won Outstanding Lead Actor in a Limited Series or Movie award), Sarah Paulson (who won Outstanding Lead Actress in a Limited Series or Movie award), Sterling K. Brown (who won Outstanding Supporting Actor in a Limited Series or Movie award), Nathan Lane, David Schwimmer and John Travolta. Episode writer D. V. DeVincentis also won an Emmy for Outstanding Writing for a Limited Series, Movie, or Dramatic Special.
You would thought that you have seen and heard it all about this trial but this seven-episode limited series would surprise you, keeping you on the edge of your seats at every turn of the events.
Have you been watching any of these shows? Share with us your thoughts on them!