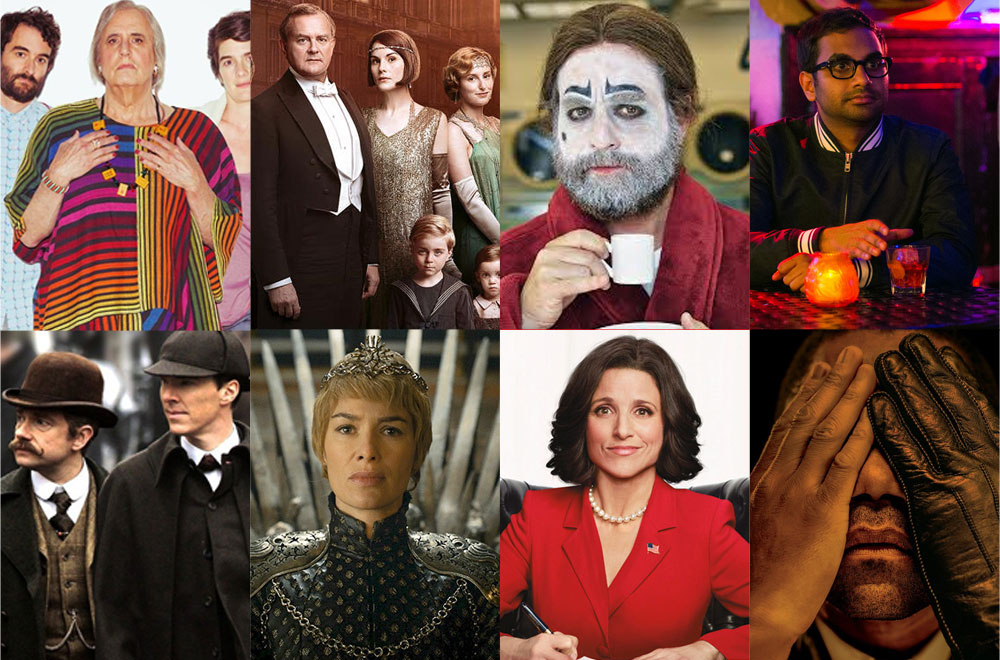 8 Emmy Award-Winning Reasons to Binge-Watch These Shows

by 8List

#Emmys2016 just wrapped up last week and it highlighted that television is more diverse and dynamic than ever. The top three networks who brought home the most number of awards are not even broadcast TV networks (HBO, FX & Netflix).
The awards show came with surprising wins and some expected ones, but all worthy of your binge-watch time, nonetheless. So, instead of just making fun of our own shortcomings on TV, let's watch these award-winning shows to inspire us that making good TV shows is still an art.
8. Transparent (Amazon)
Referred to as the first show that broke the glass ceiling for transgenders, Transparent is a heartwarming drama that identifies itself as a comedy—a cute parallelism to its subject—leaving you confused whether to cry or laugh, while entertaining you all the same. This show revolves around a retired college professor who finally opens up about how he identifies as a woman.
You might know the lead actor as George Bluth, Sr. in Arrested Development, but Jeffrey Tambor finally made a breakthrough in his acting career as transgender Maura Pfefferman, enough to win him a back-to-back Emmy for Outstanding Lead Actor in a Comedy Series. Jill Soloway also won an award for Outstanding Directing for a Comedy Series.
These wins for Transparent put a spotlight on LGBT rights. "Please give transgender talents a chance," Tambor said in his acceptance speech. "I would not be unhappy were I'm the last cisgender male to play a female transgender on television."
7. Downton Abbey (PBS)
Emmy host Jimmy Kimmel jokingly introduced a new rule: an Emmy winner must be present to win. "If we call your name and you're not here to accept, the Emmy goes to the next name on the list. It's called the Maggie Smith rule." British actress Maggie Smith, who may be more recognized as Professor Minerva McGonagall in the Harry Potter series, has been nominated for an Emmy nine times and won three but has never attended the awards night.
But alas, she won again the Outstanding Supporting Actress in a Drama Series award for her role as Violet Crawley in the period drama Downton Abbey. For everybody's benefit, Kimmel followed through his rule and snatched the award, saying: "Maggie, if you want this, it will be in the lost and found." Hours later, Smith signified her interest to receive the award through her Twitter account. "I was very astonished and pleased to win the award. I feel the Emmys have been overly generous to me," she wrote. "If Mr. Kimmel could please direct me to the lost and found office, I will try and be on the next flight. Love, Old Maggie."
Set in the fictional Yorkshire country estate of Downton Abbey against the backdrop of historic events during 1910s, this period drama has garnered the most number of Emmy nominations for any international TV series in its six-year run. It just recently wrapped up its final season so you won't have to worry about cliffhangers when you binge-watch this.
6. Baskets (FX)
It would be unfair to judge Baskets based on just a few episodes. This new Zach Galfianakis-starrer is the story of Chip Baskets, a failed professional clown in Paris who moves back to his hometown in Bakersfield, California to be a local rodeo clown instead. Its bold wit features deadpan comedy, the delivery of which by the terrific cast overcompensates the show's occasional lack of relevance.
Baskets' revelation, however, is the genius acting prowess of former Family Feud host Louie Anderson, who cross-dresses for the role of Christine Baskets, Chip's mother. Whether this is again another nod to diversity or a mere appreciation of talent, Anderson won the Emmy for Outstanding Supporting Actor in a Comedy Series for this role – his first-ever Emmy win. "I am (sic) not always been a very good man, but I play one hell of a woman," Anderson jokes in his acceptance speech.
5. Master of None (Netflix)
Known for offering ingenious original series, the streaming platform Netflix released a brand-new comedy that The New York Times called, "the year's best comedy straight out of the gate." Master of None is Aziz Ansari's first attempt as a showrunner, writer, director and lead actor and the brilliance of the show is so good, one would think Ansari should have been given the break sooner.
Ansari, known as Tom Haverford in comedy series Parks and Recreation, stars as a struggling actor who navigates the dramatic turns of his professional and personal lives. The premise of the story might be something we all have seen before but the writing and acting gives us a fresh perspective. With excellent execution, humor and heart, Master of None is the non-cheesy, slice-of-life rom-com (with a touch of Hollywood satire) you've been wishing for.
Writing duo Ansari and Alan Yang won their first-ever Emmy win for Outstanding Writing for a Comedy Series. Ansari (of Muslim descent) and Yang's (whose parents were originally from Taiwan) win again underscore the diversity issue—a topic that's not missed in their show. In his acceptance speech, Yang said, "There's 17 million Asian-Americans in this country, and there's 17 million Italian Americans. They have The Godfather, Goodfellas, Rocky, The Sopranos. We got Long Duk Dong, so we've got a long way to go."