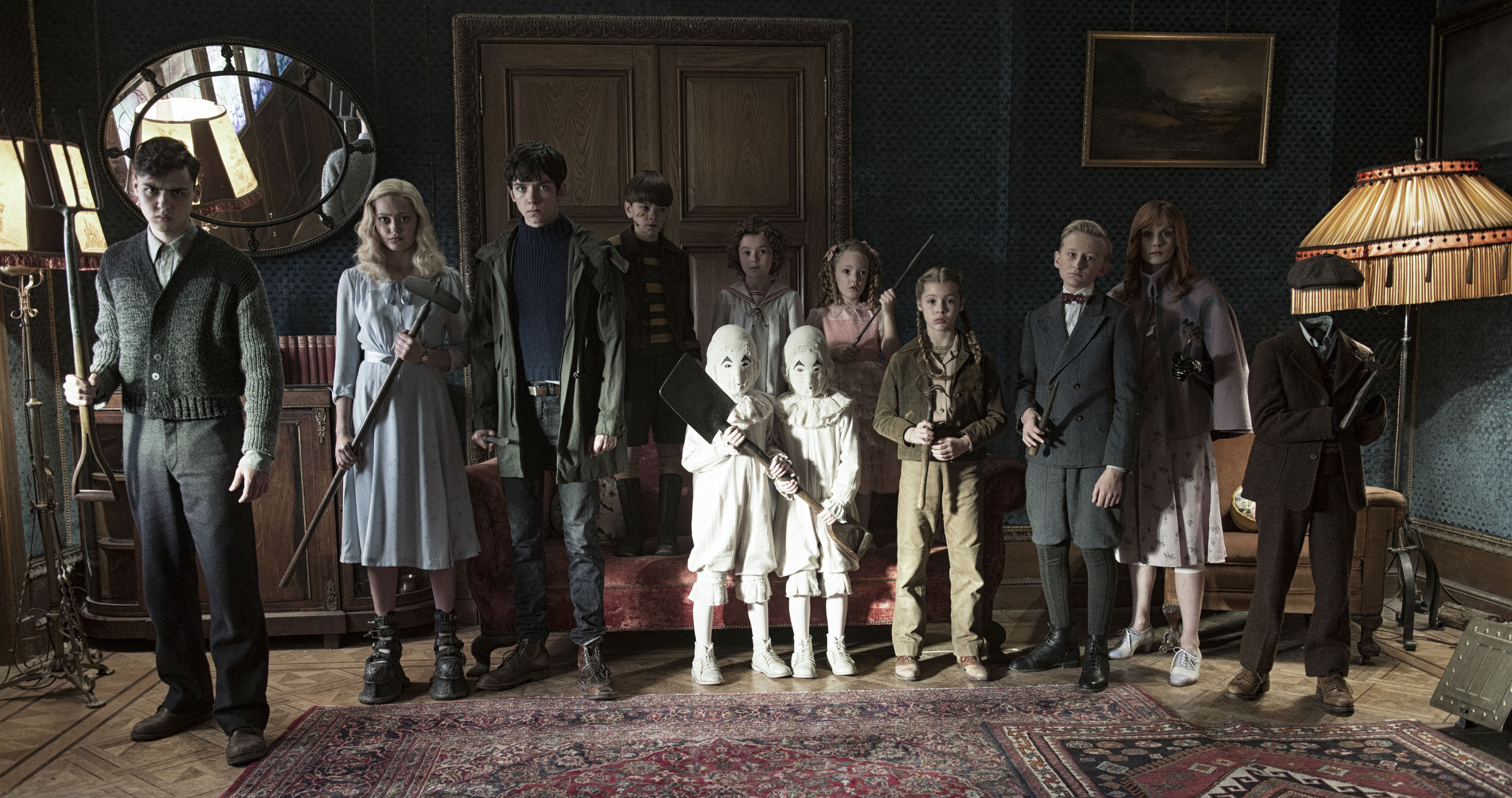 A Guide to the Kids in Tim Burton's "Miss Peregrine's Home for Peculiar Children"
By KARL R. De MESA

There's something wildly resonant and post-noughties about Ransom Riggs's characters in his book "Miss Peregrine's Home for Peculiar Children."
Sure, you can identify the range of his source material that borrows and pays homage to everything from Salman Rushdie's Midnight's Children, various Kipling-verse books, Tarzan, Romulus and Remus, Peter Pan, and (to state the obvious) the X-Men, and the whole cornucopia of literature on feral kids and outsiders raised by non-traditional (often non-human) parents; but the archetypes here aren't derivative as much as they are a palette of disabilities that could be, might be, powers given the right confidence or a proper coming of age.
As such, the Miss Peregrine here not only serves as house caretaker, jailer, and one highly-strange guardian, at least in Tim Burton's vision of the book. There are two very niggling continuity lapses (you'll spot them, easily, bub) that make this movie's score do a nosedive, but doesn't necessarily affect one's enjoyment of the whole.
At the very least you won't call it "that PG Eva Green movie" after watching, even if, hell, Ms Green does keep her clothes on, filling up another notch in that short list of filmography where she does take on a leading (or in this case titular) heroine role as Miss Alma LeFay Perigrine sans bilad—kinda, sorta like in that other Tim Burton movie Dark Shadows (and unlike her gratuitous Persian x Greek scene in 300: Rise of An Empire).
In this one the teens and kids take center stage. And props to Asa Butterfield (remember his rousing performance in Ender's Game?) who plays Jacob "Jake" Portman, a 16-year old American teen (whose father is played by Chris O' Dowd sporting a weird American accent—well, weird for him as a previously perennial Irish guy caricature) for carrying this movie on his slender shoulders as he falls quickly in love with the gorgeous Emma Bloom (played by Ella Purnell with awesome aerokinetic powers), and shares the acting burden with Butterfield as they both fall into strange/stranger territory.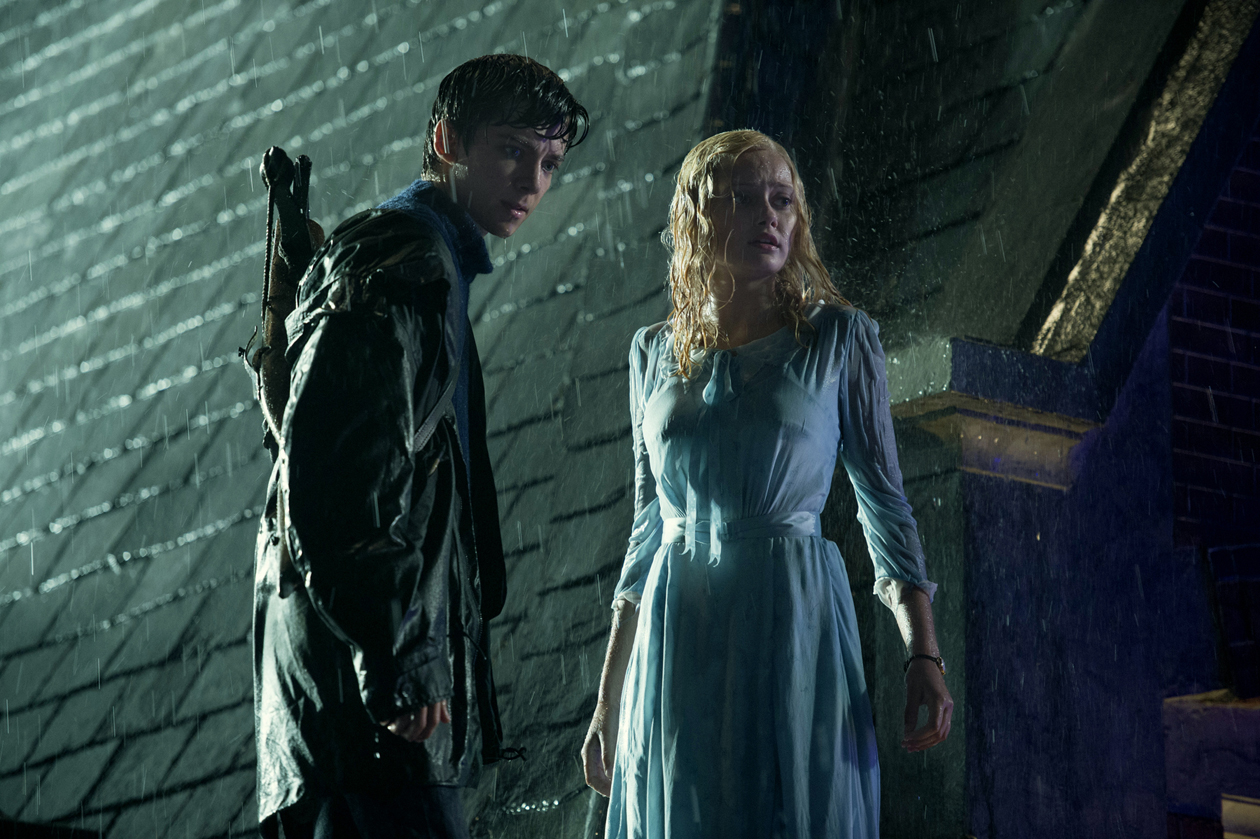 This being a Burton movie, the visuals are reliably dream-like and astutely stylish. Some of the best scenes feature the peculiar becoming casual: Jake dragging along Emma like a human balloon, Ms. Peregrine (did we mention Eva Green keeps her clothes on here, unlike in Penny Dreadful?) shooting an invisible monster with a crossbow and said beast falling into a chalk outline on cue, and foreboding dreams projected straight from a kid's brain.
The budding romance between the British Emma and the American Jake is divided by more than just age and peculiarity, but also by culture and mores (i.e. Jake is a typical American boy with the attendant awkwardness); which proves more powerful in the telling against the backdrop of a time loop set in a WW2 bombing raid. Jake, doesn't really seem to be able to connect with anyone except his grandfather, who just died; and it was said death that set him on a journey that eventually led him to the Peculiars. Jake dreams of flying away to adventure but is reticent to jump, Emma literally needs to be tied down to combat her weightlessness. You get the visual contrast here?
Against the clockwork toy villainy (and frankly phoned-in performance) of Sam Jackson's Mr. Barron, Green's menacing and caring Alma Peregrine (yes, she keeps her bodice on here, unlike in Bernardo Bertolucci's The Dreamers) shines as thespian support as she breathes life to both a falcon woman and an "ymbrine"—meaning she can manipulate time and take the form of a bird. Greeeat.
The world's pretty thoroughly crafted and the pace of events that come at the motley gathering of slightly empowered kids and dysfunctional, frankly two-dimensional adults (save for Ms Green, whose costume remains intact for the whole movie, unlike in Sin City: A Dame to Kill For) that even an appearance from Dame Judi Dench couldn't save, roll on like thunder. With the sheen of the visuals and the story unfolding like fine origami, this movie takes us on a thrilling, surreal ride that harkens back to vintage Tim Burton.
Here's a short introduction to the children housed with Ms. Peregrine and their attendant peculiarities.  #StayPeculiarPH
8. THE INVISIBLE BOY
Millard (played by Cameron King) possesses the peculiar trait of invisibility. This makes him the most elusive—and mischief-prone—of the Peculiars. Since the character, and actor portraying him, would be unseen, finding the right "voice" for Millard was especially important.
7. YOUNG GARDENER
Fiona (Georgia Pemberton) has a peculiarity that allows her to manipulate plant growth; in an instant she can turn the smallest seed into the tallest tree. The producers remember Georgia's audition: "She demonstrated such incredible concentration. I've never seen a youngster do something like that."
6. THE SUBTLE BEAST
Claire (Raffiella Chapman) is a young Peculiar who, by all appearances, is normal—except for the set of razor-sharp teeth on the back of her head.  "We called the character the 'back-mouth girl'," jokes executive producer Derek Frey. "Raffiella had a kind of Shirley Temple innocence."
5. LORD OF THE BEES
Hugh (Milo Parker) is the resident "Lord of the Bees," and he must wear a beekeeper's mask to prevent the hive of bees that live within him from wreaking havoc on his friends.