8 K-Pop Concepts You Can Borrow For Halloween
Oct 31, 2018 &nbsp • &nbsp Andy Flores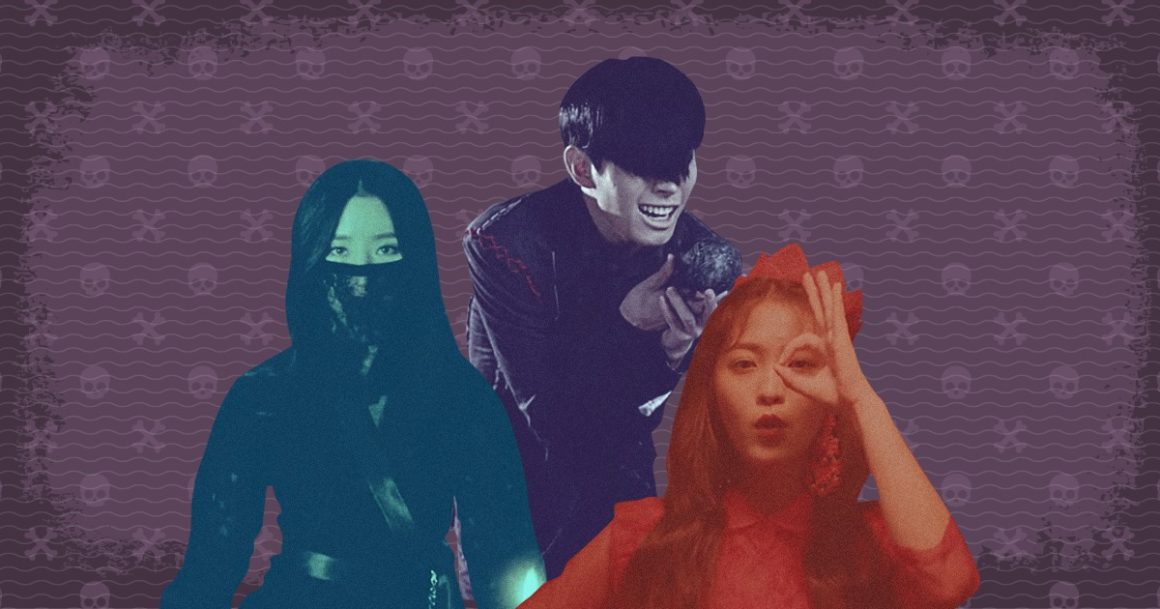 K-Pop isn't something one would easily associate with Halloween, but anybody who's gone deep into the Hallyu black hole would know that the Korean pop music industry has churned out countless "dark" concepts that range from spooky to sinister to downright disturbing. Here, we list down 8 standouts to give you some last-minute inspo for your Halloween party outfit or playlist:
Voodoo Doll by VIXX (2013)
VIXX are not tagged as the kings of dark K-Pop concepts for nothing. Having played vampires, Jekyll and Hyde, and lovelorn cyborgs in the past, they sure are aces in K-Pop's creepy corner. In the music video of "Voodoo Doll," they will make your skin crawl (think blood, knives, and open wounds) all the while electrifying you with their flawless choreography and impressive vocals.
Married to the Music by SHINee (2015)
In 2015, SHINee decided to bring on the spooks as early as summer with "Married to the Music," proving how experimental they can get with their material. The funky track is released with a music video showing the quintet attending a house party hosted by a mysterious woman. It's all fun and games until the members start losing body parts.
"Chase Me" by Dreamcatcher (2017)
Dreamcatcher is emerging as one of K-Pop's most unique acts. Following their re-debut in 2017 (they were previously known as Minx), critics lauded them for fearlessly taking on metal rock – a genre girl groups rarely explore – for their title track "Chase Me." In the music video, the girls are seen haunting a detective solving a case in an abandoned hotel.
Peek-A-Boo by Red Velvet (2017)
During a full moon, Red Velvet come together coven-style in "Peek-A-Boo," as they trap and play with the object of their interest: A helpless pizza delivery guy. The music video is reminiscent of b-grade horror movies, a huge jump from their usual cutesy and aesthetically pleasing MVs.
TT by Twice (2016)
The music video of "TT" is not exactly creepy like the others above, but it sure deserves a spot on this list for featuring (probably) the most Halloween costume ideas in a single K-Pop MV – from Pinocchio to The Little Mermaid. So if you're out of OOTD ideas, this video might just be the answer to your get-up dilemma.
Full Moon by Sunmi (feat. Lena)(2014)
The seductive Sunmi channels a beautiful vampire, begging her love to meet her before the night ends in the music video of "Full Moon," a captivating rhythmic track coupled with the singer's sexy dance moves.
Midnight Circus by SunnyHill (2011)
There's something creepy about carnivals, and SunnyHill made sure to depict that in their MV for "Midnight Circus." Starting with a dismal accordion intro, the song accelerates into a hauntingly festive tune, as we see the girls perform on the stage of a grim circus.
It Hurts by 2NE1 (2010)
Halloween meets high fashion – that's one way to describe 2NE1's music video for "It Hurts." Everything about this MV is memorable – the fabulously dark ensembles, their hair, the melancholic set, and of course, the wistful girls' soulful singing.
Got any more to add? Share them with us below!