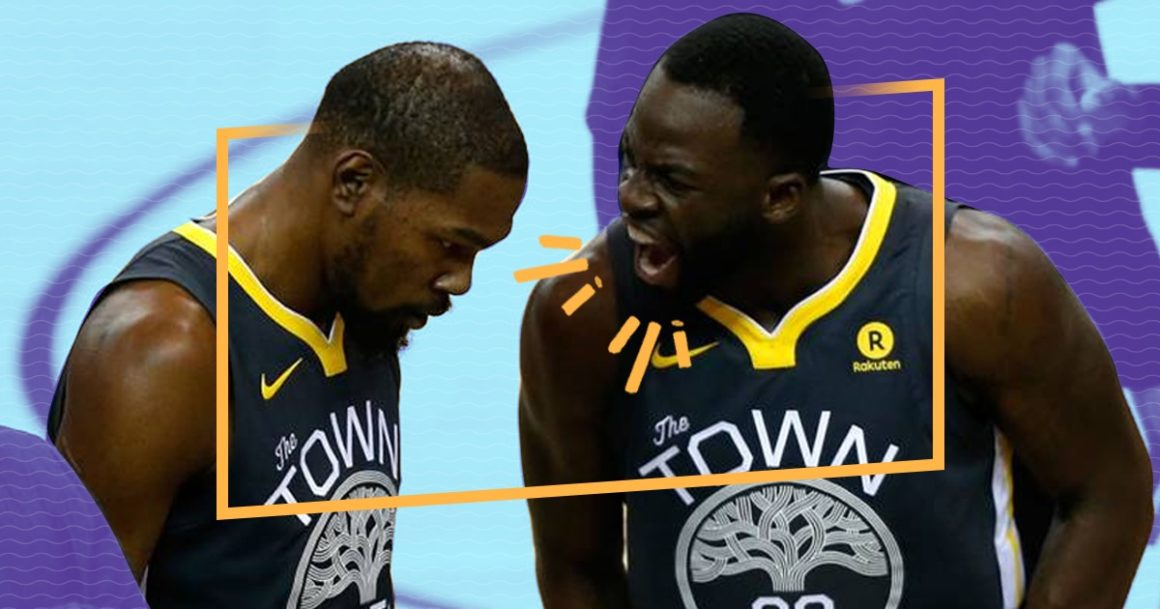 One of the most entertaining aspects of the NBA is that it's a star-driven league, which means the superstars of the game are practically like movie celebrities. And just like with Hollywood, there are also rifts in the National Basketball Association. The best part? Sometimes, those clashes are between players on the same team, which makes for excellent television.
Here are 8 of the best beefs between teammates the NBA has seen:
8. Jason Kidd and Jim Jackson
The story goes that in the mid-90s, Jason Kidd cancelled a date with Grammy-winning singer Toni Braxton due to a schedule in conflict. What happened next was that Braxton went out instead with Jim Jackson, who at that time was Kidd's teammate with the Dallas Mavericks.
Both players deny it up to today, but there were a lot of reports of tension between both players due to the incident which eventually led to their departures from Dallas.
So, nothing to see here, right?
7. OJ Mayo and Tony Allen
Some of the biggest conflicts always start with money.
In this case, for these two millionaires, it was over $1,000. To you and I, that's a whole lot of cash. For both of them, not so much. Still, that did not stop Tony Allen from punching OJ Mayo in the team plane because of the latter's refusal to pay off a gambling debt. Safe to say, OJ is not a Lannister.
6. D'Angelo Russell and Nick Young
Oh, the perils of social media.
During a trip, LA Lakers teammates D'Angelo Russell and Nick Young roomed together. For some reason, DLo thought it would be cool to film Nick Young admitting that he was cheating on his then fiancé, singer Iggy Azalea.
The video got out and a whole lot of people saw it, screwing up Swaggy P's relationship and earning Russell the reputation as a snitch early in his career.
5. Rajon Rondo and Ray Allen
For many reasons, both basketball-related and beyond, Ray Allen and Rajon Rondo did not like each other during their time as Celtics. The personalities of both men clashed constantly, and the duo have not been shy from taking shots at each other even as Allen is almost 5 years into his retirement from the NBA.
Things got even worse after Allen left Boston for Miami, who at that time was their biggest rival. After which, Ray vs. Rajon turned into Ray vs. Boston.
Well, the joke is on the Celtics, since Allen hit arguably the most clutch shot in NBA history in 2013 against the Spurs and won another title.
4. Gilbert Arenas and Javaris Crittenton
Yikes.
Gilbert Arenas, AKA Agent Zero, was once upon a time a star for the Washington Wizards. Javaris Crittenton was once considered a talented young prospect for the team, too.
Unfortunately, both men constantly clashed and that tension escalated to the point thanks to a gambling debt where Arenas brought guns to their locker room and asked his teammate to select one. Javaris then took a gun and pointed it at Arenas, causing one of the most embarrassing locker room scenes in NBA history.
Nothing happened, fortunately, but the ramifications were massive for both men's careers.
3. Brent Barry and Tony Parker
There will always be unwritten laws in a sports locker room. Arguably the two most important: you do not talk about your teammates' money or try to seduce his woman. Tony Parker, who at that time was married to actress Eva Longoria, allegedly had an affair with the wife of one of his teammates, Brent Barry, which was revealed in 2010 years after it had taken place.
Tony Parker: great at basketball, not so much a friend.
2. Draymond Green and Kevin Durant
https://www.youtube.com/watch?v=aRUI-T6WPtw
The most recent NBA beef between teammates took place just last week, which started with Kevin Durant and Draymond Green having an argument at the end of the fourth quarter of the Warriors' loss to the Clippers.
After getting a rebound, Green brought the ball up with the chance of a GSW buzzer-beater. Instead of giving it to KD, Draymond raced up the court and the play ended in a turnover. Durant was unhappy and the two jawed at each other, with Green reportedly calling KD a "bitch."
The fight escalated in the locker room where Green dared Durant to leave in the upcoming NBA free agency, telling him the Warriors were capable of winning without him.
To be fair, it seems like the two have patched things up. But if KD does leave Golden State, we'll look back at this incident as a possible launching pad for that to take place.
1. Shaq and Kobe
The Shaq-Kobe feud has been well-documented. To put it simply, both guys had a lot of pride and ego and wanted to be the man, which led to their inevitable separation after three rings together. It's funny what happens when pride gets in the way.
The Lakers chose Kobe and Shaq went on to win a ring in Miami. Bryant turned into the Black Mamba and led LA to a pair of rings.
Had they stayed together, who knows how many more they could have won?
Got any more to add here? Tell us below!