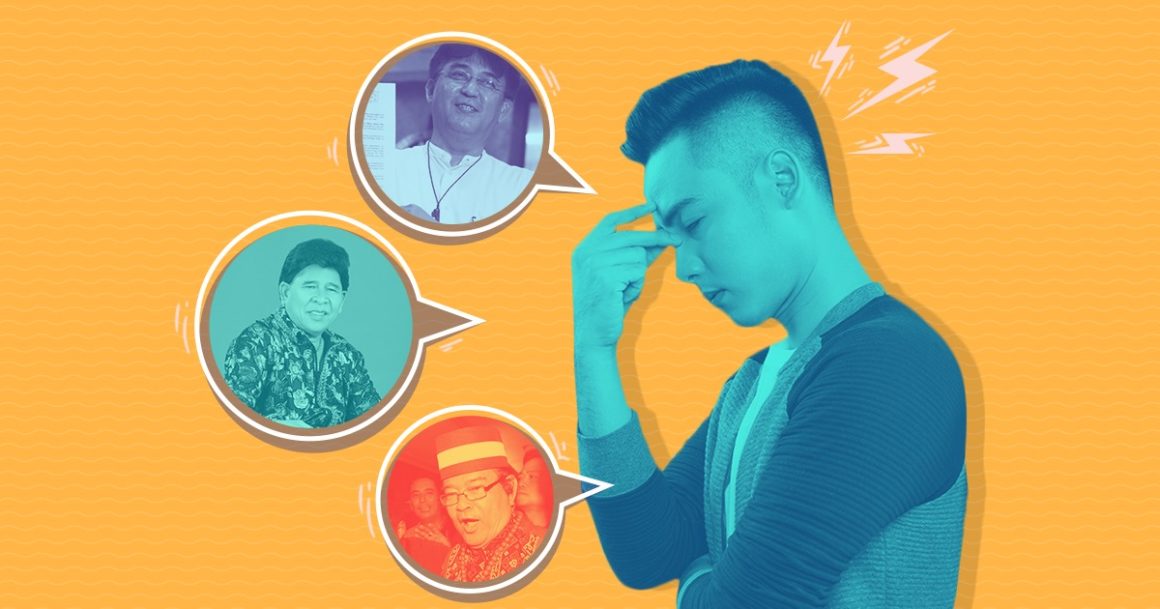 With election time coming along, we are now treated to a parade of hilarious, woefully unqualified people who want to lead this country despite their obvious lack of leadership skills, and a bunch of nuisance candidates who can't afford to launch a national campaign, and are thereby disqualified from running by that sole virtue.
From Eddie Gil to Allan Carreon, here now is just a small helping of perhaps the most memorable nuisance candidates we've had in recent times.
Rizalito David
Ran For: President, 2016.
Who: A former senior member of the church-based political group known as Ang Kapatiran, Rizalito ran for president and got himself booted from the organization in 2015, after two unsuccessful tries for a Senate seat in 2010 and 2013. He was last heard from trying to get Grace Poe and President Duterte disqualified during the 2016 presidential elections.
The Platform: Catholicizing the Philippines. Huh.
The Insanity: Well, considering how a religious platform has never prevented anyone from running (just ask Brother Eddie Villanueva, who successfully ran twice), it's pretty hilarious to note that David's platform of "Catholicizing" an already-Catholic Philippines not only didn't pass muster with the Comelec's standards, but has long ago been undermined the day he allegedly assaulted an RH-Law advocate in the middle of the Senate. Kind of difficult to present yourself as the godly choice when you go viral for that, but hey, these are strange times we live in.
Odds Of Running Again: Count on it, although with a dwindling base of support, the window for him making it on the ballot in an official capacity has all but closed by now. Maybe for Barangay Captain?
Ely "Spike" Pamatong
Ran For: President, 2004, 2010.
Who: A lawyer who is the self-proclaimed President of the Philippines, and has kept himself busy engaging in a long-running but one-sided feud with President Duterte. It would appear that the President isn't aware Atty. Pamatong is feuding with him.
Platform: Petitioning the United States to accept the Philippines as its 51st State, and settling territorial disputes against China.
The Insanity: In 2004, Spike earned his infamous nickname after he and his followers scattered hundreds of sharp steel spikes across the roads of Metro Manila, which he claimed was his "peaceful" way of protesting the massive corruption in the government. 167 vehicles with blown tires thanks to these caltrops missed the point of his argument. Or did they? Also, let's go back to his platform: he wants the Philippines to become the 51st State of the U.S.A., thereby solving the country's problems all in one fell swoop. Just like Puerto Rico, I guess? Or not.
Odds Of Running Again: Like clockwork. He may have been disbarred recently, but that will never stop a man like Spike. Because he will always come out on top. Hence, Pamatong. *ducks tomatoes*
Archangel Lucifer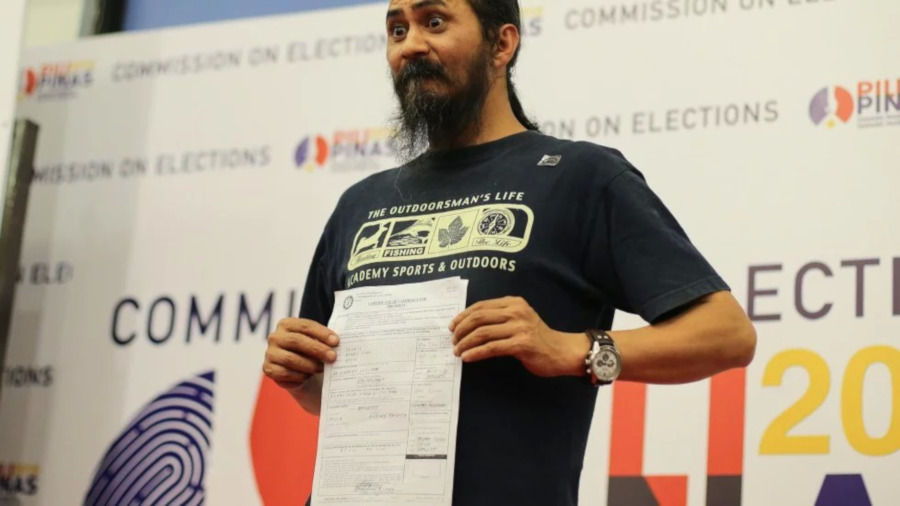 Ran For: President, 2016.
Who: Feast your eyes.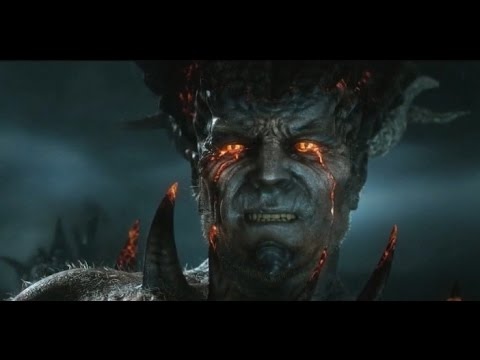 You have seven days to pass this on, or else, you are cursed. Cursed, I say.
The Platform: Damned if I know. No pun intended.
The Insanity: Archangel Lucifer didn't even need to say a single word to make an immediate impact on everyone paying attention. After all, when you're practically named after Satan before the fall, it's hard not to take notice of that commanding presence and je ne sais quoi only a man with a name like that while looking like the Pinoy version of Jason Momoa could possibly have.
Odds Of Running Again: You're hoping for a second coming from Archangel Lucifer? Boy, talk about not being careful what they wish for.
Joselito Pepito Cayetano
Ran For: Senator, 2007.
Who He Is: A complete unknown with a fairly well-known last name. For a bigger picture, consider another nuisance candidate during the same year, Theodore Aquino.
Platform: None were made apparent when he was still a viable candidate.
The Insanity: Happening during the same year that Senator Alan Peter Cayetano was running, it was pretty clear that the only reason Joselito was running was to confuse people into possibly voting for the wrong Cayetano. Senator Cayetano even went as far as insisting that this Cayetano was fielded by then-president Gloria Arroyo, although nothing came of that allegation. Eventually, the Comelec agreed, and both Alan Peter Cayetano and Noynoy Aquino got to run for Senator in 2007 without a second Cayetano or Aquino on the ballot.
Sel Hope Kang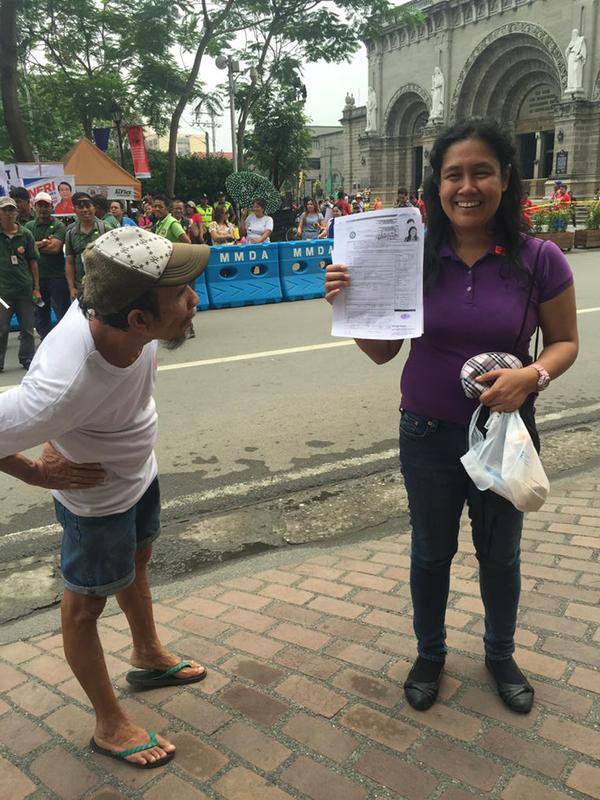 Ran For: President, 2016.
Who She Is: Also known as the Pabebe Candidate, Sel Hope Kang seemed to have decided to run for president after making a quick stop at 7/11. She claims to have graduated Cum Laude from UP Diliman with a degree in Home Economics.
Platform: Being a simple person who is in touch with the citizenry, she got emotional as she expressed that she is not perfect, but she is trying, and that every Filipino deserves more than they are getting.
The Insanity: One of the more sensible candidates, Sel Hope Kang simply believed that Filipinos deserved more than they are getting at present, which, as far as motherhood statements go, is not an objectionable hope for the country at all. Unfortunately, she was only 37 years old at the time, three years below the minimum age requirement to run for President.
Odds Of Running Again: By her own words, her running was an opportunity that "knocks only once," so we don't expect her to try running again even if she would be old enough to do so in 2022. After all, it's not every day that you step out of 7/11 after buying merienda, only to notice a very short line for people wanting to run for president at the Comelec office…
Agi Tuana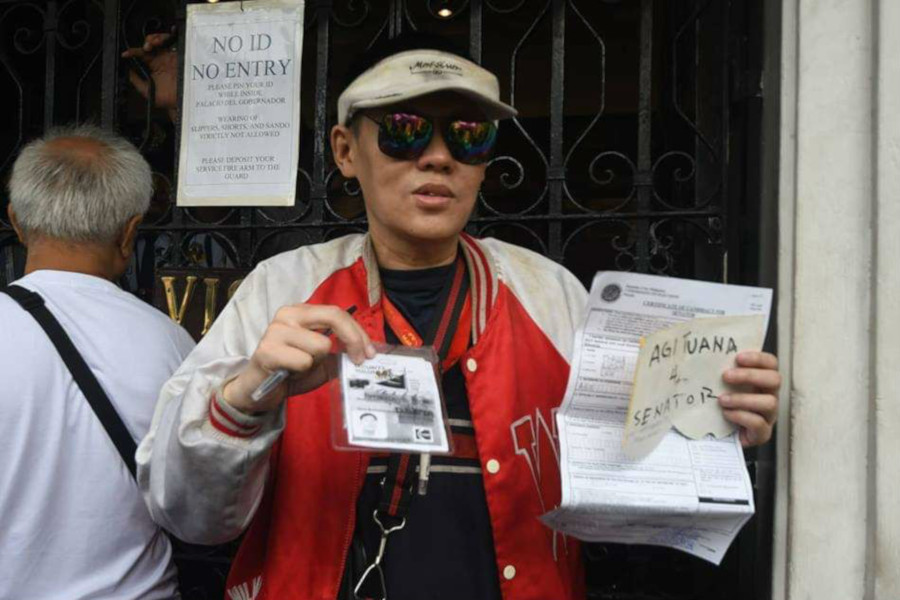 Running For: Senator, 2018.
Who He Is: Anson Tuana is, by his own description, a private citizen who was a former soldier and police officer, who wants to run for Senator. And like perennial nuisance candidate Daniel Magtira, who claims to be Kris Aquino's husband, Agi is claiming to be the ex of an equally controversial lady: former PCOO ASec Mocha Uson.
The Platform: Making fuel prices lower, fighting crime, easing traffic.
The Insanity: When asked how long Agi and Mocha were together, Mr. Tuana plainly answered "five nights," which is a very conspicuous way of remembering his erstwhile alleged relationship with Ms. Uson. And, oh, he wanted people to call him "Aging Saging," which we hope isn't a nickname for his penis.
Odds Of Running Again: We hope not.
Allan Carreon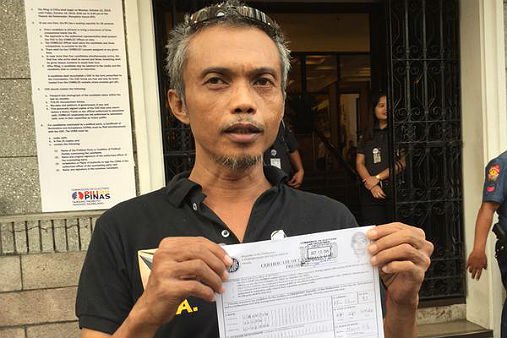 Ran For: President, 2016. Allegedly also ran for Congress in Pasay previously, year unknown.
Who He Is: The Intergalactic Ambassador of Planet Earth, Allan Carreon is a phenom with an ironically politicized Facebook Fanpage operating to this very day. He was the face that launched a thousand memes, and regardless what you might think of him, is he really that much worse than some of the candidates who did  end up on the ballot over the years?
Platform: Wireless access to the internet for the entire country, fight for Philippine territory, and speaking with aliens. Look. Just watch his campaign ads, okay?
The Insanity: Yes, speaking with aliens. Allan Carreon claims that he has achieved a higher plane of existence, and is in communication with alien life forms, who actually urged him to run. Y'know, if the dude isn't lying, it makes you wonder if his alien friends were just pranking him or something. But no, contrary to what this ad says, he had zero plans of legalizing four seasons in the Philippines. That was Arturo Pacheco Reyes, who along with Carreon, guested on Gandang Gabi Vice to promote their respective platforms.
Eddie Gil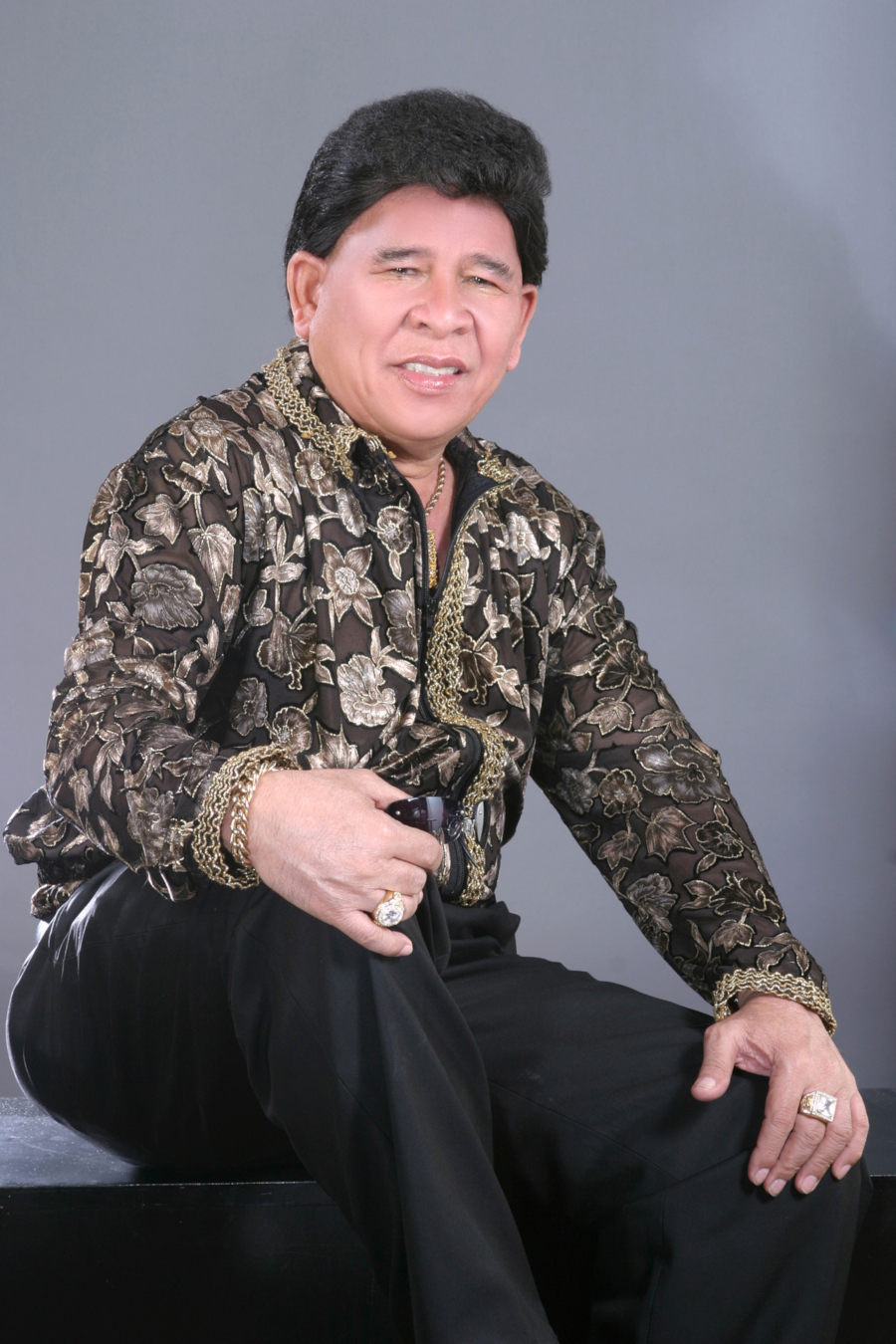 Ran For:
Senator, 2001. President, 2004.
Who He Is: Claiming to be a "businessmen" and insanely rich, the completely unheard of-then Eddie Gil blustered and gumptioned his way into almost becoming a legitimate candidate for presidency in 2004, getting removed from contention far later than every other nuisance candidate since arguably ever.
Platform: Paying the debts of the Philippines with his $10B net worth, making every Filipino a millionaire, and changing the Philippine currency to the dollar. Why the last one? Who knows?
The Insanity: Boy, where do we begin? Eddie Gil was a laughing stock, but he seemed to be the only person who wasn't in on the joke, launching his nationwide campaign and ending up not having money to pay at one of his pit stops in Cagayan De Oro, where he couldn't even afford his own accommodations. Then, he used his newfound infamy to launch an acting and singing career which led to nothing, then he almost confused people into thinking Nikki Gil was his daughter, and then in 2010, he got arrested in Mauritius for fraud, although he managed to appeal that. Eddie Gil is a walking cartoon character who proves that true life can be stranger than fiction, while Eddie Gil's hairpiece is a walking cartoon character, period.
Odds Of Running Again: He already had his fifteen minutes of fame and milked it for what it was worth. Let the man rest.
Do you have a favorite? Tell us why!