While we have a lot of great superhero shows on TV right now, whether you're a Marvel or DC fan, It's really Black Lightning that stands out as a nod to the tito in all of us. The ones that still insist how the good old days will always be better than 2018 all over social media, which never existed during the good old days. The ones whose concept of humor involves silly punchlines, and jokes that take two leaps of logic to understand the punchline. The ones who think that "lodi" and "petmalu" are cutting-edge slang that should have never gone away (when they should have never shown up, ever). The ones whose only concept of dancing consists of this: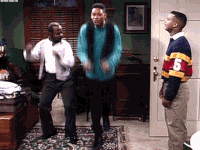 Or maybe the Ocho-Ocho.
Our hero is "too old for this $4!7"
Our hero is Jefferson Pierce, a school principal who retired from superhero-ing nearly a decade ago. Just because he was a superhero wouldn't mean that he'd just jump back into action without missing a beat: it's very clear that he's not used to the things he used to do anymore, and the superheroing game has changed as the times have, making him a relic of the past, trying to keep up with a world where the rules have changed. Much like us titos.
Real life gets in the way
Not only is our hero too old for superhero-ing, it's obvious that real life now gets in the way. He can't do late nights the way he used to because he's too busy running a school as its principal. He can't take risks because he has two kids to worry about, and his ex-wife, instead of thinking it's cool to have a superpowered husband, actually divorced him because it took its toll on their marriage.
That Tito-riffic costume
Come on!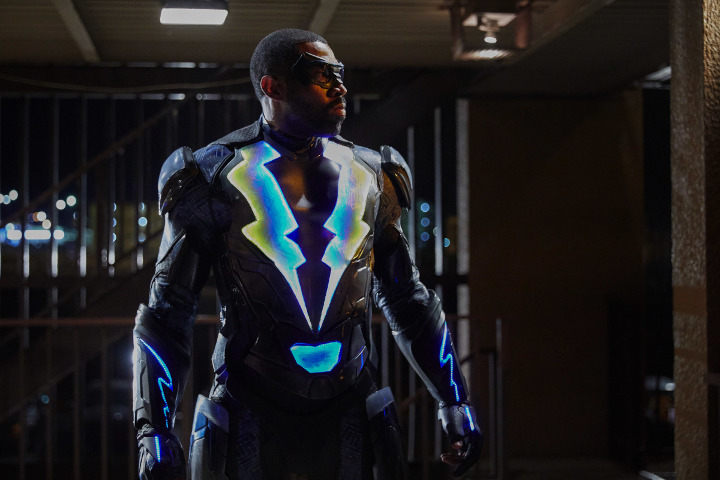 Pictured: come on!
That costume screams like what a Tito would wear on Halloween in the (hopeless) hopes his favorite pamangkin would think he's cool. Those lights. Augh!
The humor
There's a lot of Tito/Dad jokes thrown around casually in the dialogue, and you know Black Lightning is primarily responsible for them. Unlike Luke Cage, the only person who thinks Black Lightning is cool is Black Lightning. Heck, Principal Pierce is even cooler than Black Lightning, and he's the same frigging guy!
Tito even in meta
The fact that Luke Cage and Black Lightning would cover similar topics on race probably wouldn't escape the average viewer's notice, but there's a very old-school, heavy-handed approach to it that Black Lightning has been taking so far that makes it harder to miss the moral of the lesson, at the expense of subtlety. Ever had a subtle Tito? Didn't think so, either.
The call to return to superheroics comes from the most predictable of reasons…
"My kids are in danger." Outside of that, would there have been a chance for Jefferson Pierce to ever return to being Black Lightning? Highly unlikely.
Even our Titos never unleash their base Tito unless it is truly, absolutely necessary.
The big bad? Also Tito-Riffic
Come on. A black guy who is an albino? How much more Tito can you get, when that kind of wordplay is at work? The fact that he keeps bragging about the one big thing he's done (He claims he killed Black Lightning) even years after the fact just adds to the essence of his Tito-ness.
The soundtrack? Not so Tito.
The only thing that isn't Tito-riffic about Black Lightning is its soundtrack, featuring slick tracks from the likes of Nina Simone and Kendrick Lamar. But can you imagine if it did? We'd be grooving to Will Smith, Coolio, and 2Pac, which is, hey, not such a bad idea, either.
What do you think of the show? Tell us your thoughts below!