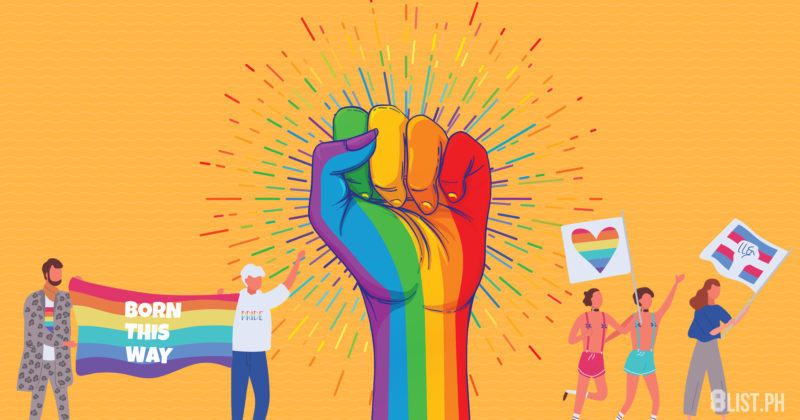 Given Filipino culture's irreverent way of finding humor in everything, we've all probably joined in offensive jokes in the past. But the thing about jokes about other people is that they are always made at the expense of other people. And no matter how lightly you intended it, there is nothing harmless about insulting someone for a laugh and enabling anyone who's watching to do the same.
We should know better by now. Here are 8 things we really should stop making jokes about. None of these things would be funny if they were happening to you.
Rape
https://www.instagram.com/p/Bu3wmcVFtSf/?utm_source=ig_share_sheet&igshid=153qdda7g0sgt&fbclid=IwAR0T9dWQi6gynaeoYeCfcoGRLhV_NrjFs60vw2k1iUan8VaNez2uJ9VwC7E
Rape isn't some gangbang porn fantasy where participants find themselves making funny sounds in comical positions. Rape is an act of terror and violence. Rape is intended to frighten a woman, to make her feel powerless and perpetually unsafe. Rape gouges scars a survivor will bear for the rest of her life. Find another edgy word to describe how rapidly you click your mouse button, and stop laughing when it's thrown out carelessly in presidential speeches.
Suicide
The decision to take one's own life doesn't happen over a single bad day; suicide is the culmination of numerous instances in which a person is made to feel worthless and undeserving of life. Quips like "Pakamatay ka na lang" train our minds not to take this suffering seriously, and when we're faced with the reality of a person contemplating suicide, we're unable to respond with sympathy. This makes them more convinced that the world is full of cruel people and they're better off dead. Unless that was your intention.
Depression
168. One of those days.#friends #depression #CheerUp pic.twitter.com/2qnsJwSfP6

— Steve Ogden (@SteveOgdenArt) April 24, 2017
There's nothing remotely funny about an illness that robs you of your energy for daily activities and your capability to enjoy anything. It's even less funny to know you will have to experience it again and again for the rest of your life. Depression is an empty void that you won't understand until you've stared it in the face – your hirits, hugots and TOTGAs can't compare – and just because you don't understand it doesn't mean you're allowed to make fun of it.
Race
boba tea of the day:

|︶|
| |
| |
\︶︶︶︶︶︶︶︶ /
\asians can't say /
\ the n word /
\ 〇 〇 〇 /
\ 〇 〇 /
\ 〇 〇 〇 /
\ 〇 〇 /
\_________/

— 悠淑🍙 (@plantpaint) February 20, 2019
Also, we have got to stop calling our best friends, boyfriends, girlfriends, etc. the N-word. A bloody history of slavery is neither funny nor sweet. Would you call your beloved "indio" as a term of endearment? If you answered yes, perhaps it's time to read more books.
Autism
Calling someone the "R" word is canceled. it's 2018. we aren't doing that anymore. It is disrespectful to those who have intellectual disabilities and also to the members of their family. it is no different than making a derogatory remark based on ones race or sexuality. So stop.

— krys (@krystab_) June 13, 2018
The real joke, apparently, is that being a "normie" and being able to act passably in social situations doesn't guarantee compassion. There's a lot science still has to discover about autism spectrum disorder, and so much we can learn from people who place on it. Those conversations have a harder time flourishing in a society that insists on clinging to misinformation, perpetuating the stigma, and promoting discrimination – all for the sake of humor.
Weight
Are we so devoid of conversational skills that we default to picking at people's weight? Can't we express mirth or concern without mentioning it? "You're looking well!" "You look a bit stressed." Other people's bodies are none of your business. And the resentment they'll feel toward you and the blow their self-confidence will take from your "joke" will be anything but harmless.
LGBT issues
https://www.instagram.com/p/8sR4WchBAQ/?utm_source=ig_share_sheet&igshid=6odyoov1hnaa&fbclid=IwAR06Gi9qUsSuUptXtC9-jCYG44RhjsHHMEvZx-btnfpDLXmFnmyFmhh4kFw
Maybe you've laughed at your dudebros taunting someone with "bakla". Or that disastrous ditty Titibo-Tibo passing itself off as a cutesy, novelty song. But there's nothing cutesy about the ongoing struggle of the LGBT to be recognized as human beings with rights by the law and the church – and ordinary people who still see them as entertainment instead of equals.
Drug war victims
Let's stop using 'tokhang' and Duterte violence as jokes, like 'Hala tinokhang ng barbero ang buhok mo!" or "I like my meat like Duterte's presidency – bloody." Extrajudicial murders are a catastrophe and a scourge to our nation. It's like saying, "Let's Holocaust these ants!"

— Shakira Sison (@shakirasison) January 18, 2018
Behind every joke about a dead body being dumped on the street with a placard or a policeman knocking on your door in the dead of night, there are thousands of families robbed of their breadwinners and children who will grow up steeply disadvantaged. If that's going to be our country's future, it isn't funny at all.
What else should we stop joking about? Tell us below!