Following his Academy Award-winning success with Get Out, writer-director Jordan Peele (TV's Key & Peele) returns for another round of horror as social commentary with Us. Given that film's stellar reception and box office, how does Us stand as a follow up?
THE STORY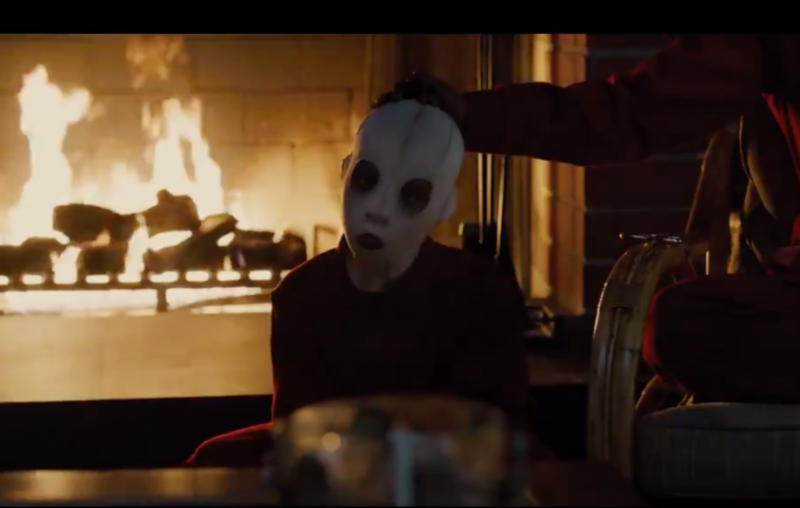 Us begins in 1986, when a young girl named Adelaide is separated from her parents at a beachfront carnival. Finding her way to into a funhouse, Adelaide comes face to face with her exact double, an experience which traumatizes the young girl to the point of speechlessness before she is found by her parents.
The film picks up in the present day, with the now-married Adelaide (Lupita Nyong'o, 12 Years a Slave), her husband Gabe Wilson (Winston Duke, Black Panther), and their two children driving to Santa Cruz for their annual summer vacation. What begins as a relaxing trip takes a turn for the horrific when they are attacked in their holiday home by their doppelgangers, led by none other than Adelaide's embittered double. As the Wilsons fight for their lives, they realize that their doppelgangers' overall plans go far beyond a mere home invasion.
SOCIAL COMMENTARY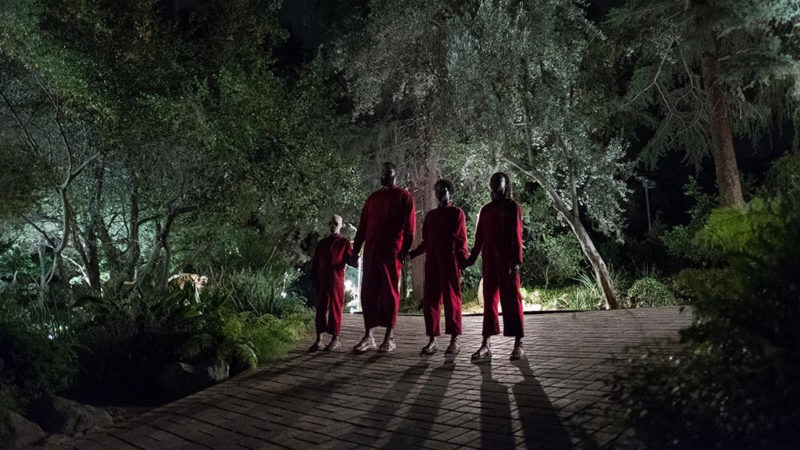 Where Get Out was crystal clear on who and what it was commenting on, Us is a little more open-ended in that regard. As a concept, the doppelgangers (the Tethered) are endlessly fascinating, serving as horror/sci-fi stand-ins for any number of societal and psychological concepts, from notions of privilege, identity and self, to arguments on nature vs nurture.
Regardless of how one chooses to look at them and their ultimate cause, the Tethered's ability to scare, simple trappings notwithstanding, are anchored in the horror inherent in facing one's self and being unable to recognize the reflection looking back.
While the nature of his villains may be up for interpretation, Peele makes a definitive statement in his casting of African Americans in the lead roles. Right off the bat, the fact that our main characters are a loving, black, suburban family calls attention to itself for being simultaneously relatable and unfamiliar based on the mere fact that we've only ever seen white people in these roles. Enormously refreshing, and endlessly entertaining (if only for Duke's turn as the awkward dad), the Wilson family is a solid win for representation in modern blockbuster cinema.
HACK AND SLASH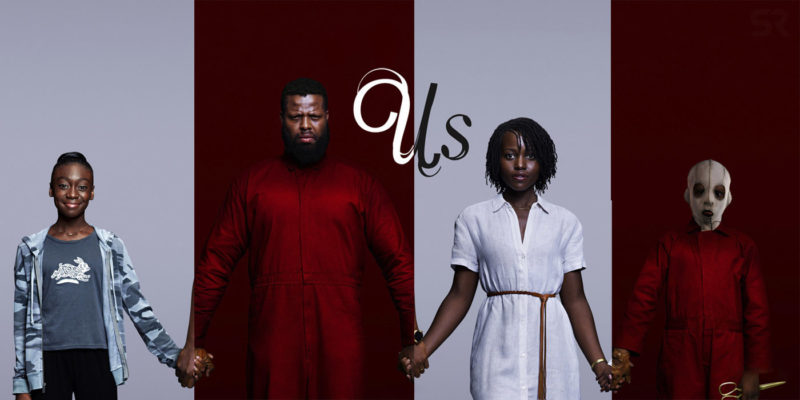 In many respects, this is a more conventional horror film than Get Out, relying on shocks and viscera to convey the Wilson family's peril. Peele's direction shows a more confident hand this time around, with his penchant for comedy coming through in the form of surprisingly effective punchlines punctuating the onscreen mayhem.
The interplay of laughs and scares comes to a head in a breathless, darkly comic sequence where the Beach Boys' "Good Vibrations", a smart speaker, and two sets of twins play crucial roles amidst scenes of absolute brutality.
FATHER OF THE YEAR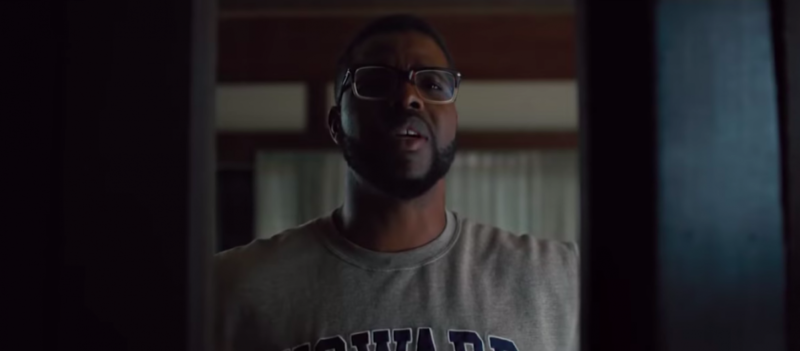 Winston Duke may be beloved for his first major film role as tribe leader M'Baku in the Marvel Cinematic Universe, but Us is sure to lift his profile even more for his portrayal of a typical suburban dad. Complete with groan-worthy jokes and cringe-worthy attempts to compete with their wealthy family friends, Duke is brilliant as a father who just wants to do right by his family, but more often than not finds himself in over his head.
Whether he's struggling with a sputtering boat engine, or acting tough to defend his property, Duke's hitherto unseen talent for comedy leads to his delivering many of the film's most memorable lines.
THE KIDS ARE ALRIGHT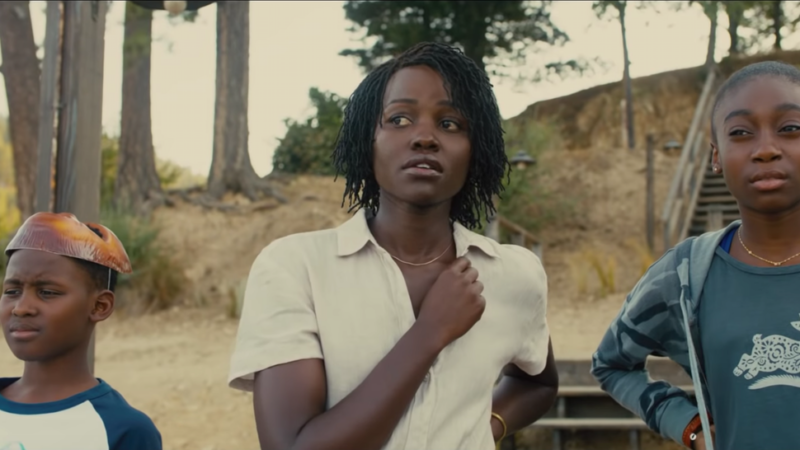 Normally in a horror film, the kids are either the most annoying element, or the most terrifying. In Us, Peele defies convention in giving us two children who we absolutely want to survive, thanks to engaging performances from the actors portraying them.
Newcomer Shahadi Wright Joseph plays Zora, the teenage daughter who can barely spare two seconds to look away from her cellphone, and Umbrae, her smiling, psychotic double, who effortlessly manages to match her every athletic step, while Evan Alex plays brother Jason, whose affinity for magic tricks actually ends up saving his life.
In scene after scene, the two child performers avoid nearly every cliché and contrivance that their characters would normally engage in, making it incredibly natural to root for them, and equally easy to be terrified for their safety when the scene calls for it.
THE LUPITA SHOW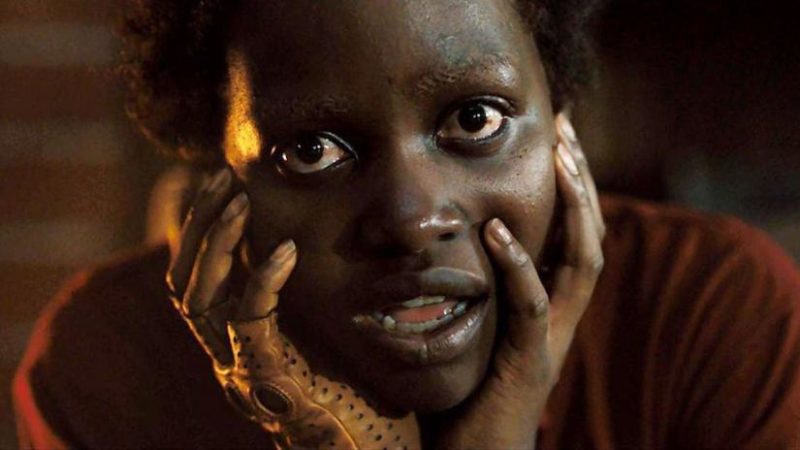 While the kids are great and Winston Duke is hilariously endearing, Nyong'o is far and away the film's MVP, running the full gamut of emotions in her dual portrayals of Adelaide and doppelganger Red. The scene where Red speaks for the first time is as pure a horror movie moment as has ever been filmed, her fractured voice conveying barely-contained hate, spite, and murderous elation in equal measure. It is a testament to Nyong'o's acting ability that, aside from their shared face, it is genuinely difficult to associate Adelaide's doting mother with her nightmare-inducing doppelganger.
Nyong'o's ability to present her two roles as distinct characters comes full circle with the film's final reveal, which forces the viewer to question everything they thought they knew. The only trouble is, the more one thinks about it, the more the film as a whole begins to fall apart, and that's ignoring the logistical concerns of outfitting 300 million clones with matching jumpsuits and scissors.
THE TWIST
Government experiments, human cloning, and psychic links meld together for an irresistible blend of high concept chicanery that this reviewer was fully onboard for until the final, logic-defying twist.
–IF YOU DON'T WANT TO KNOW THE TWIST, SKIP STRAIGHT TO THE NEXT SECTION–
While Adelaide actually being Red (and vice versa) is fine in theory (Adelaide is actually a Tethered), the film fails in ultimately justifying it, as the clues leading up to that point don't add up unless "Adelaide" somehow managed to repress her past life from herself.
Take, for instance, "Adelaide's" initial refusal to go down to Santa Cruz Beach, despite it being established in dialogue that this was an annual trip the family took. If she was really worried about the real Adelaide showing up to reclaim her birthright, why would she agree to go there year after year? On the other hand, if her psychic connection somehow allowed her to anticipate the Tethers' uprising, then all the more she should have known to stay as far away as possible. In either case, the ending we are presented with comes across more as the filmmakers trying to show the audience how clever they were, rather than something the film earned or built up to.
 THE BOTTOM LINE
The final twist ruins what had been, to that point, a mostly enjoyable horror thriller that was unsettling in and of itself. And while it isn't hard to imagine an alternate cut of Us where the switch never happened, with the Wilsons forced to make their way across a country they no longer recognize, one can only judge the film based on what was actually released.
After the release of Get Out, the big question was whether or not Jordan Peele would ever be able to equal that film's masterful balance of dread, suspense, and commentary.
Having seen Us, sad to say, the question still stands.
What do you think of the movie? Tell us below!