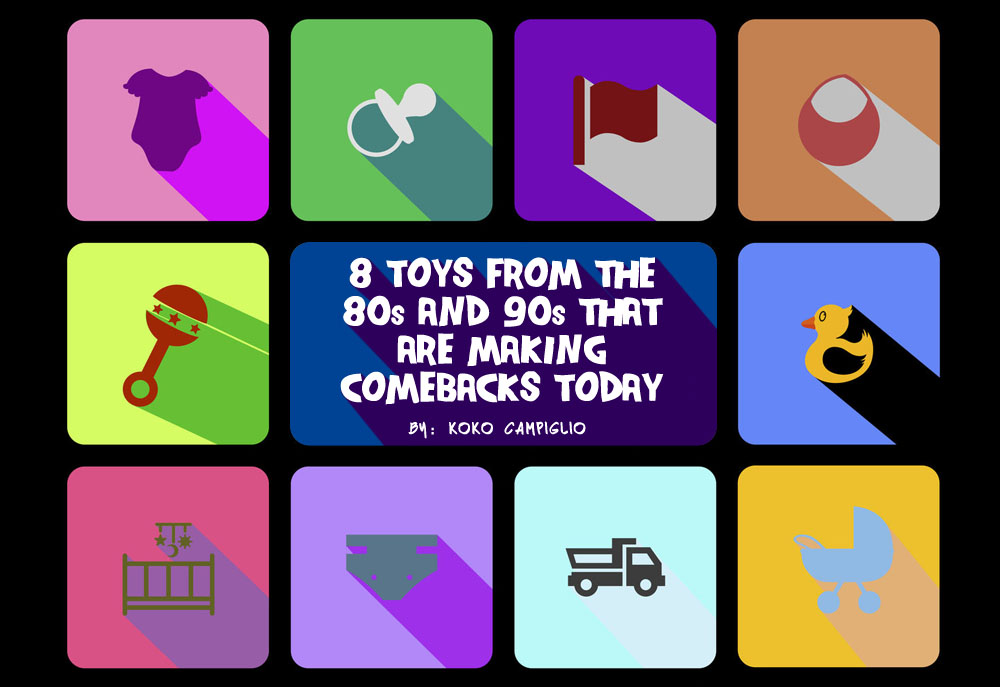 Talk to any 80s or 90s kid about the toys they grew up with and you're most probably going to get a lot of the same answers. From Transformers to TMNT to GI Joe, most of Gen Y laments destroying or losing these iconic toys, if only for their high resale value on the market now. We guess some people are feeling nostalgic, or want pieces that remind them of how great their childhoods were during that era.
There's good news though! A considerable number of those old toy lines have been revived recently, or are in the process of making a much-awaited comeback. If you're one of those 80s/90s kids, now is your chance to get them.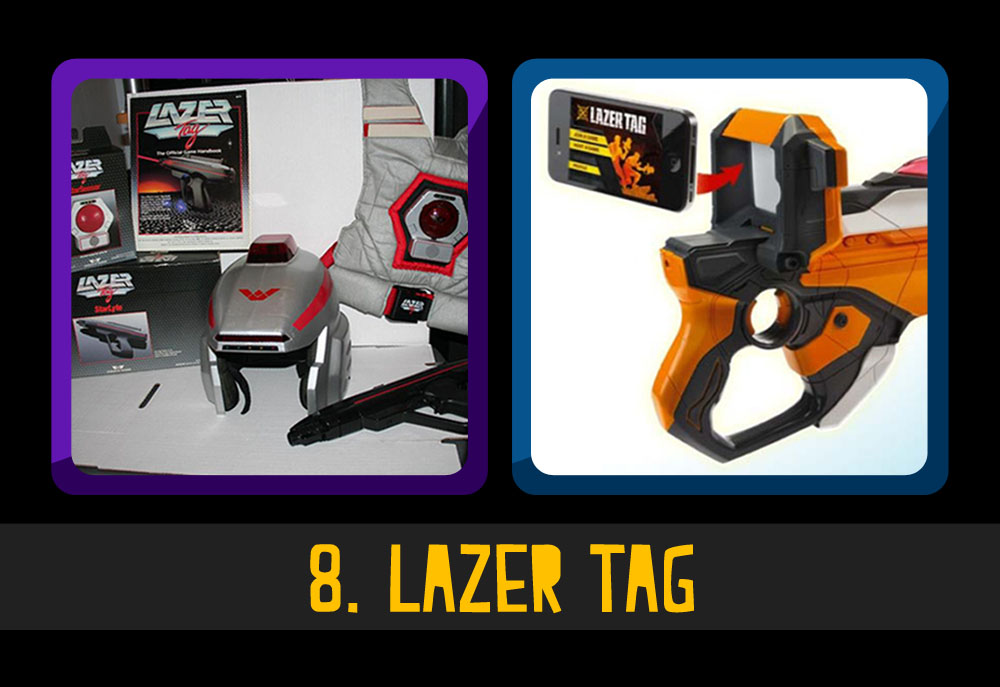 Lazer Tag was a big thing back in the 80s. People were able to play combat games without actually getting shot. Lazer Tag came with the certainty that regardless of whether you got shot or not, a fight was going to stem from bruised egos. As a form of 80s-style Counterstrike, it involved actual physical activity as well as serving as a development tool for debating. People were obsessed to the point that a cartoon was even produced to embody it.
Lazer Tag disappeared from the limelight when tragedy struck: a teeanger was shot by the police because thought that he had been brandishing a real gun. Around 2012, Hasbro purchased and revived it under the Nerf brand, but it now uses iPhones as it's gaming platform as an app.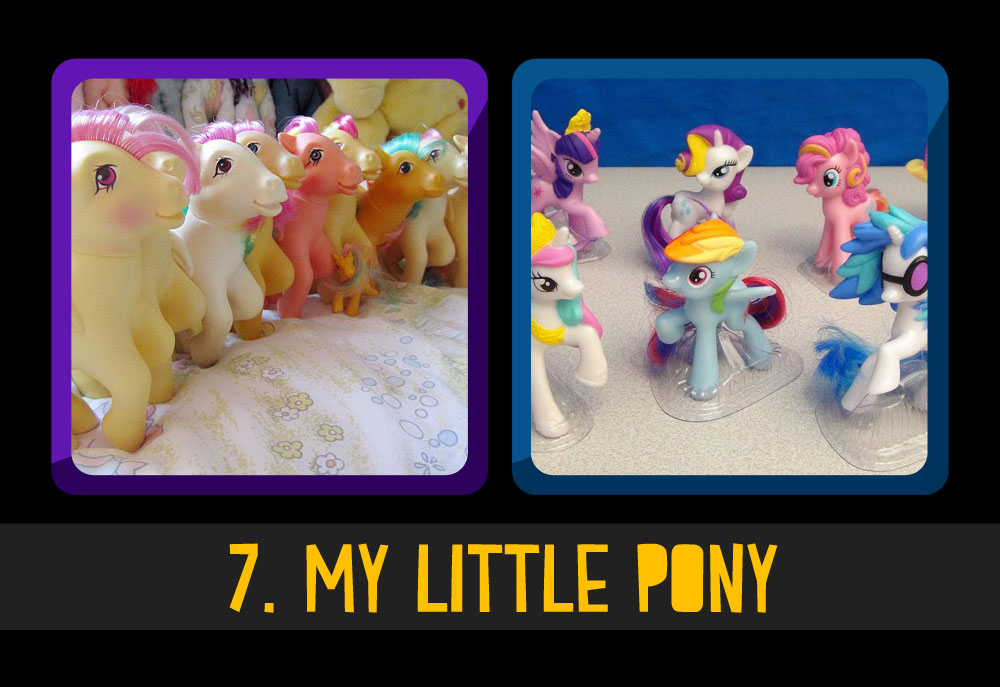 MLP's toy line was released around 1983 and was primarily marketed to girls. They were plastic pony toys that came hand-in-hand with a fantasy setting that much beloved by little girls the world over.
Around 2010, its popularity spilled over into unexpected demographic groups. Thanks to the unexpected success of the new animated series, the story and the characters gained the surprising interest of teenage boys and adult men and women. As a result, the new toy line became a success and became more profitable thanks to the fact that a wider demographic was throwing their support behind it.
Bronies Unite!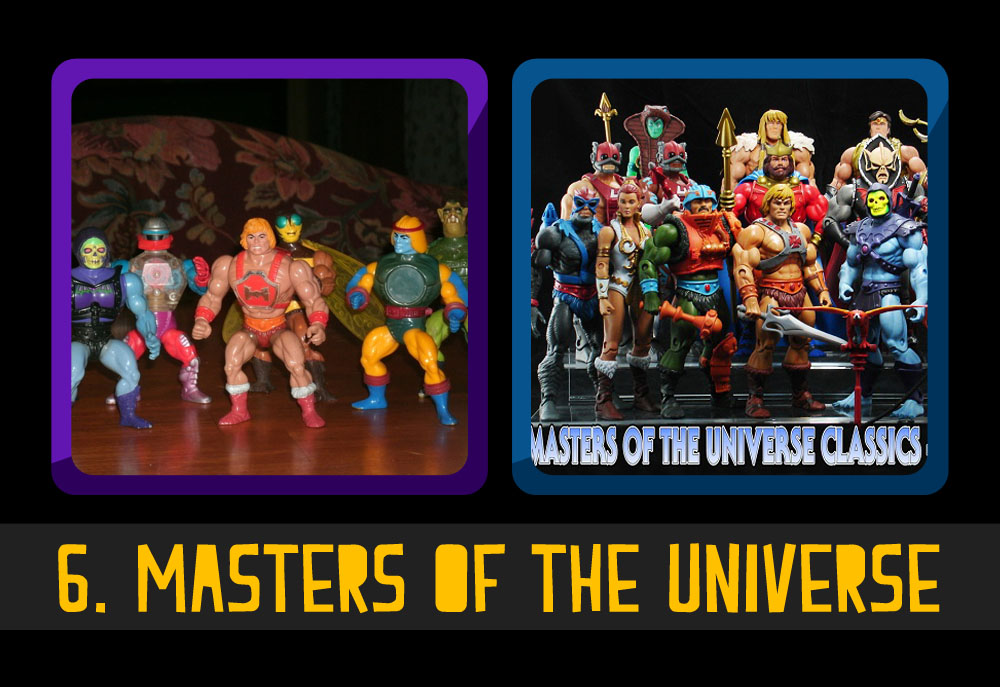 Made with the intention to be marketed to boys, the Masters of the Universe toy line was based on a series featuring He-man's battles with the evil Skeletor in a setting that fused sword and sorcery with sci-fi technology.
The new updated line came out recently and boasts significantly improved design, sculpt and mold. Definitely fabulous, like the secrets that only He-Man knows.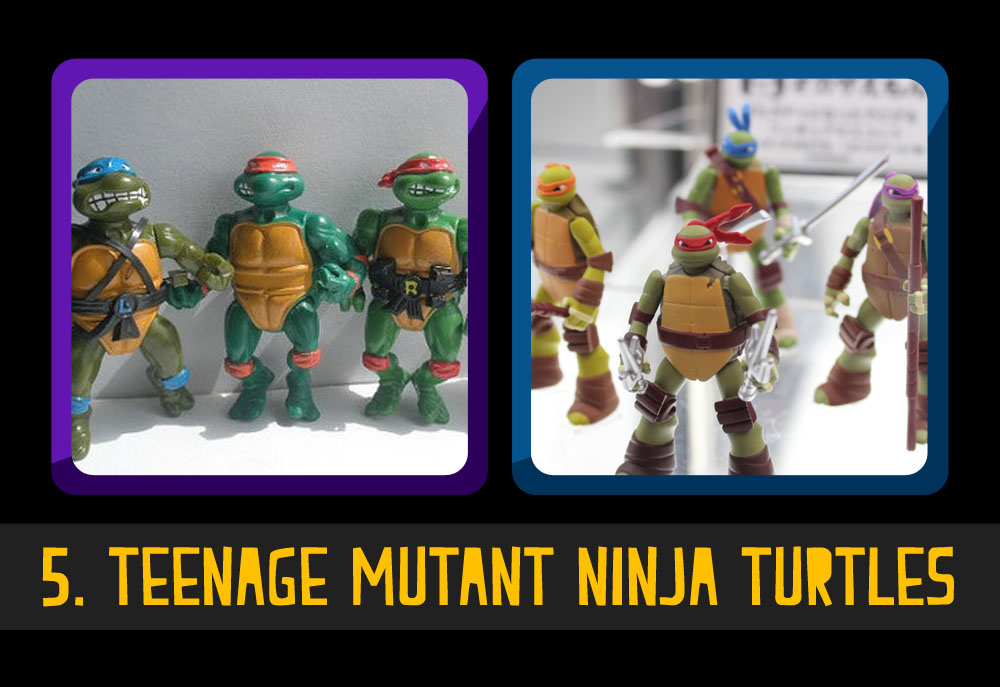 One of the most iconic ideas introduced to kids in the 80s was the concept of ninjas. Seriously, ninjas were the shit. Kids dressed up like them, climbed walls like them, jumped off roofs like them, and ended up in the hospital because they couldn't land like them. Kids even ran with their hands behind them and angled their bodies like torpedoes with legs to simulate the ninja run. Also, kids totally knew who Michael Dudikoff was.
When they released Teenage Mutant Ninja Turtles as a cartoon, that was it. Over time the series has come to be the very symbol of 80s animation, from its music to its catchphrases to the plot. Everyone collected (or wanted to collect) all the toys, even when they went into some really weird places (read: clowns, racial stereotypes, and classic movie monsters).
A new series and a more reserved toy line came out and it looks really good. Collectors, get your wallets ready.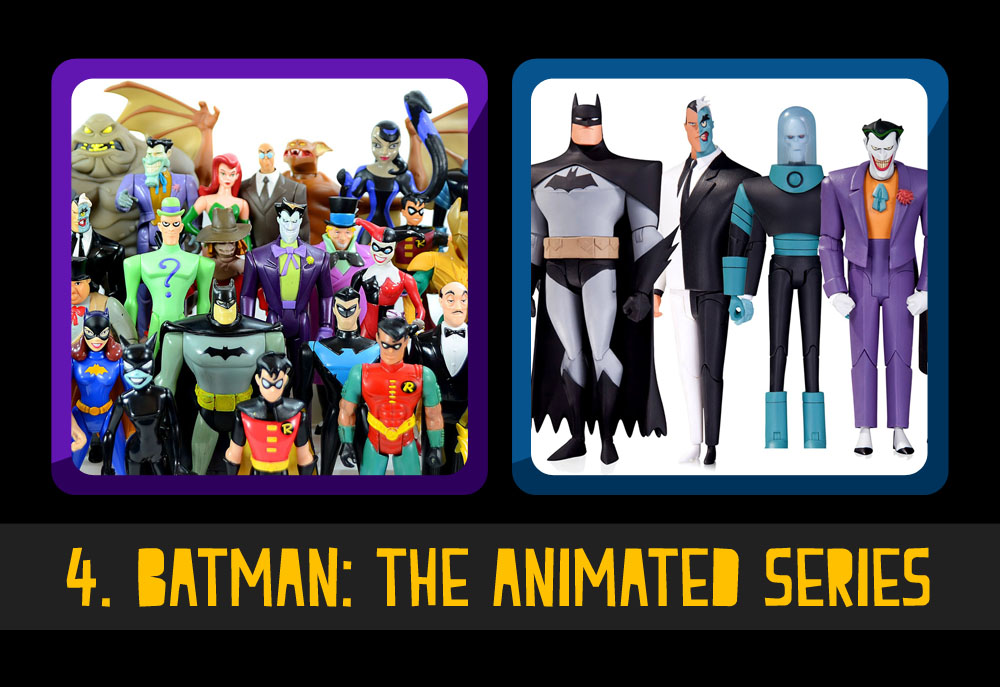 Considered one of the best cartoons ever made, this Emmy-award winning series introduced Batman lore to a lot of kids that didn't have access to comic books at the time. The original 90s toy line is extensive, spanning several waves and figures. 90s kids most likely had at least one figure from this toy line.
DC Collectibles recently released a new line based on the series (with an awesome Batmobile to boot), and we can say is TAKE OUR MONEY.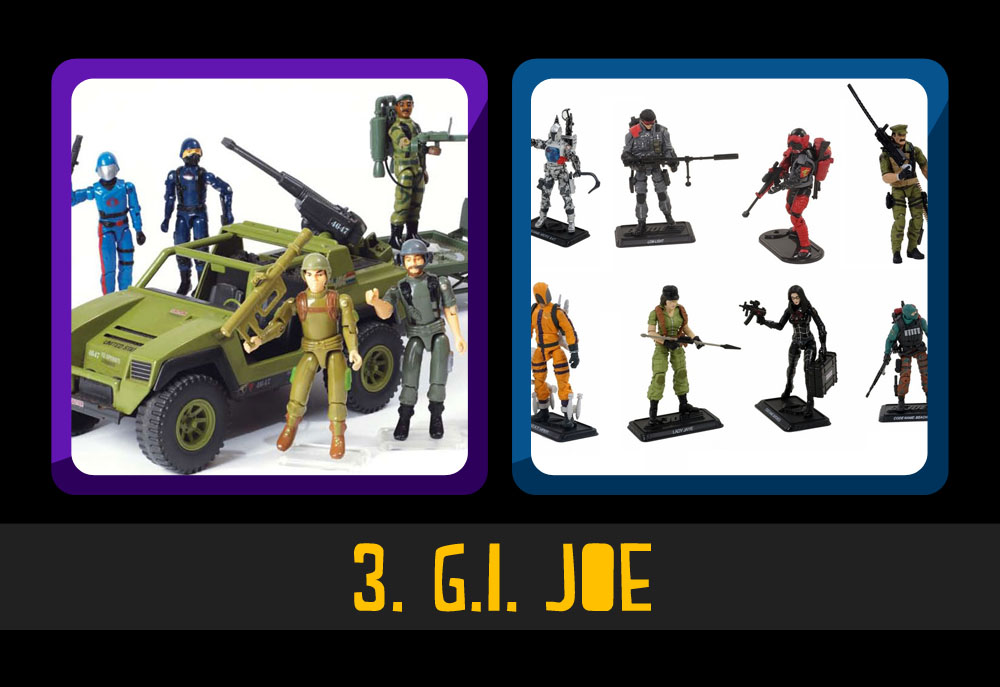 One of two recently revived franchises from the 80s, G.I. Joe has regained some popularity thanks to some recent live-action Hollywood movies.
Every kid wanted GI Joes because of the figures and the vehicles, but this toy line was most coveted for the titans that were the military bases (see: the USS Flagg). Personally out of all the figures, I wanted Snake-Eyes. Unfortunately, everyone else wanted him as well.
The 50th Anniversary line was just released, and for those of you who are still looking to cop a Snake-Eyes figure, all is fair in love and collecting!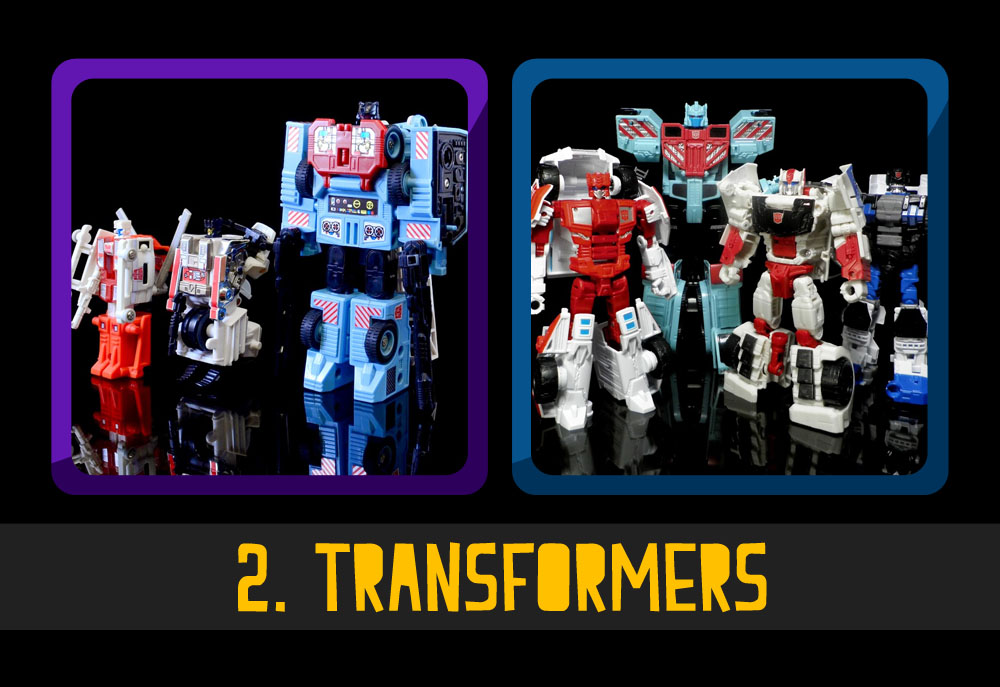 One of the most loved and traumatic (see: the 80s animated film) cartoons to ever grace 80s television sets, Transformers was also an iconic toy line. It was like having two toys in one: a badass vehicle and the humanoid form of its alt mode. Collections of these toys were all well-loved, shown off to friends, and bragged out at school.
Over the years, the Transformers toy line steadily and consistently released a lot of sublines that attained moderate success. With the advent of the movie series and various cartoons, newer versions came out and incited collector frenzy.
The Generations line is credited as the most faithful to the style and look of the classic 80s toys. It recently came out with the Combiner Wars subline, which showcased the giant combining robots (Devastator!) and has been met with positive reactions from fans.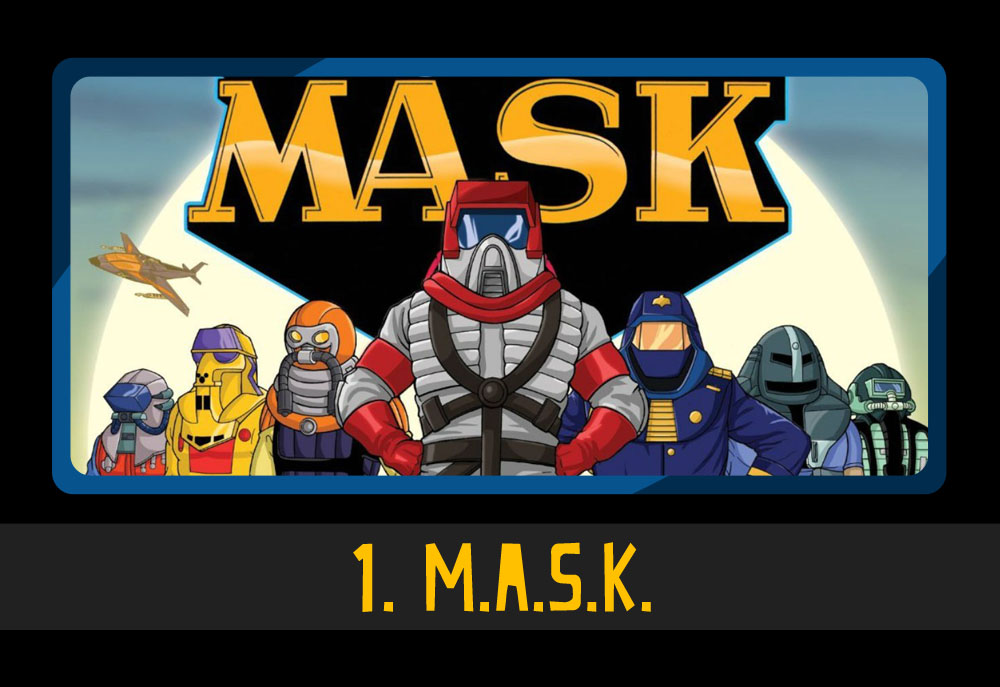 Sadly, M.A.S.K. was a great series with awesome toys that took a while to get back into the limelight after going dead for several years. Original toys from the series have become increasingly more expensive online, but thankfully Hasbro just announced that they will release a new line to celebrate the series' 30th Anniversary. Cry because you're happy they're back, but also cry because all your money is about to disappear.
What were your favourite toys from the 80s and 90s? Are any of them making a comeback? Sound off in the comments below!