Real Life vs. Reel Life: 8 '90s Pinoy Loveteams, In Retrospect
Feb 17, 2015 &nbsp • &nbsp Janus Dosequis Harvey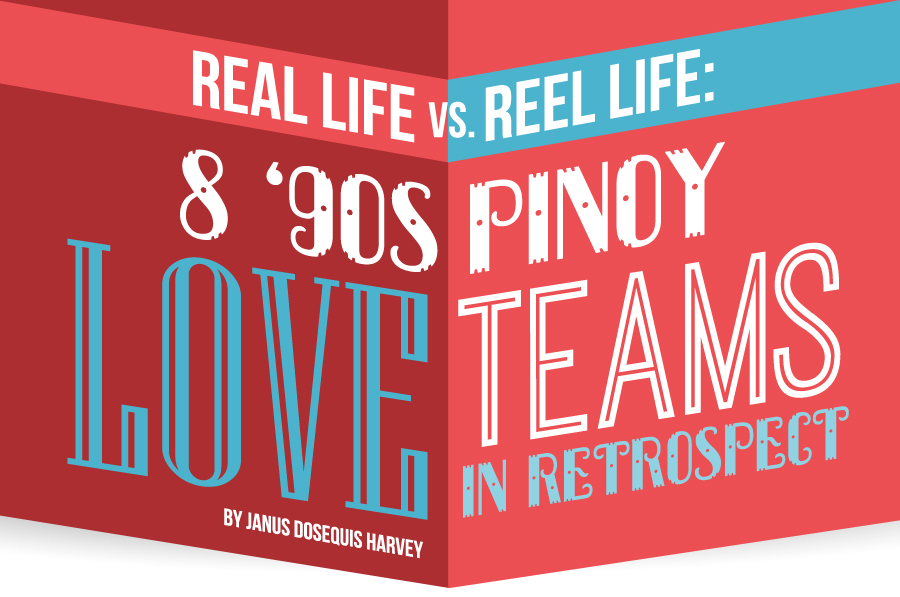 The loveteam has always been a mainstay of Philippine television and cinema. Sometimes, they work out in real life, but more often than not, they tend to remain purely a professional affair, no matter how hard the fans hope their favorite tandem would end up together.
Let's take a look at some of the biggest loveteams of the '90s and find out if, in the words of Adele, they "could have had it all." Were they rolling in the deep, or merely rolling in the cash?
First Together In: Familia Zaragoza (1994)
Reel Life: 5/10
As a loveteam, it was pretty clear that there was something going on between Angelica and Carlo, but admittedly, they didn't have the acting chops back then to really do their apparent chemistry enough justice. Oh, if only back then, Angelica had the talent she recently put on display during "That Thing Called Tadhana" they could have very well eclipsed anyone else on this list! Angelica today could have carried Carlo through anything, despite his acting being more wooden than Marlou Aquino (no relation) pretending to care about basketball during the latter part of his PBA career.
Real Life: 8/10
As a real-life couple, Angelica and Carlo lasted about six years, breaking up in the mid-2000's. It didn't take too long before Carlo tried to move in on Angelica's best friend, Camille Pratts, which caused a rift between the two.
Today: 0/10
Don't hold your breath for Carlo and Angelica to ever get back together. After Derek Ramsay then John Lloyd Cruz, going back down the totem pole to Carlo Aquino for Angelica Panganiban would be about likely as Kris Aquino revealing that she's dating Boy Abunda.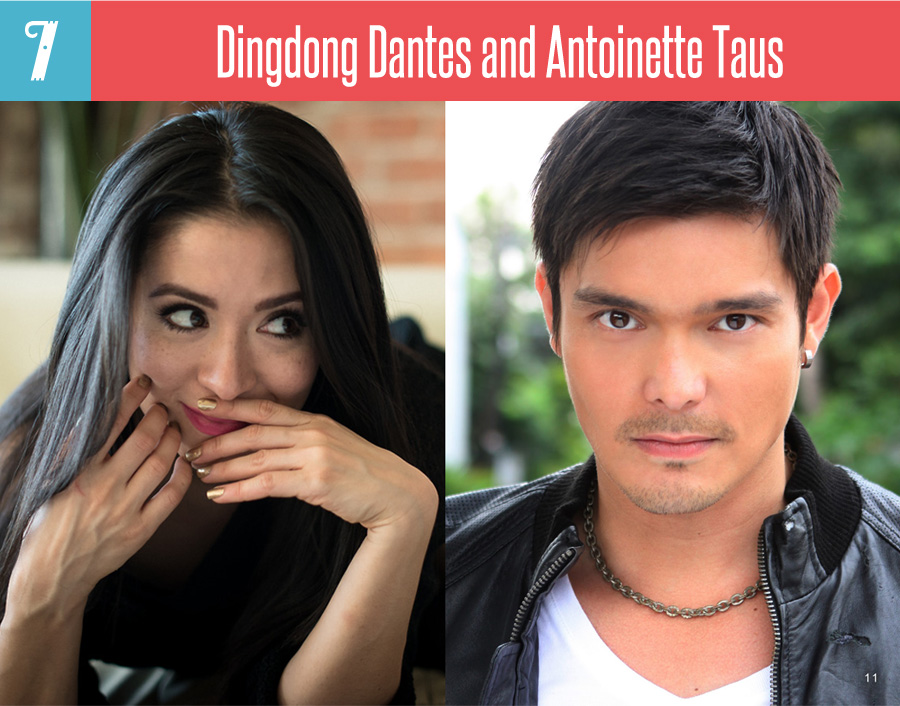 Reel Life: 7/10
The good news is that Antoinette and Dingdong were better than Carlo and Angelica in the acting department back then. The bad news is, even in 2015, Dingdong didn't get that much better, and who knows how well Antoinette acts today? Nonetheless, they were the power couple back in the day, because it was clear that GMA-7 had big plans for Dingdong early on. Their run on the second generation of "TGIS" was okay, but it was in "Anna Karenina" where the couple really showed their emotional depth. We've seen kiddie pools that were deeper, though.
Real Life: 8/10
How long were these two together again? We practically lost count! It was just a matter of time before these two ended up married, but their respective careers diverged, sending Antoinette to the US, while Dingdong remained. Out of sight, out of mind. It wasn't long before we heard that the two quietly broke up.
Today: 1/10
Dingdong Dantes is married now. And while Antoinette has reportedly been in the Philippines since 2014, she's still surprisingly single. Let's throw in that "1" for the remote shot that would make all 15 fans of the Dongtoinette loveteam very, very happy.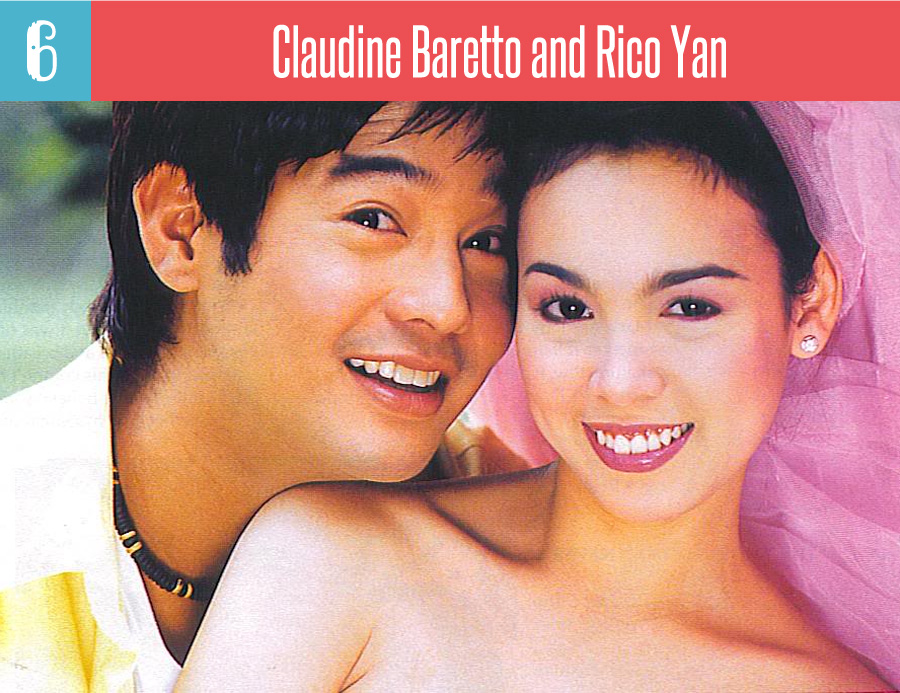 Reel Life: 10/10
Claudine Baretto was at the peak of her popularity, and so was Rico Yan. They were skilled actors, and made magic with every onscreen moment they produced. They were first paired up as a loveteam in "Radio Romance: The Movie" in 1996, although they both appeared in "Madrasta" in the same year. They were money in "Mula Sa Puso" in 1997, then brought everyone to a fevered pitch in "Got 2 Believe" in 2002.
Real Life: 7/10
They really had everything going for them, but a very messy breakup happened around the time "Got 2 Believe" came out, and it wasn't long before it was revealed that Claudine already found love in the arms of fellow actor and MMA fighter, Raymart Santiago.
Today: 0/10
There is zero chance that Claudine and Rico would ever get back together. I hope I don't have to explain why.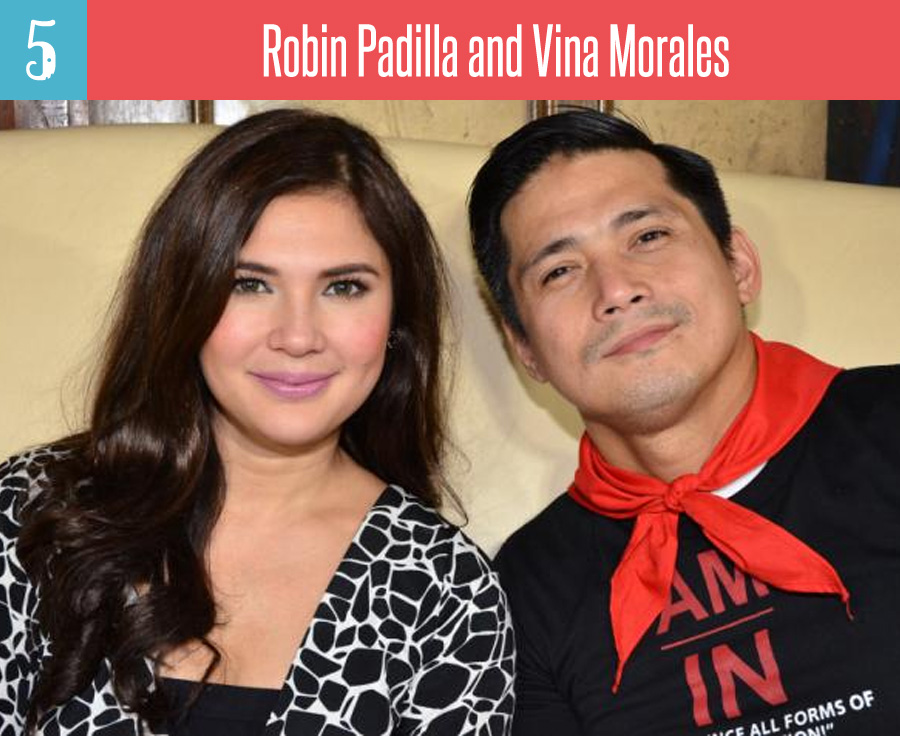 Reel Life: 9/10
Let's face it: Robin Padilla exudes chemistry with whomever he is paired up with, and the two weren't a loveteam in the conventional sense. When Robin and Vina headlined "Ang Utol Kong Hoodlum" in '91, it wasn't hard to see why the two would hit it off. Robin's smoldering yet awkward glances at Vina were the stuff of legend.
Real Life: 7/10
Nowadays, Vina is quick to dismiss what she had with Robin as "puppy love," and it's hard not to believe her when you realize that she listened to her parents instead of her heart when she broke up with Robin due to parental disapproval. It was really not meant to be.
Today: 3/10
Robin Padilla is a Muslim, and he can legally marry up to four women. Recently, Vina and Robin starred in "Bonifacio," and their onscreen chemistry has been as powerful as ever.  Robin allegedly mentioned to the press his interest, but it's pretty clear that Vina is not interested in competing with Mariel Rodriguez for the so-called Bad Boy's affections.
Reel Life: 10/10
Oh, man. If you want to talk about chemistry, it's really hard to top these two when they were at the top of their game. "Mara Clara" lasted for decades on primetime TV, and these two practically grew up with each other on that show. By the time they were making movies with each other, was it such a surprise that their fans were clamoring for more, more, more?
Real Life: 7/10
While Wowie was Judy Ann's first boyfriend, it didn't take long before other names were linked to both, so it was no surprise that at some point, the Juday-Wowie ship was going to get sunk.
Today: 0/10
Judy Ann is happily married to Ryan Agoncillo, while Wowie has been inactive in showbiz for the last three years or so. Wowie keeps to himself for the most part, but has mentioned that he is still very good friends with Judy Ann and even Gladys Reyes, aka Clara.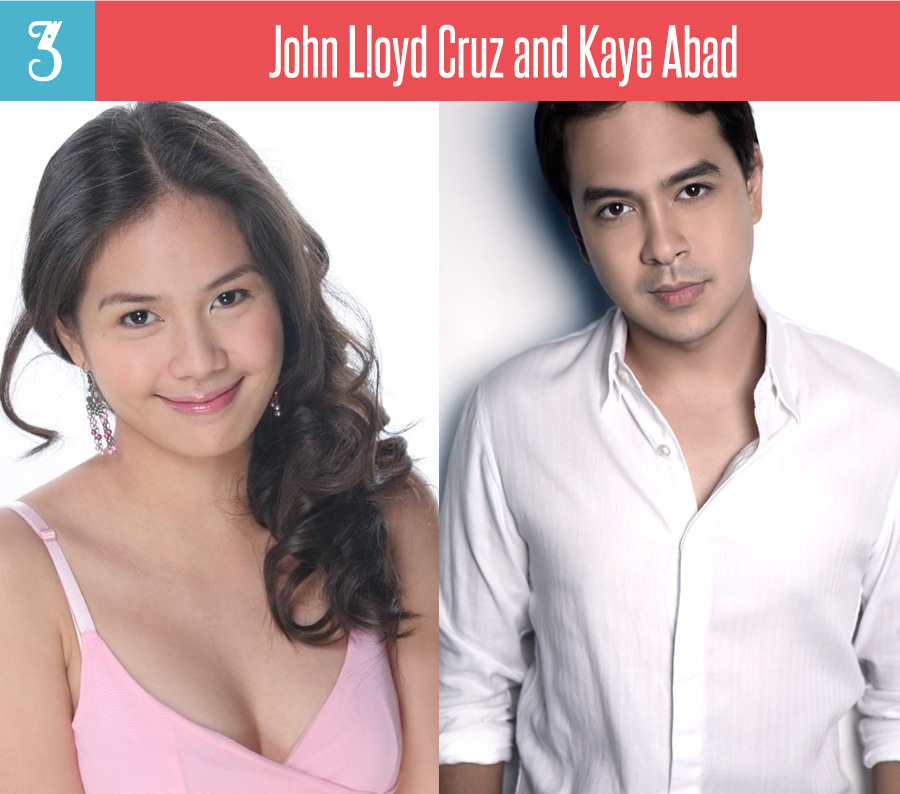 Reel Life: 8/10
Completely underrated during their "Gimik" days, John Lloyd and Kaye really took off in "Tabing Ilog," where they ended up being recognized as two of the most reliable acting talents in the Star Circle roster. You could have paired them up in anything at all, and the fans would have lapped it up like anything.
Real Life: 2/10
To this day, neither JLC nor Kaye would confirm if they ever even had a real-life relationship during their heyday. At most, JLC admitted he was once upon a time very much in love with Kaye, but no mention of the nature of their romance was actually divulged. This actually sets the pattern for JLC and his onscreen pairings, and the "trabaho lang" exception attributed to him by the Tunay Na Lalake blog, after he was paired with both Sarah Geronimo and Bea Alonzo, yet no real-life romance ever developed from either.
Today: 5/10
JLC is currently happy with Angelica Panganiban while Kaye supposedly has a non-showbiz boyfriend at the moment, after a long relationship with Parokya Ni Edgar frontman Chito Miranda. Nonetheless, since neither are married, it isn't too controversial to speculate that the door could very well be open for the two in the future if the stars aligned properly.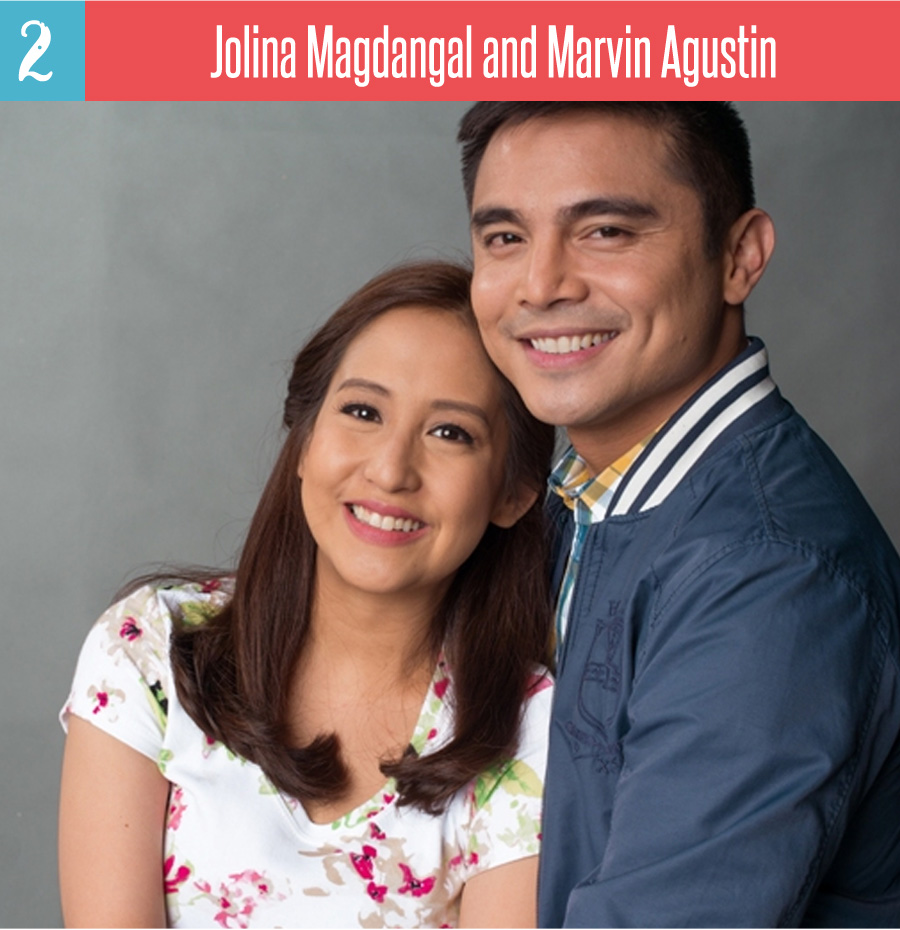 Reel Life: 10/10
With the exception of the #1 loveteam on this list, nobody could hold a candle to the strength of the Marvin-Jolina loveteam by dint of their monster chemistry alone. From their "Gimik" days to their "Esperanza" soap opera run, it was pretty clear that these two were having the time of their lives and thrilling their loveteam supporters with every little smile they crack at each other.
Real Life: 2/10
Just like John Lloyd and Kaye, it still remains unconfirmed whether or not Jolina and Marvin had an actual off-screen relationship. Lo and behold, it's 2014 now, and people are still holding out hope for the two.
Today: 0/10
Jolina is now happily married to Rivermaya drummer Mark Escueta, while Marvin Agustin is happily married to his numerous business endeavors. I think it's safe to say there's no chance these two would ever find themselves in one another's arms as a real-life couple anytime soon.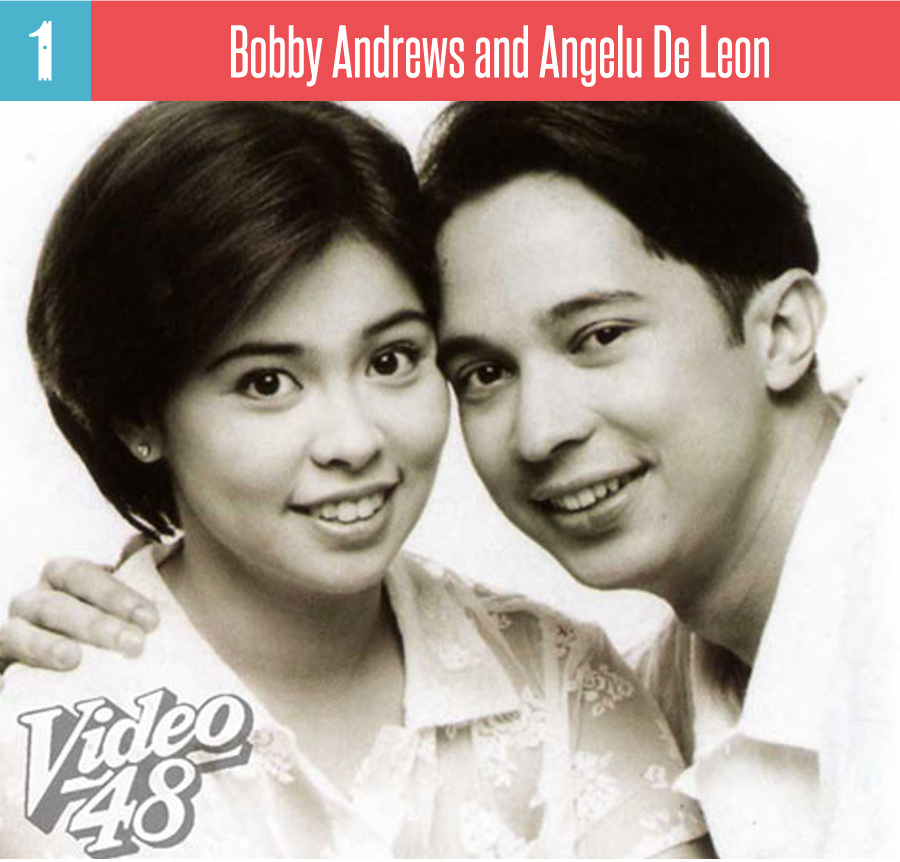 Reel Life: 10/10
Peachy and Wacks! Cookie and Pancakes! There was probably no bigger loveteam than this one back in the day, even if Marvin-Jolina or Judy Ann-Wowie fans would disagree vehemently. Think about it: in "Gimik," it wasn't shocking to see the other loveteams rotate in importance, but in "TGIS," the minute the Peachy-Wacks loveteam was established, it became the Bobby-Angelu (And Friends) show.
Real Life: 0/10
By all reports, there was absolutely no real-life crossover for the Angelu-Bobby tandem. It was all work for them, which really underscored just how good these two were at leading us on.
Today: 0/10
No chance then, no chance now. Both are happily married to their respective partners.