Just when we thought the noise around Aljur Abrenica and Kylie Padilla's breakup and cheating scandals was dying down, the internet is feasting on piping hot tea about the former couple once again. Here's why the two have been thrust back into the spotlight.
The context
The former couple first faced breakup rumors after Padilla made a series of posts hinting at relationship difficulties last February.

In July, speculations finally ended when the actress' father Robin Padilla confirmed the breakup *and* said that there was a third party involved.


Robin Padilla Says Men Cheating Is 'Just Natural' and the Internet Isn't Having It

Robin Padilla Says Men Cheating Is 'Just Natural' and the Internet Isn't Having It
Kaira Guererro | Jul 09, 2021
An alleged third party
shopping as a friend lang Aj and Aljur pic.twitter.com/ITeHOvFcsG

— (@aminsmh) October 7, 2021

A netizen posted photos of herself with Abrenica and his Nerisa co-star AJ Raval in SM Pampanga. According to the netizen, the two were "holding hands." It went viral, sparking rumors that the cheating allegations were true and Raval was the alleged third party.
Raval later confirmed that Abrenica was courting her. Meanwhile, Padilla said "there is no issue" and the former couple "have already mutually agreed to date other people." But it seemed that despite the fact that the former couple had separated since April, not all had been said and done.
What Does Kylie Padilla Have to Say About Aljur Abrenica and AJ Raval's Relationship?
What Does Kylie Padilla Have to Say About Aljur Abrenica and AJ Raval's Relationship?
Kyzia Maramara | Oct 07, 2021
Aljur speaks up


Last night, Abrenica broke his silence on the issue with a lengthy Facebook post asking his ex-wife to "tell the truth." The actor heavily hinted that the former couple had settled on an agreement where Abrenica wouldn't speak up. He also said it was Padilla who "cheated first" and "wrecked [their] family" and that not even Padilla's father knew the truth.
Kylie shades back on her IG stories . . .


After Abrenica's post going viral, Padilla took to Instagram to share songs, namely Adele's "Easy on Me", Billie Eilish's "Happier Than Ever", Miley Cyrus' "Wrecking Ball", and Lily Allen's "Smile." The lyrics of these songs seem to be her response to Abrenica's lengthy plea.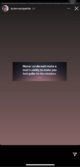 Padilla ended her IG stories with a quote that read "Never underestimate a man's ability to make you feel guilty for his mistakes." Netizens speculate that these are all meant to be ~shading~ Abrenica and his Facebook post.
. . . and some more on her Twitter likes


Padilla didn't stop there. She also went on her official Twitter account and liked random netizens' tweets damning Abrenica and Raval.
AJ Raval's mom thanks Aljur
Robin Padilla is no longer the only parent involved in the former couple's mess. Raval's mother Alyssa Alvarez also went on Facebook to thank Abrenica and give him support. The mother wrote that Abrenica told her about what happened from the very beginning, so she "kept [her] mouth shut."



"Nagpapasalamat ako 'anak' kasi tinupad mo ang sinabi mong di mo kami pababayaan," the post read. "Alam ko hindi lang ito para sa amin, pati na rin sa mga taong nagmamahal at nasasaktan para sayo…"
Netizens have a lot to say
Some netizens are angry that Abrenica is "breaking [his] silence" after Padilla defended him when the cheating rumors first came out, while some are speculating that Abrenica is doing this at this time to "sabotage" his ex-wife's career. Padilla is currently working on a project. Others are condemning him for getting revenge by cheating back. Meanwhile, some are just here for the "tea." In fact, Abrenica's post has already gathered thousands of comments.
The audacity of Aljur to "break his silence" when Kylie has said nothing but nice things to the father of their kids, she even defended him when the issue with AJ came out. Kapal ng mukha mo Aljur! pic.twitter.com/SdXvHuAsa0

— Hope 🥑 (@hopeforsunset) October 19, 2021
aljur releasing a statement in a time where kylie is in a middle of a new show is sus. the scumbag that you are. always there to sabotage kylie's career. di ka pa namin napapatawad sa Enca. tapos sa TODA. apaka mo. pic.twitter.com/pF4zdKhT4v

— charlene (@amazinglychao) October 19, 2021
Aljur, mahal kita. Lam mo yan. Problematic lang for me yung statement mong "tell them who cheated first" because, if nauna man siya, it doesn't give you the license to cheat back.

— Miss France Sajorda (@PrincessFrance) October 19, 2021
Aljur Abrenica releasing a statement insinuating that Kylie Padilla cheated first oh my god my chismosa ass is thirsty pic.twitter.com/dJMdaqSsXv

— Alphina (@maleedus) October 19, 2021
We just hope they can settle this and move on
Truly there are two sides in a certain story. We shouldn't judge beforehand. Kylie & Aljur should settle their mess in private, because they have kids. Imagine growing up but those surrounds you knows what happened to your parents. 🙃

— LJF 🦋 (@ljnenylesfrnda) October 19, 2021

At the end of the day, if the allegations about both parties are true, then they are both in the wrong. They're not the only ones affected here — they have two kids who have been inadvertently dragged into this mess. We just hope the kids are okay, and that the couple can settle this privately and away from the internet and the spotlight.
Do you have any thoughts on this issue?