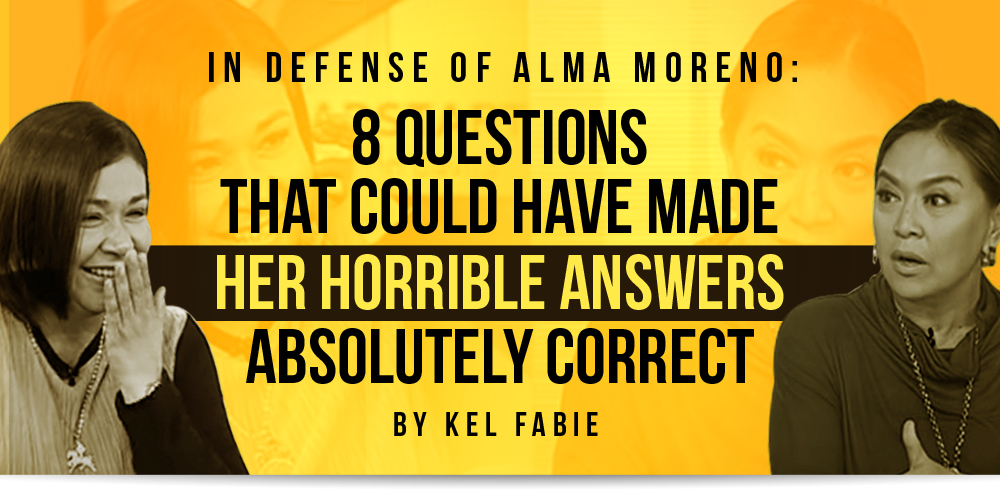 Nation, in a stellar display of foot-in-mouth disease, Senatorial hopeful Alma Moreno, running under Jejomar Binay's party, practically dissipated any hope she has of becoming a member of the Senate with a performance like no other since Ara Mina displayed her ignorance about the Ampatuan massacre shortly after it happened. I guess Facebook should have given us an option to color our profile pics back then so she would have been informed or something, but I digress.
Having said that, Alma Moreno may not deserve your vote as a Senator, but she certainly didn't deserve to look like an idiot the way she did in her interview with Karen Davila. There are so many other ways to look like an idiot, after all.
All jokes aside, was it so hard to interview Alma in Tagalog when she was clearly more  comfortable with her native tongue? After all, towards the second half of the interview, that's exactly what happened, anyways. Remember, this is the woman who used to have Erap jokes made about her before they were called Erap jokes. We know she isn't the sharpest tool in the shed, but she isn't exactly a political neophyte, either, having served as councilor for years in Paranaque. On paper, she has qualifications, and not just a showbiz resume.
Furthermore, what's with the apparent grilling? This wasn't a Senate inquiry nor a courtroom. There was no need to question her as aggressively as Miriam did the prosecutors in the Corona impeachment case, or press her the way Mareng Winnie pressed Mikey Arroyo when they met on "One on One With Igan Mareng Winnie." After all, it's not like Ms. Moreno was being accused of a crime or of plundering this country. She just wanted to run for Senator. That's not a crime, although putting her into power in 2016 ought to be.
Maybe it wasn't a case of Alma Moreno giving us the wrong answers, so much as it's a case of Karen Davila asking her the wrong questions. What could we possibly ask her instead that would have made her cringe-inducing answers suddenly sound appropriate, maybe even more profound, once put in a brand-new context?
8. Original Question:
"How would you improve the lives of the LGBT community?"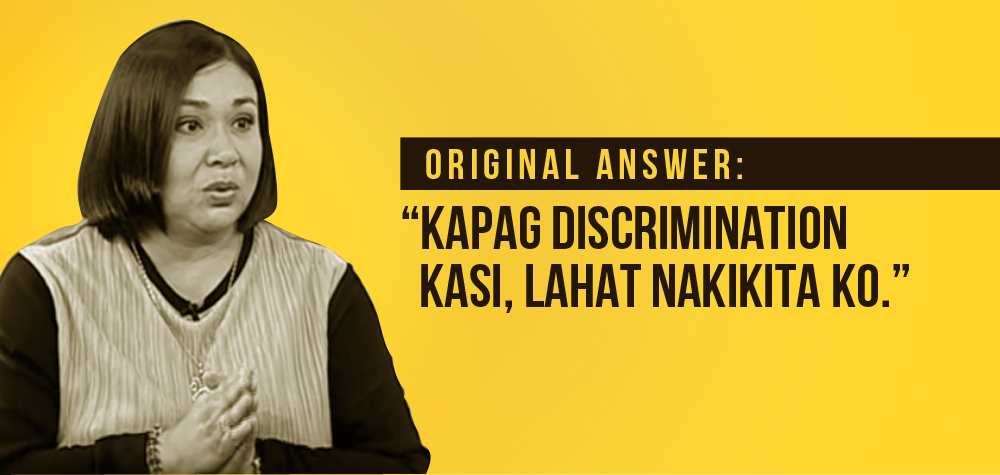 That doesn't really address anything, Alma. Oh, right. My bad. Because she's answering a different question. A more appropriate one.
New Question: "Which letters of the word 'discrimination' do you see on this chart?"
Not-So-New Answer: "Kapag discrimination kasi, lahat nakikita ko."
7. Original Question:
"Is LGBT marriage a sin?"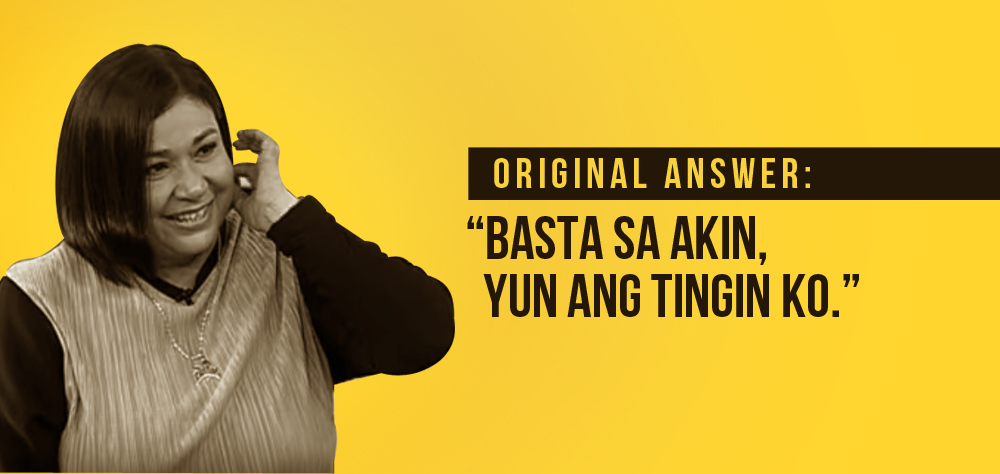 Dear, your "opinion" is irrelevant when it comes to human rights. Or have we already forgotten that the right to the pursuit of happiness so long as it doesn't hurt anyone is universal? It is when people in power conflate their opinion with the reality that begins to hurt people, and even if it were a sin, how is this any worse from the multiple other "sins" we already have, such as, you know, having children out of wedlock? Right, Alma?
But again, maybe we're asking the wrong questions here…
New Question: "Why are you willing to endorse Executive Optical?"
Not-So-New Answer: "Basta sa akin, yun ang tingin ko."
That's EO's new slogan right there, ladies and gents!
6. Original Question:
"So pagdating sa Political Dynasty, hindi ka naniniwalang dapat suportahan ang Anti-Political Dynasty Bill?"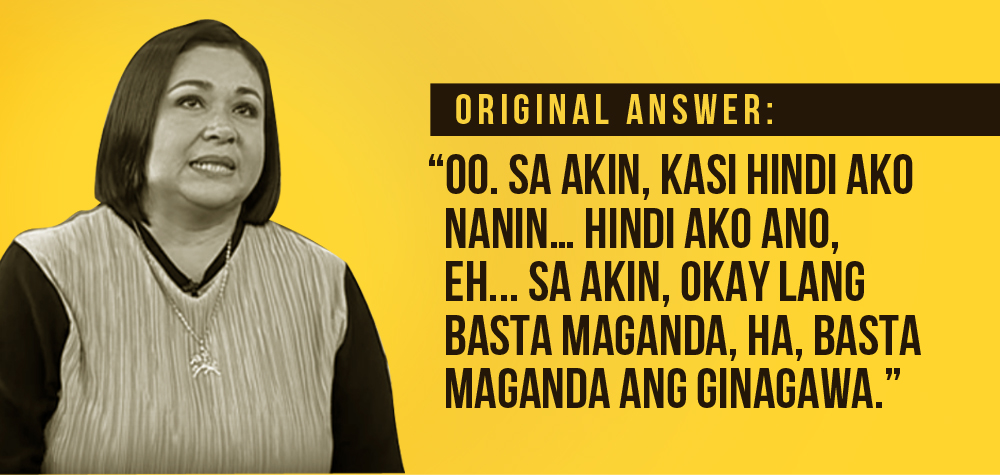 A bit naive of Alma Moreno to think that the incumbents have no inherent advantage in establishing a political dynasty, but it makes sense when you assume the best in people and not assume corruption every step of the way. Yeah, let's keep thinking that's the reasoning behind it…
New Question: "So pagdating sa #HashT5, okay lang sa iyo na nag-perform sila sa ASAP?"
Not-So-New Answer: "Oo. Sa akin, kasi hindi ako nanin… hindi ako ano, eh… sa akin, okay lang basta maganda, ha, basta maganda ang ginagawa."
Eh paano kung hindi maganda ang ginawa?

In video: HINDI MAGANDA ANG GINAWA
5. Original Question:
"Ano ang paniniwala mo sa Bangsamoro Basic Law? Kapag nanalo ka bang senador, boboto ka bang 'yes' or 'no' sa BBL?"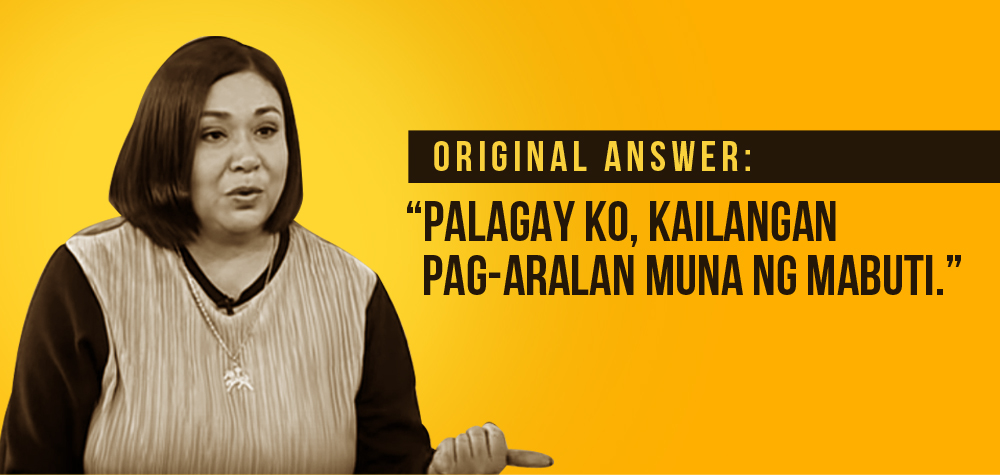 You mean to tell me you still haven't studied this law carefully enough, when you know how big an issue it is? Surely, you're not putting off the things that need to be dealt with and just procrastinating?!?
But ahh, that's because it's the wrong question being asked! Let's see…
New Question: "Alin, alin, alin ang naiba?"
Not-So-New Answer: "Palagay ko, kailangan pag-aralan muna ng mabuti."
4. Original Question:
(After multiple attempts at getting Alma's reservations regarding the RH Law, Karen Davila speaks in Filipino and walks Alma through her question carefully.) "Ang tanong ko: ano ang hindi mo gusto sa RH Law?"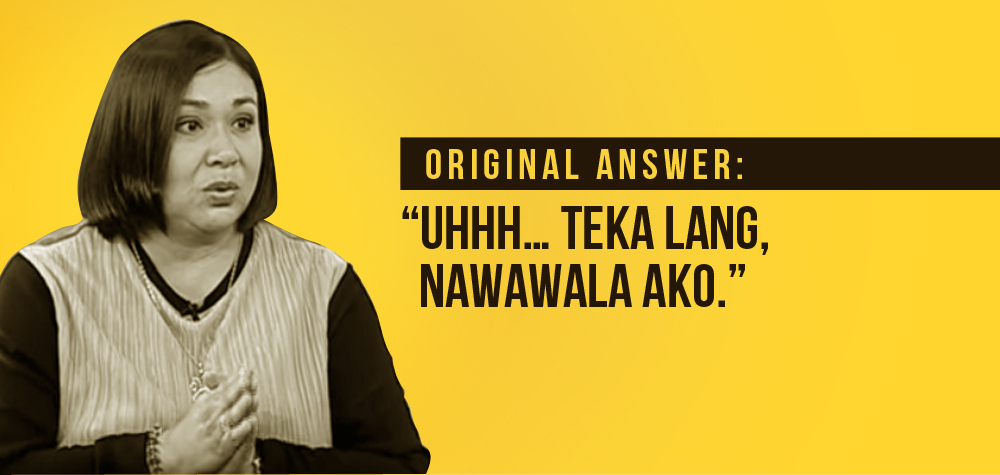 In the end, the so-called "pro-RH" Alma Moreno is against contraception and all for abstinence education, which completely doesn't work. And while Ms. Moreno keeps harping on "control," surely, she of all people would know that isn't the most prudent advice. Has she ever told Dolphy that while he was alive? Did it help?
New Question: "Hir na me. Wer na u?"
Not-So-New Answer: "Uhhh… teka lang, nawawala ako."
Waze is your friend, Alma. Waze is your friend.
3. Original Question:
"What are your reservations (to the RH Law)?"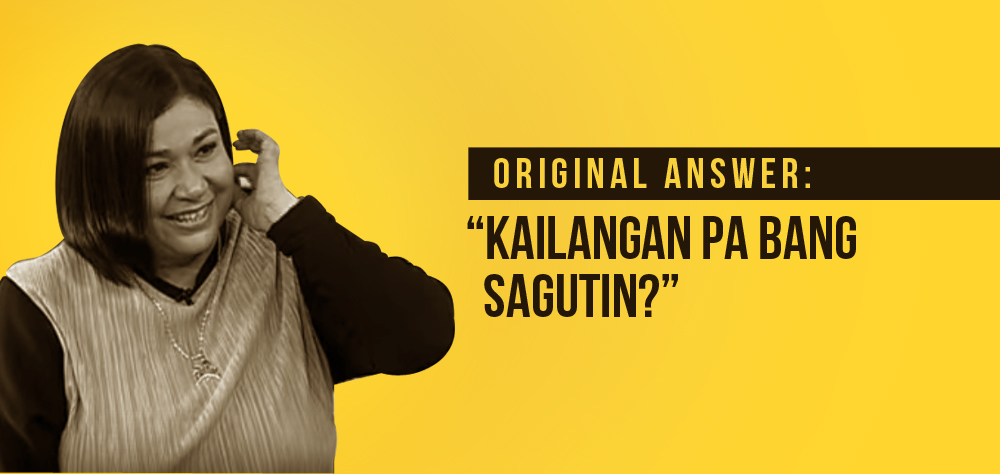 This was the part where Ms. Davila reminded Alma that she had to answer the question, because she was running for the Senate. But what if we changed the context where that question was asked?
Not-So-New Question: (Asked by a Senator at a hearing.) "What are your reservations (to the RH Law)?"
Not-So-New Answer: "Kailangan pa bang sagutin?"
At this point, the Senate has no choice but to tell her she doesn't have to, because she can invoke her right to privacy at any point in a Senate hearing.
2. Original Question:
"Like what (aspects of Magna Carta were not implemented)?"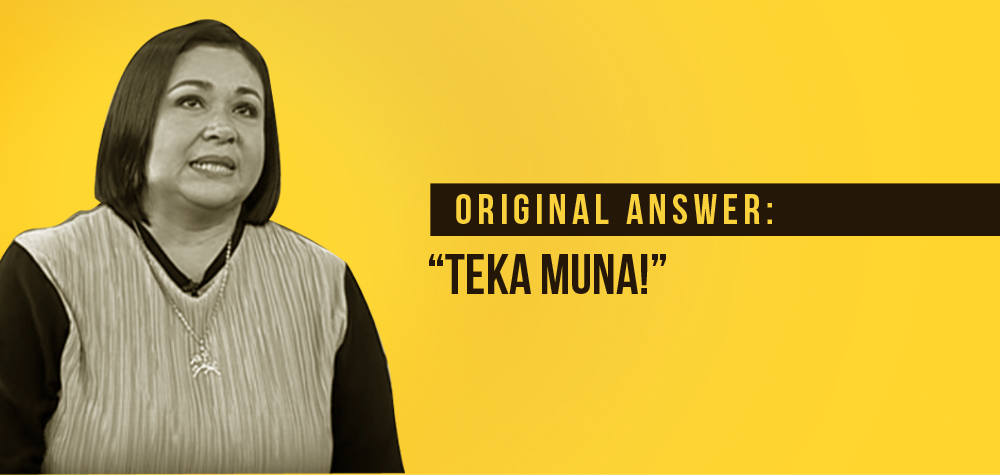 If you actually watch the interview, you actually realize she had an actual answer to this question, contrary to what those who took the sound byte out of context are trying to paint. Clearly, she didn't have enough research in this subject, but you still know that her advocacy for women is consistent, even if her level of knowledge on the topic is woefully lacking.
New Question: "Taya!"
Not-So-New Answer: "Teka muna!"
Perfect.
1. Original Question:
"Paano mag-control (ang mahihirap)?"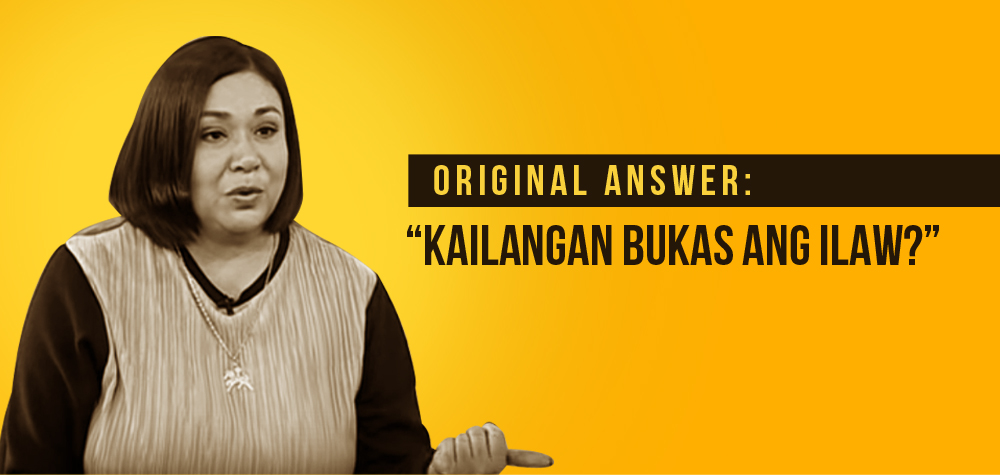 See? See? Karen was asking the wrong questions!
New Question: "Paano mo nakikita si VP Binay at ang mga alegasyon ng korapsyon laban sa kanya?"
Not-So-New Answer: "Kailangan bukas ang ilaw?"
Make of that what you will.