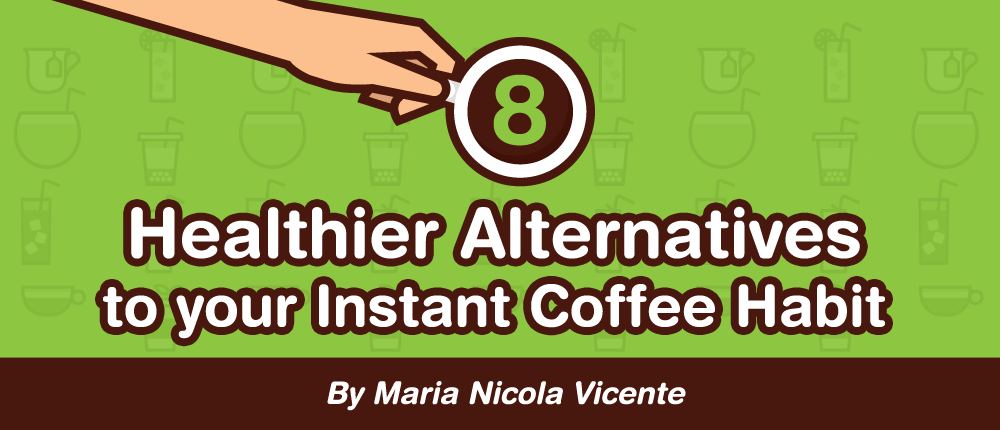 The struggle of getting up and dragging yourself out of bed in the mornings is very much real — especially when all you have to look forward to is a watered-down cup of weak, bitter, rehydrated instant coffee. While I completely understand the need to stay on a budget and for caffeinated beverages throughout the day, instant coffee shouldn't be your go-to drink. For one thing, the processes that dehydrates it is laden with chemicals, and well, mostly it just tastes bad. I'll leave you to your own decisions about whether instant coffee is good for you or not, but you deserve better than to drink your coffee out of a sachet. Here are 8 alternative pick-me-ups for your mornings!

Drinking peppermint tea has been known to aid digestion and relieve stomach problems, as well as boosting the immune system and reducing bad breath. If you're on a diet, peppermint tea also suppresses the appetite, and relieves headaches and migraines.
Forget what you've been promised about "coco water" and get to know buko juice all over again as a refreshing, natural way to stay hydrated, reduce sodium, consume natural sugars, and add potassium to your diet.
When mixed with milk, Milo can give you that much needed sugar and caffeine (which naturally occurs in cocoa) boost in the mornings, with the added benefit of calcium and iron.

A root similar to the radish, maca is a true superfood that is native to Peru. It's been known to balance stress levels, regulate hormones, and increase energy. Check out this delicious recipe for preparing it as a hot, comforting drink.

While serving you very little in terms of giving you an energy boost in the mornings, a glass of lemon water helps you flush out toxins throughout the day on top of boosting your bodily systems. It's also great for your skin!
Black tea has health benefits on its own, and while milk tea has gotten a bad rap, it's not that bad for you when you drink it without pearls (aka tapioca balls). Like all teas, milk tea still has caffeine in it, giving you a yummy way to start your day without having to tear open a sachet.

Most of you may not have heard of Milkis, but check your nearest convenience store and they're bound to have it on their shelves. Brought in from Korea, Milkis is a carbonated drink that contains yogurt and powdered milk. Basically it's bubbly, creamy Yakult. Try it for yourself and become a believer!
Another con to drinking instant coffee is that it cheats the coffee farmers from the revenue they deserve. In our age of eco-consciousness and responsibly-sourced consumption (ideally, at least), obtaining a rich, delicious cup of organic coffee shouldn't be that much of a stretch. If you can't ditch your coffee habit altogether, support local and purchase beans grown locally by our own farmers. Filtering a cup has better health benefits than instant coffee, and tastes worlds better. Check out businesses like Cafeteria that offer various blends to go with your day.
Have you ditched your instant coffee habits? What are your healthier morning alternatives? Share them with us in the comments section below!