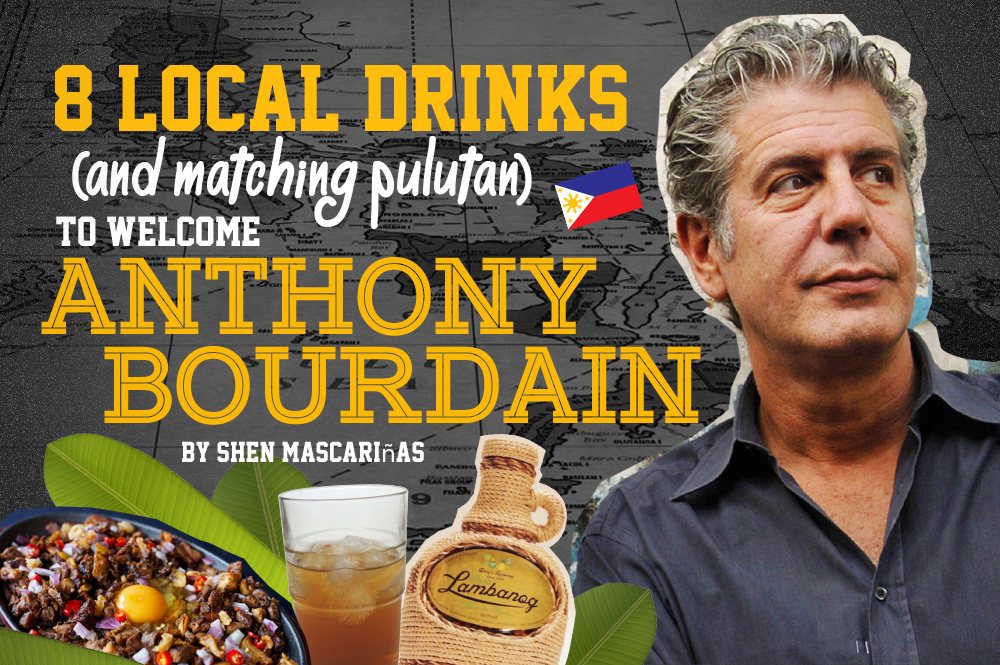 The Philippines will once again be welcoming a man with a stomach for exotic cuisine, palette for only the best food and tongue for blunt statements. Anthony Bourdain, world-famous chef, author and host, will be returning to the Philippines to film his new show Parts Unknown.
Bourdain's visit back in 2008 for No Reservations wasn't a huge success, but our Sisig and Lechon wowed him enough to come back. With the country's beautiful sights and delectable dishes, Bourdain's second trip is sure to be even better than his first.
True to Pinoy hospitality, let's make sure this visit is memorable, shall we? Here are local alcoholic drinks and pulutan to give Bourdain the warmest welcome back (sans the hangover, hopefully)!
8. Sioktong



Despite its Chinese name, this medicinal wine is very much part of Pinoy culture. It also goes by the name Vino de Chino or Vino de Kung Fu and is still manufactured by the oldest distillery in the Philippines, Destileria Limtuaco. Distilled from over 15 Chinese herbs, Sioktong has built a reputation of being a natural energy drink with a bittersweet taste. Older Pinoys drink Sioktong to build up stamina, ease abdominal pain, promote circulation, and of course, to have a good time.

Goes best with: Tokwa't Baboy
7. Lambanog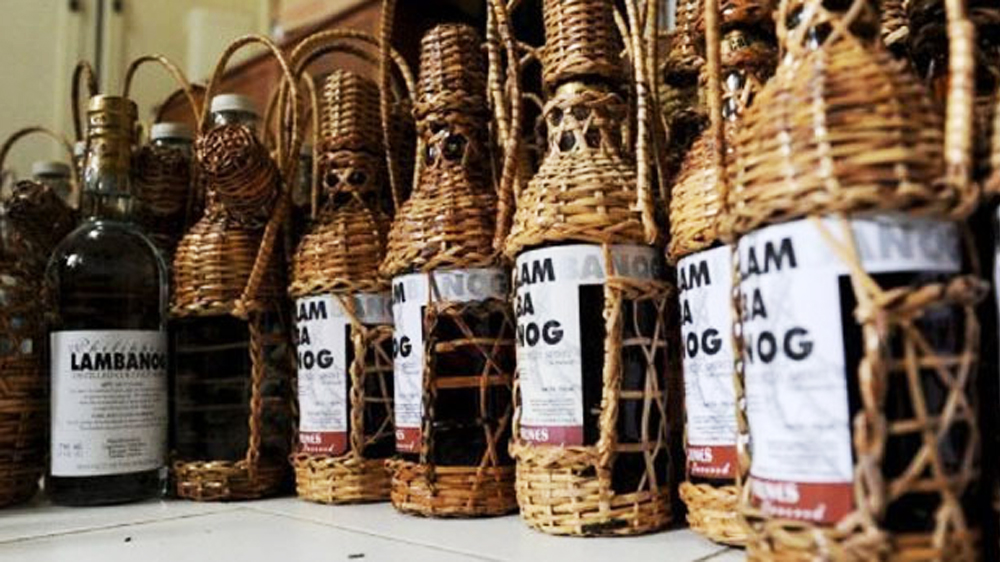 Lambanog has evolved over the years, now sold in different flavors like cherry, durian (jack fruit), bubble gum, and so on. If it's going to be Bourdain's first sip of Lambanog, it's probably best that he tries the unadulterated kind, lovingly made by a coconut farmer.
Goes best with: Kinilaw na Tanigue
6. Amadeo Coffee Liqueur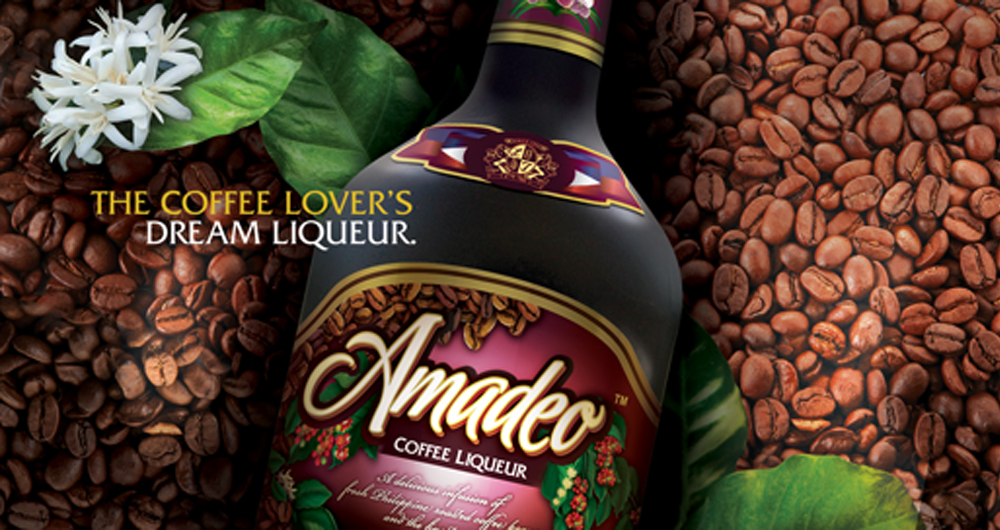 Goes best with: Bibingka
5. Red Horse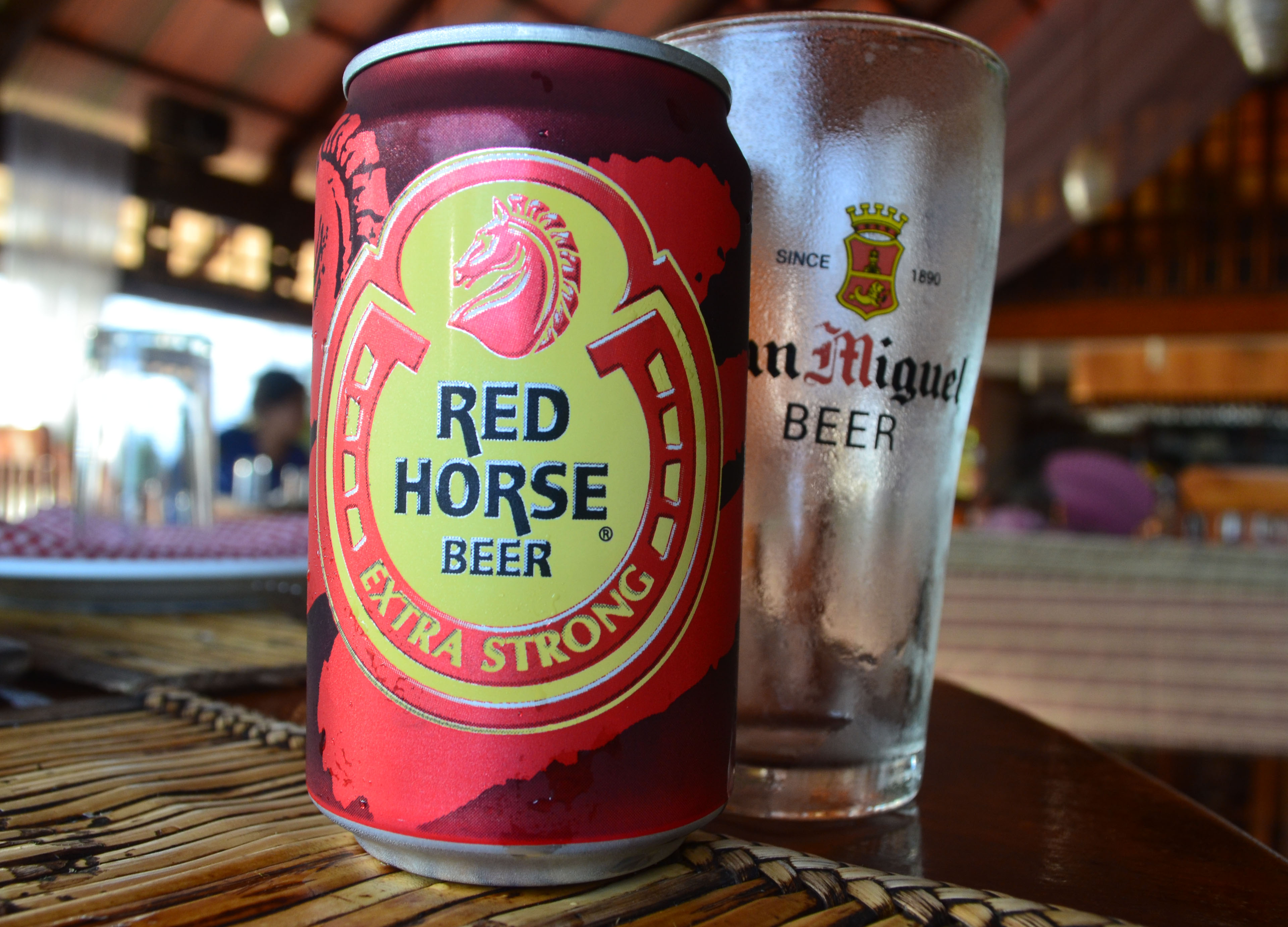 Of course, we can't forget about a man's basic needs. Bourdain will definitely want a cold beer at some point in his trip, and we ought to put our best brew forward. Bitter, smooth, and more importantly, extra strong–bigyan si Bourdain ng malakas na tama!
Goes best with: Crispy Pata
4. Manille Liqueur De Calamansi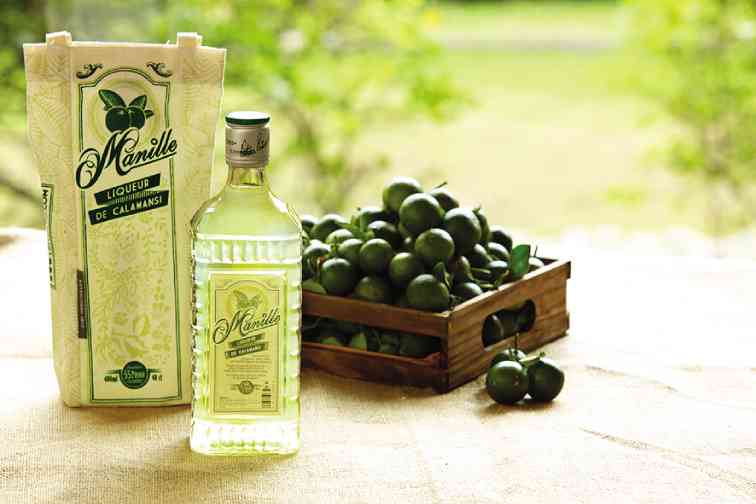 Imagine Calamansi lacing a Vodka base with its fresh and zesty punch. That's Manille Liqueur De Calamansi, an all-natural Pinoy digestif that is the Philippines' version of Italian Limoncello. It makes use of actual calamansi from farms in Mindoro, so Manille Liqueur De Calamansi is truly something we can own. It's also very versatile as it can be used in cooking sweet and savory dishes for a distinct citrusy note.
Goes best with: Grilled Tuna Belly
3. Paradise Mango Rum Liqueur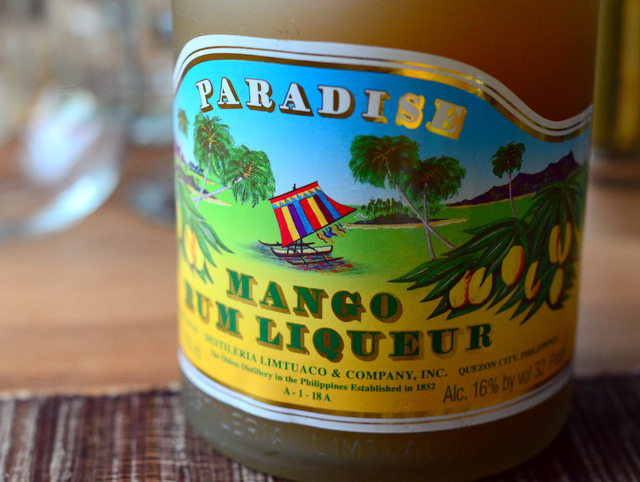 For a sweet kiss from the tropics, Paradise Mango Rum should be Bourdain's choice of poison for at least one of his nights here. This is the world's first mango rum liqueur, and it's made from real Philippine mangoes. Truly a treat for the taste buds, it's no surprise that Paradise Mango Rum is a multi-awarded and globally-recognized product.
Goes best with: Suman
2. Bugnay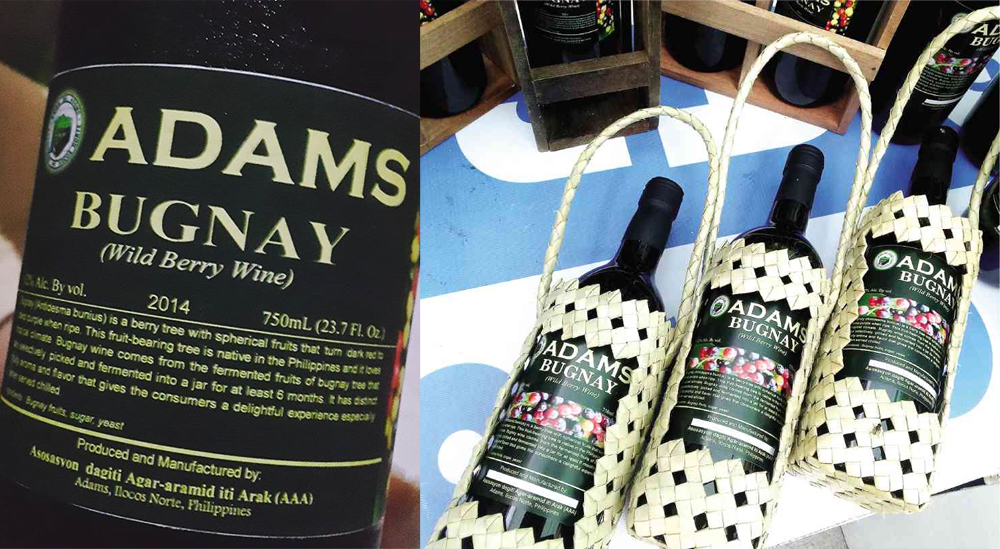 Bugnay is a wild cherry that's sweet, tangy and abundant in Ilocos. Interestingly, it has a taste-changing property that makes everything you eat afterwards sour. Ilocanos have made wine out of it for everyone's pleasure, and we are eternally grateful. Packed with the fruit's flavor and with the perfect amount of alcohol, Bugnay wine will make any night an enjoyable one.
Goes best with: Puto Bumbong
1. Don Papa Rum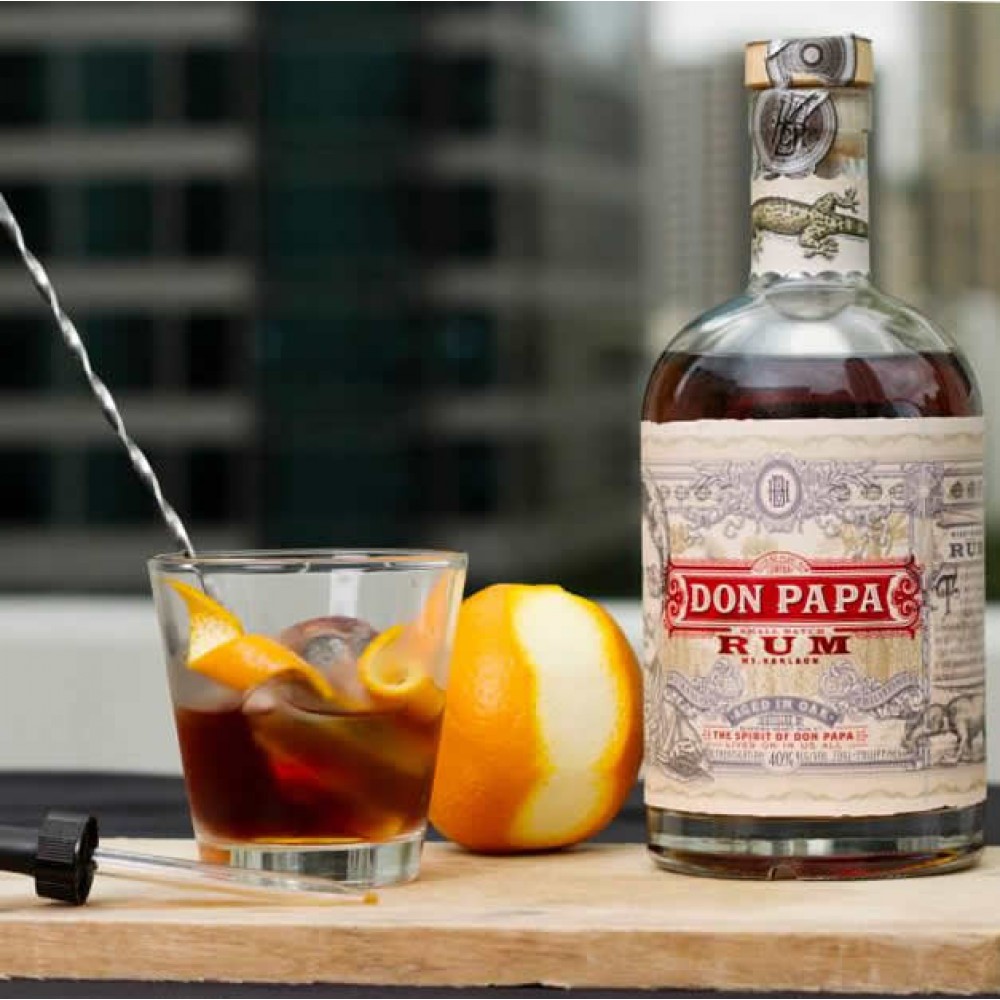 This premium and small-batch rum put the Philippines in the global spotlight for very good reasons. With its smooth and fruity taste, laced with hints of caramel and vanilla, Don Papa Rum has many absolutely smitten, and Bourdain is sure to be next in line.
It's sweeter than most rum in the market. This is probably because Don Papa is distilled in the foothills of Mount Kanlaon in Negros Occidental, which is home to the world's finest sugar cane. Don Papa's packaging is also world class with its bottle sourced from France, cork from Portugal, label from Italy and brand image from New York. However, the true star remains to be its content that's 100% Pinoy.
Goes best with: Adobong Mani
Woohoo, tagay na! Anymore local alcoholic drinks and pulutan that are must-tries for foreigners? Help us put our best booze forward, and share away!