Bigwasan Na! 8 Things
to Get Excited About in the
Baron Geisler vs Kiko Matos
MMA Fight

By Karl R. De Mesa

Before Kiko "Sucker Kick" Matos and Baron "The Black Sheep" Geisler throw down at their exhibition match for the Universal Reality Combat Championship (URCC) on June 25, let's count down some of the things that make this fight an attraction, besides the fact that it features two local actors, both in varying degrees of fitness (or lack thereof) settling a score stemming from a bar brawl that got broken apart too early.

In case you've been living under a rock, we present forthwith the viral footage of Matos and Geisler going at it at a charity fundraising event held at Tomato Kick, Katipunan. Enjoy.

https://www.facebook.com/medmessiah/videos/10209156255079702/

While some combat sports purists may argue (and they do have some legit points) that this may somehow devalue the training and athleticism that real pro-MMA fighters do to step into the cage, we must remember that MMA leagues are a business and the prevailing need is to put butts into seats, to translate spectacle and dispute into ticket sales. In that regard, props to URCC matchmakers for putting the invite out there to both Geisler and Matos and successfully filling out a true show of what, on paper with the LHW championship on the line, should already be a legit crowd draw for MMA fans.

Some theorize that this may all be a stunt to garner attention for a film project in progress. Even if it is, these guys deserve some credit for their dedication to said project, and at the very least putting their bodies on the line in a legit organization like the URCC. These two guys won't be winning any athletic awards or gracing the roster of any pro leagues soon but their willingness is a kind of, bravery in itself.

The exhibition match will be two rounds of three minutes (as opposed to the normal pro fight rounds of three rounds of five minutes each) and will feature MMA gloves but no helmets. Also, knees and elbows are prohibited. The joke and trash talk, however, are gratis and gravy.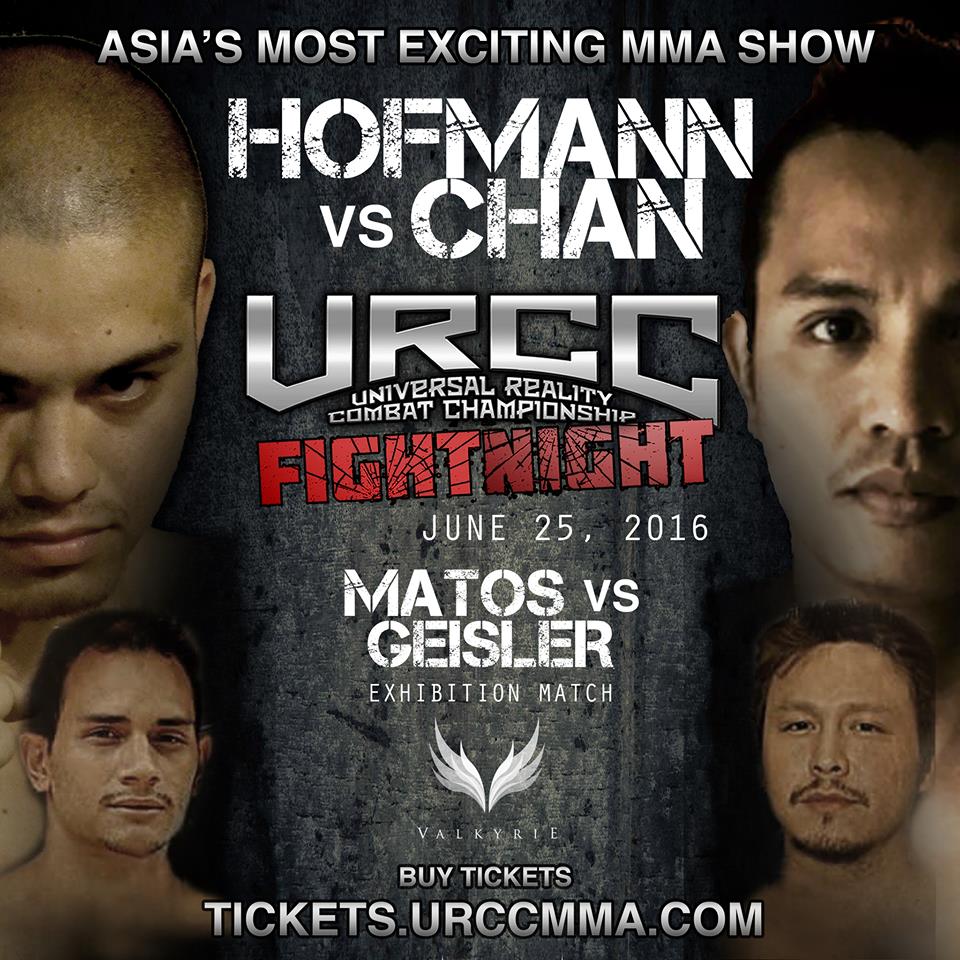 BARON'S HILARIOUS IMPROV
"Mahal kita pero isa lang / bibigwasan kita," as he said in this reaction video shot by the Philippine Daily Inquirer.
KIKO'S SNAPPY COMEBACKS
"Face me, don't Facebook me!" and other one-liners of indubitable quotability. See his reply in an interview with PDI: "'Well, I got some tricks up on my sleeve. I don't really tell, guessing what I have, but I think I can take on Baron Geisler.' According to him, expect a 'ferocious and courageous' Matos as he pushes the dispute to the cage, despite URCC's condition that they should be "friends" before they muscle each other in front of a jam-packed crowd."
BARON'S HISTORY OF PUBLIC VIOLENCE
Geisler is no stranger to brawls in public, often caught on camera and fueled by a lot of alcohol. How about that time he tried to pick a fight with a bouncer in a Pampanga dance club in July 2015?
Or, just recently, how he went all beastmode, headlocked and nugied, a student indie film director for a super delayed script? This was in May 2016.
And how about another alcohol-slurred rant full of expletives leading up to the signing of the URCC contract?
https://www.facebook.com/Thefanboyseo/videos/1216222655084828/
THE (FACE-OFF) KISS
Oo na… Ako nanaman ang may mali. Ako na si mr. Cheapshot, si gay ass move, traydor, bading, hindi marunong lumaban ng patas, ano pa??? Itawag nyo na sakin ang lahat ng gusto nyo. May karapatan naman kayo sa mga opinyon nyo, at tanggap ko yun. Pero bago kayo manghusga, alamin nyo muna yung buong pangyayari kung bakit ko nagawa yung mga ginawa ko. Alamin nyo sana din kung paano pinaplano ng kalaban ko na mapasama ako. Sino ba nag upload ng video? diba kamag anak din ni Baron? Hindi nyo ba naisip na gumagawa lang siya ng patibong? Humihingi nalang ako ng pasensya sa lahat ng tao na apektado ng mga actions ko. Ako na nga yung nag extend ng kamay ko para magbati na kami, pero ano ang ginawa nya?Meron lang akong gustong malaman… Kung nakaharap nyo si Baron Geisler at kinukupal kayo, makakahugot ba kayo ng lakas ng loob para gawin ang lahat ng ginawa ko sa kanya? Kung oo ang sagot mo, bakit wala pa akong nabalitaan na may sumapak na kay Baron? Wag kasi puro type at salita sa computer… dapat may gawa.Haharpin ko na nga siya sa June 25, ano pa ba ang gusto nyo?Tag nyo idol nyo.

Posted by Kiko Matos on Friday, June 17, 2016
At the URCC contract and waiver-signing, Geisler and Matos had to face-off just like every other fighter. But instead we got something not quite worthy of a Michael Bisping or Chael Sonnen trash-off that just might reach better levels if the two had, uh, better scripts.
THE SUCKER KICK!
Matos the sucker puncher warrior! This video just proved what a cheap shot artist this man really is! Baron go get him!

Posted by Morales R Robinstone on Thursday, June 16, 2016
This happened after the kiss. I guess Matos got a delayed reaction with this kick that was not quite a Muay Thai teep (but getting there), since he decided he really really should be angry at Geisler for kissing him at the face-off.
THE WITTY TRASH TALK
https://www.facebook.com/TrendPhil/videos/1579630272329749/?type=2&theater
The comedic yapping continues!
BARON'S KICKING SKILLZ
Let's not forget that Baron is a legit black belt in Taekwondo, his brother Donnie has a training facility devoted to the Korean kickboxing art. His brother said that Baron is slowly getting back into shape and has even cut down on his smoking for his training.
In his fit heyday practicing martial arts, probably about a hundred or so whiskey bottles ago, Baron-Wondo was a kicking wunderkind.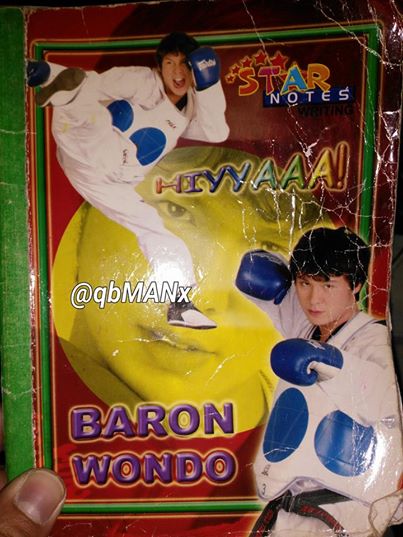 KIKO TRAINING MMA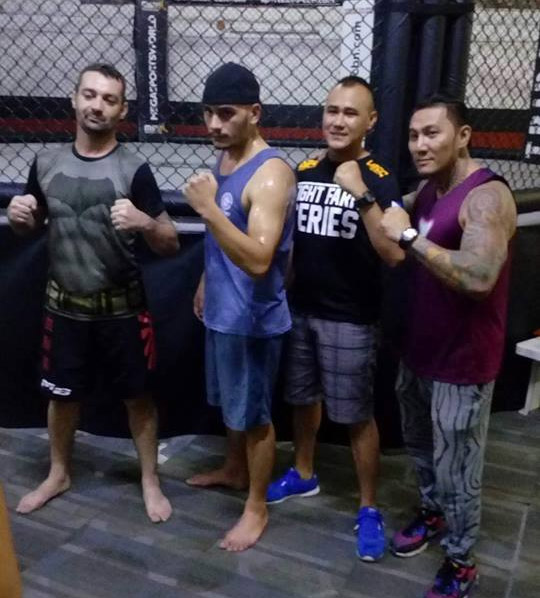 Matos has been training at the URCC owner's own BAMF/DEFTAC gym with MMA coach Aurélien Owen Sire. Matos has said that, though not as publicized as Gesiler's own forays into public displays of violence, he does have experience throwing down on the streets and will definitely augment that with striking and grappling techniques from DEFTAC.
Ready ka na beh? Post your thoughts in the comments!