There is an unexplainable tendency for us to fall in love more with romance films that don't end with fireworks, a grand, sweeping gesture, and a long kiss in slow-mo. We think it's because we like hurting ourselves sometimes in the same way we like "making hugot". But, there's also no denying that romance films with sad or open-ended endings stay with us longer — allowing a creeping melancholic feeling overwhelm us long after the end credits have rolled.
Here are some of the best and most beautiful romance films that are guaranteed to make you cry.
Eternal Sunshine of the Spotless Mind
This movie directed by Michel Gondry (2004) starring Hollywood faves Kate Winslet and Jim Carrey will forever have a place in our hearts for putting a unique, sci-fi-ish spin on a story about a relationship steadily deteriorating from the incompatibility of two people. The non-linear approach to the film is what hooks us from start to end as we silently root for Joel (Carrey) in his desperate attempt to stop the process of totally forgetting about his ex-lover Clementine (Winslet) that he undergoes on a whim after a painful breakup.
Eternal Sunshine of the Spotless Mind  is that one film that makes you reflect on your own relationships, current and past, and that despite how badly things have ended or are doomed to end, what matters is that you have once shared good memories together that have made you the happiest.
Comet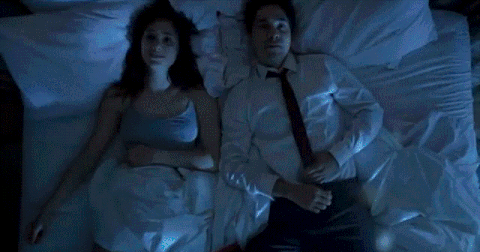 Much like Eternal Sunshine of the Spotless Mind, Comet (dir. Sam Esmail, 2014) is a break-up movie told in a non-linear type of storytelling sprinkled with a few sci-fi elements that make it look like one whole dream sequence. Comet is a downright depressing film where we witness the corrosion of a toxic relationship that never seems to go right despite the couple's best intentions. In it, the guy (Justin Long) doesn't get back the girl (Emmy Rossum) in the end — although we aren't quite sure — and the ambiguity of the ending tears us apart somehow.
The film is also beautiful, with space imagery sprinkled here and there like a piece of art. You can't help but fall in love with this film even when you're left crying as the credits roll.
Celeste and Jesse Forever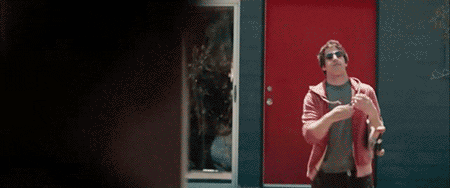 An underrated break-up movie, Celeste and Jesse Forever (dir. Lee Toland Krieger, 2012) explores the events that follow Celeste's (Rashida Jones) impulsive decision to split up with best friend-turned-husband Jesse (Andy Samberg). The film isn't at all unrealistic or predictable as romcoms go. Instead, it depicts the process of breaking up and moving on in good terms as natural as possible — by showing every ugly step of the way.
The film is a prime example of the conflict between head and heart when it comes to being happy, and although it ends on a positive note, you can't help but feel saddened by its inevitability and maybe even by how it reminds you of your own TOTGAs.
Kimi no Na Wa (Your Name)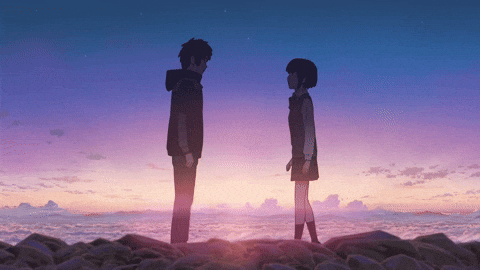 Whether you're into anime or not, Makoto Shinkai's blockbuster hit Kimi no Na Wa (2016) is one romance film you have to watch in your lifetime. It's your right-person-wrong-time kind of fantasy film where two High School students of different timelines meet and fall in love at very difficult circumstances. The heartbreak you'll experience comes in the middle of the film like a lethal surprise attack, and all events that succeed it will leave you at the edge of your seat, hoping for a miracle and the unlikely chance of a happy ending.
Kimi no Na Wa is a striking film with stunning animation and a beautiful soundtrack that is guaranteed to stay with you forever.
Her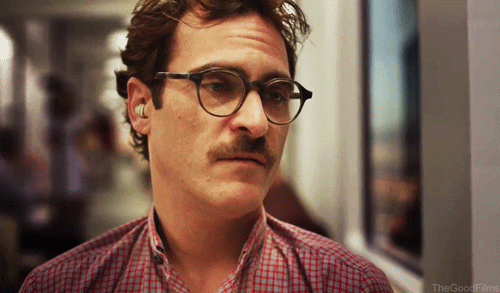 Spike Jonze's Her (2013) is strange and baffling for sure, but is powered by stunning audio and visuals and by the sheer melancholy that permeates throughout the film from start to end. It gives a whole new meaning to the saying "You don't choose who you love" as Theodore (Joaquin Phoenix), coping with his forthcoming divorce, experiences both the ease and intricacies of a relationship with an operating system named Samantha (Scarlett Johansson).
It ends just how you'd expect it to, but you can't avoid feeling for Theodore and empathizing with his loss and loneliness. Not only is Her a unique and gripping story, but it is also a visual treat any cinephile will love.
Never Let Me Go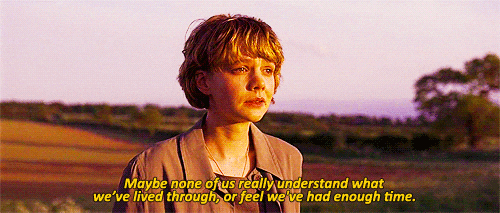 Never Let Me Go (dir. Mark Romanek, 2010) will tear you apart piece by piece. The feeling of devastation that builds up as this dystopian romantic drama progresses makes recovery difficult in the end; you're left powerless and hopeless by the story's inevitability. This movie makes us question whether love is enough to make us feel human, enough to say that we have a soul, and enough to make life worth living.
Blue Valentine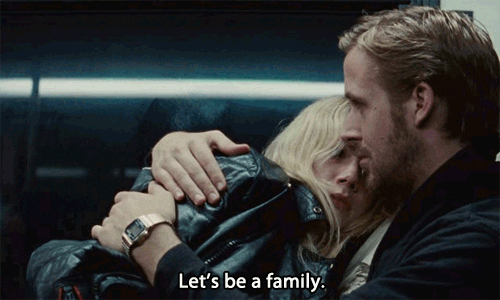 Blue Valentine (dir. Derek Cianfrance, 2010) is a story about a couple who part ways with bitter finality as their six-year marriage crumbled. Blue Valentine is as real as it could be, exposing nothing but the ugliness that comes with a failing relationship and its impact on the people around us.
Call Me by Your Name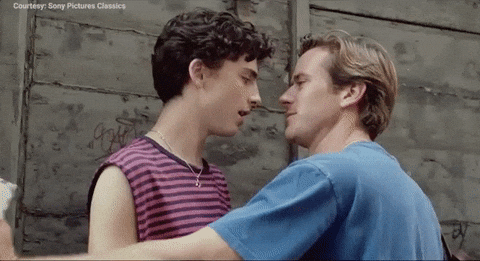 This Oscar-nominated coming-of-age film (dir. Luca Guadagnino, 2017) based on a 2007 novel of the same name chronicles the pure and tender love affair between 17-year-old Elio (Timothée Chalamet) and American graduate student Oliver (Armie Hammer) in the summer of '83 in beautiful Northern Italy.
There are plenty of reasons why  Call Me by Your Name   is worthy of its many accolades, but for the sake of brevity, this is why it truly shines: it portrays the genuineness of a summer love — the quick attraction, passionate intimacy, the complete surrender to love, and the melancholy that comes in the final parting of ways — and does so without the clichés of gay romance usually depicted in Western media.
If you've ever endured a summer love like this, then the story of Elio and Oliver will definitely strike your heart where it is most vulnerable as you wistfully remember what you've had and what you've lost.
Which of these films have you ugly-cried in? Share your stories with us below!