They say there's always a rainbow after the rain. With last week's torrential downpour of disappointing and embarrassing news about the Philippines hosting the SEA Games, everyone is finally taking a breather and appreciating the small silver linings. Sure, the event is far from being perfect, but as Velizar Popov, Myanmar's national football team coach said: "We came here with a task in hand and that's our target, I'll prefer to focus more on our performance and the game plan."
In case you need a respite from the bad news, we dug deep to look for a bright side to the SEA Games 2019. Read on!
The SEA Games fully functional app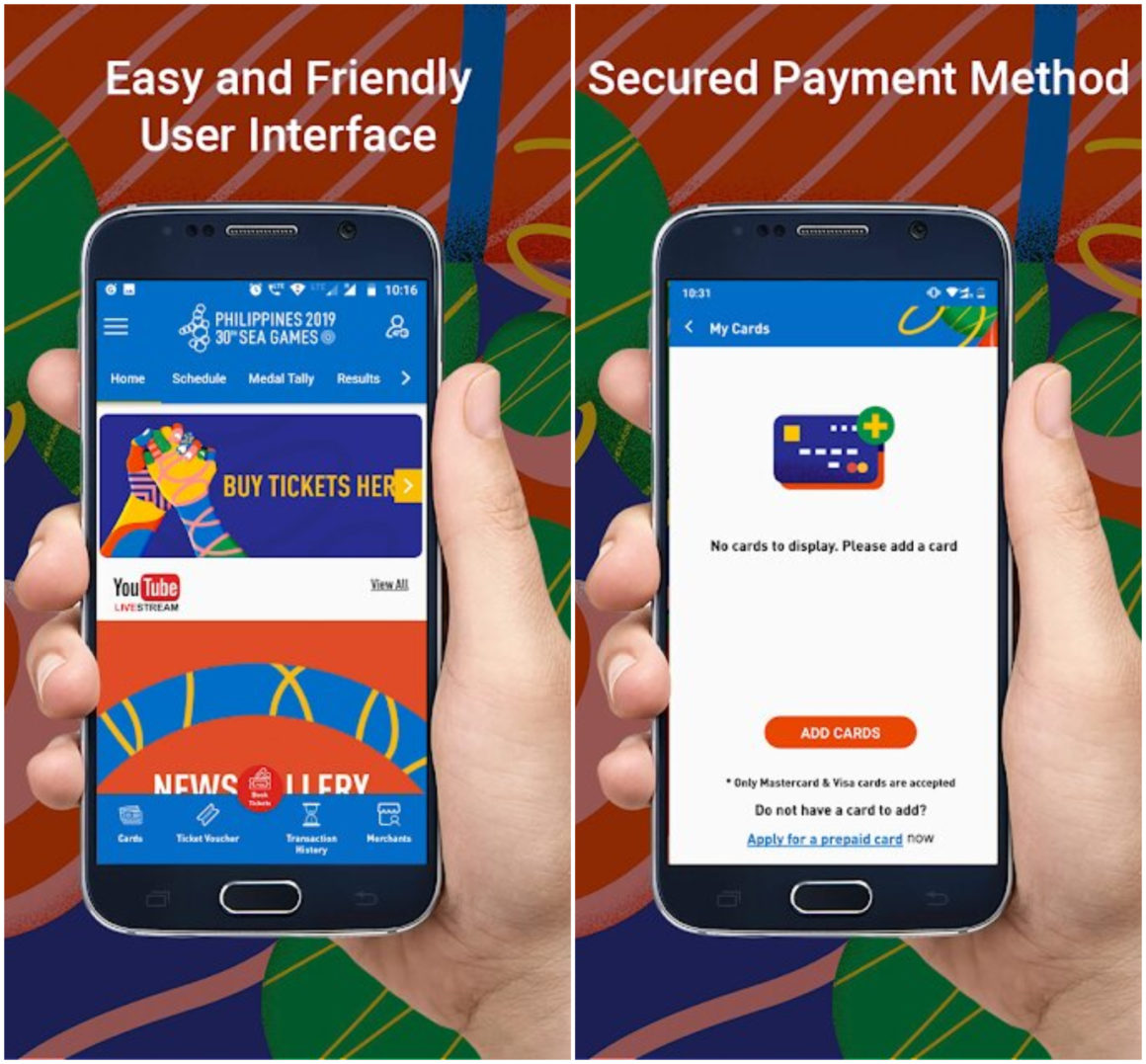 If you want to keep abreast of everything happening during the SEA Games competition-wise, there is a SEA Games 2019 app that will keep you updated with game schedules and medal tallies. You can also use the app to purchase game tickets online to catch your favorite matches. It's fully functional and available in both Android and iOS.
There are actual facilities ready
Amid the flurry of news and photos of unfinished venues and lacking facilities, there are a few good ones ready to accommodate all the teams. If we can retweet the unfinished and ugly locations (like that football press conference hall in a warehouse), maybe we can also boast of the finished ones. Here are photographs of more presentable venues.
Despite the #SEAGamesfail there's a gem of a place here in the south that's 101% ready for the underwater hockey event of the SEA Games! It converted its 10-lane Olympic pool to a salt water pool for this specific sport. pic.twitter.com/n5CdpTwQak

— pat (@patrissshh) November 25, 2019
Flex ko lang yung Subic Gym, the venue for #SEAGames2019 Sepak Takraw.

So proud of SBMA for a job well done preparing for the event.

No #SEAGames2019fail here. ✊

Photos by: Felix Asuncion Flores, Kami Ang Batang Gapo, Philippine Athletes at Multi-Sport Event pic.twitter.com/MuYLzcA0if

— toby cortez (@theaysobel) November 26, 2019
Take a look at Muntinlupa Sports Complex, the venue for the 2019 SEA Games Badminton event.

Show your support and love to our Filipino athletes! Get your tickets at https://t.co/Elc8L0V5p6 or head on over to any SM Tickets Outlet. #WeWinAsOne #2019SEAGAMES pic.twitter.com/hMnl4TdRQL

— OFFICIAL MUNTINLUPA (@OFFICIALMUNTI) November 26, 2019
8 Signs The 2019 SEA Games Might Have Been Produced By Ja Rule
8 Signs The 2019 SEA Games Might Have Been Produced By Ja Rule
Kel Fabie | Nov 21, 2019
Some signage look professionally done
One of the things that angered Filipinos was the less-than-mediocre logo, welcome tarpaulins, and signage that looked like the organizers instructed their 10 year-olds to design them. But fear not! Some venues produced presentable and good designs:
From this 😩👎🏼, to this 😉👍🏼
🇵🇭 #SEAGames2019 pic.twitter.com/wuKETABpNy

— TwoCityTrails🏐 (@TwoCityTrails) November 26, 2019
Clark International Airport is ready for the #2019SEAGames!#WeWinAsOne
Photo Credit: Clark Inernational Airport FB Page pic.twitter.com/c7OhHSisls

— Philippines 2019 (@SeaGames2019PH) November 26, 2019
May screen banner din and board to welcome the sea games athletes. Compare sa kumakalat na sulat kamay lang #SEAG2019NOTAFAILURE #seagames2019 #WeWinAsOne stop spreading fake news! Spread the good and real news. pic.twitter.com/Gz0LMbXGsC

— frederick cuevo e. (@frederickcuevo) November 26, 2019
Kikiam is scrapped and better meals are in
Did you know it was actually "chicken sausage" and not kikiam? Regardless, foreign and local athletes won't have to suffer eating only bread, egg, and street food for breakfast. Kitchens from various hotels including the new Athlete's Village in Clark are now offering great meal selections, some even for 5 times a day. Gordon Ramsay is proudly weeping.
LOOK: Food is served for #SEAGames2019 athletes in Horizon hotel, Subic (📸 SBMA) | via @gretsfullido pic.twitter.com/jgIbFEC8Qe

— ABS-CBN News (@ABSCBNNews) November 26, 2019
LOOK: Athletes' Village Dining Hall, New Clark City. Good job! 👍🏼🇵🇭#SEAGames2019

📸 Tina Regencia-Villa pic.twitter.com/vopbO5VGrI

— TwoCityTrails🏐 (@TwoCityTrails) November 26, 2019
The Halal kitchen in the Athletes' Village in Clark. Looks great! 🤩👍🏼🇵🇭 #SEAGames2019

📸 Poch Jorolan pic.twitter.com/Rp2K8EtQeC

— TwoCityTrails🏐 (@TwoCityTrails) November 26, 2019
If These 8 Other Exciting Contests Were Added, Would the SEA Games Be Better ?
If These 8 Other Exciting Contests Were Added, Would the SEA Games Be Better ?
Kyzia Maramara | Nov 26, 2019
There's an Athlete's Village in New Clark, Pampanga
The prestigious-looking Athlete's Village is where most of the athletes will be staying for the next 2 weeks. The kitchen is fired up and ready under the command of Chef Sau del Rosario. The Village has a swimming pool, basketball court, gym, conference rooms, lounges, and more than 700 rooms.
Here's our Master Control Room and the uber posh Athlete's Village. BCDA is very proud to hide all aircon units sa look ng buildings! #WeWinAsOne #SEAGames2019 #SEAGamesfail? pic.twitter.com/94UGq6erVC

— Mark Anthony Ozaeta, MIT, MBA (@OzaetaMark) November 26, 2019
Modern bayanihan: private companies are offering their help
Even if our government can't handle the weight of the SEA Games 2019 because they're mostly unprepared for it, some private companies lent a helping hand in the form of providing service. Philippine Football Federation president Mariano "Nonong" Araneta offered the Southridge School in Alabang as an artificial pitch practice venues for the tournaments. Ceres Bus line has also provided 18 of its newest buses to transport teams to their matches.
NOW FOR SOME GOOD NEWS! Newer, more comfortable buses made available for 17 football teams participating in the Southeast Asian Games courtesy of Vallacar Transit and @CeresNegrosFC owner Leo Rey Yanson who is helping out in coordination with the Philippine Football Federation. pic.twitter.com/KHbP1C32sM

— Cedelf P. Tupas (@cedelfptINQ) November 26, 2019
PH's first few wins
Congratulations!

Team Philippines won against the defending SEA Games Champion and ranked 1 in the polo event. #SeaGames2019

Philippines 🇵🇭 8.5 – 4 Malaysia 🇲🇾 pic.twitter.com/3DdMbsaGIG

— The Philippine Star (@PhilippineStar) November 26, 2019
Congratulations to the polo team! Aside from them, the men and women's floorball Philippine team also won matches both against Indonesia. The women's squad scored 8-1 and the men followed in a 5-4 victory.
The SEA Games 2019 will be opening this weekend and it looks like they're prepared for a bombshell starter
Inside the 50,000-seater Philippine Arena for the 2019 SEA Games Opening Ceremonies Technical Dress Rehearsals.
🇵🇭🇵🇭🇵🇭#WeWinAsOne #2019SEAGames pic.twitter.com/DiIzDdGs4S

— Marvin Tomandao (@marvintomandao) November 26, 2019
MGA KABABAYAN!!!
We call out what needs to be called out.
But after tonight's TDR, I tell you, on Saturday…
WE HAVE A #2019SEAGames OPENING PRODUCTION WE CAN ALL BE PROUD OF!
Please go out and watch it LIVE.
It's a hearty show where u can be yourselves and PARTY! 🇵🇭#WeWinAsOne pic.twitter.com/507rpJMR9V

— Marvin Tomandao (@marvintomandao) November 26, 2019
The NEW CLARK CITY is READY!
for the #2019SEAGames!

CTTO: Rising Philippines#WeWinAsOne pic.twitter.com/pLk4wPpUgp

— Philippines 2019 (@SeaGames2019PH) November 22, 2019
The 30th SEA Games will be officially opening this weekend, November 30, 2019. The Philippine Arena in Bulacan will be filled with athletes from all around the world as well as fans attending to celebrate. Expect fireworks, celebrities (like Apl.de.ap, KZ Tandingan, Aicelle Santos), and Pinoy dance performances.
Events from the past week might have scarred our name on an international level but then again, looking at the bright side, the games haven't even begun. We're still wishing the best of luck for our athletes and for the success of this event. Here's to hoping that Filipinos will learn from all of this and that we'll never forget the people behind it.
What are you looking forward to at the 30th SEA Games? Share them with us below!