Any gamer—whether super hardcore or the average filthy casual—can tell you that the TV (or monitor) you game on can make a huge difference to your experience. With the wrong display, you could be straining your eyes to see important details or struggling to keep up with the action. The 8List team had the opportunity to test out the Samsung Q90R QLED Smart TV, which is supposed to be packed with gaming-focused features. Could it be the best 4K TV for gaming? Scroll on to read our take.
Say goodbye to laggy gameplay
Choosing a TV for gaming isn't as simple as looking at the picture quality. The first thing you should look out for is low input latency—you want a TV that minimizes the delay between your console and the screen. That's a big deal when playing fast-paced games, where just the slightest lag could totally throw you off.
The Samsung Q90R is equipped with FreeSync(VRR) technology, which is supposed to reduce input lag and give real-time gaming speed. We put this to the test by playing a few minutes of God of War and Death Stranding on a PS4 Pro, as well as Mario Kart 8 Deluxe on the Switch. The verdict? No discernible lags, just snappy gameplay—as it should be.
See in the dark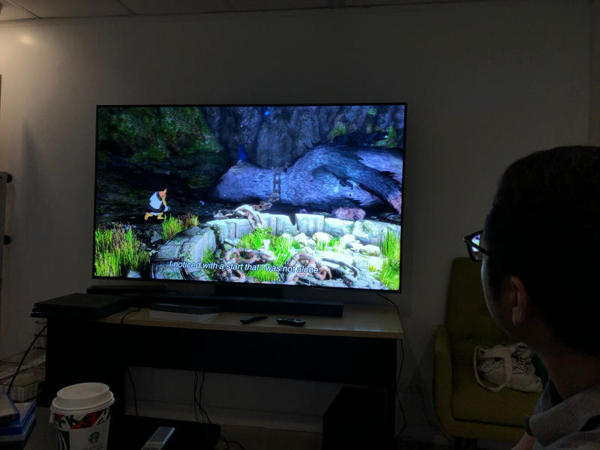 For gamers who struggle to see their enemies in the dark or spot lootable items in the shadows, the Q90R's Dynamic Black Equalizer is a godsend. This feature analyzes video in real time to optimizing colors for visibility. This allows the TV to adjust for gameplay in dark environments, as well as maintain accurate colors in bright environments. This way, you'll be able to see objects better, no matter what the brightness level of the game and your surroundings. We tested out this feature with The Last Guardian on PS4 Pro and were wowed by how we could see each element in sharp detail.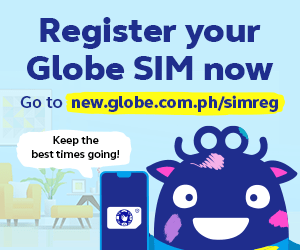 Perfect for the whole barkada
Bigger doesn't always mean better, but it's usually true for the TVs you game on. With a 75-inch screen, all the action on the Q90R's screen feels real, like you're right in the middle of the action. And the screen's immense size makes it all the better for playing multiplayer games with; no more squinting at the screen to figure out which character is which. Its Ultra Viewing Angle of QLED also spreads light uniformly and reduces light leakage, so you don't have to sit directly in front of the TV to get a great viewing experience—perfect for hanging out with large groups of friends.
Turn Up Your Barkada Nights With These Party Video Games That Everyone Will Enjoy
Turn Up Your Barkada Nights With These Party Video Games That Everyone Will Enjoy
Matthew Arcilla | Jan 31, 2020
Amazing picture quality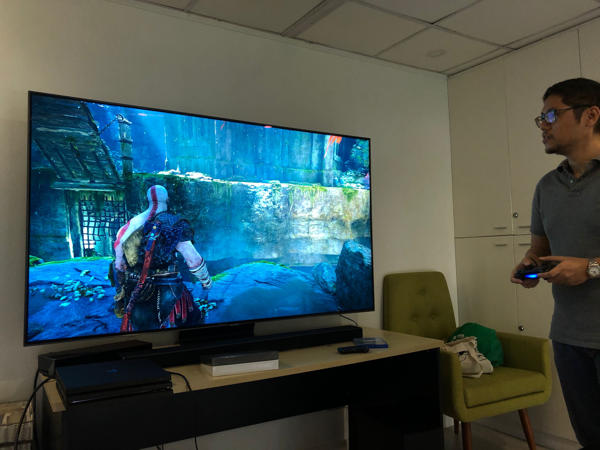 Samsung's Quantum Dot technology lets you crank up the color so you get realistic colors in dark or bright scenes, with deep contrasts and vivid and natural colors. The TV's Direct Full Array 16x accurately controls the backlight so you see enhanced depth scene by scene. This means rich blacks, colors that pop, and amazing detail.
Also, can we talk about the bezel-free design? By minimizing distractions, you can't help but be immersed in what's happening on the screen. And when you're not using the TV, it can blend into your decor with its ambient mode, which turns your TV into a dynamic picture frame.
AI Upscaling
The Samsung Q90R uses AI to upscale low-resolution images at near 4K resolution. This also reduces image noise, restores lost details, and even sharpens edges around objects and text. So even if you're gaming on a lower resolution console like a Switch, the images are crisp and clear on the huge screen.
Mind-blowing sound
We tested the TV with its accompanying Q90R soundbar. The TV enhances the sound to help you immerse yourself in the game, adjusting the sound to match the scene on the screen. It can even clear dialogue in news programs and highlight a singer's voice over the background in a concert. Pretty cool, eh?
Easy screen sharing
One unique feature that Samsung TVs have is a screen sharing capability with Samsung phones. Unlike most smart TVs that simply allow you to cast streaming videos from your phone, this screen sharing allows you to project your phone's actual screen on the TV.
We tested this out with the phone's camera (see above gif) and placed a video call to see how the feature worked. There's a noticeable lag, so the feature isn't ideal for action games, but maybe puzzle and logic-based games could work. However, we think this feature is most suitable for video calls rather than video games. But it's a pretty cool feature to play around with, nonetheless.
The bottom line

With features designed specifically to enhance the gaming experience, the Samsung Q90R is definitely one of the best 4K TVs for gaming on the market right now. Of course, you wouldn't expect to get these premium features for cheap. As of this writing, Abenson prices the 65-inch variant at P264,999 and the 75-inch at P334,999. But this premium TV's performance makes it well worth its price tag. If you're ready to spend, this QLED TV is one of the best out there.
What do you think is the best 4K TV for gaming? Sound off in the comments below!