Barkada night is a very important part of adult life, especially when it's so rare for stars, schedules and people to align, and responsibilities to part way long enough to get your friends together. But between the food and the booze, there's got to be entertainment.
Now you could be a chump and pop in a movie that no one will watch because you'll be collectively busy talking over it. Or you could be a champ and bust out stuff that everyone can get in on. And no, I'm not talking about karaoke and the art of performing hate crimes on popular music. I'm talking about party video games, which are the most fun you can have without a two-hour board game tutorial.
There are dozens of great titles in this category of video games. There are physics comedy games and board games without boards, co-op puzzle challenges, and even games where you just freaking yell at each other. Here are just eight of the best party video games of 2020.
For the sake of this list we excluded fighting games, co-op shooters and other more conventional "core" genres. Instead we focused on games that are inclusive. They're fun even if you have no hand eye coordination to speak of, they're fun even when you have a crap partner, and they're fun even when you lose. (Unless you're a sore loser, then that's your problem.)
Jackbox Party Pack 6
Descended from the long-running You Don't Know Jack series of trivia games, the Jackbox Party Pack is an ongoing series of collected party games. The latest installment features the return of "Trivia Murder Party" in which contestants get "killed off" for wrong answers from 2016's Party Pack 3. Other games include "Push the Button" in which players try to figure out the alien amongst them, a matching game called "Role Models," the improv joke writing game "Joke Boat" and an inventive fake dictionary game "Dictionarium".
Monster Prom
A board game-style multiplayer dating adventure for up to four players, Monster Prom casts you and your friends as students of Spooky High, looking for a creepy cutie to date. The joy of the game is mostly in the art and writing, with zany situations, referential dialogue and comedic hijinks. The game is incredibly replayable with over two dozen secret endings to unlock.
Overcooked 2
The cooking game that brings people together is also the cooking game that tears them apart. The Overcooked series tasks players to prepare ingredients, cook food, and wash dishes at high speed and in a variety of stressful situations. Serve pasta in a hot air balloon, dish out pizza in a wizard's tower, toss out burritos in the dwarven mines. Whatever happens, stay focused and keep calm and your friendships will survive.
8 New Party Game Ideas That Will Make Your Next Get-Together Lit AF
8 New Party Game Ideas That Will Make Your Next Get-Together Lit AF
8List | Dec 21, 2018
Just Dance 2020
Just because dancing games aren't anything new doesn't mean they aren't any less fun. You don't need a motion controller or a specialized dance pad to enjoy Just Dance, which takes advantage of the sensors in modern controllers like the Nintendo Joy-Con and the Dual Shock 4 to work. The importance of choreography is what sets Just Dance apart from previous dance games, making your friends collaborators in the fun.
Spaceteam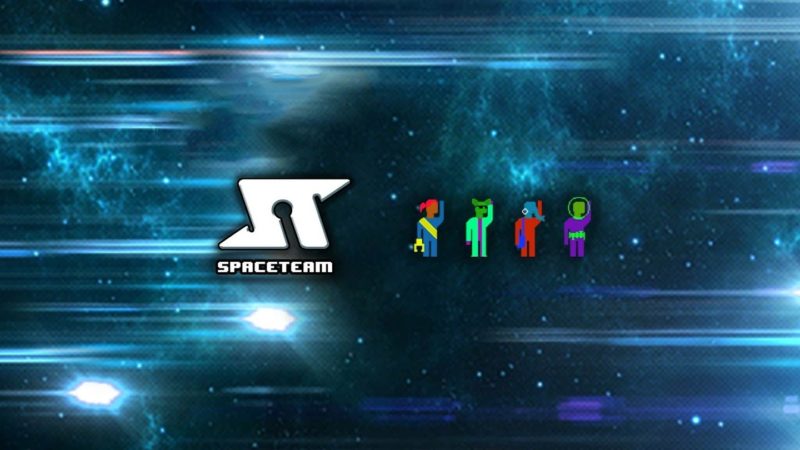 This free-to-play cooperative shouting game puts you and your friends at the helm of a spaceship with needlessly complicated controls. Each player gets randomly assigned different controls and different instructions. It's a game where you listen frantically for your time to flip the switch, turn the knob or slide up a lever while yelling at others to do the same. It's an absolute riot to be enjoyed (or hated) by anybody.
Rocket League
Many have attempted to capture the spirit of the Beautiful Game, but none have captured it as well as Rocket League. While other games abstract the sport with button presses, Rocket League is cleverer. It casts players as a rocket powered car that spins, twists and leaps to score goals and defend. It's absurd but it's the same physical energy as actual football. You don't know real video game sports till you've played Rocket League.
Genital Jousting
Mature content warning: this party game is only for the totally immature. In Genital Jousting, you and your friends wrestle with wangs in various mini-games. You'll flop, squirt and pop into all sorts of unbelievable contortions. It's a fast-paced party game that also features an unbelievable story mode that's fun to play through with friends.
Mario Kart 8
Forget Mario Party, the real party excitement is in Mario Kart, a series that has built up a reputation for being one of the most accessible racing games ever. Sure the game's design fibs a bit to punt front-runners back and shove stragglers forward but it's all in the name of making an exciting experience where friends of all skill levels can have fun. Mario Kart 8 can easily fill up an entire evening with joy.
What titles do you think we missed in our best party video games of 2020 list? Share 'em in the comments below!