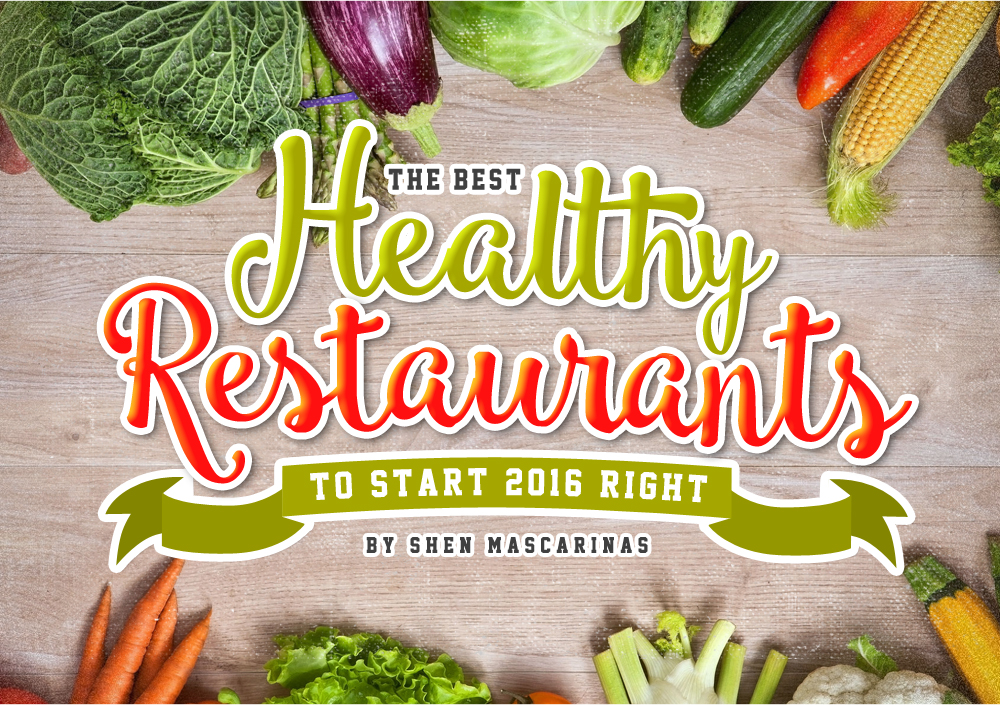 Claim 2016 as the year that your New Year's resolution to eat healthier finally translates into habit or even better–a lifestyle. If you're struggling with what and where to eat, then visiting 8 of the metro's best healthy restaurants is a great way to start.
Look forward to food that's not only whopping with nutritional value, but also incredibly tasty and even foodstagram-worthy. Get your non-health-conscious friend to eat with you, and that friend will most probably be converted.
Start the year right! Here are 8 healthy restaurants you should definitely fill 2016's food adventures with.
8. Wabi-Sabi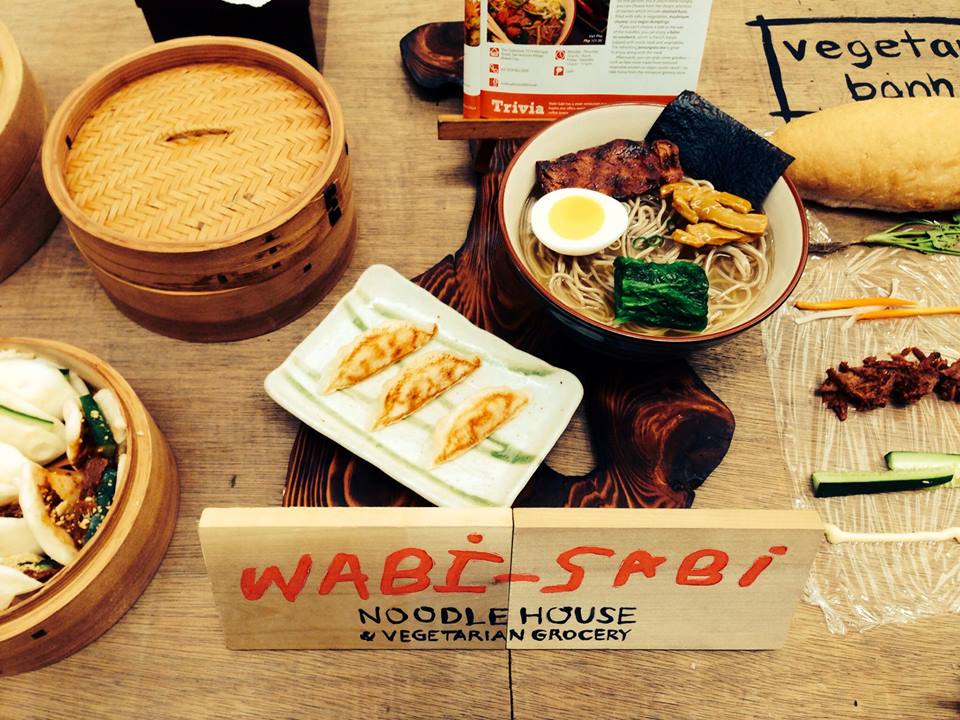 7274 Malugay Street, San Antonio Village, Makati City | 0918 962 2935, (02) 519 3950
POS Bldg., Scout Mandrinan St. Cor. Tomas Morato, South triangle, Quezon City | 0918 962 2935
Facebook Page
Wabi-Sabi is vegetarian noodle house and grocery store. It's a small and quirky food haven for vegetarian versions of awesome Asian dishes like ramen, pho, tom yum, potstickers, bahn mi and cuapao. Your vegan requirements will can almost always be accommodated, too. They also have interesting Asian drinks worth trying like Vietnamese coffee, Thai milk tea and lemongrass iced tea.
Wabi-sabi's menu is short but well-curated, and you can look forward to seasonal specialties. Affordable, familiar and packed with clean flavors–you definitely won't miss meat at Wabi-Sabi.
7. Hillside Café and Juice Bar
Cedarhills Garden Center, 57 Mother Ignacia St., Paligsahan, Quezon
0915 647 4706, (02) 374 1117 | Facebook Page
You'll be welcomed with lush greenery as soon as you find Hillside Cafe and Juice Bar. Nestled in a gardening store, the restaurant's facade provides an apt peek at the refreshing meals diners can enjoy inside. All of the dishes are made with organic, locally-sourced ingredients. Comfort food favorites like pumpkin soup, mac & cheese, teriyaki and soft tacos are very tasty but made healthier, so go indulge without the guilt.
Hillside is also well-known for their cold-pressed juices, superfood smoothies and wellness shots. Make your healthy retreat complete and order one of these liquid boosts with your meal.
6. SaladStop!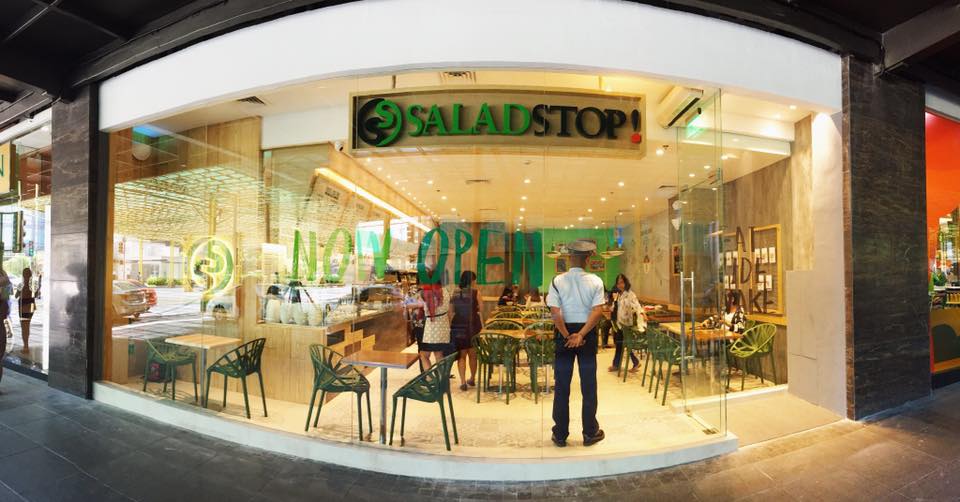 See all five branches here | Facebook Page | Website | 0917 804 6921, (02) 958 5534
Salad Stop makes eating healthy ultra-convenient and genuinely exciting. The salad joint acts like a well-oiled fast-food chain, but all the ingredients are fresh, natural and preservative-free. With over 35 ingredients and 18 dressings to choose from, you can definitely throw away the assumption that a salad equates to soggy greens with a few stale croutons.
One of the best-sellers is the Oh Crab Lah, filled with romaine, crab sticks, egg, vermicelli noodles, cherry tomatoes, red onions and croutons. It's then dressed with the flavor explosion of Singapore Chili Crab dressing. You can have it in salad or wrap form, and both versions are huge portions. The calorie count of each order is specified for the convenience of those conscious about that, too.
5. The Farm Organics
Forbeswod Heights, Burgos Circle, Bonifacio Global City, Taguig City | (02) 852 8228
2F The Commerce Center, 1780 Commerce Cor. Filinvest Avenue, Muntinlupa City | (02) 556 2478, (02) 831 7493
Facebook Page
Ask people to associate dishes with healthy eating, and you're probably not gonna hear about steaks or burgers. Thanks to The Farm, however, you can indulge in really good, meaty dishes with much less guilt. They only use organic beef products, which they grow themselves. They also have vegetarian and paleo burger options.
Although The Farm specializes in organic steak and burgers, their menu is also filled with other mouthwatering healthy dishes. Just some examples are organic roast chicken, kesong puti caprese, natural bacon, as well as various kinds of pasta and sandwiches.
4. Satinka Naturals Bistro & Café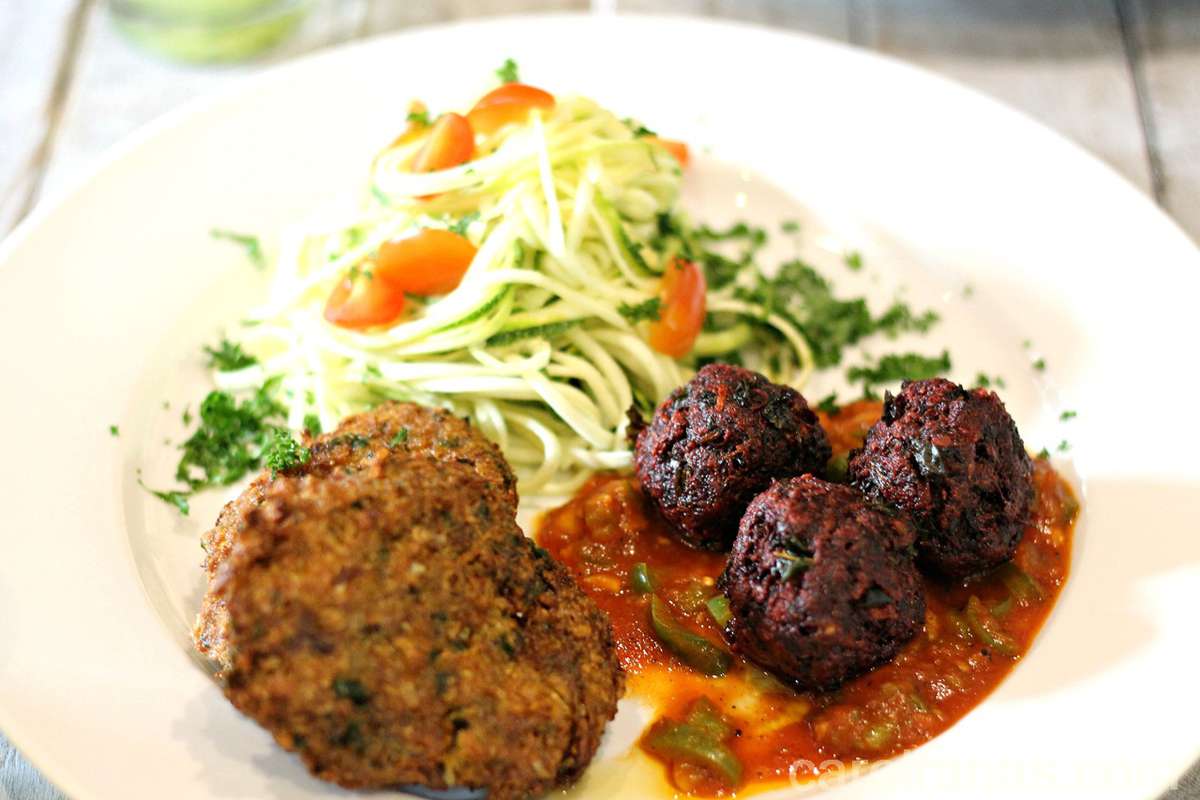 1137 Kamagong St., San Antonio, Makati City | (02) 246 9069 ext: 128 | Facebook Page
Definitely underrated and one of Makati's hidden gems, Satinka Naturals is a quaint and cozy place for organic, MSG- and GMO-free meals. Head upstairs to enjoy your colorful and scrumptious orders while sitting on comfortable pillows and eating on low wooden tables. Satinka has food for everyone, may it be for vegetarians, vegans or those who just want to eat healthier.
Crowd-favorites are the grilled chicken pesto pasta, vegetarian adobo and vegan platter. You can also opt to accompany your meal with one of the elixirs from Satinka's detox bar. Also, don't leave without trying their Sagada style yoghurt, which comes in various forms–with natural honey, bananas and oats, seasonal fruits and turned into cheesecake.
3. The Wholesome Table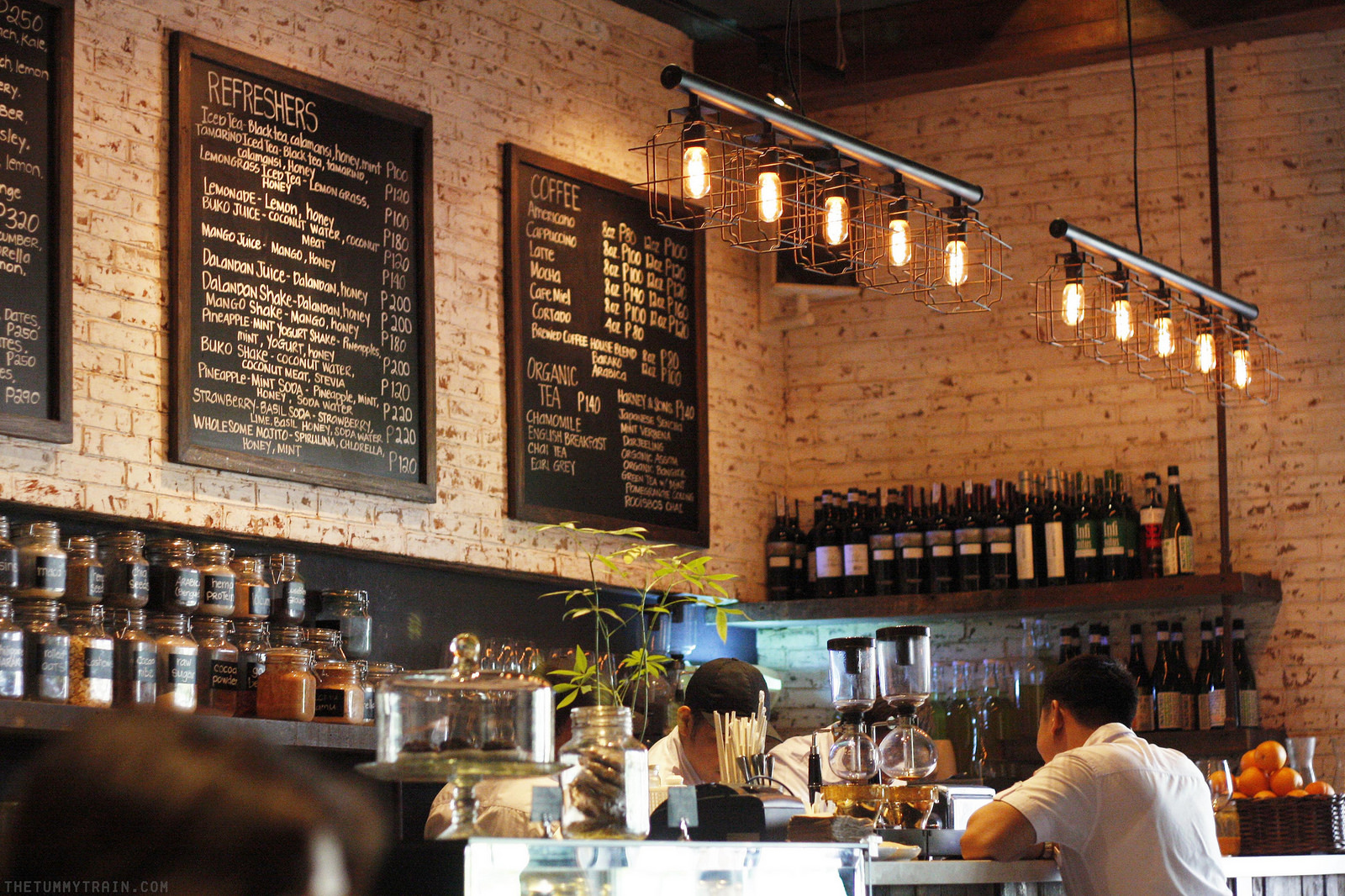 30th St. Cor. 7th Ave., Bonifacio High Street Central, Taguig | (02) 621 4111
GF Infinity Tower, H.V. Dela Costa Cor. Leviste St., Salcedo Village, Makati | (02) 848 7777
LG Estancia Mall, Capitol Commons, Pasig | (02) 655 7777
Facebook Page | Website
All three of The Wholesome Table's homes are beautifully-decorated with hints of nature and wonderfully complemented with amazing service. It sets the tone perfectly for customers' dining experience. Get excited to indulge in your favorite comfort food without the heavy and guilty feeling that quickly catches up with you.
After all, The Wholesome table only supports organic sources, free-range chicken and eggs, grass-fed beef, wild-caught seafood and local artisan products. You can also be sure that everything is natural, made from scratch and devoid of refined sugar and trans fats. First-timers can start with the mushroom fritters, burrata, eggplant parmigiana and one of their power bowls.
2. Green Pastures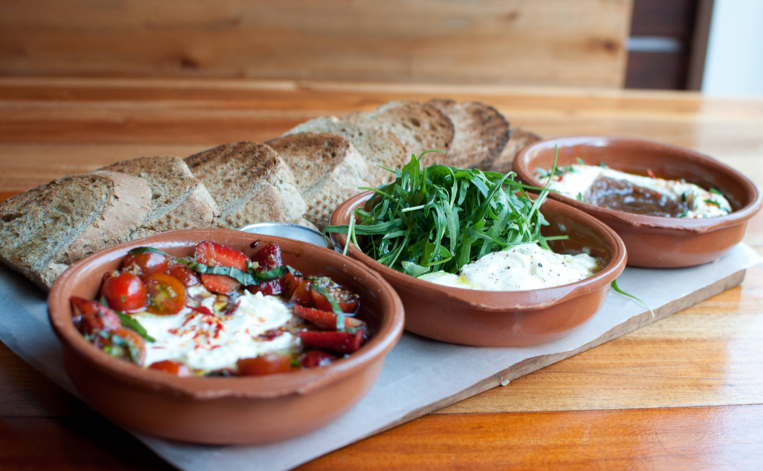 L4 East Wing, Shangri-La Plaza, Ortigas Center, Mandaluyong City | (02) 6543219
3F Eastwood Mall, Libis, Quezon City | (02) 6613612
Facebook Page
Being one of the pioneers in championing organic food and the farm-to-table concept, it's a shame that Green Pastures only has two branches. Southerners will have to go on a road trip just to try Green Pastures' healthy grub, but it's absolutely worth it.
First-timers must try the homemade cheeses like ricotta and stracciatella, unique pasta combinations like the crab Meat and sea Urchin, as well as their take on desserts like the Milk Eggs Honey (organic honeycomb, homemade greek yogurt and citrus curd). Green Pastures' menu changes almost every month depending on seasonal ingredients, so diners can be sure they're served only the freshest of ingredients.
1. Susi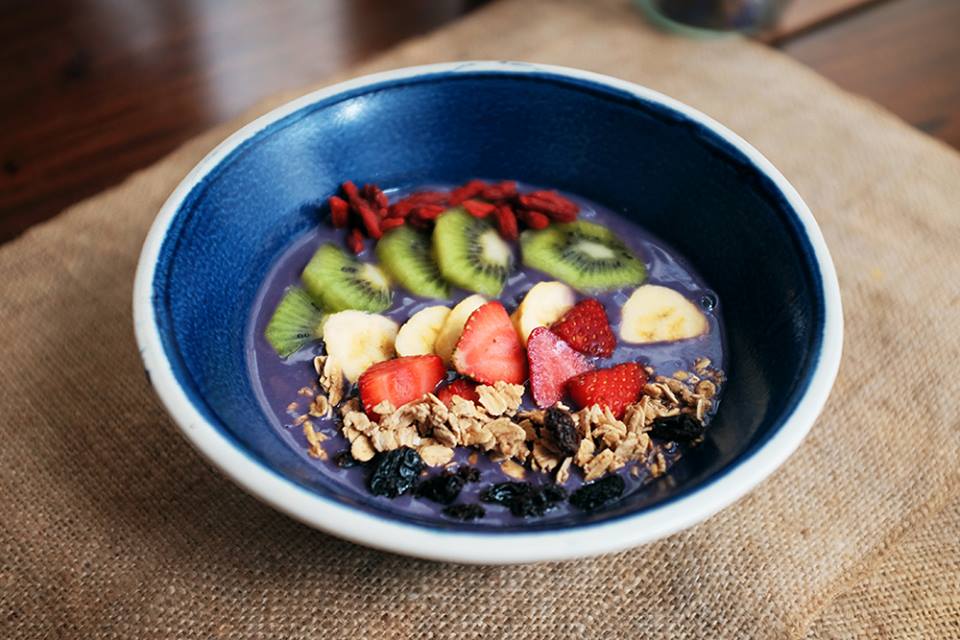 Bellagio 2, Forbestown, Burgos Circle, Bonifacio Global City, Taguig City
(02) 833 7874 | Facebook Page | Website
Don't miss out on trying out the Philippines' first 100% vegan and gluten-free menu. Here's your chance to sample plant-based dishes, executed in possibly the most exciting and flavorful manner. If you're not allured by the absence of meat in this restaurant, it's bright and welcoming ambiance surely will.
Must-tries are the Quinitto that's teriyaki quinoa risotto with mushroom "scallops," the Mac & Geez that's made from quinoa pasta and a "cheese" sauce of soy cream with carrots, as well as the El Chimichurri burger that's comprised of a beet patty, chimichurri, "cream cheese" and pico de gallo. Looking sinful and delectable, yet actually healthy–Susi's desserts alone are worth a visit.
Any other healthy restaurants to start 2016 feeling and looking good? Share your favorites below!