For those trying to keep count, the first half of The Walking Dead's fifth season ratcheted the number to 137 zombie kills, and the zombie post-apocalypse has never had this much crossover aptitude. The story of Rick Grimes and his ragged band of survivors has made a lot of money for its creators Robert Kirkman and Tony Moore, as well as AMC and its global distributor Fox Channels.

Jude Turcuato, SVP for Fox International Channels in Asia stated gleefully that, "The first episode of this season last year garnered the biggest viewership fro pay channels in the Philippines." That includes local cable content like C1NEMAONE and PBO, with ratings of 1.869 for adults aged 16 to 49 in the Prime Time telecast of the show. Meaning, people are actually turning on their cable TV at the appropriate time to watch the series.
That data also means the series outdid its own record, beating the Season 4 premiere by 57 percent in terms of total number of viewers and making it the top pay channel during the 8:55 PM telecast on October 13, 2014.
In any case, if you didn't tune in to the premiere episode of the season's second part, we won't ruin it for you.
Instead, here's just some of the grisliest, most creative, and resonant kills and deaths from the first part of the season that saw Rick Grimes and his gang going to Terminus, escaping a hospital, camping in a church, and departing for Washington. Prep yourself, zombie-heads.

Rick kills some Terminus cannibal butchers. With a knife. Oh, three cheers for sweet revenge.

In episode 6 Daryl and Carol are embattled and surrounded by walkers on a bridge. Here's how they work their escape with a tipping ambulance.

In Episode 8, Father Gabriel exits his church by pulling up some boards, goes to the school, and then returns because he's too afraid or incapable of killing zombies and leads a small village of walkers to the doorstep. This prompts Michonne and Carl to raise the defenses, chop down the barriers, and let the Man of God back in. What a moron.
One of the more emotive scenes in Episode 4 is when the duo try to get out of the hospital controlled by a literal police brutality reign. Of course Beth gets caught. Have some water, zombies.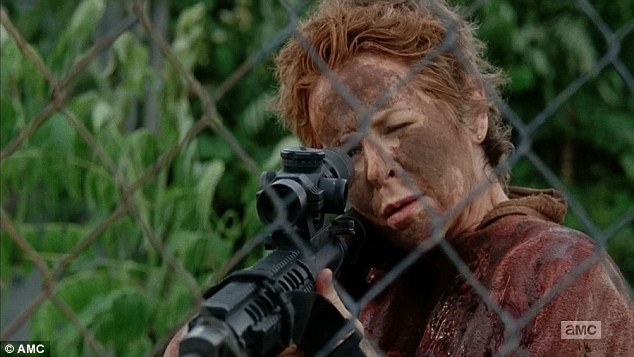 Carol comes to the rescue of the imprisoned Rick and the gang in episode 1 with commando chutzpah and snipes her way through the Terminus defenses. At one point she hits a gas line and creates some very explosive zombie tossed salad.

Like many scenes involving the smart but socially inept Eugene, this is a smart move tinged with humor, coming at a very opportune time.

Rick and co butcher the evil Terminus bastards. Featuring the demise of Terminus leader Gareth and what's left of the cannibals. Finally, that human-eating d*ckwad dies. That's for Bob's leg!
A moment of silence for Emily Kinney's Beth Green, as she exacts revenge on Officer Dawn Lerner and her band of Nazi cops running a hospital from hell. So yeah we were referring to the death of Officer Dawn here as a great "kill" by Daryl.
Season 5, Part 2 of The Walking Dead airs every Monday on Fox at 11:35 A.M. Manila time, an hour after its US telecast, with a primetime replay at 8:55 P.M. Die-hard fans can also tune in for the Quick Replay of the episode at 9:50 P.M.
Photos courtesy of Fox International Channels Asia.