8 Free Apps That Will Help You Stay Active Even Indoors
Mar 31, 2020 &nbsp • &nbsp Kyzia Maramara
By now, you've probably settled on a routine, no matter how unorganized. Does it consist of waking up, working, eating meals, and binge-watching Netflix titles while lying on the couch? In other words, the quarantine has put every one of us on the fast lane to a sedentary life and we shouldn't stand idly by and let this happen. Pun intended.
Make the best use of your time. Boost your health, fitness, immune system, and even your mood with these exercise apps that will get your blood flowing.
7-minute workout
Everyone knows doing exercises, even the simple stretches, can give your body energy. The 7-minute exercise method is one of the most famous in the world because it won't take a chunk of your time but it'll still improve your daily fitness. This won't get you that buff, toned body but it will ease you into moving those limbs.
The app lets you do high-intensity bodyweight exercises for 30 seconds and rest for 10 seconds. It has easy-to-follow visuals so you know the positions you should do. You can also personalize your workout to your favorite exercises.
Nike Training Club
Missing out on your personal trainer isn't so bad with Nike Training Club's guided workouts. Get to try over a hundred free workouts from strength and endurance to mobility and yoga. The app has exercises available for all levels with light or full equipment and with exercise times ranging from 15 to 45 minutes a day. You get to record your activities and exercises so you can keep track of your fitness life.
FitOn
Train with celebrities and celebrity fitness coaches with FitOn. The app has hundreds of workouts available and you can even browse by category based on where you want to focus: a specific body part or an intense, lengthy routine. It has high intensity workouts, cardio, pilates, yoga, and even dance. Switch your exercises every once in a while to get the full benefits.
Sworkit
Sworkit is an abbreviation of "Simply Work It" which is exactly what this app will help you do. Whether you're looking to lose weight, tone up, gain muscle, or improve your flexibility and endurance, Sworkit has sets of workouts you can customize to achieve your goal including options to exercise with and without equipment. Aside from high-intensity training, you can also do yoga and pilates or build your own custom routine.
8Fit
8Fit is a combination of fitness and nutrition all in a handy app that can fit your pocket. It starts by you determining your fitness goals: lose weight, get fitter, or gain muscle mass, and providing your dietary preference. From there, the app will suggest a custom workout and a meal plan to go with it. The workouts don't require equipment and will only take up 10-20 minutes of your time daily.
Daily Workouts Fitness Trainer
Spend 10 to 30 minutes a day doing randomized full-body workouts or targeted workouts with Daily Workouts. This app is perfect for those who've never really gone to the gym even pre-COVID, it will ease you into a healthy, mobile lifestyle. An on-screen instruction plus timer guide you so you're doing the right moves. Professional trainers developed the app and demonstrated the exercises so you know you're getting tips straight from the experts.
Yoga for Beginners
Are you more into meditation and calming exercises? Start your morning or end your days with simple yoga poses that will help you relax and melt the stress away. Yoga for Beginners is a pocket yoga studio that has easy-to-learn workouts you can perform anytime, anywhere. You can choose the difficulty level of the poses and perform them guided by a soothing voice that will help clear your mind.
30-Day Squat Challenge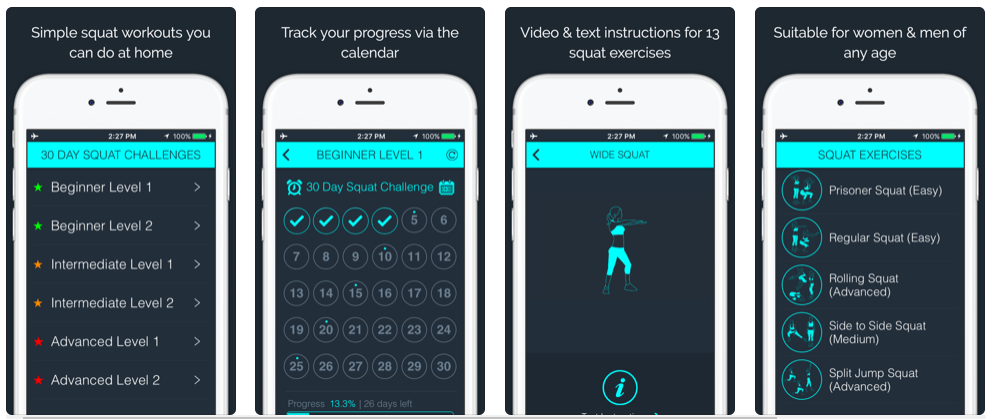 iOS
All the sitting, slouching, and lounging you're doing at home definitely isn't good for your back or your bottom. Feel like you're having a case of pancake butt? You can always whip yourself into shape starting with the 30-Day Squat Challenge. You can tone those legs and butt with the app's 6 workouts and 13 squat exercises suitable for both men and women.
Which of these apps have you tried?