Nickelodeon is finally bringing back everyone's favorite dog (no, it's not Cheddar or Clifford or whoever you're thinking of). Blue's Clues & You recently dropped their new trailer, and everyone and their moms went wild. For one, most of Twitter is thirsty for the new host Joshua dela Cruz (who, by the way, is also half-Filipino!). Because former hosts Steve and Joe appeared in the trailer to guide their cousin Josh! Joe! And most importantly, Steve! Cue nostalgia.
Blue's Clues pioneered the interactive format that many children's shows use nowadays (see Dora The Explorer), and having a male host directing questions to the viewers so straightforwardly was refreshing during a time when this type of thing was seen as an anomaly and a weakness. Steve and Blue were beloved parts of our childhoods, and we're all ecstatic that our favorite blue dog is coming back to the screen (no, nothing will stop us from watching again, even if we're older now, because who cares about age?).
But until now, many people are wondering, what exactly happened to Steve after he left Blue's Clues? In the show, the character Steve went off to college and left Blue in the trusty hands of his brother Joe. But in real life, there were many rumors surrounding the actor Steve Burns from dying in a car crash or due to drug overdose to being replaced by a look-a-like. Well, in reality, he's just been living a rather quiet life, with a lot of life lessons from Blue.
When you feel it's time to go, it's probably time to go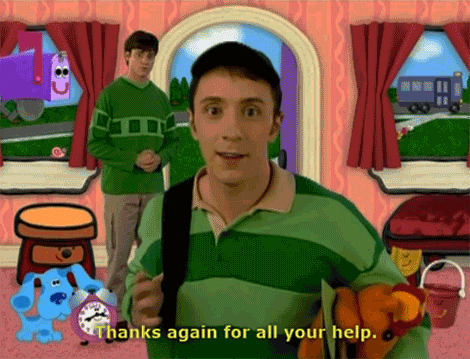 via GIPHY
This is what Steve cites as his primary reason for going: he's getting old. 
"I left the show because it was just simply time to go. I was pretty much playing a boyish, older-brotherish kind of character on the show. I was getting older; I was losing my hair; a lot of the original gangsters on the show, like the people who created it, were all moving on to other careers," Steve told The Huffington Post.  "It just felt like time. I just had a gut feeling like it was time to go."
And when your gut feeling is telling you to close a chapter of your life, you should probably close that chapter of your life, regardless of what other people thought. Just like how Steve did.
You've got to be firm about whatever you want
For the longest time, Steve wanted to shave his head, but he couldn't because of Blue's Clues. And he placated the showrunners and executives by doing as they said. But when he decided to leave, he was resolute. He quit and did what he wanted. The day after he quit the show, he went and shaved all the hair off his head. And now he's almost unrecognizable from the Steve we grew up with.
You can do anything that you want to do
After quitting, Steve slipped into anonymity so easily. He took up voiceover jobs again, and of course, he went bald. He simply took action and went back to doing what he wanted to do.
And isn't that what he had been teaching kids all those years with Blue? We can do anything / That we wanna dooooo~
You have to speak up for yourself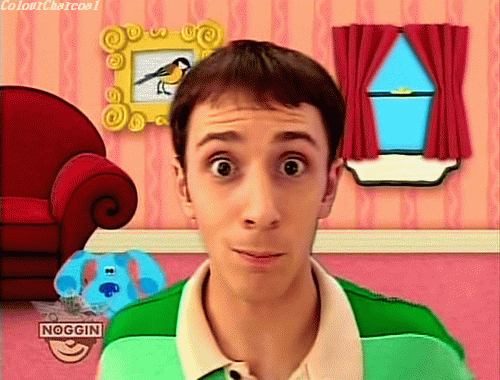 via GIPHY
Despite leading a peaceful life, the rumors surrounding Steve didn't stop going around. And it got so bad to the point that his mom had to call him to confirm that he's still breathing. Well, that only meant that Steve had to do something. And speak up he did. He stepped back into the spotlight to assure parents and kids alike that he is alive and well and certainly not buried six feet under.
If you can't beat 'em, join 'em
One of the reasons Steve was so popular with both kids and mothers alike was his humor. And while he can't stop the rumors about his supposed passing, he can certainly poke fun at the rumors and himself. His humor comes into play with his social media handle @SteveBurnsAlive (though his Twitter is now sadly deactivated). And everywhere else, too, like how he answered the FAQ section of his webpage.
Dreams do come true
While Steve said he didn't quit the show to pursue a career in music, he certainly enjoyed creating his own songs. When he released his debut album Songs for Dustmites, his childhood dream came true. And if he collaborated with one of his favorite bands, The Flaming Lips, for his album, that's just the cherry on top. He also released a children's album with Steven Drozd of The Flaming Lips in late 2016 entitled Foreverywhere. Dreams do come true, even if it's not in the form you thought it would manifest in.
… even if it's just a dream in a children's TV show
It's not just actor Steve who had a dream that came true. Even character Steve got what he wanted. Actor Steve once said that character Steve would probably be a detective in the worst agency ever. And what do you know? He did get his detective agency! Even if it really is the worst one.
And even if you think you're permanently stuck, you're probably not


via GIPHY
Everyone thought Steve would stay with Blue's Clues forever. But then he left, because he didn't want to be stuck there. So he wasn't.
 "I just don't think it's true that people can't do something else after they've done something that seems so permanent," Steve told MTV. "I hope I'll be remembered for that show for the rest of my life. That will always be a part of my identity, and I'm totally cool with that."
What do you think is Steve doing now? Share your theories with us below!