Netizens are sounding the alarm bells that crimes are getting out of hand in Bonifacio Global City, Taguig and yet there seems to be no media coverage about it. A viral Facebook post made after another alleged homicide incident in the district stirred the discussion. Soon, other chilling stories popped up and now, folks who live and work in BGC are concerned for their safety.
Stories of BGC crimes worry Pinoys

"Why aren't the crimes committed in front of a very large US Financial Institution at BGC being reported? It's been several weeks now, yet nothing on the news or on social media," said the viral Facebook post posted on October 4, Tuesday.
"This early morning, another body was found in front of the building!!! Very alarming!!! Employees also fell [victim] to holdups, and some [were] even killed for it! Yet nobody speaks up!! I pity the affected families screaming for justice!!! What [are] BGC security and Taguig admin doing about it?!" it continued.
As of writing, the post has garnered 4.8k reactions and has been shared 5.4k times. Screenshots of it have also been shared on other social media platforms such as Twitter and Reddit.
Over on Reddit, concerned netizens shared bits and pieces of information with each other, some saying that their colleagues/friends/family members witnessed similar crimes around the area of BGC near Kalayaan Ave. There were talks of multiple robbery-turned-murder incidents, some even said as many as seven people have fallen victim to the crimes.
Taguig Police release a statement
However, Taguig Police denied any "rampant robbery incidents in Bonifacio Global City that resulted in the death of victims."
"Mr. Christian Nicolie Atienza, senior property manager of Asia Affinity, the firm responsible for the security of the JP Morgan Chase & Co. Tower (the company referred to in the post), categorically stated that no such robbery-holdup incidents were officially reported to them or brought to their attention," read the Facebook post.
Police Major Judge Rowe Donato of Substation 1 reached out to security agencies in the area. Donato denied that victims were killed in any establishment, contrary to posts on social media.
"It is very unfortunate that there are some individuals who paint a negative picture of our safety and security status. We ask everyone to refrain from sharing malicious and fake news as it will only cause panic and fear," ended the Taguig City Police Station post.
A reported suicide in BGC
But holdups aren't the only unfortunate incidents that have (allegedly) happened in BGC. Netizens also pointed out that last September 29, there was also news of a Malaysian woman who reportedly committed suicide from the 28th floor of a condominium on the corner of 34th St. and 9th Ave. According to the report, the incident happened around 2:15 PM, in broad daylight, yet no it wasn't reported by major news outlets.

More news of theft and snatching in BGC
Though the Taguig police have denied the robbery incidents, many netizens have been coming forward with cases that happened in BGC. These incidents never made it to mainstream media, but news about it is all over Facebook groups for BGC residents.
Screenshots of one such Facebook post posted last April reads: "There's been a shooting incident near 11th Ave. in BROAD DAYLIGHT. We heard two gunshots and a vehicle which we believe is a motorcycle [rushing away from] the scene after the incident. It was so painful to watch. I never imagined this happening in BGC."
Another screenshot shared how someone broke into a condominium unit in Forbestown Road, Taguig. It questioned the security inside these mega-townships and warned everyone to stay vigilant.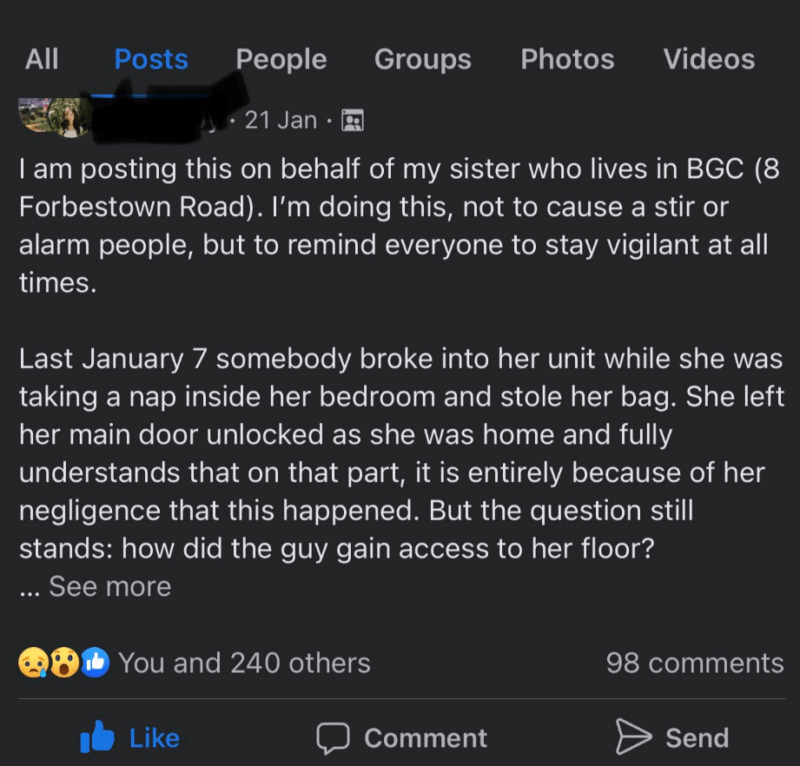 Another incident of riding in tandem snatching happened in Burgos Circle, according to a Facebook post in September 2021. Fortunately, the criminals weren't successful in their attempt to snatch a phone.

Netizens could only speculate why these crimes aren't usually reported on the nightly news or flooding their timelines.
BGC, a bubble

The Internet has always had strong opinions toward BGC, even going so far as calling it "the worst district in Metro Manila." The lifestyle and commercial hub is known for being glamorous with its contemporary architecture, modern skyscrapers, and its array of international flagship brands. It's also where hundreds of businesses are headquartered in hi-tech offices. Inside its borders, it's a whole new world. But outside of it is the reality of Metro Manila.
"Basically BGC is the image of income inequality and wealth disparity in the Philippines," said one netizen. "It is also the image of expectations versus the reality of neoliberalism. On the left, you'll see the tall buildings of BGC, which you expect from neoliberal policies. On the right, the slum…"
And with news of all these unreported crimes, Filipinos are even more convinced that BGC is an illusion of a luxurious life.
"It looks like the rest of the city has finally realized that BGC is actually the wild wild west dressed up in swanky clothing. 'Pakahusay din ng news blackout nila aney? Anyway, I never liked the area & I never will," said one Twitter user reacting to the news of crimes in BGC.
What can you do to stay safe?
We shouldn't believe everything we see on social media, but the reality is, nowhere is 100% safe. Whether you're in the glamorous streets of BGC or the outskirts of some other district, you should stay vigilant. Maybe you can equip yourself with personal safety alarms and pepper sprays to make you feel safer. Don't use your phones or listen to deafening music when you're walking home. You can also tell your friends and family your whereabouts at all times and avoid walking at night alone. And if you encounter any sort of incident on the road, don't hesitate to report it to the authorities.
Here's What You Can Do to Stay Safe From Abduction and Assault on the Streets
Here's What You Can Do to Stay Safe From Abduction and Assault on the Streets
Kyzia Maramara | Aug 19, 2022
Check us out on Facebook, Instagram, Twitter, TikTok, and YouTube, to be the first to know about the latest news and coolest trends!