Biggest Winners and Losers of 'ONE: Conquest of Champions'
Nov 27, 2018 &nbsp • &nbsp Karl R. De Mesa
Bra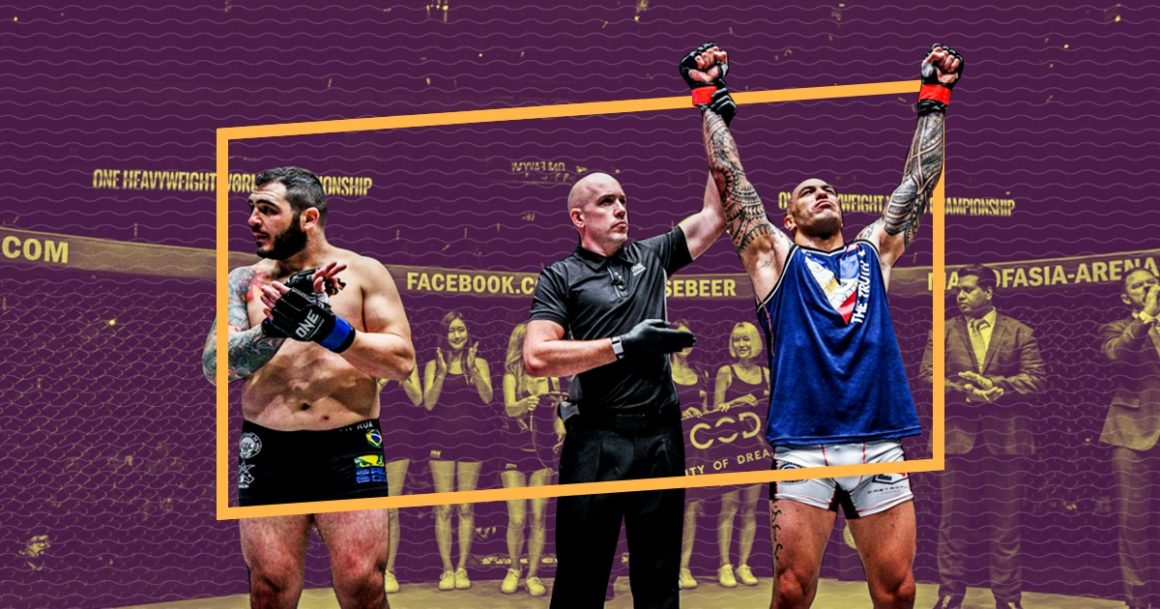 What a big night it was for Pinoy MMA last November 23 at One Championship's "Conquest of Champions", coming away with 2 belts, 1 of them a successful defense and the other a newly re-captured title, which earned the Philippines a total stack of 5 concurrent reigning kings out of 8 weight divisions in the Asian organization.
There were plenty of exciting revelations and more than quite a few disappointing performances. Now that the dust has settled, let's recap who's gained the most out of their victory and how far those who've lost have fallen.
4 Biggest Losers
Armen Petrosyan
https://www.facebook.com/ONEChampionship/videos/482459075577256/
There was big hype surrounding Armen and that he'd certainly do well in the ONE Super Series Kickboxing contest. After all, he's been training with the great Giorgio Petrosyan, the Italian with the heels of fire, who also happens to be his brother. But in this 73kg catchweight bout Armen lamentably never got any groove going against the marauding Frenchman Samy Sana, who deftly timed his counters and rattled Petrosyan with well-versed combos to disrupt the younger Petrosyan. That UD win was untarnished and clear cut in the end and Armen will definitely be earning cuffs on the head, punishment push-ups, and quite a few choice words of Italian curses from his bro when he goes back to the gym. Hype train well and fully derailed.
Hideki Sekine
https://www.facebook.com/ONEChampionship/videos/317775455488764/
Having a paucity of heavyweights available in Asia makes One Championship's HW division about as deep as a puddle of rain in a Manila summer. Hideki "Shrek" Sekine has proven grappling credentials and his judo and BJJ pedigree did well in the first round against the Brazilian striker Alexandre Machado when he effectively used them to generate a chain of good takedowns with empathic slams. Then round 2 became a completely different story. Shrek's total lack of striking acumen was a no-brainer for Machado who eventually got his straight combos going and dropped the Japanese, hammering Sekine with bombs to claim the TKO at 1:44 of Round 2. Sekine is now in a dismal 3-fight skid, and that's ALL his fights in the One C cage so far. Something that would earn any other fighter his walking papers in any other promotion but with zero depth in the HW division they'll likely keep him around for more strikers to toy with 'til kingdom come.
Rockie Bactol
https://www.youtube.com/watch?v=femURL2Gx08
The surging Filipino flyweight came in with huge hype behind him, having won Rich Franklin's ONE Warrior Series with a first round sub of fellow Pinoy Mark Cuizon, plus he had a great story about growing up in Bangkok, Thailand when his family migrated there. He even had a confident prediction at the presser: a first round KO of his opponent Akihiro Fujisawa (also an OWS alum). But the "SuperJap" had other plans and proceeded to grind out the 19-year-old Bactol with much superior wrestling and veteran generalship of the cage, pinning Bactol Khabib-style to the fence before raining down his fists. Rinsing and repeating until he saw the Filipino's tongue lolling, Bactol's big show dreams were dashed at the same time his gas gave out towards the end of the third round, enabling Fujisawa to deliver vicious elbows and earn the TKO at 4:40 of Round 3. Bactol (now 1-1 in pro MMA) still has his whole career in front of him but that defeat will be a bitter reminder of the cage as an unforgiving mistress that suffers no fools or their lack of conditioning and wrestling defense.
Mauro Cerilli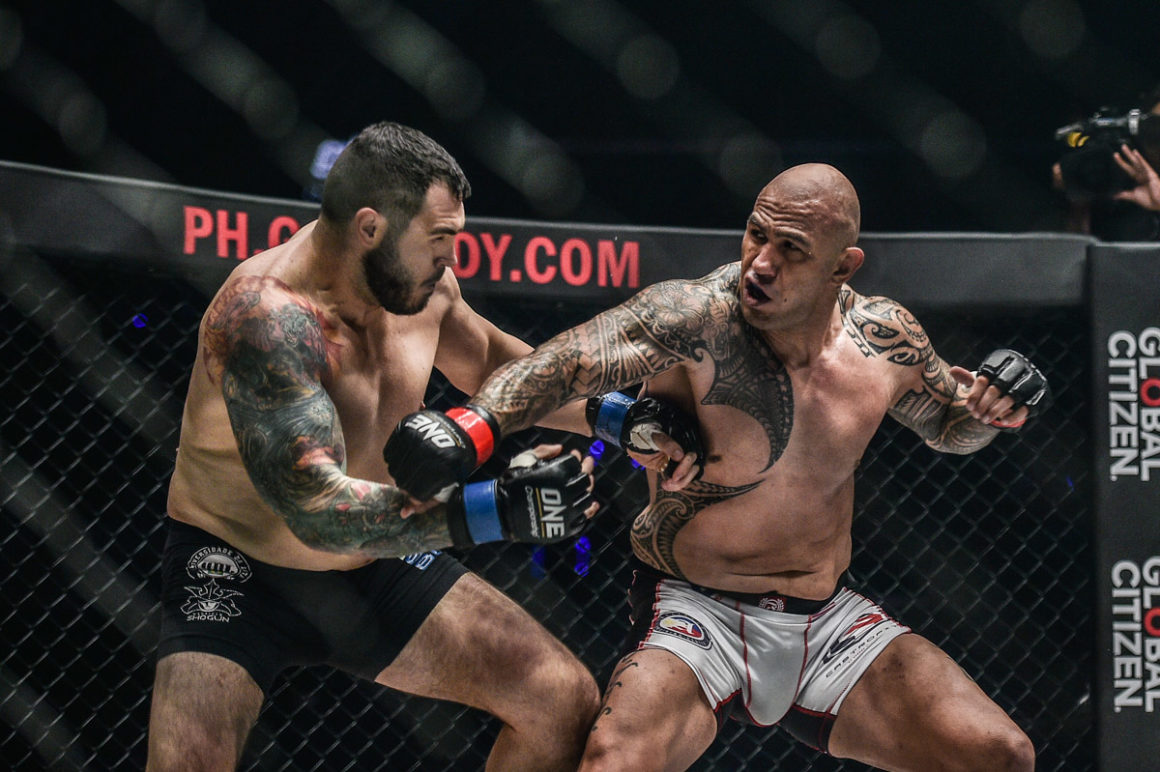 With a full arsenal of 3 recent first-round finishes and the UK's Cage Warriors heavyweight title fueling his fame, the Italian "Hammer" had a huge fan base to go with his fame, and rightly so. But what the hell happened that night in his heavyweight title fight against Brandon Vera will be the stuff of head-shaking replays and questions for quite a few weeks to come at the fight HQ of the self-professed "face of Italian MMA" (so much for Alessio Sakara or Marvin Vettori, I guess?). Cerilli chased Vera with his signature hard-swinging hooks but got countered with a seemingly precise fade away hook to his jaw, dropping the Italian for a legit knockdown. What happened next was either a very early stoppage or a weird case of zombie KO with Cerilli sitting straight up clear-eyed but not trying to get up at all. I've seen video of this guy taking way harder shots, but he never even protested against referee Olivier Coste's decision to cease the fight, just lying there and accepting defeat. What gives? We'll likely never know but that 1:04 KO at round 1 by Vera will always haunt Cerilli now with a 12-3 record and we hope it puts a fire under his ass to climb back up the title contention ladder—which is a very short ascent anyway with the HW roster's lack of depth—and get the rematch he deserves. I hope he didn't vacate the Cage Warriors title to just go back to Europe sans any gold to his name.
4 Biggest Winners
Honorio Banario
https://www.facebook.com/ONEChampionship/videos/321769755087098/
Banario was thrown a curveball when his first opponent Dae Sung Park got swapped for Rahul Raju just 2 days before fight night because the Korean failed to pass his health test. One C officials never elaborated on their answer, so that could be anything from a failed drug test to not being able to make the required BMI hydration requirement.
In any case, Raju "The Kerala Crusher" was the last opponent to give American grappler Garry Tonon any real trouble in the cage what with his size and aptly named crushing power in his fists. But Banario, now fighting at catchweight against the larger Raju, was able to adjust and implement his game plan against the brawler who gave as good as he got, resulting in a pretty exciting back-and-forth war. "The Rock" from Team Lakay now improves his record 14-7 and rebounds from his loss earlier this year to Amir Khan's RNC. It wasn't a very impressive win but Banario must be given props for overcoming adversity to still garner the W.
Brandon Vera
https://www.facebook.com/ONEChampionship/videos/1135253169971015/
The two big questions for the main event were: does the 41-year-old Brandon Vera still have what it takes to be a world champion after a 2-year layoff, and does he have the chin to withstand the prodigious knockout power of Mauro Cerilli? The answer to the first was yes and with the second, it never even got tested. Props must be given to Vera's wariness and distance control, keeping Cerilli at arm's length and backing away tactically as the Italian tried to swarm him early on, finally getting the stoppage (a way too early one, in my opinion) with a quick, tapping short hook on the chin at just 64 seconds in the 1st round. Vera should be able to defend his title more frequently now (sans any more movie deals) and we'd like to see the promotion put him up against more legit competition like Cerilli in the future. We certainly do hope to see the Italian get a rematch after making another climb up the HW ladder, which would be apt and exciting.
Jeremy Miado
https://www.facebook.com/ONEChampionship/videos/2073749876268655/
This strawweight bout between Jeremy "The Jaguar" Miado and China's equally aggressive striker Peng Xue Wen was something I was really looking forward to. I always believed that Miado, an agile Pinoy kickboxer, was an overlooked dark horse in the stacked strawweight division where beastly fighters in that class abound in Asia, and I was right. I nearly jumped out of my seat when both fighters turned up the heat and started trading strikes like the other guy had stolen his kabuhayan package. Miado was indeed faster, but in the past he tended to be reckless on entries, while Peng is the opposite: often hesitant to pull the gun but with a full MMA game that could turn the tide in his favor. None of those rookie mistakes for Miado that night. With deadly knees and very impressive takedown defense, it looked like Miado's training in Malaysia had definitely paid off, enabling him to crush the fighter from Ninja MMA with precise ground-and-pound for the TKO win at 0:35 of Round 2. The Jaguar arguably had the best, most legit KO of the card that night with blood and saliva flying through the cage, raising him now to an improved 8-3 record.
Eduard Folayang
https://www.facebook.com/ONEChampionship/videos/799349770403654/?t=9
There are now 4 concurrent reigning champions at Team Lakay and we have Eduard "Landslide" Folayang to thank for the latest one, coming quick on the heels of Belingon's win in Singapore to unify the bantamweight belts.
It wasn't without danger for Landslide though, since Singapore's best KO artist Amir Khan was looking and positioning all night for that big counter, that Martin Nguyen-playbook that had sent the Baguio-native sprawling on the mats and losing him the belt in the first place. Khan has an 11-3 record full of finishes, mostly KOs, and there was no denying how Folayang struggled to keep the distance all out of the pocket or very up close so the Singaporean couldn't implement his striking distance. Those spinning techniques were nail-biting, since Khan could end it all with a well-timed forward step and overhand. But credit to Folayang and his wrestling coach Ali Heydabaradi, all those months of defensive wrestling came to fruition in a 5-round war. In one of the bigger moments, Khan committed to a flying knee, which Folayang deftly caught and turned into a double blast slam. Damn impressive!
There was little doubt about his UD win and his having recaptured the belt with those spinning back kicks, spinning back elbows, and turning sidekicks will also for sure ensure a resurgent of interest in Wushu both in Manila and Baguio. For now, Team Lakay has turned their mantra of hard work and high altitude training into real gold, and for Folayang this redemption must be sweeter than strawberry taho.
Now, how about that lightweight tournament next year with the likes of Garry Tonon and new talent-signee Eddie Alvarez in the mix?
What did you think of the fights? Tell us below!