Billie Eilish Pirate Baird O'Connell has proved that she is quite the force of nature in the music industry. Just like reading her name for the first time (yes that's her actual birth name), we won't blame you if it takes a while to process who this talented young lady is.
Over the years, she has been praised by the likes of Tyler the Creator, Thom Yorke, Billie Joe Armstrong, Dave Grohl, and even Julia Roberts. The music industry has gone so far as to call her the "new pop queen" joining the ranks and sharing the title with other pop queens – Lorde, Charlie XCX, Lana del Rey, Carly Rae Jepsen.
Billie has won multiple awards and is selling out venues worldwide. She is the youngest artist to ever win all the major Grammy awards in one year, and to think that only 5 years ago she was just a 14-year-old girl mixing songs in her bedroom!
This September 5, 2020, MMI Live is bringing Billie Eilish to Philippine shores for the first time. But before we dance our hearts out to "bad guy" or sob at "everything i wanted," let's get to know her first.
From the bedroom to the stage
It started with a song uploaded on SoundCloud in 2015. "Ocean Eyes" was a track that was made simply for a dance class and nothing more but the day after it was uploaded, it garnered almost a thousand views on the streaming platform and from there, it skyrocketed. The track was written by Billie's elder brother, Finneas O'Connell, and it was only recorded in her bedroom.
Pretty soon "Ocean Eyes" caught the ears of producers and record labels and Billie had a few knocking on her door wanting to sign her up. She ended up signing with Darkroom/Interscope Records in 2016, home to other big names such as Lady Gaga, Lana del Rey, LANY, and Imagine Dragons.
The full support of her family shaped her career
Billie was born to her actor parents in 2001. She and Finneas were homeschooled and being unconventional, their parents let them focus on topics that interested them the most instead of following the curriculum. This brought the siblings closer together, even more so as they realized their joint interest in music.
Finneas, an extremely gifted singer/songwriter/producer in his own right, has worked with other artists like Selena Gomez, Camila Cabello, and Halsey. But his favorite artist to work with is none other than his little sister. Duh.
Billie largely credits Finneas for contributing to her success. In the various interviews and concerts she has been in, she would always say her brother is her best friend and she wouldn't be where she is without him. Their bond made it easier for them to criticize each other's work on song projects and this certainly helped working on Billie's debut album.
She has conquered Coachella, American Music Awards, and the Grammys
View this post on Instagram
After "Ocean Eyes," Billie was already a big name but she soared higher into fame in 2019. Back in April 2019, she had her Coachella debut in front of a wild crowd of hundreds of thousands of fans. This was also when she met her idol Justin Bieber (she was a hardcore Belieber back when she was 13) in an adorable video that circled online.
During the 2019 American Music Awards, Billie took home the awards for New Artist of the Year and Favorite Artist – Alternative Rock. She also became the youngest person (17 years old then) nominated for 4 biggest Grammy categories: Record of the Year, Album of the Year, Song of the Year, and New Artist and she won all four. Billie Eilish, at 18 years old, is the youngest artist to sweep all the major Grammy awards in one year.
Her album, When We Fall Asleep, Where Do We Go? also won a Grammy for Best Pop Vocal Album.
Billie and Finneas with all their #GRAMMYs pic.twitter.com/twDYpjL24I

— eilishupdates media (@eilishupd8s1) January 27, 2020
She's first artist born in the 21st century to top Billboard 200
This amazing girl has yet to reach the peak of her career but she already has amazing achievements under her belt. Billboard itself was impressed when she released her debut album When We Fall Asleep, Where Do We Go? in March 2019 and it rose above the ranks of Billboard 200. It became the second-highest first-week album sales next to Ariana Grande's Thank U, Next.
Billie is the first artist born in the 21st century to become number 1 on Billboard 200 and she replaced Shawn Mendes as the youngest artist to top the chart.
When We Fall Asleep, Where Do We Go?
For a lot of people, Billie's music might be an acquired taste. She rasps and whispers ASMR-like through the dark, electronic-pop reflective of today's generation because she is, in every sense, from this generation. She speaks, and her audience, composed of people her age, listen because they know she knows what they're going through.
Billie's debut album is co-written with Finneas. It included famous tracks like "Bad Guy," smash hit "All the Good Girls Go to Hell" and "You Should See Me in a Crown." It showed her influences and inspirations in "My Strange Addiction" (The Office reference), and the depth of her emotions in "Bury a Friend."
When We Fall Asleep might not be for everyone but no one can deny that Billie Eilish and her team did a great job in producing this album.
Billie Eilish proves that she is her own artist
View this post on Instagram
She's got her sharp and unique sense of fashion, bold hair colors, and goth aesthetic. Her captions on Instagram are as if they're typed on a whim, she isn't afraid to voice out her thoughts and her photos in baggy clothes, tongue out, messy hair, are far from the content we get from all the cookie-cutter pop stars out there. Her music videos are weird AF but that's Billie Eilish for you – never afraid to do her thing and be proud of it.
Even if you aren't a fan, it's difficult to ignore this young girl. After achieving so much, she remains humble (watch her Carpool Karaoke episode), although she's punk rock and goth all over, she's endearing during interviews, and she fangirls over the celebrities she meets.
Tyler the Creator might have playfully called her a "17-year-old girl dressed like a quarterback" but like we said, this girl is a force of nature.
She's open about her mental health and struggles with Tourette syndrome
View this post on Instagram
Billie has never been one to shy from discussing the times she went through depression. She has talked about her struggles with anxiety and self-harm that started when she was forced to quit dancing at 13. She admits she hasn't harmed herself for a long time, so long that the scars are non-existent, and she has always encouraged other girls in a similar situation to "be nice to yourself."
Billie bravely talked about her Tourette syndrome, a disorder characterized by motor tics, on The Ellen Show. She says that being more open about her condition has allowed her to be closer to her fans.
In one interview, she admits that she sometimes wished there was an off button to her fame so she could avoid getting mobbed at airports or having her photos taken without consent. Rising to fame at a very young age has its privileges but it certainly has its drawbacks and limitations too.
She's coming to the Philippines for her world tour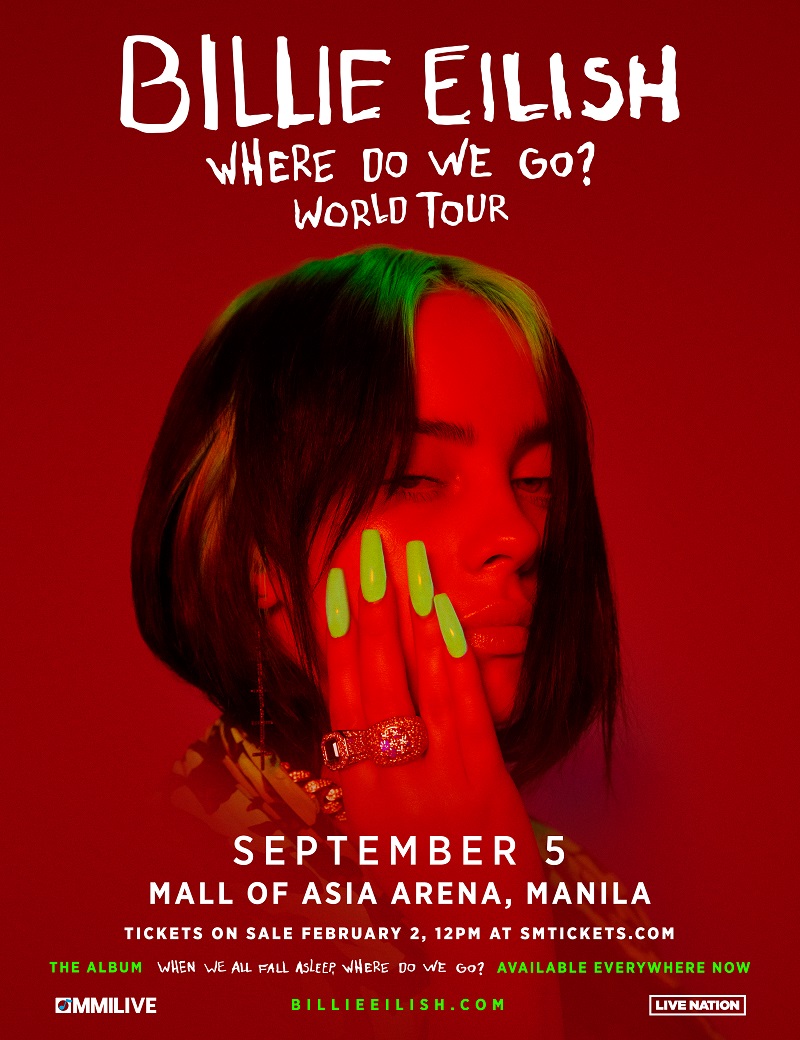 Filipino fans won't have to wait long to hear this pop sensation live. This year, Billie Eilish is coming to Manila for the first time for the Asian leg of the Where Do We Go? World Tour. She's set to take the stage on September 5, 2020, at the Mall of Asia Arena.
Tickets will be on sale on February 2, 2020, at 12:00 PM in all SM Tickets outlets or through www.smtickets.com.
Will you be catching Billie Eilish in the Philippines? Which song of hers do you want to hear live?