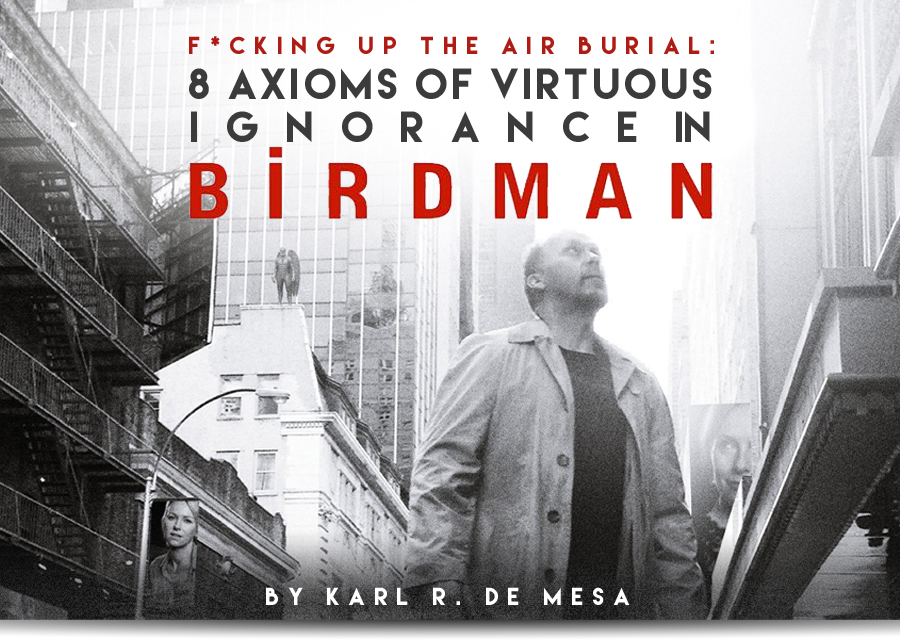 [dropcap letter="T"]he lies we tell ourselves to deal with the cruelty of truth is in "Birdman: Or the Unexpected Virtue of Ignorance," co-written, produced, and directed by Alejandro González Inarritu.
Dark of heart but full of the grit and shine of the creative spark that abides, Inarritu's meditation on declining fame is embodied in Riggan Thomson (Micheal Keaton), once famous for portraying a superhero, who would like to go out on his shield (or make one more flyby closer to the sun) and leave a better legacy than three superhero movies as he feels his twilight years closing in.
Solution? Spearhead an ambitious new Broadway play adaptation of a Raymond Carver short story "What We Talk About When We Talk About Love" – which is a great piece of fiction, by the way — to, among other things, revive his moribund career. A highly risky move financially and career-wise, but the former cinema superhero has high hopes that this creative gambit will legitimize him as an artist and prove to everyone – and himself – that he is not just a Hollywood has-been.
By all accounts, Thomson has been brewing in his creative juices for far too long. If he's not mad yet, then he's pretty close it with the way he hears the voice of the superhero he played, visualizing himself using the guy's telekinetic, psychic, and anti-gravity powers in various capacities from turning off a light switch to destroying his backstage room, and generally acting like he's still an A-lister when really he's on the bottom of the B-list, at best.
He's also been a pretty absentee father, neglecting his daughter Samantha (Emma Stone) and making her his theater PA to keep her off the drugs she just got out of rehab for. Often, he doesn't even notice her. Much daddy issues there, yeah.
The Birdman that made Riggan a name, by the by, is no cutie meathead in spandex. He's a highly stylized and way tougher version of the original Hanna Barbera character or the Adult Swim lawyer; sort of like if Michael Bay or Zach Snyder got a hold of it and gave it the Hollywood gloss. His voice is a cross between Keaton's old Batman register and Christian Bale's low growl for the Nolan series. Under the mask his eyes seethe, looking for criminals to hurt. This superhero is full of angst and frustration; a bird of prey cooped up too long in a cage, forgotten and fed with dead vermin.
As the play's opening night looms, Riggan's lead actor is injured by a freak accident during rehearsals and needs to be replaced quickly. Was it really an accident?
At the suggestion of lead actress Lesley (Naomi Watts) and the urging of his best friend, lawyer, and producer Jake (Zach Galifianakis), Riggan reluctantly hires bad boy thespian genius Mike Shiner (Edward Norton) – famous and well-connected, but who also happens to have a drinking problem.
As Riggan preps for the stage debut, he must deal with his girlfriend and co-star Laura (Andrea Riseborough) as well as his ex-wife Sylvia (Amy Ryan), who appears every so often to check-in with the intent to stabilize things.
The trouble with reviewing a magical realist movie is that it morphs just as soon as you think you have its artistic baseline. The backstage of the theater can stand in for anything from the depths of Riggan's tortured ego while the stage up front his façade continues to function, the metaphors in both the Carver play and his excursions into the abyss of himself are many and layered; like some demented pastry chef afflicted with OCD, inserting a gamut of flavors in there.
The rise and fall and rise of Riggan could be an allusion to Icarus or Lucifer, or even the lawyer version of Birdman in Cartoon Network's Adult Swim. Sure, Inarritu's visuals are impeccable, the sporadic scenes of fancy in Riggan's head interlace smoothly with the theatrical scenes, the fantasy complete as Riggan slides further down the spiral, but they're like sleight-of-hand distraction for the easily bored, iced cream to keep the kids occupied while the adults enjoy scenes of kinky humor, morbid emotionality, and nudge nudge wink wink. Watch out for the underwear brawl.
Yes, it's a clever trick. But you know what? It doesn't matter. This style of exposition, like a New York Times non-fiction piece gone off the rails, may be sprawling, dense, and cumbersome in places, but it's also very well-paced (there's even a real street drummer inserted to let you get a feel for its herky jerky, funky beat), and wonderfully, deliciously hilarious.
All that also makes doing the review spoiler-free a pain in the ass. So let's not. I will only state for the record that the twists progressively ratchet up but are far from being tight or executed to beat – even the ending, which is just "meh" for me. Perhaps that's intentional? In any case those are very minor complaints in a tapestry done with impressionistic glee and woven with adoring love.
Its comedy may be black but it's adept at presenting a rainbow of that darkness, the gloom is candy-coated and executed by A-listers firing their guns with aplomb. That SAG award for best cast, Golden Globe, Critics' Choice and Producers Guild awards, as well as nine Oscar nominations, are all well-deserved. Cross your fingers for that Best Actor plum.
Keaton should enjoy a resurgence after this, and Norton, Stone, Watts, and Riseborough are all directed pitch perfectly, like orchestration under a masterful baton. Surprise performance standouts are  Galifianakis as Jake, Riggan's lawyer and friend, and Ryan as Sylvia, Riggan's ex-wife.
Let us delight in some of the unexpected virtues of ignorance as told in Birdman's scenes and characters.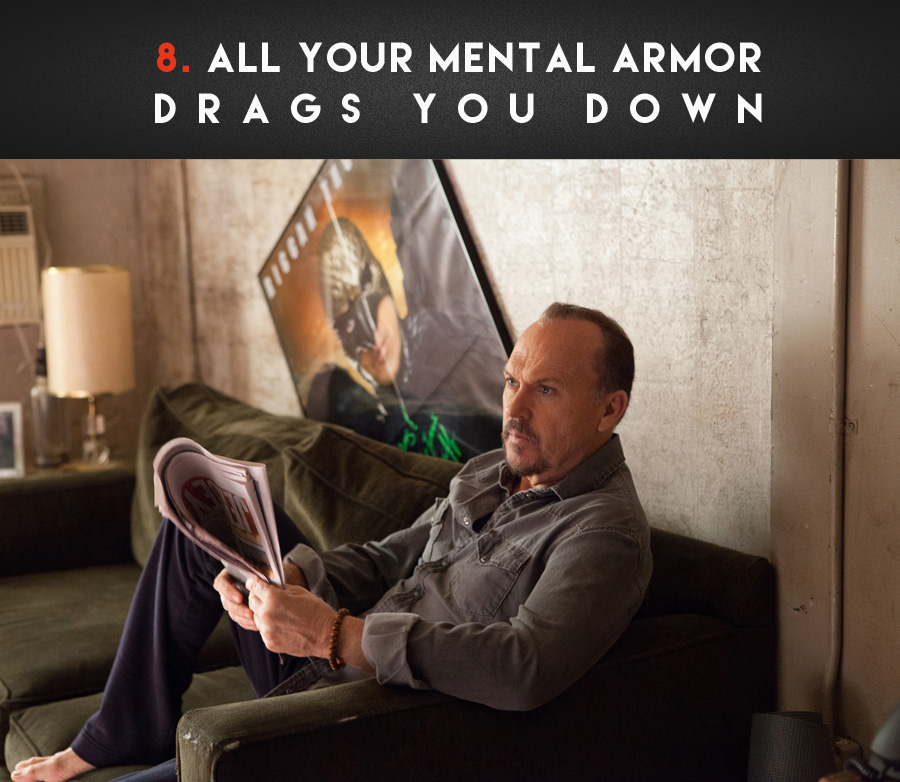 Often, the thing that makes our flight possible are not wings but our brain, and sometimes we must put down the very tools that led us to the summit, to take up new tools that will take us farther.
Gabriel: Are you at all afraid that people will say you're doing this play to battle the impression that you're a washed up comic strip character?
Riggan Thomson: No, absolutely not. That's why 20 years ago I said no to Birdman 4.
Lesley: He tried to fuck me in front of the entire audience!
Celebrated and rising actor Mike Shiner, Lesley's boyfriend, tries to get down with Lesley in a pivotal scene in the play under blankets. Apparently actors have nether-attention problems off-stage but not during plays. Sometimes all it takes is one huge dick of a person to put the rest of your "friends" in context.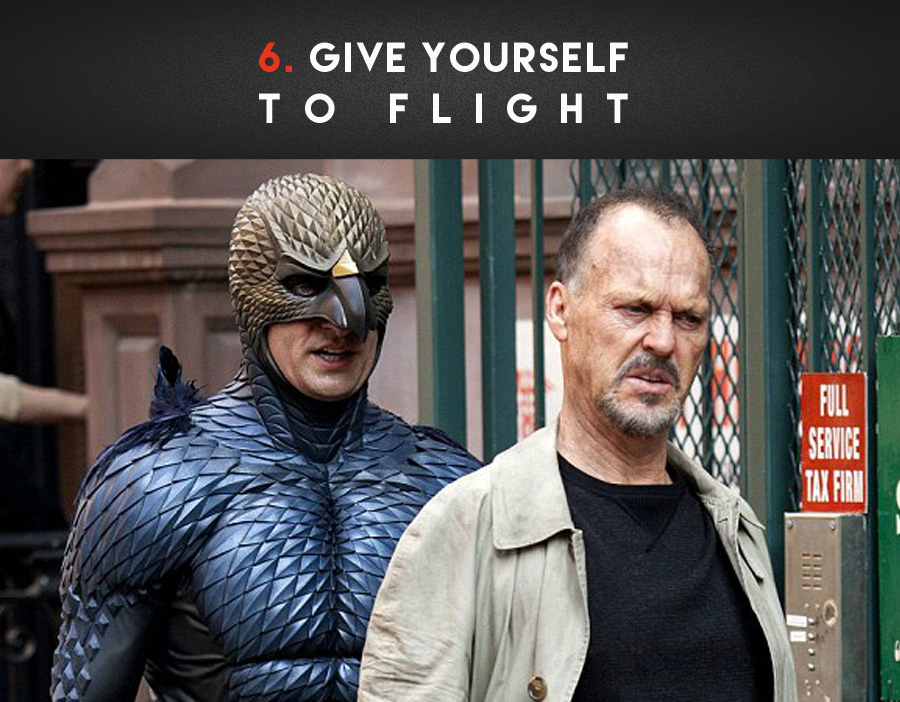 To attain greater heights, let go of the ballast and other things that weigh you down. What do you take? What do you discard? Some chase the high through danger, some through drugs; creatives want to relive that perfect moment of crafting something they know is as close to flawless as they can get.
Birdman: How did we end up here? This place is horrible, smells like balls. You had it all. You were a movie star, remember? Now you're about to destroy what's left of your career. We should have done that reality show they offered us.
Riggan Thomson: Shut up!
Birdman: You know I'm right. Listen to me, man. You are the original! Let's make a comeback! You're Birdman! You are a god.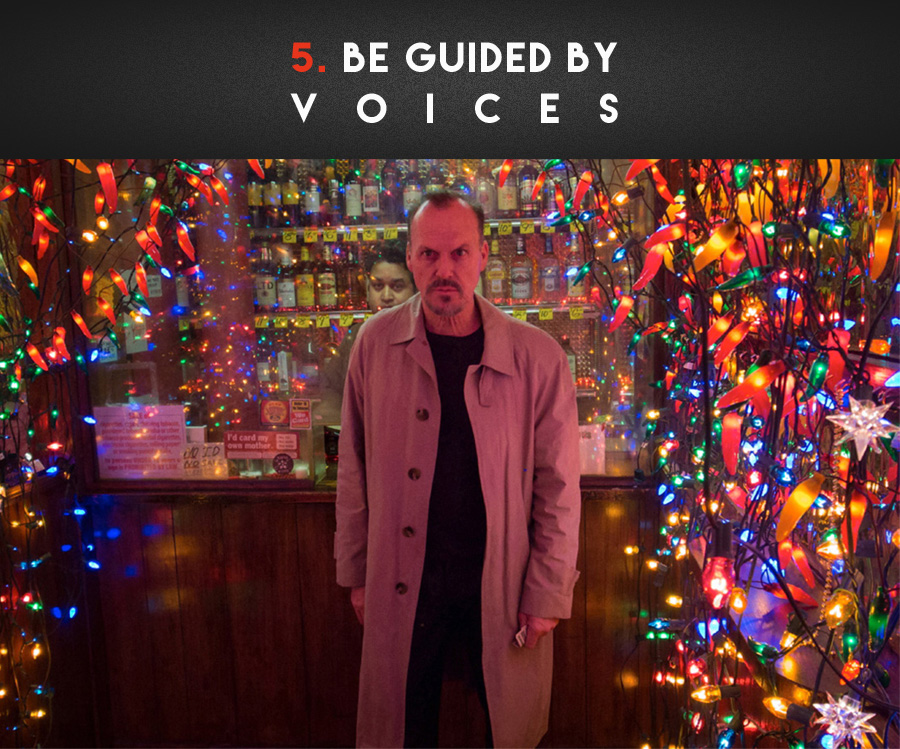 In which Riggan Thomson edges closer to madness and becomes less Riggan and more Birdman. These mental fantasies need to work for you, not work you over into catatonia.
Birdman to Riggan: Shave off that pathetic goatee. Get some surgery. Sixty's the new thirty, motherfucker!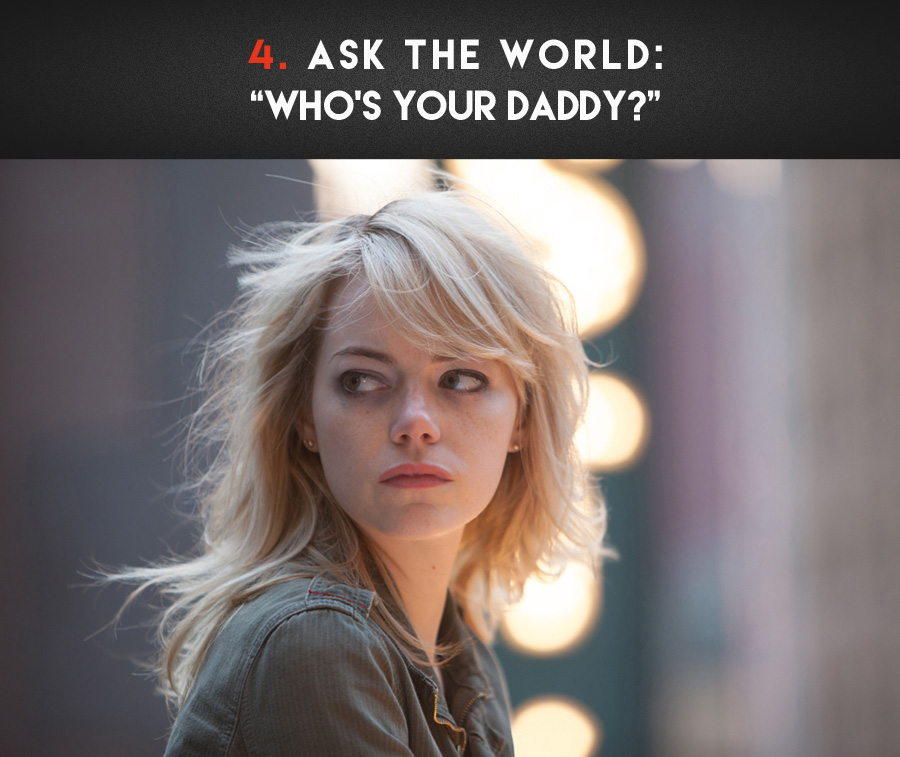 Neglecting family for the chance of artistic greatness, or simply leaving your earthly affairs in a mess to make a celestial obra, is a tradition from Jimmy Hendrix to Andy Kaufmann. So much for believing the children are our future.
Samantha to Riggan: You had a career, dad, before the third comic book movie, before people started to forget who was inside that bird costume. You are doing a play based on a book that was written 60 years ago for a thousand rich old white people whose only real concern is going to be where they have their cake and coffee when it's over. Nobody gives a shit but you! And let's face it, dad, you are not doing this for the sake of art. You are doing this because you want to feel relevant again.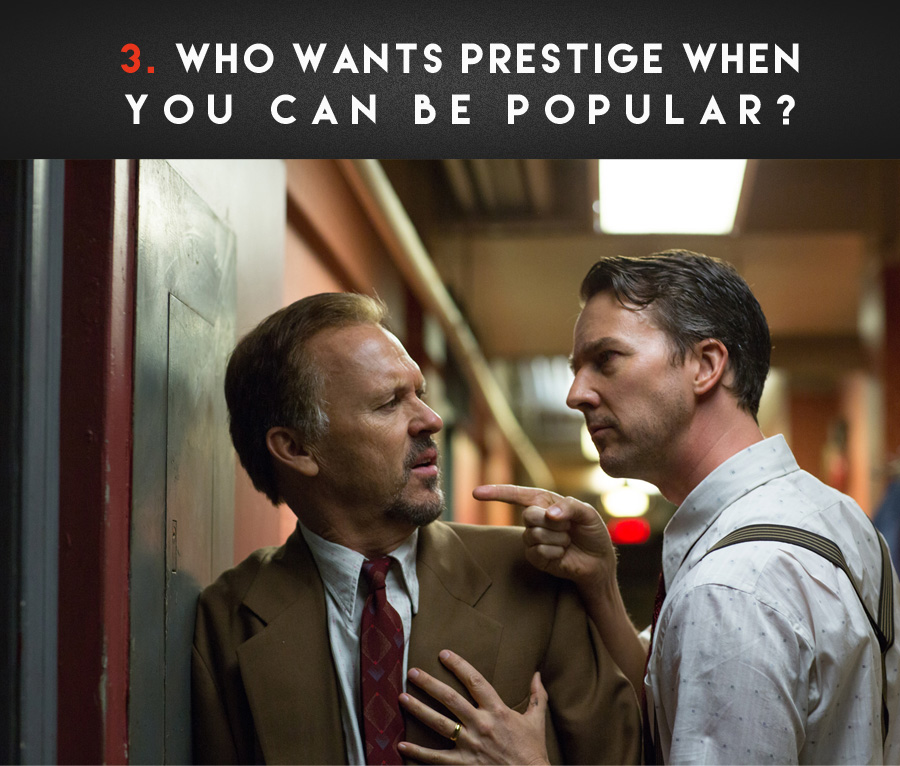 As a necessity of being able to remain relevant in affecting the cultural landscape one can either be prestigious or popular. The two aren't often mutually exclusive.
Mike Shiner: Popularity is the slutty little cousin of prestige.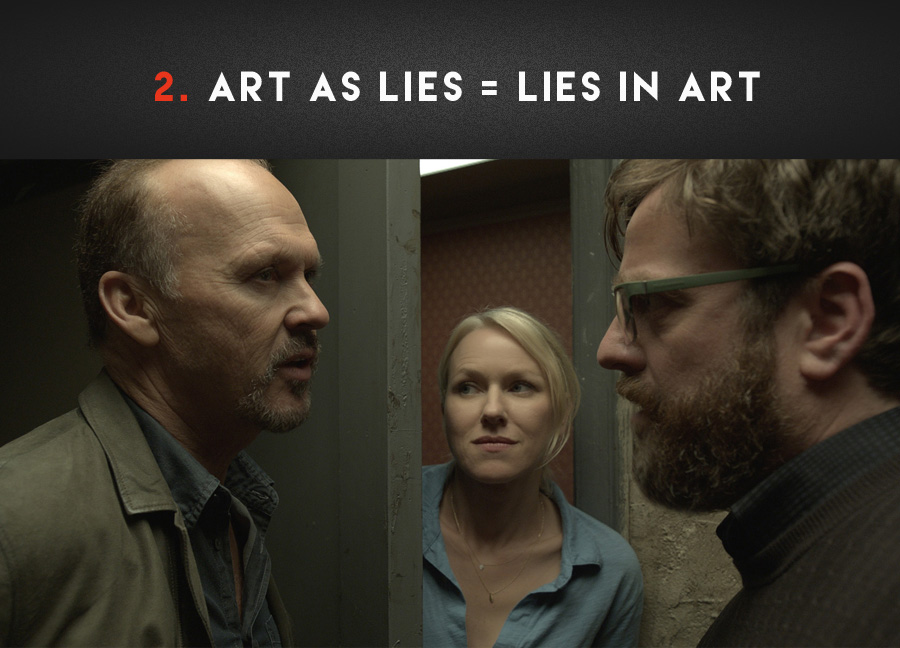 Sometimes, self-esteem is overrated. When does artifice become a better mirror for truth than news? When does a processor schematic become the blueprint for a soul? When does fiction become the life we start living?
Lesley: When I dreamed of Broadway, I never pictured the elk antlers.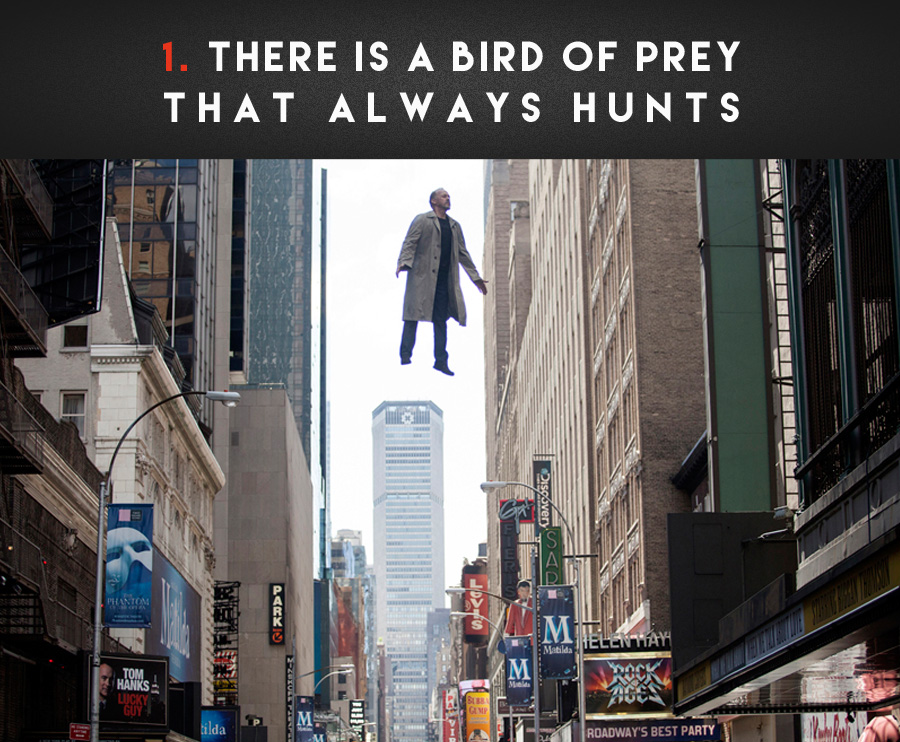 In which The Birdman realizes that transcendence comes at a steep price.
Riggan: I'm nothing. I'm not even here
"Birdman" is now screening exclusively at Ayala Mall cinemas.
All photos courtesy of 20th Century Fox