With a filmography that includes the likes of Malcolm X (1992) and Do the Right Thing (1989), and a reputation for incendiary politics and in-your-face commentary, director Spike Lee is back with BlacKkKlansman, a tale of racism and bigotry in 1972 America that the poster bills as a "crazy, outrageous, incredible true story".
TRUTH IN THE ABSURD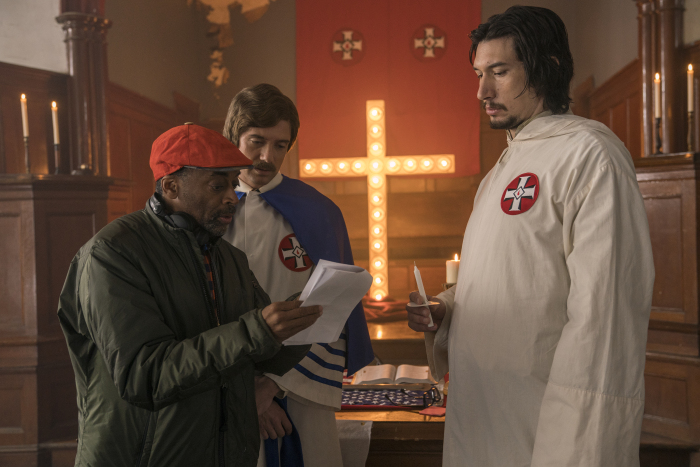 Subtlety was never Spike Lee's strong suit. Indeed, of all the words that could be used to describe his filmography, "subtle" is probably the last word that comes to mind. Thus, it came as no small surprise that Lee's latest film, the 2018 Cannes Grand Prix-winning BlacKkKlansman, actually features the filmmaker at his most restrained. While Lee's signature commentaries on bigotry and race relations are here, he lets the film's patently absurd narrative do the heavy lifting, a feat he manages largely thanks to one reason: it really happened.
BLACK COMEDY

Mixing factual events with dramatic embellishments, BlacKkKlansman is based on the memoirs of Ron Stallworth and his experiences in the 1970s as Colorado Spring's first black police officer and his 9-month investigation into the Ku Klux Klan white supremacist group. A darkly humorous piece that takes no prisoners, Lee has crafted a film that serves as a biopic while delivering a scathing allegory for the times that we live in, a thinly-veiled reminder that precious little has changed over the last four decades.
THE LOWDOWN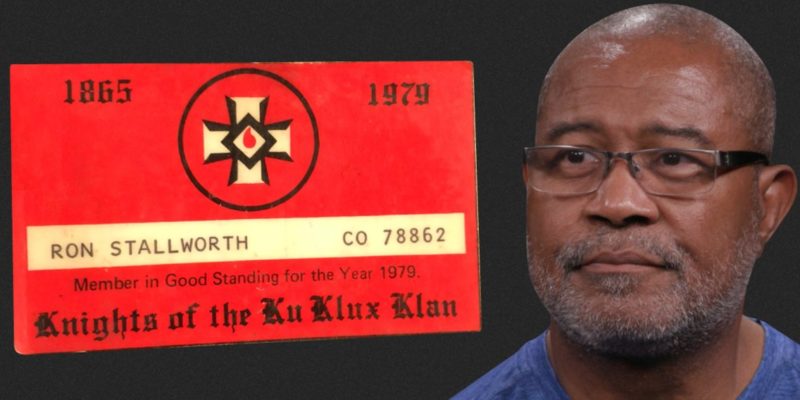 The film opens with Stallworth (John David Washington, of TV's Ballers) in his earliest days, manning the records room at the Colorado Springs police station. His big break comes when he is assigned to go undercover at a talk by civil rights activist Kwame Ture (Corey Hawkins, Straight Outta Compton), whose beliefs could spark racial violence. While undercover, Stallworth meets and befriends black student union president Patrice (Laura Harrier, Spider-Man: Homecoming), for whom he develops an instant attraction.
The success of the undercover operation leads to Chief Bridges (Robert John Burke, RoboCop 3) transferring Stallworth to the Intelligence department. It is there, at his new desk, that the now-detective finds himself responding to a newspaper ad for the Ku Klux Klan on a lark, never in a million years expecting to get a response. Amazingly, Stallworth gets a phone call inviting him to join the organization, prompting an official investigation that sees fellow Detective Flip Zimmerman (Star Wars' Adam Driver) going undercover as Ron at KKK meetings.
HEROES IN CRISIS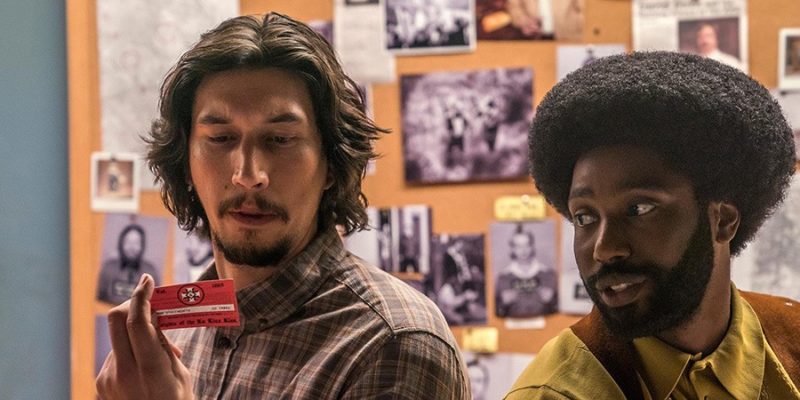 As portrayed by Washington, Stallworth has spent his entire life fighting to balance his fierce emotions and intelligence with what "The Man" expected (or demanded) from people of his race at the time. For Stallworth, being a police officer is the means by which he can finally prove himself as someone worthy of respect, and Washington sells the character's frustrations exceedingly well, while still providing him with an inherent sense of likeability.
Meanwhile, as someone who's career consists almost entirely of characters of a conflicted nature, Driver as Flip is remarkable as a non-practicing Jew being forced to come to terms with his heritage while finding it terrifyingly easy to slip into his undercover role as a white supremacist. Quick research revealing that Flip's real-life counterpart wasn't actually Jewish, but the dramatic license applied in this case provides an excellent counterpoint to Stallworth's story. Where Stallworth's being caught between two worlds provides narrative heft, it is Flip's inner turmoil that provides the film's emotional core and, ultimately, more fascinating journey.
WHITE POWER (?)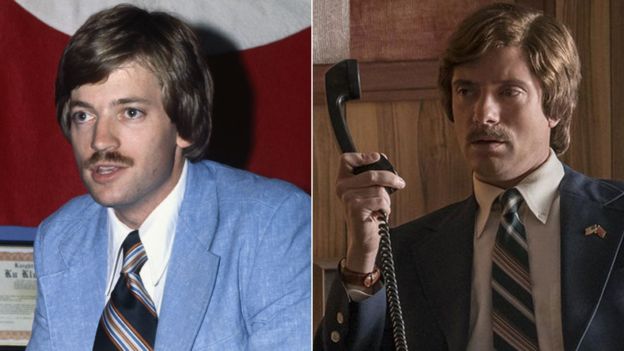 Faring less successfully from a storytelling perspective are the KKK themselves, who, aside from their leader David Duke (Topher Grace, That 70's Show), are painted in such broad, cartoonish strokes, it becomes difficult to view them as a credible threat to anyone other than themselves. But to be perfectly fair, just how indicative the film's KKK are of small-town American sensibilities and beliefs will probably vary based on one's own political leanings.
THE POWER OF POP CULTURE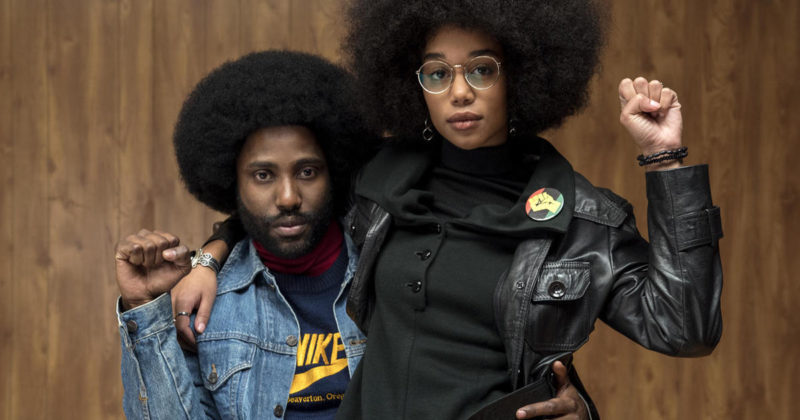 As far as institutionalized racism being embedded in the popular consciousness goes, not even cinema gets off easily, with Lee citing the examples of Birth of a Nation (which inspired a resurgence in KKK activity in the early 20th century) and Gone with the Wind (which depicted happy slaves working on plantations), two films widely recognized to this day as classics of the medium.
When Stallworth asks Patrice to consider the merits of black movie heroes like Shaft (1971) or Super Fly (1972), she bursts his bubble by dismissing them outright – the first for working with the police, and the second for being a pimp. As far as Patrice is concerned, she's looking out for her own people, and it galls her that Ron refuses to take a public stance.
SPIKE LEE, FILMMAKER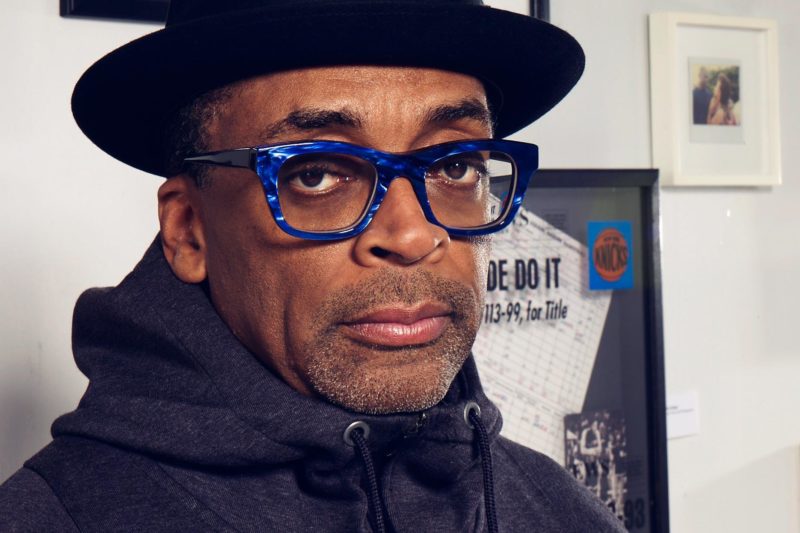 Ultimately, Lee's decision to allow the ridiculousness of the situation speak for itself makes for a far more cohesive (and overall satisfying) experience than one usually has with his films. His stances against racism and ignorance are still fully present, but unlike his recent works like Chi-Raq (2015), they never threaten to overpower or take you out of the moment.
The newfound restraint is particularly welcome in a sequence where an aged activist speaks to a crowd of Patrice's fellow students: Intercut with an ongoing Klan gathering and featuring the legendary Harry Belafonte as the activist speaking on the true 1916 public lynching of Jesse Washington, it would have been easy for the scene to fall flat on its face. But Belafonte's earnest delivery, tinged with a tangible sense of pain at the evils of men, elevates the sequence beyond cheap tears and stunt casting.
THE BOTTOM LINE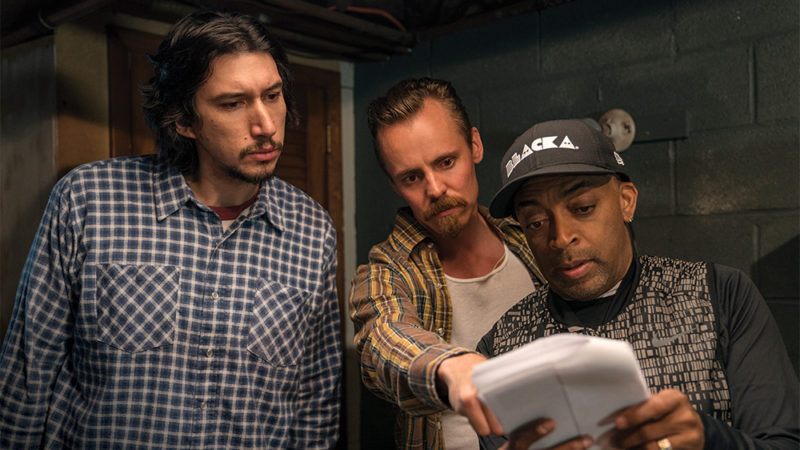 Ultimately, aside from one or two moments (hearing "Make America great again" in dialogue is particularly cringe-worthy), Lee's tendency to eschew subtlety only really rears its head at the very end: Just as the audience is ready to leave on a triumphant note – Grace's (as Duke) reaction upon learning Stallworth's true identity is priceless –  we are treated to a series of real-life news clips that basically slaps the audience in the face for thinking in any way that the story was over.
Of course, we should have known better – have we mentioned that subtlety was never Spike Lee's strong suit?
What did you think of the movie? Tell us below!