Art, Cereal, Party!: 8 Things to Love About Bunc@Radius Hostel Singapore
Feb 9, 2015 &nbsp • &nbsp Bong Sta. Maria
Music was not the only great thing that happened to me and the rest of the 8List team last January. Aside from the Laneway experience that we're extremely grateful for (see our festival and Future islands experiences here and here), we were also lucky enough to sleep in comfy beds at night, thanks to Agoda and Bunc@Radius hostel in Little India.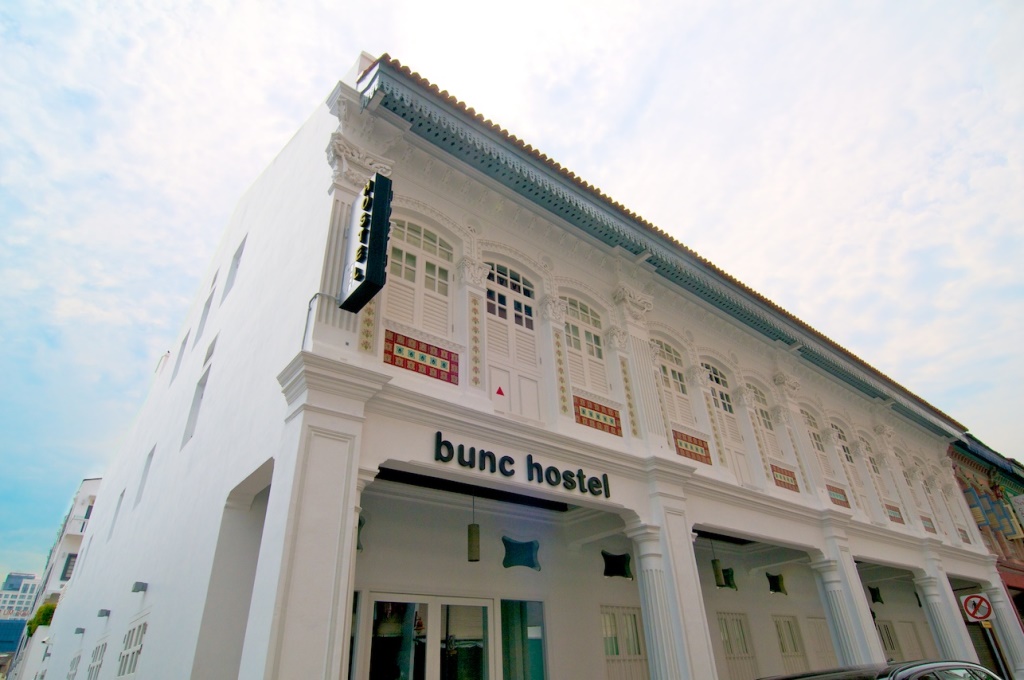 I've had a number of bad hostel experiences in the past; experiences that I'd rather just bury deep in the ground (cockroaches, strangers getting too intimate while you and fellow distressed strangers are around, bed bugs), but this one hostel has given me hope. Lots of it. And no, it is not only because it's located near restaurants that serve chicken biryani and banana prata.
The hostel's idea is simple: have the quality of a boutique hotel, and have the culture/laid-back vibe of a hostel. Sounds simple enough, but not-so-easy to pull off! A lot of budget accommodations actually struggle with creating this balanced mix. Not Bunc, though. They know what's up.
Here are 8 of the things that we enjoyed during our stay.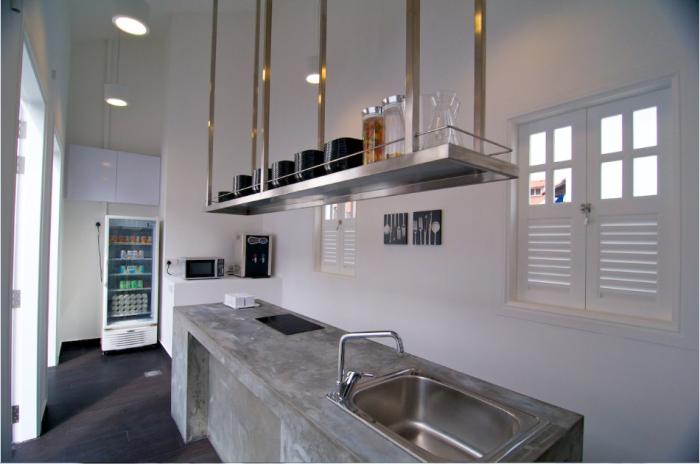 The hotel served us a simple breakfast of toast, cereal (pretty decent selection, if I do say so myself!), and coffee/tea. This is excellent for those, like us, whose plan primarily revolves around food—a light meal before leaving the hostel would be perfect for that small jolt of energy needed for the very sweaty walk to hawker centers (this is important–Singapore has been repeatedly dubbed as the Food Capital of the World and it is recommended that visitors consume as much food as they can).
Those who have more time to spare could make use of Bunc's fully-equipped modern kitchenette where guests can prepare simple meals.
One of the essential things that hostels should have is a nice common area. Bunc caters mostly to backpackers and young travelers, so they made sure that they have spots where people get to know each other–50% of the hostel area is actually devoted to communal areas! Since it was Laneway weekend, we met a couple of cool people who were also headed to the festival.
The hotel has a movie deck and an outdoor barbecue deck where people can gather and get to know each other, aka party. I strongly advise all the potential visitors to devote a few hours in these areas during their stay, as they are attractions in themselves.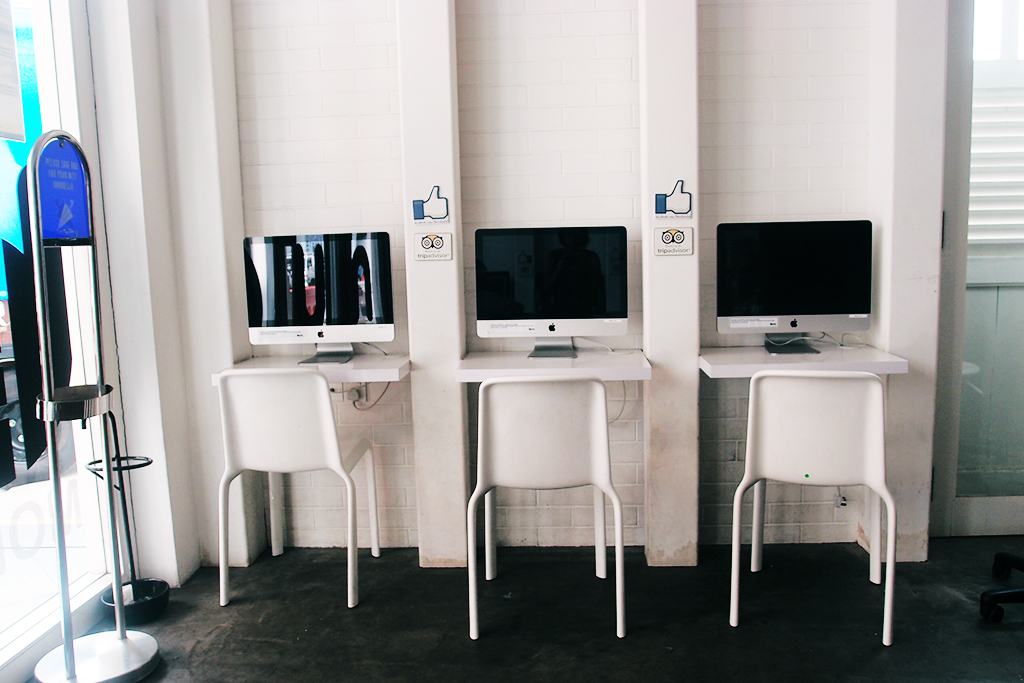 Aside from the free WiFi (you just need to ask the guys at the lobby for the password), guests also have access to desktop computers. There are currently six of them—three for Windows users, and three for Mac users.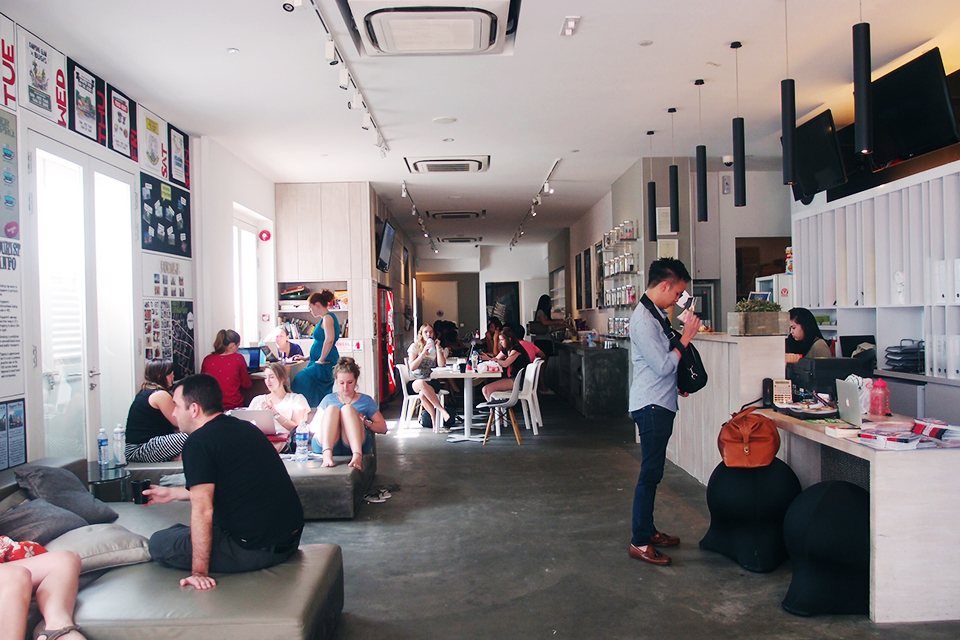 We arrived a little past 12 midnight. Aside from a 24-hour reception, the hostel also makes sure that the staff provides the guests with everything that they need. Checking in and out was a breeze, and once can easily speak with whoever is manning reception for tips. Most of my questions were about food, and they give some very useful information.
Also, one of the things I really appreciated was their no-fuss service. I needed a print out of some travel documents, and they processed them for me for free. In most hostels/hotels, you will have to deal with things like going to business centers and paying for every single page, but this place skips this part. People at Bunc just asked me to email the document, and they did the rest. The little things!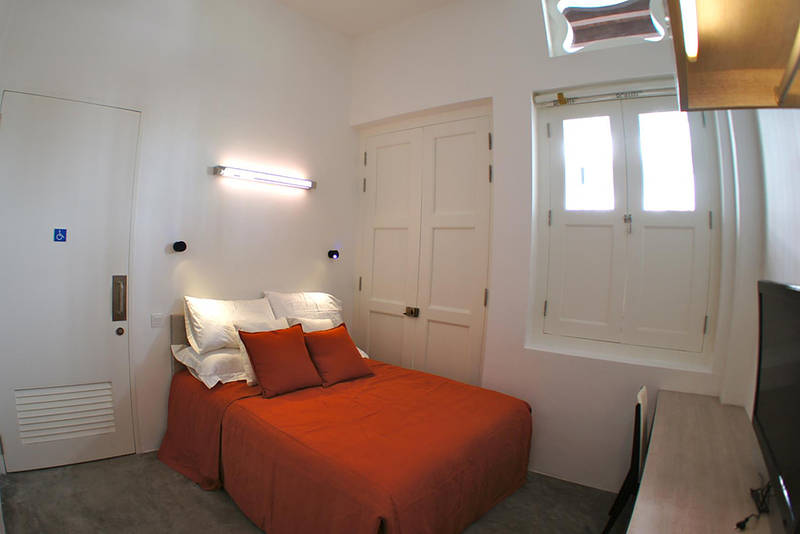 It isn't easy to have a collaborative environment and privacy at the same time, but Bunc seems to be having no problems with it. Yes, there are a lot of communal areas, but there are also spaces where one can bask in solitude. The beds, for instance, have personal, adjustable LED reading lights and personal sockets that you can use any time. There are also bean bags, couches, and spacious outdoor areas to hang out by your own lonesome self. Antisocial vibing, check!
Those who do not wish to speak with anyone can watch a movie in some of the common areas (which you'll most likely share with some people, but there would most likely be very little to no talking).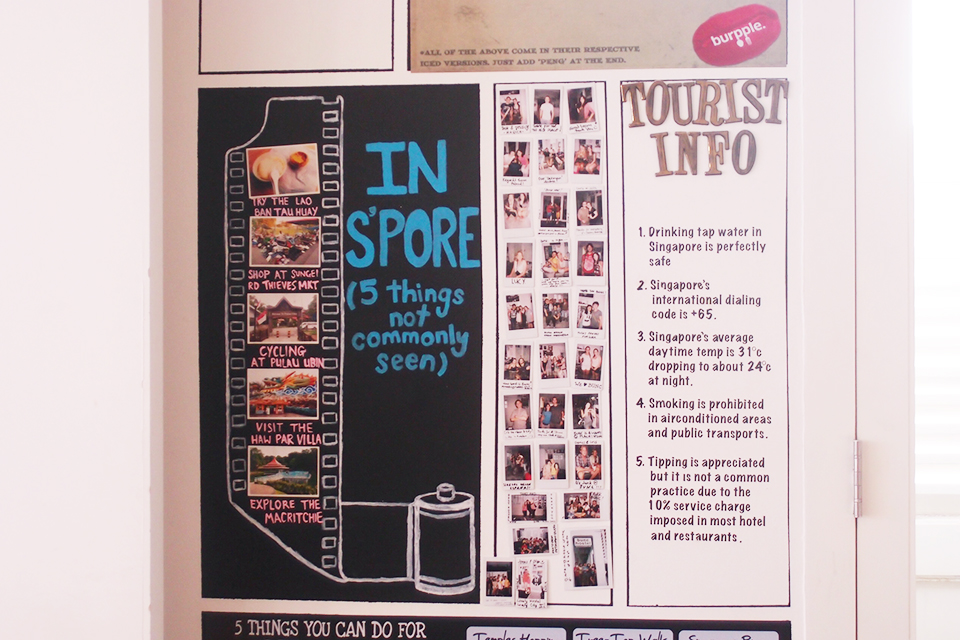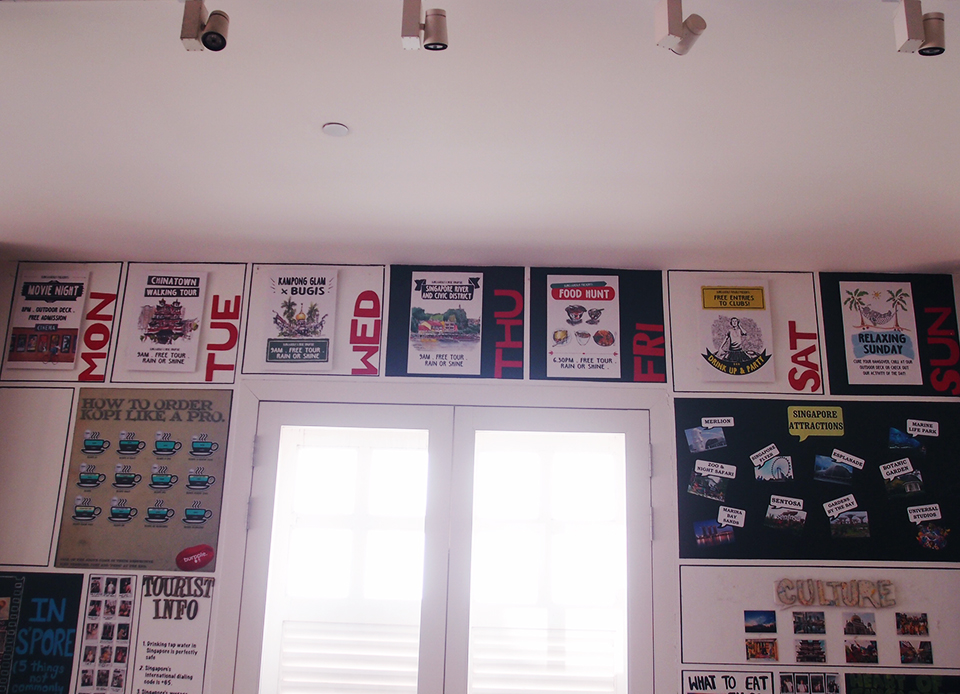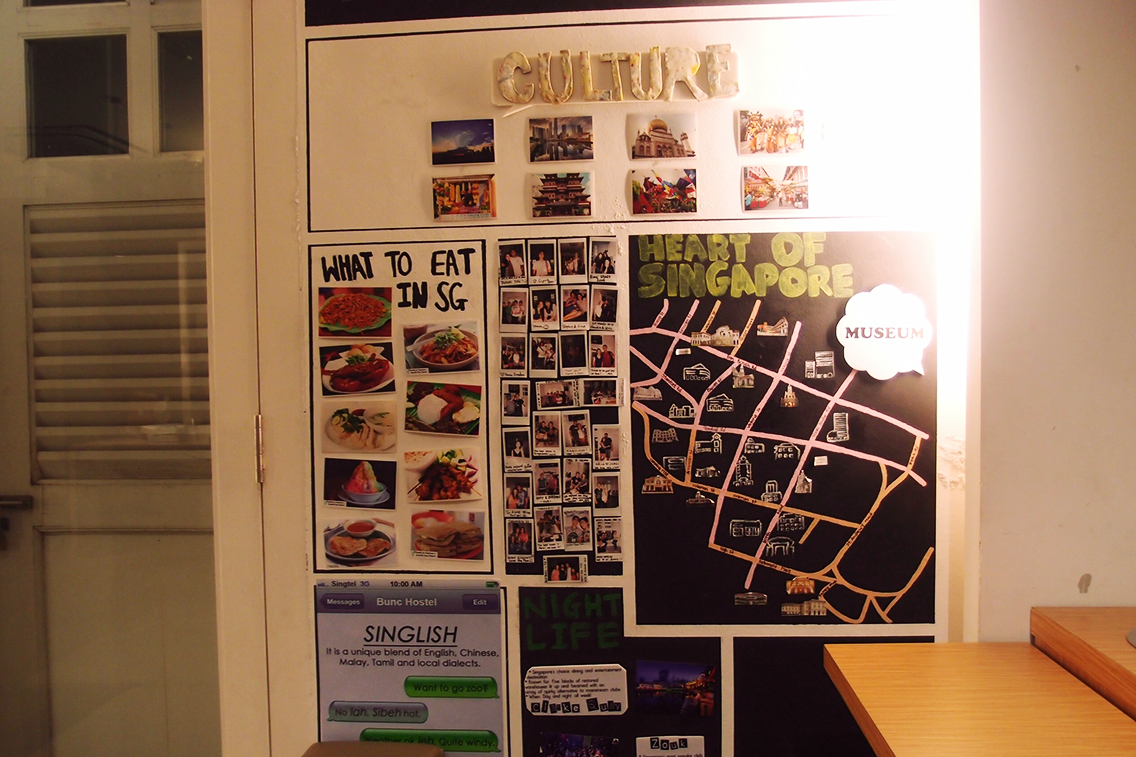 This could be Bunc's guide for smart travel, or How Not to Look Like an Idiot in Singapore. The lobby is packed with a lot of useful things for travelers, such as Singapore's must-try food items, must-see attractions and events, and free tours. This useful tourist information could save you a lot of time, as the staff is pretty hands-on with the guides.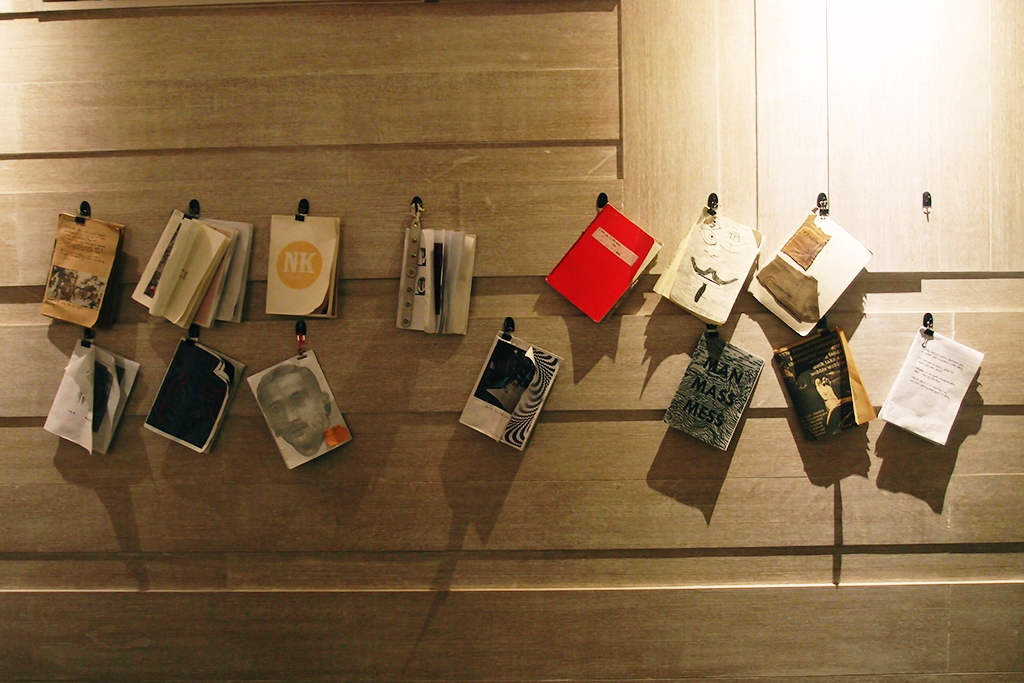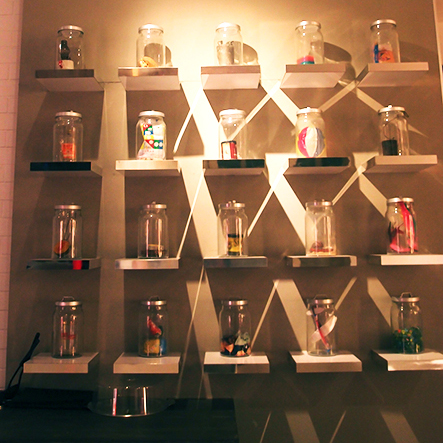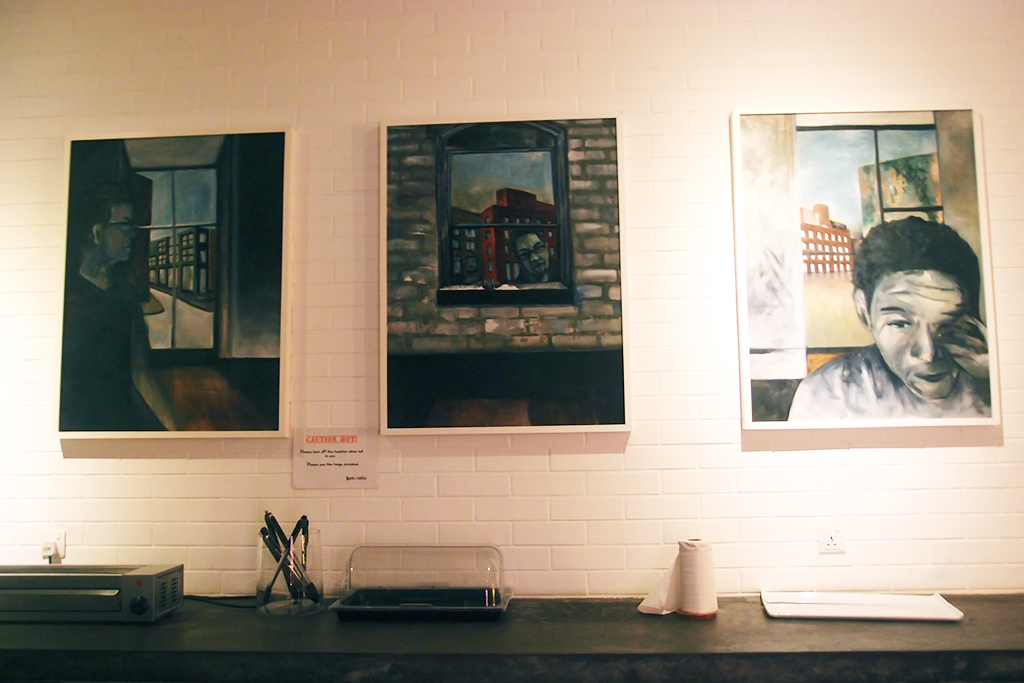 The lobby is not huge, but the guys at Bunc made sure in between all the useful details like maps and guides are works of art (the paintings were done by Singaporean artists) and other quirky details.
Two of my personal favorites include the zines and the jar installation in the lobby. According to Bunc's events and marketing coordinator Winnie Ang, the zines were from a group of art students who stayed at the hostel, and the jars contain old school products that the Bunc crew put together: "Some in those jars are actually old school toys. Toys that we used to play while we were kids, or more in the 60s to 80s. Others include household items people in the 60s to 80s use as well, like oil lamp, etc.).
The highlight of the team's stay would have to be the comfy "buncbeds" (which have their own hashtag!) that welcomed us after hours of walking and drowning in Laneway music. These are the reasons why we were not able to wake up early one morning–the beds were just too damn soft that despite our daily worry (we only had a few days in SG) of running late, we didn't even worry. Simply, 260-thread count duvet > shopping in Orchard Road.
Over and above all of the great things mentioned above, I can confidently say that Bunc@Radius knows what their customers need: a good place for rest. This is definitely something that we sure would love to experience again.