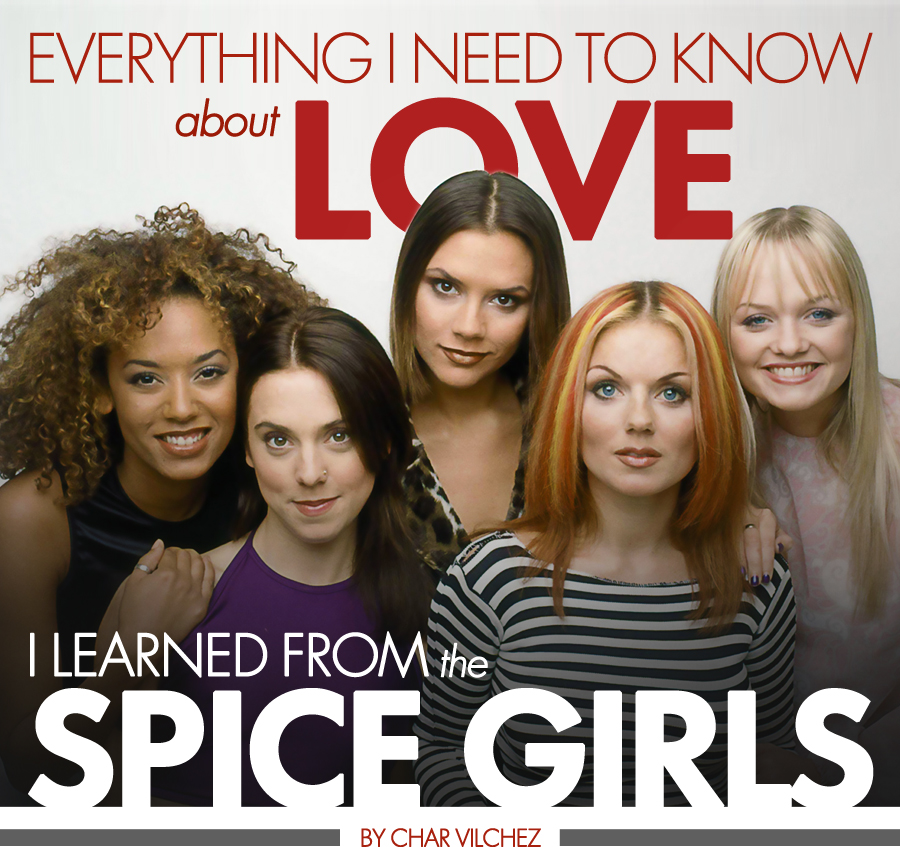 It's that wonderful time of the year when you start being sentimental on where you are in that area of your life. Don't get me wrong–Beyonce is fierce and Taylor Swift is my idol but when it comes to love advice, but the Spice Girls had a lot to say through their songs or lyrics. I'd want to believe that the ladies who grew up in my generation agree.
Allow me to go through your scenario and here's what they have to say. If you just want to do a quick trip down memory lane too, read on!


Duh. "Spice of your life". no, don't go run around and have hook ups. You go to bars every weekend but don't meet anyone with substance? Spice up your life, get out of your comfort zone and do something different. Get into a new sport, volunteer for a cause, sign up in a new art workshop. You get to open up yourself to a new world and chances are you may meet someone new. Don't forget also what they said in this song too–"ALL YOU NEED IS POSITIVITY."


"There is no need to say you love me. It would be better left unsaid." Aray. Because before the term "Friendzoned" was part of the Urban Dictionary, this song already existed. If you think it's time to draw the line then you should. If he's a true friend, he'd understand and he would stay. If he starts throwing tantrums because you hurt his ego then maybe it's time reevaluate your friendship too.

You're already singing it–"You just walk in, I make you smile, it's cool, but you don't even know me." So to all the preskong lalake out there, relaks. If you like her, like you really like her. Take that risk, ask her out on a proper date. Buying her a drink in Valkyrie is not the way.
Agree? Great! Next step would be…


"If you wanna be my lover, you gotta get with my friends." Who does not know that line? To all the ladies, allow the guys to court your family and friends. It's easy for him to do a background check on your interests (Hi, Facebook & Instagram). If he's in it for the long run He will eventually have to hang out with them and say hi to your parents and five other kuyas before going on a date right?
But I'd have to say my favorite from that song is this, "If you want my future, forget my past." Applicable for both men and women because no one wants to date someone who has a lot of insecurities, right?


HOHOL, almost always, is just HOHOL. If he can't go next-level but says he still wants you around just sing this line– "What part of no don't you understand? I want a man not a boy who thinks he can."
Girl, if he really wants to be with you, then he would.


The song is less than three mins long and that should be enough time for you to "move over, don't do it over because it's over." Next please.


It's the same heartbreak we felt when we found out that Geri left the group. The lyrics of this song may be cliché but the melody and how it was sung helps you to accept how things are without being bitter at all!
"Look for the rainbow in every storm. Find out for certain love's gonna be there for you." So whatever happens, as you go through this pain, you still have your friends and family who will help you.


The Spice Girls were not only an agent of change (for girl power) but I'd want to say they were also an agent of cheese. The Spice Girls were really a trendsetter because even before the concept of "Facebook Official" happened, they released this song when they reunited.
"Let's make the headline loud and clear. The best things suddenly happen when you are here." Never be ashamed to express your happiness with someone especially if he or she brings out the best in you. If people start hatin'–it's seriously not your problem. (Of course, everything in moderation, don't overdo it.).