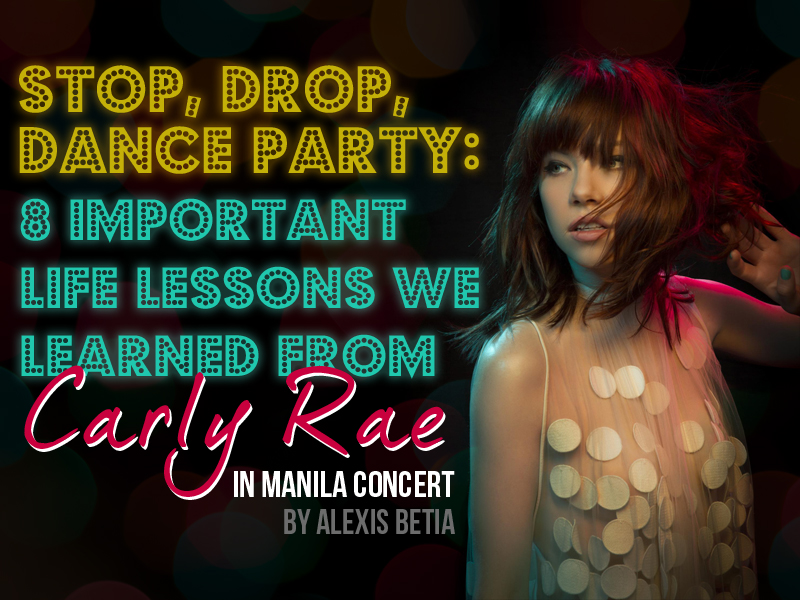 Tita Carly, as fans (aka Jepsies) so fondly refer to her, graced the Manila concert scene once again, banging out retro pop hit after hit alongside '80s slow jams that made you want to grab the person next to you and sway.
Apart from serving as the catharsis that us cityrats and 9 to 5 zombies so badly needed, Carly Rae's concert was the stripped-down musical spectacle we needed to cleanse our palettes of over-the-top gimmicks that lack any actual substance.
Forget what they want you to believe, her set said. Forget the hype. We're here for the music, and boy was the night a lesson in letting go.
 8. Sometimes all you need is a kiss.
 Who made the rules and why do we have to play the game? Everybody just wants to have fun.
 7. There's no shame in making the most of the night.
Always be on the hunt for the bright side.
 6. It's okay to want to more than dance.
 Honesty is still always the best policy.
 5. You can get lost and it's okay.
Who knows? You just might find yourself!
 4. Give love if you wanna get it.
 All's fair in love and heartache.
 3. Embrace your feels. All of it.
Because life.
 2. Sometimes all you need is a little confetti.
 Along with some faith, trust and pixie dust.
 1. And finally, you need to leave it all out on the dance floor.
Don't keep it all in until you need an emergency dance party. The dance floor will always be one of the kindest places you'll meet.
What did you learn from the Carly Rae Jepsen in Manila concert? What were your favorite feels? Leave a comment and share it with us!