Catriona Gray's Miss Universe Slay: 8 Reasons Why She Deserved the Crown
Dec 18, 2018 &nbsp • &nbsp Dennis Heruela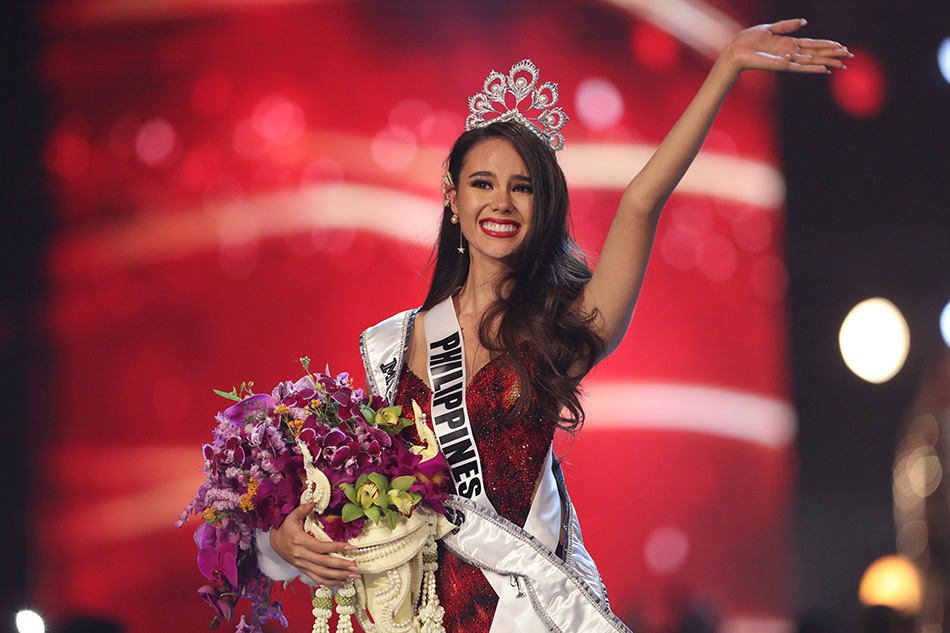 Die-hard pageant fans know it all too well: to emerge as the Miss Universe title winner among a bevy of almost a hundred beauty queen aspirants from all over the world is no fluke. It is a product of years of training on grooming and poise, constant exposure to the pageant terrain and continuous cultivation of smarts and confidence that makes you stand out and win the judges' and public's hearts.
While our very own Catriona Gray made winning a 4th Miss Universe crown for the Philippines look so easy, you can be sure that she wholeheartedly committed to years of practice and preparation. Here are 8 reasons why she stood out during the grueling 2 weeks of pre-pageant activities and shone brighter than everyone else during coronation night.
Hers was the full support of an A-Team
Yes, my little girl who dreams of being a beauty queen one day, it takes a village of passionate queen makers made up of, but not limited to— top fashion designers, charm and grooming coaches, stylists, speech and vocal trainers, choreographers, hair and make-up artists, nutritionists, physical trainers, and even a psychologist to create the winning candidate in this annual Olympics of beauty. Enough said.
Discipline and passion were her BFFs during training and preparation
Being blessed with the physical beauty and intelligence needed of a pageant contestant is just half of the equation. Catriona had the undaunted spirit and stamina to withstand the rigors of molding herself into a frontrunner. She probably spent quadruple the first 14,000 hours needed to learn all the big and minute skills and tricks necessary for a beauty queen (such as mastering the right speed and length of each stride so the heel won't get caught on the gown).
She always dressed impeccably and looked polished in every pageant-related activity.
Right from the moment she arrived in Thailand, she knew that millions of pairs of eyes especially those of social media denizens are looking, posting and judging constantly. And so, she dressed and presented herself like the only choice is for people to behold and be inspired — and talk about her no end.
She came in as a true Ambassador of the Philippines.
A seasoned pageant contestant takes to heart the principle that the best of her is a reflection of her country. Notice how she always appeared to be genuinely proud of her Filipino heritage and culture in her words and actions all throughout the pageant.
Her commitment to presenting the national costume with Pinoy pride vibe is one thing:
But you can very well see in the Top 20 interview how she was overflowing with love and gratitude for her countrymen.
The right amount of confidence and fun energy she exudes makes you want to root for her all the way
Yung alam mong panalo ka na, nagiintay na lang ng official announcement. 😂 LOVE IT! Congrats Catriona! c/o jomtap #MissUniverse2018 pic.twitter.com/RgSGs7131O

— Lester (@yetkl) December 17, 2018
That is a Miss Universe alright. She knows how and when to shine but more importantly, no matter how tough and demanding the competition turns out to be, Catriona can make her moments onstage more like the definition of  FUN.
She answered intelligently and with sincerity.
The Q&A category has always been notorious in producing fumbles and embarrassing moments that spelled the difference between a runner-up finish and the crown. Not for Catriona. She nailed every interview and Q&A with the eloquence and fluidity equal to how flawlessly she sashayed and twirled in the Swimsuit and Evening Gown competitions. The simple secret behind this is, she meant every word she said and spoke from her own truth. Something hours spent memorizing scripts of motherhood statements cannot ever replace.
The winner's mindset prevailed in her.
Miss Philippines Catriona Gray's slow-mo turn ON. REPEAT. #MissUniverse #Philippines #CatrionaGray pic.twitter.com/KrQydmmnhI

— The Philippine Star (@PhilippineStar) December 13, 2018
All of us could learn from how Catriona projected herself as "the girl to beat" during the preliminaries that one would have a hard time disagreeing. There's no wonder she looked and acted like a winner —she had paid her dues and put in the hours to back up her confidence, not to mention past pageant experiences where she took to heart the valuable lessons she received.
I mean…Pinoy Power to the Max!!! https://t.co/ar22wLvw2k

— Tyra Banks (@tyrabanks) December 15, 2018
She elevated the Miss Universe ante to a whole new level
Let me put it this way. I've been a staunch adorer and rabid follower of Miss Universe since I was young. I thought I've seen it all until…BAM! This sultry walk punctuated by a slow-motion twirl? I swear. That previously unseen beauty queen stunt hypnotized a good portion of the population. This is why everything after that was easy-peasy for her. In that instant when she entered and sultry-walked in her Lava-inspired Mak Tumang evening gown, admit it, the only thing missing on her was the Miss Universe crown.
Do you love Catriona as much as we do? Show your love in the comments section below!