sCNN Philippines' 2022 Presidential Debate happened over the weekend and boy did it give the Internet a lot to discuss. Filipinos got to know more about the 9 out of 10 presidential candidates' platforms and their stand on issues. They also got to see how these candidates mingled and interacted with each other (a.k.a who they loved and who they seemed obviously annoyed with). But there were unexpected moments too like the slight bardagulan moment on national TV, throwing shade at the only absentee, and a candidate who seemingly got fooled over fake news. Here are the funniest moments at the presidential debate as told by the Internet.
Ka Leody de Guzman shading Ferdinand 'Bongbong' Marcos Jr. and Dr. Jose Montemayor in one breath
"Akala ko absent si Marcos andito pala. Wala nang pinuri kundi ang mga kapitalista. Wala nang kinagalitan kundi ang mga manggagawa… sinisiraan ang mga manggagawa, ang pinupuri yung mga kapitalista… akala ko wala dito si Marcos nandito pala."

GO KA LEODY!!!! 🙌🏻 pic.twitter.com/2M3a5lN2zb

— slayni godbredo (@charisque) February 27, 2022
Dr. Jose Montemayor talking about corruption in the labor sector didn't sit right with rival presidential candidate and labor leader Ka Leody de Guzman. The latter ended up comparing Montemayor with Ferdinand "Bongbong" Marcos Jr., who was absent during the debate.
"Akala ko absent si Marcos [Jr.], nandito pala," said de Guzman in what we can only guess will be an iconic speech for years to come. "Wala nang pinuri kundi mga kapitalista at wala na kinagalitan kundi ang mga manggagawa kaya dinudurog ang hanay ng mga manggagawa, sinisiraan ang mga manggagawa at pinupuri 'yong mga kapitalista."
His rebuttal won the internet over who proceeded to do what it does best — make memes.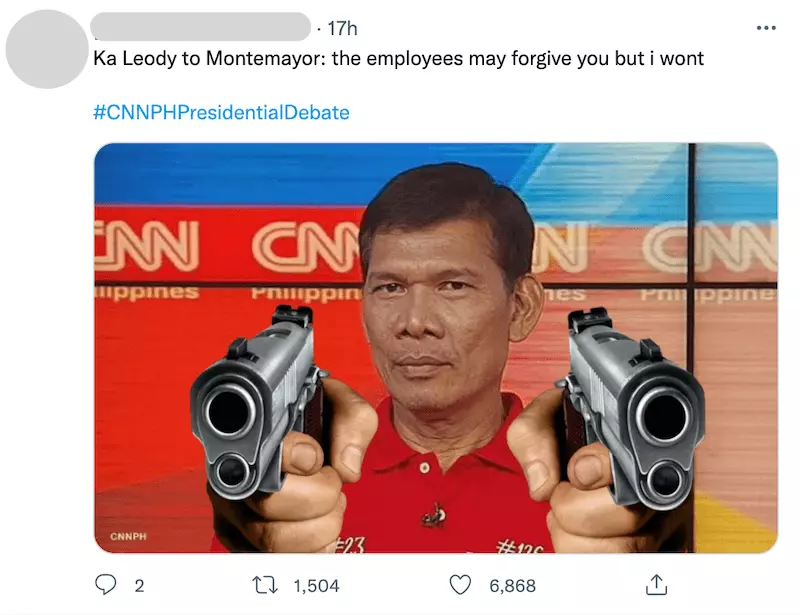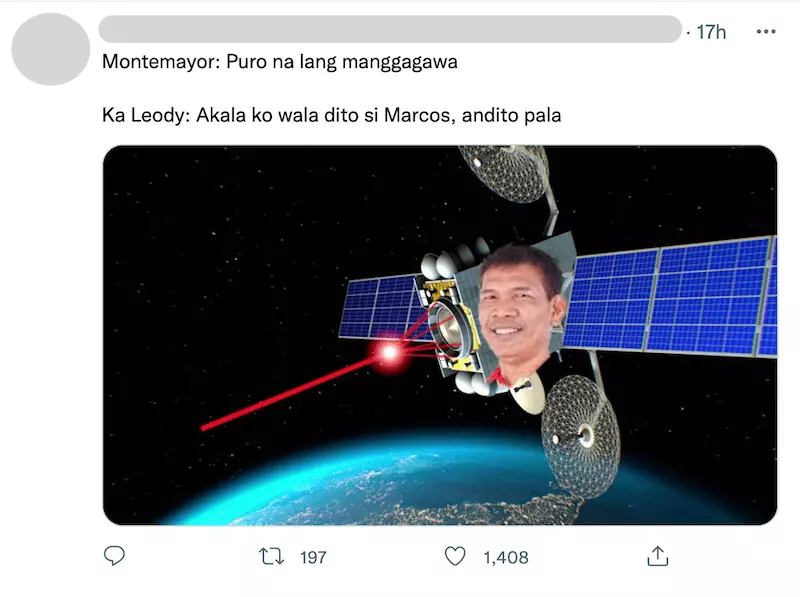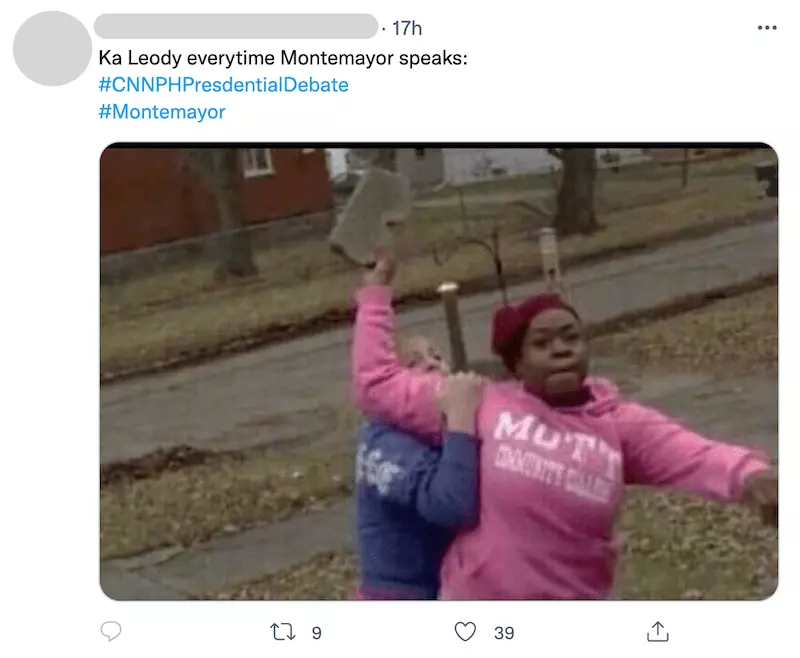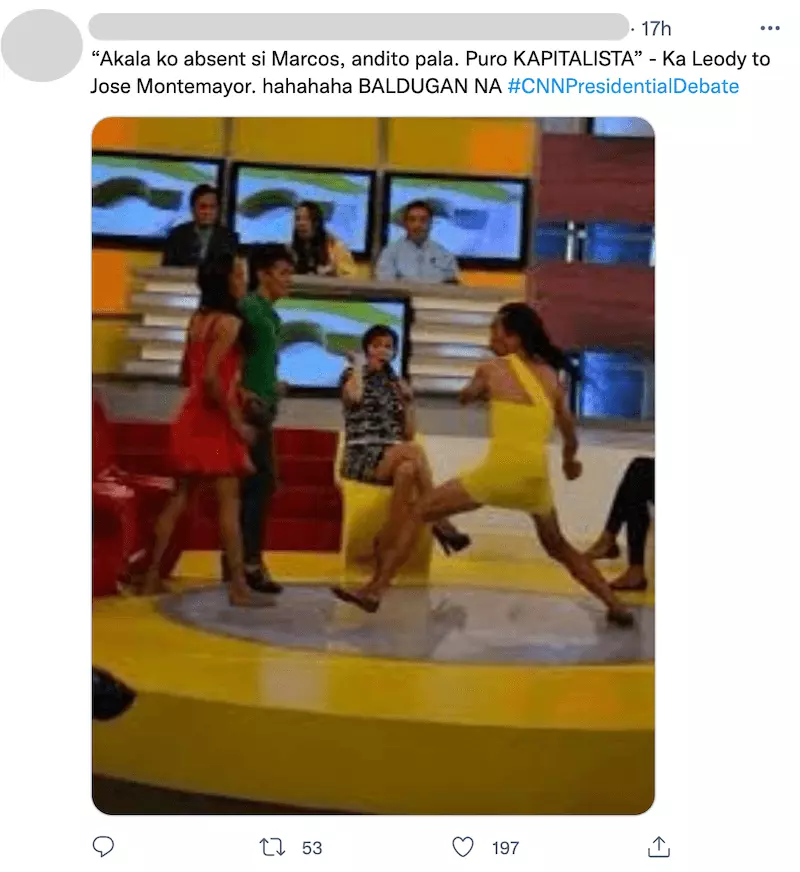 Not everyone was fond of certain candidates

It looks like De Guzman wasn't alone in his apparent displeasure over Montemayor. The Internet also found ways to express how they felt about him.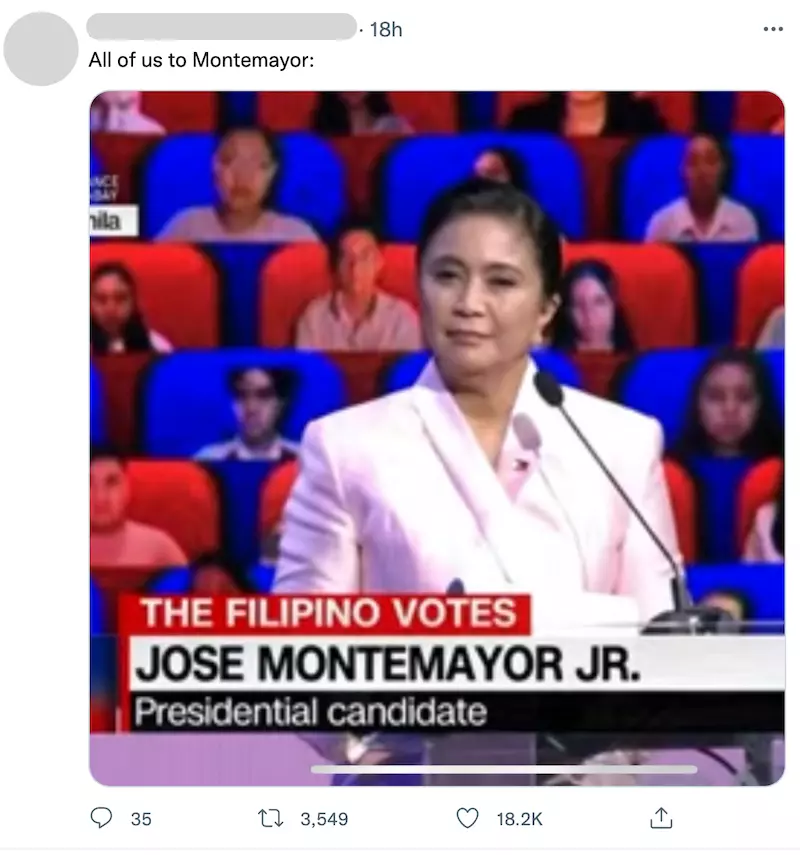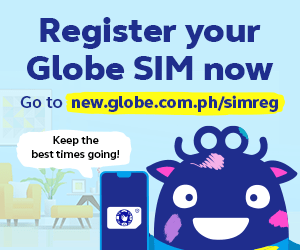 How important are presidential debates?
the mnet evil editing is happening omg #CNNPHPresidentialDebate pic.twitter.com/2KkGg2TNWG

— tj (@colethereaI) February 27, 2022
One of the questions during yesterday's event was how important it was for presidential candidates to attend debates. Cue the cameraman panning to Marcos Jr's empty podium. Marcos Jr and his running mate Davao Mayor Sara Duterte-Carpio skipped the debates citing conflict of schedule. The rest of the presidentiables took this as an opportunity to stress how important these debates are. De Guzman wasn't even afraid to throw shade at Marcos Jr saying he didn't know why the dictator's son wasn't present.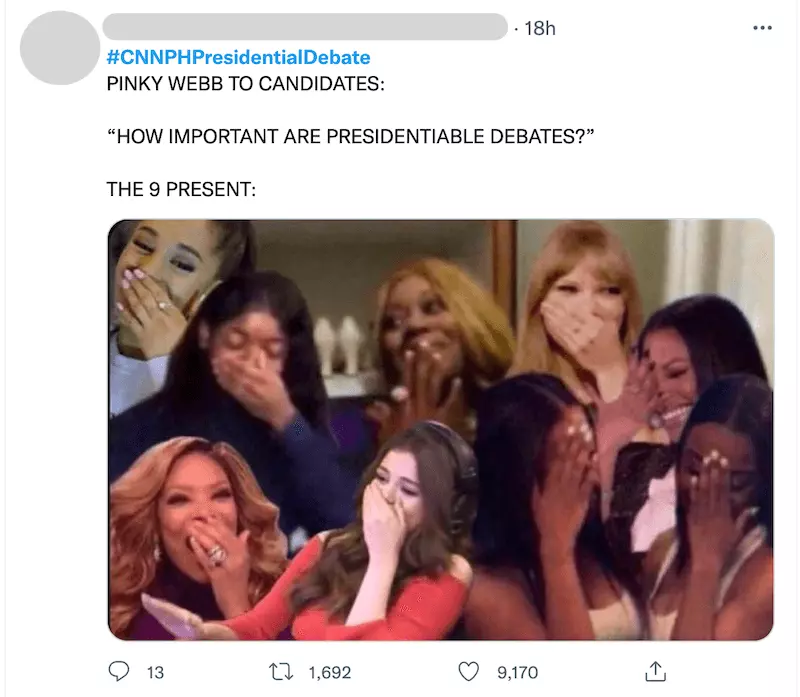 Bureau of Customs
All eyes on Customs 👀

The Bureau of Customs is the answer of all but one candidate as the first agency they will investigate for corruption.

Pacquiao was the only one who answered DOH. Bongbong Marcos is absent. #CNNPHPresidentialDebate #PHVote https://t.co/jD5JatKjNU pic.twitter.com/68RaezwIVi

— Rappler (@rapplerdotcom) February 27, 2022
When the candidates were asked which agency will they first investigate for corruption, almost everyone had the same agency in mind. The Bureau of Customs better prepare. Whoever wins, they're going to get investigated.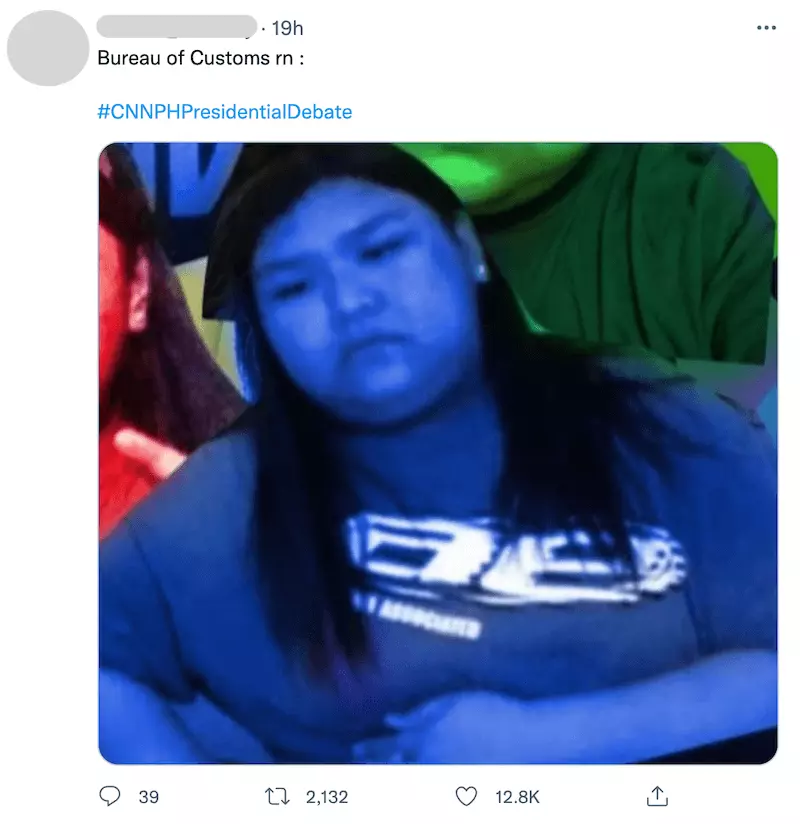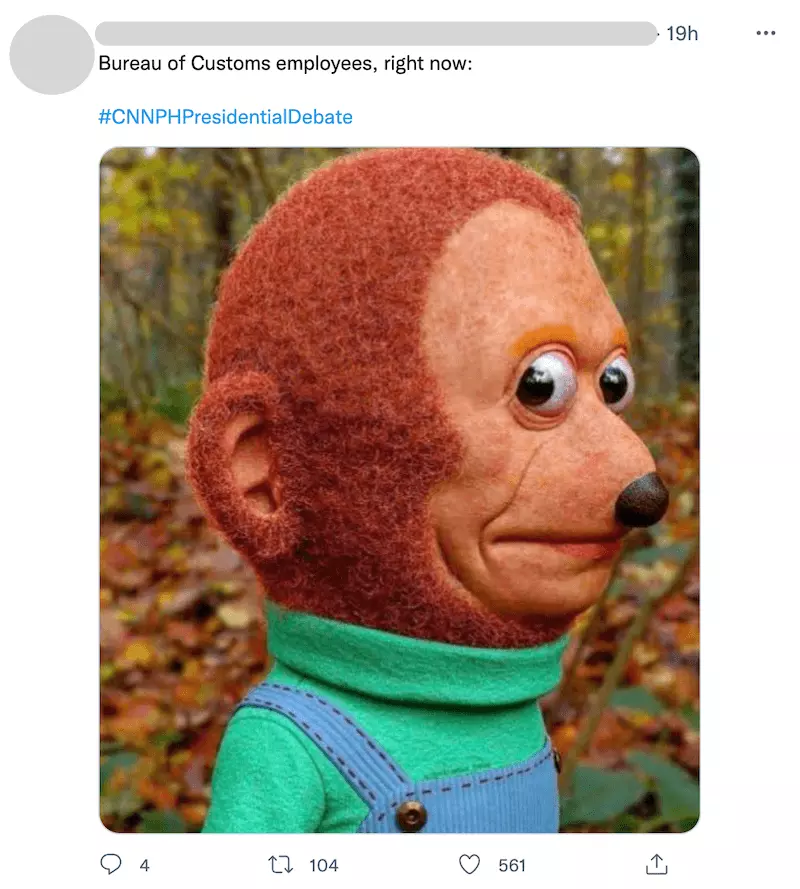 Main rapper: VP Leni's pandemic response
LENI ROBREDO: future president of the PH, MAIN RAPPER, main visual, main dancer, main vocalist #CNNPHPresidentialDebate pic.twitter.com/pgzhEFEEIB

— ً (@mikkiszn) February 27, 2022
90 seconds doesn't seem to be enough time for Vice President Leni Robredo to list everything she did for her office's pandemic response. She had to squeeze in everything which resulted in her semi-rapping and being compared to Nicki Minaj. That was an unexpected twist following the whole "Leni sunbaenim" trend.
Here's the longer version:
We really made VP Leni Robredo enumerate everything she has done during the COVID-19 pandemic that she had to rap 😭#10RobredoPresident#IpanaloNa10To#CNNPHPresidentialDebatepic.twitter.com/IIO4blA9xm

— ally (@reginevlsqz) February 27, 2022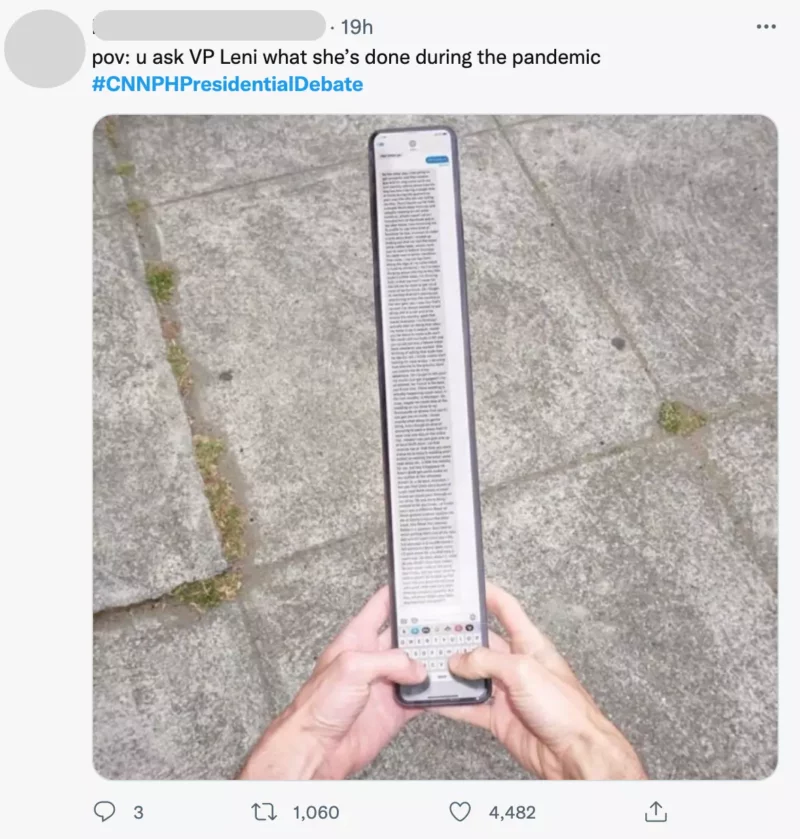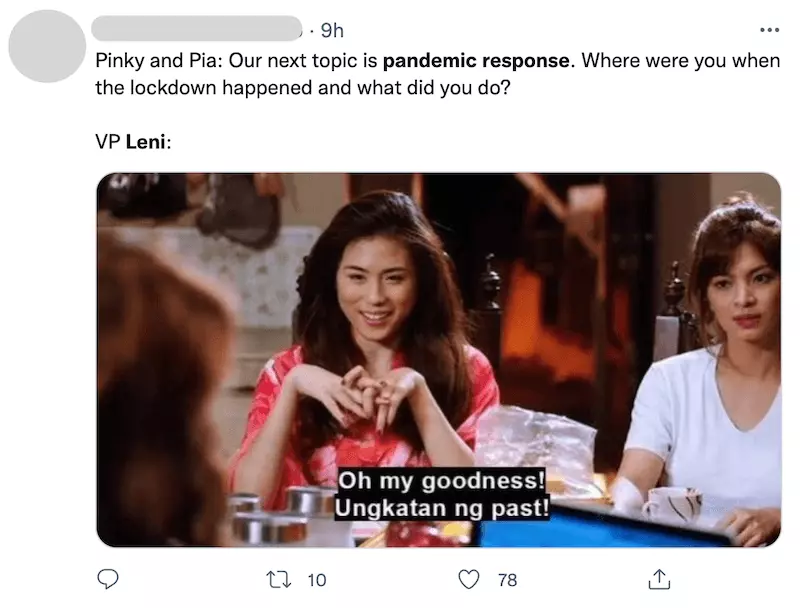 It's a classroom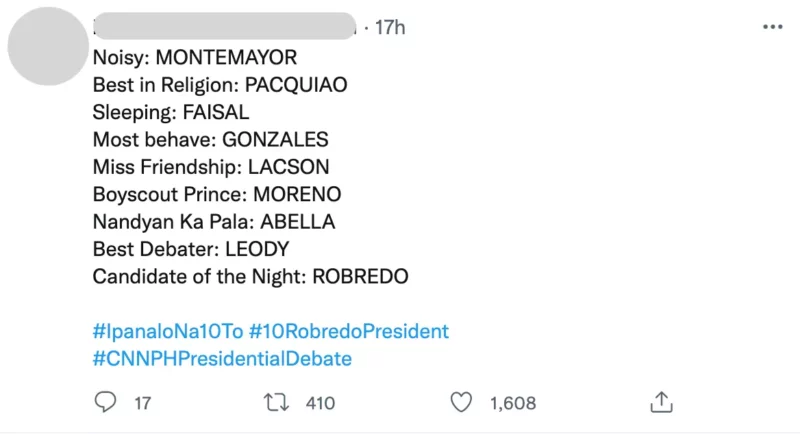 Being a spectator for debates like these is both entertaining and informative. There's the bardagulan on national TV, there's knowing more about a candidate's platform and character, and there's seeing how the candidate gets along well with the rest. The Internet even likened the whole thing to a classroom setting with awards and special mentions towards the end. Noisy? Sorry, it's still Montemayor. Best debater? That's De Guzman who brought all his bravado with him that day.
The $15 million issue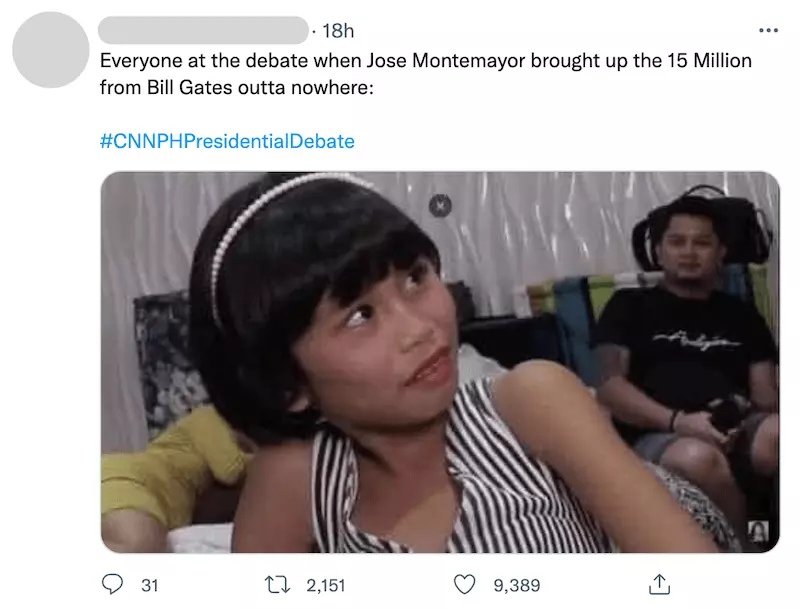 One of the bombs dropped that raised everyone's eyebrows during the debate was Montemayor "spilling the tea" about Bill Gates donating $15 million to Moreno for campaign funds. ICYDK, $15 million is worth roughly around P770.9 million. Moreno denied this: "There is no such thing as $15 million. It is prohibited by law." He even pulled literal receipts from the Bureau of Internal Revenue to deny the accusation. The Internet went wild laughing at Montemayor apparently believing in fake news.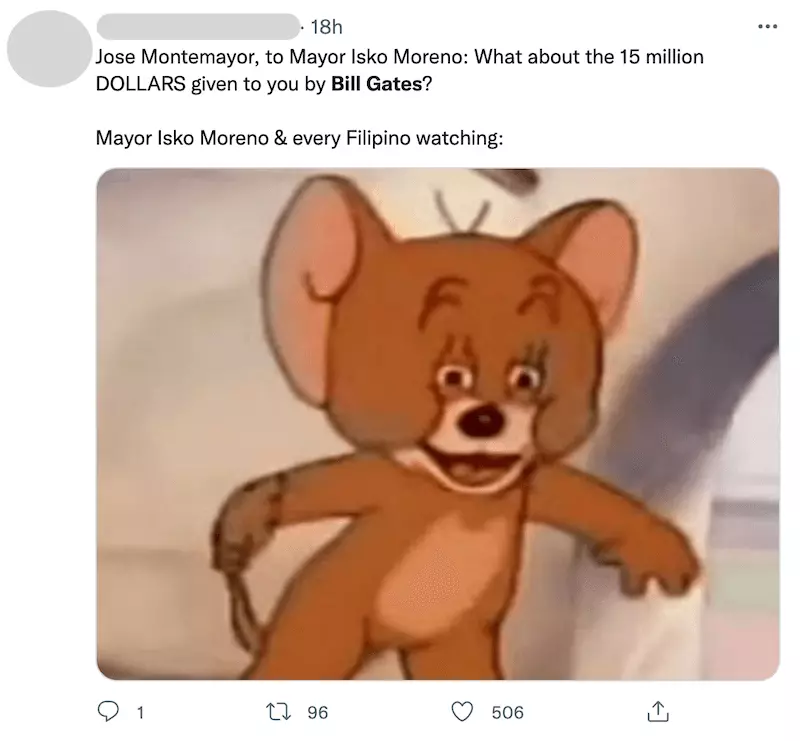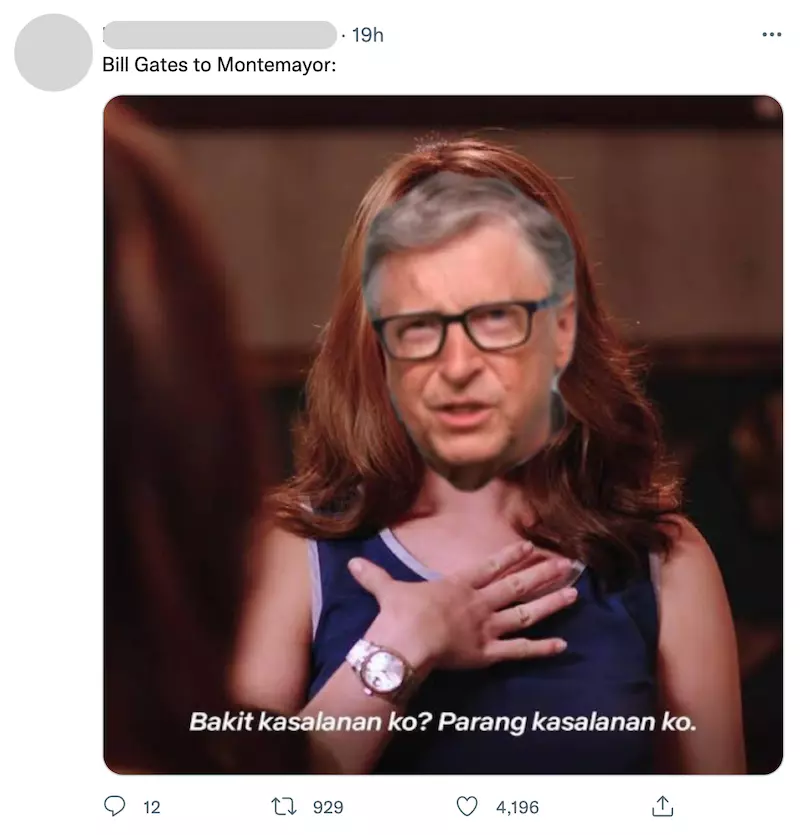 After journalists fact-checked Montemayor's statement, it turns out the Bill & Melinda Gates Foundation did donate money but it's only P16 million and it's for Manila's water, sanitation, and hygiene.
FACT CHECK: Earlier in the #CNNPHPresidentialDebate, Montemayor claimed that Bill Gates donated $15 million to Moreno's campaign.

This is FALSE.

The Bill & Melinda Gates Foundation donated a $319,147 or P16 million grant to the city of Manila for water, sanitation and hygiene. pic.twitter.com/zsHQp6CN9z

— Sofia Guanzon (@_sofiaguanzon) February 27, 2022
Pinky Webb winning the Internet

Pia Hontiveros and Pinky Webb hosted the nearly three-and-a-half-hour event, maintaining their cool and regulating the debate. The Internet loved both hosts but Webb's slight jabs made everyone giggle. Apparently, her favorite line for the night was "9 out of 10 candidates," which, ICYDK, was shade toward absentee Marcos Jr.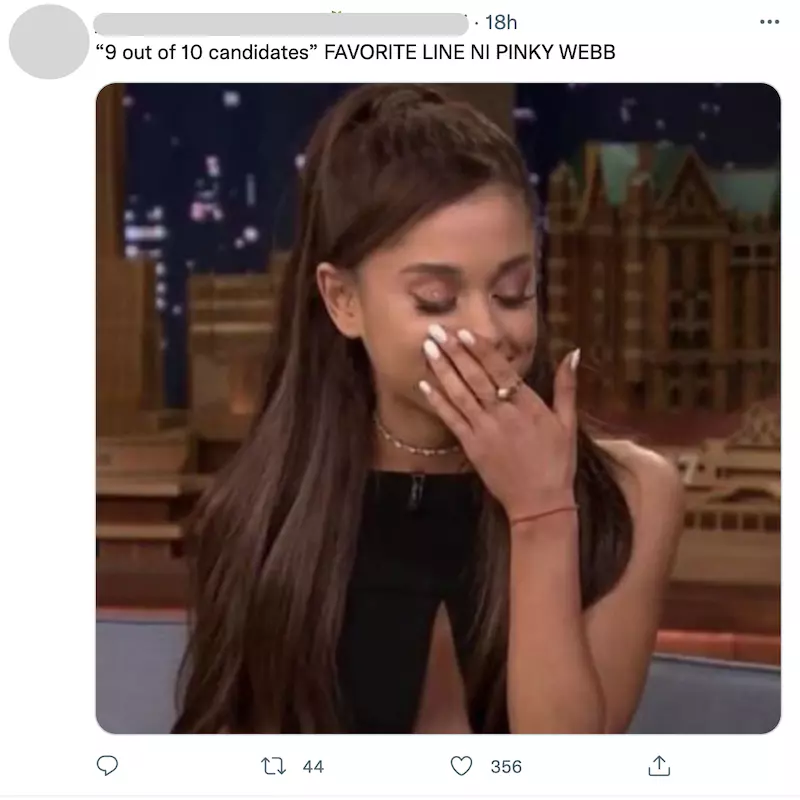 If you missed the CNN Philippines 2022 Presidental Debates, the entire thing's available to watch on YouTube.
Check us out on Facebook, Instagram, Twitter, and YouTube, and be the first to know about the latest news and coolest trends!