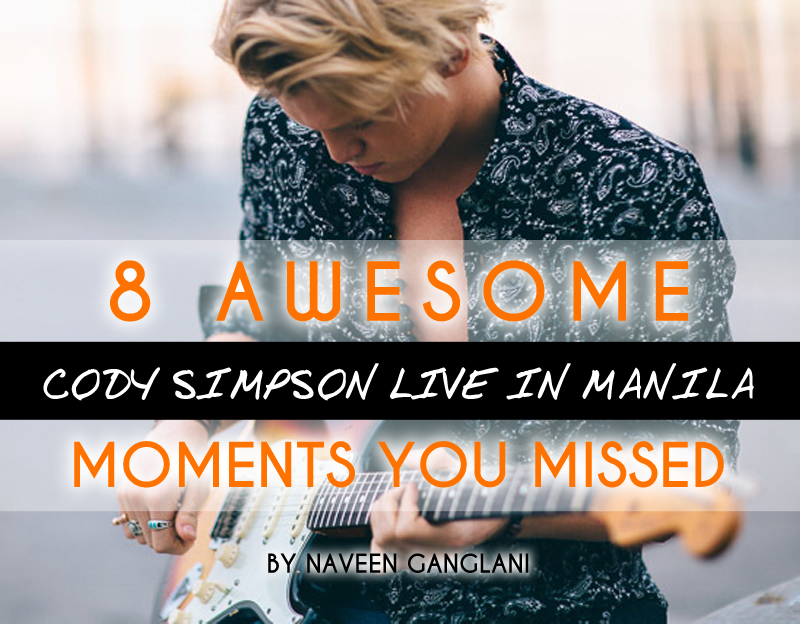 Pop singer Cody Simpson hit the stage at the Newport Arts Performing Theater this week for a concert, but what fans got out of the 18-year-old performer was more of his new singing persona rather than what many have grown accustomed to over the past few years
Those hoping to hear the Australian singer perform hits like 'La Da Dee', 'Surfboard', or 'Pretty Brown Eyes' didn't exactly get their way, and instead heard Simpson's newer music as he transforms into an indie artist.
Here are eight moments you missed during Simpson's performance in Manila:
The concert was opened by Gravity Muzic, a band composed of 5 teenagers who easily earned the adoration of the crowd with their cheesy, high school love songs and covers. For a bunch of kids hitting the big stage, they did quite well.
Also, they want you guys to add them up on Facebook and Instagram. Make sure you remember: that's muzic – with a Z!

During the concert, Simpson sat down and talked about the impact bees make in the world. After that, he discussed how changing one thing about the globe could affect all the people living in it. Now, a concert isn't exactly the ideal place to turn philosophical, but he made up for it with this performance about, uhm, being a bee!

See, it's all he ever had! And yes, that was a pretty great Bob Marley rendition.

Okay, I have to admit, this song was pretty catchy. Also, plus points for the kick-ass solo on the drums!

There was a moment prior to the concert where many fans–mostly girls (and who can blame them?)–were screaming, making many others in attendance wonder why that was since Simpson had yet to reveal himself.
Turns out another star was present in Darren Espanto, the runner up of The Voice Kids Philippines Season One.
Espanto's just 14, so he's not exactly towering tall, but once someone in the crowd spotted him, a series of screams followed. After everything he's accomplished so far (seriously, check the dude's Wikipedia page) it's not really a surprise!
Simpson didn't waste time getting to songs from his new album Free, and this one got some of his fans up on their seats right away.

Why did he make the switch? It's because he felt as an artist, he had to play the music he believed in.

Come on, you guys knew this was coming! He might not have performed his other pop hits, but he made sure to allure the crowd with one of the most famous tunes in music today.
Did you get to catch Cody Simpson live in Manila? Share your favorite moments with us in the comments below!