Lockdown Diaries: This Quarantine Can't Keep Pinoy Humor at Bay
Mar 20, 2020 &nbsp • &nbsp Kyzia Maramara
Part of being Filipino is having that unique sense of humor even in the bleakest of times and the situation we're in right now is certainly one. Maybe it's just us Pinoys channeling our frustration into jokes to make other people laugh and forget for a while, maybe it's us brushing the hardships away for a moment with a few humorous posts because we're all clowns with this government anyway, or maybe it's because we're all fun-loving individuals who will suffer if we can't laugh. Whichever the reason, it's a relief to know that even if bad news pop up like popcorn everywhere on an hourly basis, some Pinoys out there are ready to put a humorous twist so we can all chuckle as we scroll through timelines.
Behold, the Filipino wit and humor during the lockdown:
Pinoys singing heartwarming songs while they're quarantined in their houses
Community quarantined QC residents sing in their houses amidst the Corona pandemic in this eerie and hauntingly beautiful video

Posted by Jok Gumiran on Sunday, March 15, 2020
You've seen videos of Italians singing from their windows and this pianist in Barcelona jamming with a saxophonist neighbor but have you heard Pinoys singing acapella from their homes? These Filipinos in Quezon City found a way to uplift their neighborhood's otherwise glum spirits. Those lyrics hit home.
IN PHOTOS: A photographer, quarantined
When President Rodrigo Duterte first officially addressed the nation about the
COVID-19 situation
, he said a lot of things that were – let's admit – not necessary. Such as saying Filipinos should stay inside their homes and explore nooks and crannies they perhaps haven't yet seen. If every Filipino had a mansion, sure. This one Facebook user probably thought "FINE. But I'll be creative about it."
No pasok? No problem!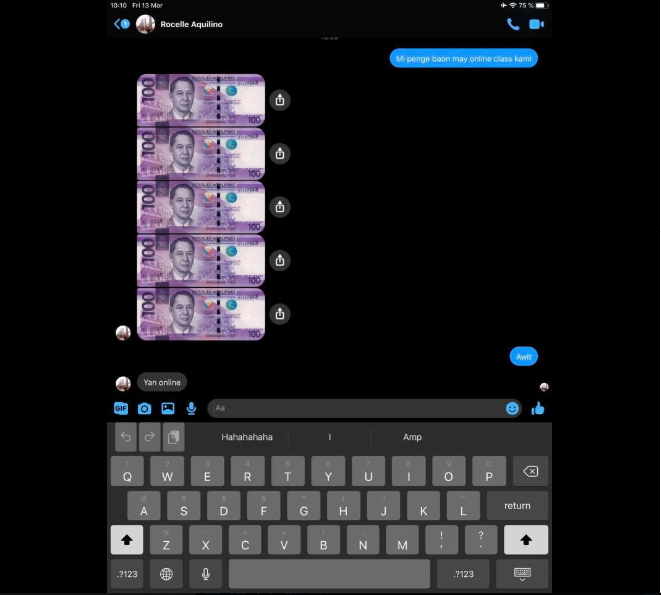 Your sibling/child still has online classes, right? Then they still deserve their baon! It's a relief we can do everything online these days.
You can visit continents inside your house if you look for them hard enough
This guy has reached South Africa, Dubai, Canada, and even Norway all in the safety of his home! I guess the president is right, there are still areas to explore.
Yung mga teacher mag-a-adjust
https://www.facebook.com/saida.guintawan/videos/2899233350158432/
It's graduation season soon and if this coronavirus won't let up, universities and graduates are faced with a dilemma: what about graduation? It's a good thing this video provided the solution. Don't forget social distancing though!
It gets worse…
What's worse than a door-to-door graduation? A Messenger graduation, that's what. You won't even get to see your classmates or throw your graduation cap. No matter, there are a lot of GIFs for that and besides, look at the bright side, you won't have to pay for new clothes and hair and makeup!
Be proud of your online classes!
so excited for my online graduation 😷😭 pic.twitter.com/lM0XrYBmww

— Johan Kyle (@johankyle_) March 13, 2020
Desperate times call for innovative measures, don't you think? Don't worry, you'll be part of history as the first batch to ever graduate from Google Classroom. You're a pioneer.
And lastly, I have no idea what's happening with these videos
https://www.facebook.com/elmo.gonzales.549/videos/565537847503705/
Someone just put a filter over Morissette, Teddie, and Bobbie probably out of boredom from being cooped up too long. BRB, gonna watch this a few more times.
That's at least 8 reasons to laugh today. Stay safe everyone, wash your hands thoroughly, stay hydrated, take your vitamins, and stay indoors!
Have you seen hilarious #LockdownDiaries posts lately? Share them with us in the comments!