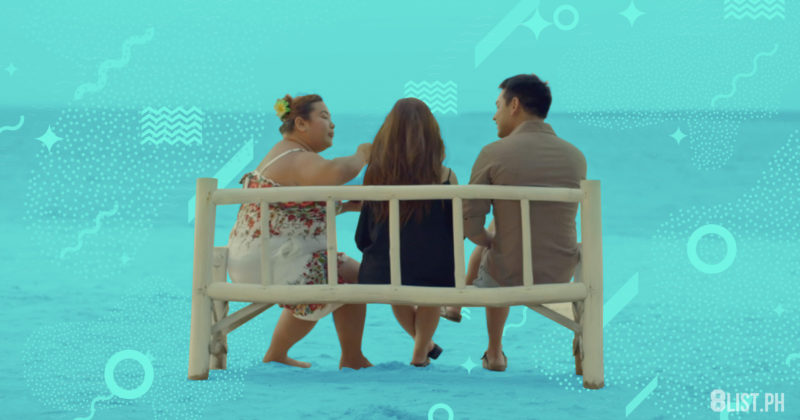 There are different types of single people: there are those who just came out of a long-term relationship, those who are still waiting for the "right person", and those who choose to be alone. Whichever you are this year, a piece of advice: flying solo can also make you appreciate yourself more. Independence is sexy! Take it from these films which you can watch over the weekend by yourself, or with your fellow single friends:
Sakaling Hindi Makarating
Singer-songwriter Taylor Swift describes a heartbroken person as "unlike any other. Their time moves at a completely different pace than ours. It's this mental, physical, emotional ache and feeling so conflicted. Nothing distracts you from it."
Perhaps it's the perfect description of what Alex, the film's protagonist, felt after her 12-year relationship ended. It's the film to watch after a break-up, a movie that shows how travelling and surrounding yourself with new people and experiences will help you heal and eventually find inner peace.
Legally Blonde
Elle Woods is the ultimate dream girl: leader of a sorority, the girl-next-door who literally has everything. Except that she's "too blonde," according to her boyfriend who broke up with her before getting into law school. Devastated, she tries to win him back by getting into the same school as him. She didn't win him back though, but instead she found her calling as a lawyer (take that,ex!).
You may lose a man, but finding yourself and fulfilling a new dream without him more than makes up for it.
Sleepless
This film about two insomniacs in the city reminds us to take a breather from the daily grind and re-evaluating our life choices. The slow, quiet vibe of the film perfectly captures the feeling of discovering ourselves slowly, that when the morning comes, we are finally ready to face our fears.
Eat, Pray, Love
Eat, Pray, Love tells the story of a woman who has it all—career, money, respect… but still finds that something is lacking.  So she goes on a quest for self-discovery while going on different explorations: a delicious food adventure in Italy, prayer venture in India and love fulfillment in Indonesia. This refreshing travelogue will make you want to curate your own cross-country journey soon, even if you're not out to find yourself.
Love, Actually
A perennial favorite during Christmas time, Love Actually is a collection of nine intertwined stories that tells how love plays a vital role in our lives. This classic ticks all the boxes for a feel-good film. If you don't have a "love life", Love Actually will make you appreciate all the other kinds of love in your life.
Forgetting Sarah Marshall
Imagine being dumped by your girlfriend and going on a vacation to get over it… until you accidentally bumped into her with her new beau. Ouch. That's pretty much what Forgetting Sarah Marshall is about. If you have (unfortunately) experienced this, just laugh it off with this film starring Jason Segel (whose character's name in the TV series How I Met Your Mother was Marshall, coincidentally).
Camp Sawi
Camp Sawi is definitely a must-see for those who are still coping from a tragic breakup. You may find yourself in one of the five girls in the film, who joined a boot camp to deal with their heartaches. Or you may draw inspiration from their stories. This flick will also make you want to call your besties for a beach getaway to Bantayan Island, stat!
How to Be Single
Contrary to what most single ladies think about themselves, this film will completely validate your singlehood. It poses some important questions like, "Why are we always in a rush to have a relationship?" or "Why do we tell our stories through our relationships?" or the most common of all, "Why should we be embarrassed to be single?"
What is your go-to movie? Share with us in the comments section below!