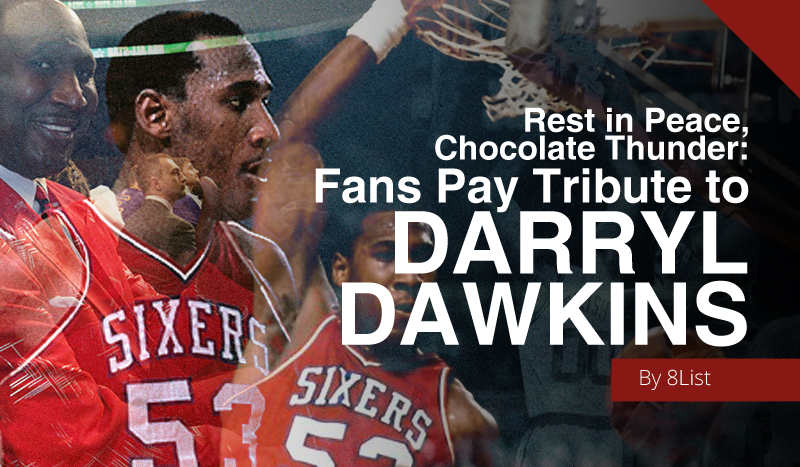 The world just lost one of basketball's greats.
Darryl Dawkins, the first player to jump from high school straight to the NBA, reportedly passed away on Thursday, August 27 due to a heart attack. He was 58.
The legendary New Jersey Nets and Philadelphia 76ers player was one of the most colorful characters the sport of basketball has ever known. He claimed he was from the planet Lovetron. He was named "Chocolate Thunder" by Stevie Wonder for his immense presence on the court. He had names for his earth shattering dunks: Your Mama, In Your Face Disgrace, Earthquake Breaker, Left-Handed Spine Chiller Supreme, Turbo Saxophonic Dunk and more. The best one was  "Chocolate Thunder flyin', glass flyin', Robizine cryin', parents cryin', babies cryin', glass still flyin', rump roasting, bun toasting, thank you wham ma'am I am' jam." He would shatter backboards with his rim-rattlers.
Chocolate Thunder left a lasting impression on those who were blessed by his colorful and radiant presence. Fans, friends and colleagues took to social media to express their grief.
8. Dave McMenamin
R.I.P. Darryl Dawkins. A true character and gentleman of the game. pic.twitter.com/o9kWU4JyHk

— Dave McMenamin (@mcten) August 27, 2015
7. Allen Iverson
Condolences to the family of Darryl Dawkins, a great man! Your smile personality and energy will truly be missed!!! — Allen Iverson (@alleniverson) August 27, 2015
6. Gabrielle Union
RIP Darryl Dawkins… Dr Dunk… Chocolate Thunder… one of THE nicest men… you will be missed. Prayers to his family, friends & fans

— Gabrielle Union (@itsgabrielleu) August 27, 2015
5. Samuel L. Jackson
Only 1 player in NBA history from Planet Lovetron! He made it Fun. He had Fun. RIP Darryl Dawkins #Chocolate Thunder — Samuel L. Jackson (@SamuelLJackson) August 28, 2015
4. Demarcus Cousins
3. Reggie Miller
2. James Worthy
Never did I ever see Darryl Dawkins unhappy, he always had a smile on his face, spreading positive vibes & laughter. #oneofakind

— James Worthy (@JamesWorthy42) August 28, 2015
1. Magic Johnson
I couldn't wait to see Darryl at every NBA All-Star Weekend. He was always the life of the party! — Earvin Magic Johnson (@MagicJohnson) August 27, 2015
Darryl Dawkins will forever be one of the most colorful and iconic players basketball has ever known. There is no question that his awesome presence will be missed by many.
Rest in peace, Chocolate Thunder. You are the greatest ambassador of planet Lovetron.