8 of the Biggest Reactions to Mayor Duterte's Rape Joke

by Tim Henares

Despite being at the top of the surveys at the moment, or perhaps precisely because of it, Mayor Duterte has recently come under fire for comments he made about an Australian missionary, the late Jacqueline Hammill, who was gang-raped then murdered. In jest, he said:
"Nirape nila lahat ng mga babae so 'yung unang asolte, kasi nagretreat sila, naiwan yung ginawa nilang cover, ang isa doon yung layminister na Australyana. Tsk, problema na ito. Pag labas, edi binalot. Tiningnan ko yung mukha, 'tangina parang artista sa America na maganda. Putangina, sayang ito. Ang nagpasok sa isip ko, nirape nila, pinagpilahan nila doon. Nagalit ako kasi nirape, oo isa rin 'yun . Pero napakaganda, dapat ang mayor muna ang mauna. Sayang."
Now, you may argue whether or not Digong is still fit to lead as president after these statements. After all, we do not take things in isolation, and consider not just the man's failings, but his capabilities and accomplishments as well.
What you cannot do, though, is to attempt to justify a rape joke and pretend it's okay just because it's a joke.
Rape is one of the most monstrous things we could possibly do to another human being. To make light of that at the expense of the victim of the crime is a grave insult to their being and to what they went through. When we say that a politician "raped" our coffers, we somewhat trivialize what it means to ravage the being of a person by equating it to merely the contents of our wallet.
This is not an indictment of Duterte's capability to lead. That is independent of this issue.
However, this is an indictment of making light of rape, because it promotes a kind of culture where Filipinos think that certain circumstances can make rape justifiable, whether it's because they're married to the person they rape, or she is a sex worker, or she dressed sexily, or she was drunk. The more we joke and the more we normalize rape as no big deal, the more we make it seem that these cases are "corner" cases, when they are still unequivocally rape.
This is also an indictment of the fact that after everything has been said and done, Duterte refuses to apologize for his joke, and that while the most ardent of Duterte supporters will bend their logic and their principles just to make excuses for him, anyone else who does something remotely similar doesn't get nearly the same consideration, especially if they're against Duterte. These double standards are proof positive that this electorate still has a lot of maturing to do.
(Edit: As of April 19, 2016, Mayor Rodrigo Duterte has issued an apology.)
Here are just 8 of the most powerful reactions against Digong's joke, both in favor and against.
8. Kat Alano
I don't have enough energy to get upset about the latest rape joke. Get smart people. The presidential race is a joke, rape is not.

— Breaking free (@katalano) April 17, 2016
The problem is not that rape jokes are being made, it is that our whole country is so ignorant about rape, they think the jokes are funny.

— Breaking free (@katalano) April 17, 2016
I'm telling you first hand. Being raped was no joke and it certainly was never funny.

— Breaking free (@katalano) April 17, 2016
Kat Alano is a celebrity who has always been an advocate against rape. This joke struck closely to home for her, and she took exception to it, but she did not absolve the other candidates, either. She made that very clear.
7. Chito Miranda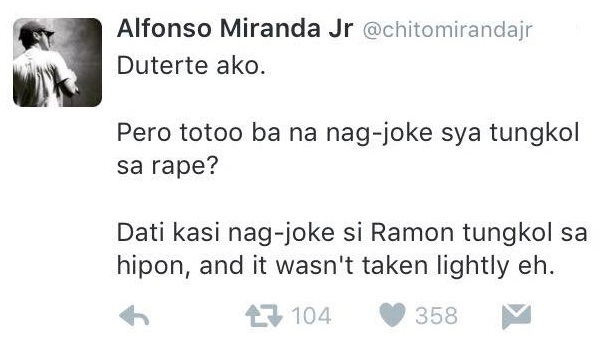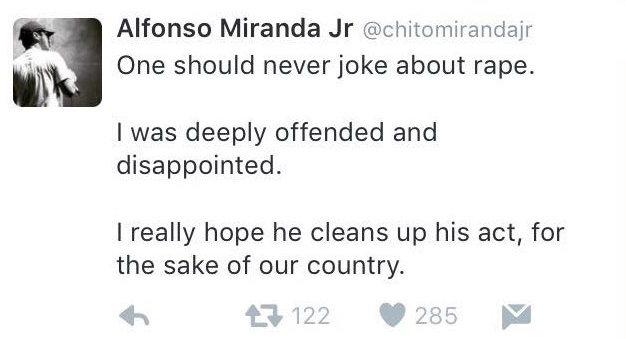 Chito Miranda, a known loyal Duterte supporter, made it very clear that he did not approve of the rape joke but believed that Duterte is still the man for the job.
Isn't that amazing? We could actually be against Duterte's rape joke but still believe he deserves our vote because of everything else. Who knew you didn't have to pretend rape jokes are okay just to keep supporting him, right?
Since then, Chito Miranda has deleted his tweets, because being even-handed about things just won't do. The Duterte diehards will think you betrayed them, while the most vehement anti-Duterte will believe you're still being a rape apologist.
6. Amanda Gorely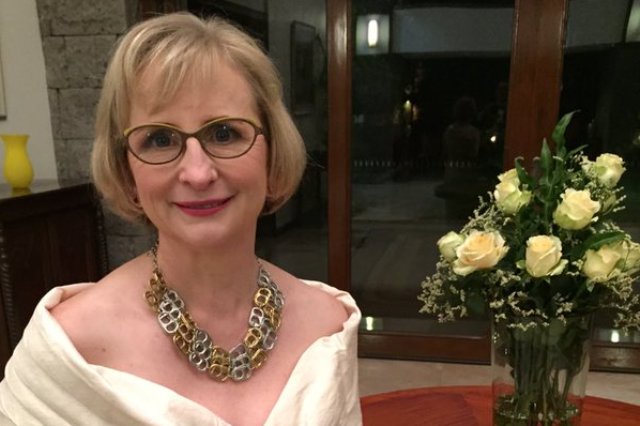 "Violence against women and girls is unacceptable, anytime, anywhere."
Amanda Gorely is the Australian ambassador to the Philippines and made this statement to condemn Duterte's joke. Given that Digong's comments have already made it to international news,  you could already imagine the kind of diplomatic ramifications having a person like Duterte in place would entail.
If ever you're wondering why Ms. Gorely singled out women when common sense dictates that violence should be unacceptable against women and men, you have to understand that we live in a culture where we find excuses to justify hurting women, whether we sarcastically claim "equality" or we say that their nagging annoyed us so much we just had to slap some sense into them. These are commonplace "excuses," and they're only ever used against women.
5. Gabriela
The women's party-list is controversially aligned with Mayor Duterte despite his public reputation for philandering and his admittedly questionable attitude towards women, mainly because his progressive policies belie his actions.
However, this did not stop them from demanding Duterte apologize for his joke, which, as we have earlier pointed out, he refuses to do. No word on whether or not Gabriela will continue to support him after this.
4. Phil Robertson
Disgusting endorsement of sexual violence by #Philippines pres contender Duterte should be utterly condemned @hrw https://t.co/8zwoGZAADl

— Phil Robertson (@Reaproy) April 17, 2016
Phil Robertson is the Deputy Director of Asia for the Human Rights Watch, and took Duterte to task for his statements. Given Digong's alleged ties to the Davao Death Squad, this is far from their last interaction if the mayor ends up winning this May.
3. This Twitter User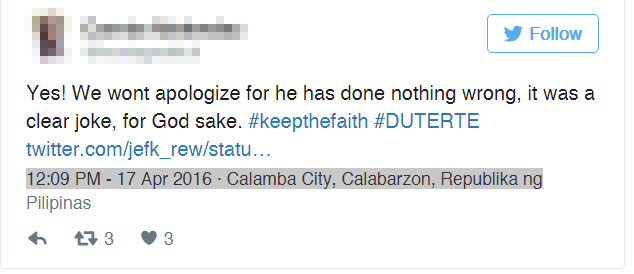 This twitter user was quoted in the ABC Australia article about Digong as saying that "it's just a joke," so it doesn't need an apology.
Sure. Tell that to comedian Ramon Bautista, whose hipon joke ended up making him persona non grata in Davao, no less. Apparently, we should all learn to take a joke when Digong makes it, but when a comedian whose job it is to make crass jokes does it, nuh-uh.
Or tell that to Stephen Villena, a UPLB student who supposedly "disrespected" Digong when he was there for a forum. Apparently, only Digong can speak disrespectfully, but anyone else? Ahhh, watch your tongue!
This didn't happen during Marcos's time. Oh, wait. It did. It totally did.
2. Mocha Uson
Rape joke? problema sa mga troll ng kalaban, i-chop ang vid ni Duterte tapos siya'y sisiraan. mga ka-DDS watch this- https://t.co/R0HohHNZ1B

— Mocha Uson Blog (@MochaUson) April 17, 2016
Mocha Uson, leader of the Mocha Girls, is one of the biggest Duterte supporters out there and stands for women empowerment.
Unfortunately, listening to her request to watch the full video instead of just the one-minute clip doesn't really change the problem with Duterte's statement. He still made a rape joke and worse, he made it about someone he failed to rescue.
If Batman failed to save your life, does he get to have the right to make jokes at your expense? How about Superman? Well, Digong isn't a fictional character: he's a real person, and he's running for president. Does he have the right to poke fun over your dead body and suggest wanting to poke you in other ways  just because he has avenged your death?
Or we could argue all about semantics and assume that he meant "mauna ako," as in "mauna ako to kill them," instead of them raping the woman. You know why that's still problematic? Because the only reason he felt that was because "tangina, parang artista na America na maganda. Putangina, sayang ito."
Essentially, the woman had value solely because she was hot. That's the same kind of objectifying reduction used to ask Leni Robredo to be Digong's "Assistant President," because she's "pretty." The mere fact he used "ito" instead of "siya" should tip you off right there: Jacqueline Hamill was turned into an object of fantasy. Someone who could have been rescued as a damsel in distress instead of an erstwhile living, breathing human being.
That's not how "real men" speak. That's how DOM speak. Get it right.
1. Robin Hames Merrill
Robin is Jacqueline's co-missionary. If anyone should be upset that her sister in Christ was turned into a punchline for a rape joke, or at the very best case scenario, objectified, it would be Robin.
Tell her she's wrong and she's being overactive. Tell her she just "doesn't get" Duterte. Tell her it's all just a silly joke. Go ahead.
Or, we could stop being patently blind and open our eyes that Digong's warts have become deal breakers to some, and you cannot deny their right to feel that way, because there is no justifying what Digong said in that video.