HBO's Euphoria took the Internet by storm so much so that even those who don't watch it are updated with the show's happenings. High school characters experience deeper degrees of growing pains — friendship betrayals, drug and alcohol addiction, mental health issues. People love Euphoria for its honest portrayal of life. Except for maybe the fact that these are high school students who always dress like they're runway-ready. The show just wrapped up Season 2 and is preparing for its third season to be released in 2024.
And because Filipinos are looking to fill the Euphoria-shaped hole in their chests while waiting for Season 3, some are recommending Tagalog teleserye counterparts. Really? There's a Tagalog equivalent to a show that's so scandalous you definitely won't want to watch it with your parents? Only one way to find out! If you need another show to focus on to forget Euphoria, these Tagalog shows might just do the trick. After all, #SupportLocal!
Tween Hearts (2010)
Starring: Barbie Forteza, Joshua Dionisio, Bea Binene, Jake Vargas
Similarity/ies to Euphoria: Features a bunch of teenagers navigating the hormonal and emotional waters of their tween years.
Let's start with a banger: Tween Hearts. Granted, these Pinoy kids can't fully express themselves in full-blown make-up with OOTDs that reveal as much skin as possible (Filipino teachers will faint from shock when you so much as show your knees and upper arms), but the dilemmas are the same. Or at least if you squint. Someone falls in love with someone, a character gets hurt, bardagulan ensues. Minus the drug problem and mental health issues Tween Hearts could rival Euphoria any day. Zendaya who? We only know Barbie Forteza.
The Legal Wife (2014)
Starring: Angel Locsin, Maja Salvador, Jericho Rosales
Similarity/ies to Euphoria: Betrayal of friendship and girls taking it out on each other instead of holding the dude responsible. Seriously.
Maddy and Cassie are shaking from Angel and Maja's famous showdown in The Legal Wife. The show might not focus on misguided high schoolers but they've sure got other aspects down pat. It follows two best friends who fall in love with one guy. The teleserye's best moment, the bardagulan between Angel and Maja's character, has Maja saying the line "Akin si Adrian! Akin siya! Akin siya!" sounds a lot like Cassie's "I am in love with Nate Jacobs and he is in love with me… You guys can judge me all you want but I do not care! I have never ever been happier!"
Enjoy this famous clip:
Daisy Siete (2003)
Starring: Sexbomb Girls (2m2m)
Similarity/ies to Euphoria: Women sticking up for each other. And also everyone's sexy.
There are layers to every Daisy Siete episode. The anthology series featured the Sexbomb Dancers portraying women struggling and overcoming various issues in life only fellow women will understand. There are episodes on sexual assault, feminism, reaching your dreams, and strengthening friendships. Of course, since it's a Pinoy teleserye, you can't miss the frequent sabunutan, sampalan, and pushing people into the mud. Reminiscent of Euphoria's Season 2 ender. Daisy Siete even one-ups the HBO show with its whopping 26 seasons. Heck, they even beat Grey's Anatomy on that front.
Gimik (1996)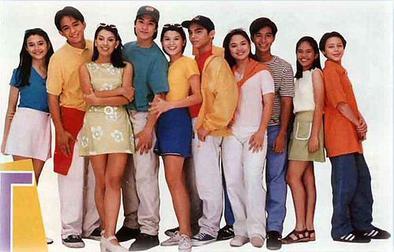 Starring: Judy Ann Santos, Rico Yan, Patrick Garcia, Jolina Magdangal, and more!
Similarity/ies to Euphoria: One heck of a good looking cast
If they made Euphoria in the late 90s, it's probably going to be as innocent and conservative as Gimik. In this show, a handful of adolescents explore what it means to live, laugh, and love. Minus the addiction and depression. This star-studded oldie but goodie youth-oriented show is cemented in the hearts of many Filipinos for its relatable stories. If Tiktok was a thing in 1996, Jolina Magdangal's lines would be all over your feed just like Maddy's (Alexa Demie). Your timeline will be thirsting for Patrick Garcia and Rico Yan not Nate (Jacob Elordi). Ultra Bonus Point: It's safe to watch in the living room with your parents.
Teen Gen (2012)
[credits to="IMDb" url="https://www.imdb.com/title/tt3038496/"]
Starring: Angelu de Leon, Bobby Andrews, Dianne Hernandez, Juancho Trivino
Similarity/ies to Euphoria: Actors from both casts were nominated as "outstanding performers." Teen Gen Actors Mikoy Morales, Jeric Gonzales, and Thea Tolentino were nominated as Outstanding Breakthrough Performance by an Actor/Actress at the Golden Screen Award. While they didn't win, Zendaya did. She won a Primetime Emmy Award for Outstanding Lead Actress in a Drama Series for Euphoria.
This GMA show is described as a serye where "a group of young people makes the journey from adolescence to adulthood." It's bright, fun, and innocent. The worst conflict you could probably get from here is light jealousy and "betrayals" that wouldn't make Cassie (Sydney Sweeney) bat an eye. Teen Gen will fill the Euphoria-shaped hole in your heart with wholesome content that will distract you from the worries of life. That is, if you could keep watching.
He's Into Her (2021)
Who's excited for He's Into Her Season 2?🤩#HIH2FirstTapingDay #HesIntoHer #HesIntoHerSeason2 @HesIntoHerTV pic.twitter.com/FhWOHiJgkt

— Kapamilya Online (@ABSCBNonline_) February 5, 2022
Starring: Donny Pangilinan, Belle Mariano
Similarity/ies to Euphoria: Set in high school; both shows are being renewed for another season
You might be thinking He's Into Her and Euphoria are like opposite sides of a magnet but you're wrong. They're similar. They're both set in high school and have characters with personal problems they have to overcome. Belle Mariano might not dress like Maddy or Cassie and Donny Pangilinan might not be as coldhearted as Nate but they're all flawed humans. And since fans of the show are clamoring for more, He's Into Her is continuing for a second season, just like Euphoria is working on its third. Similarities abound!
Ika-6 na Utos (2016)
Starring: Sunshine Dizon, Ryza Cenon, Gabby Concepcion
Similarity/ies to Euphoria: There's a woman who will stop at nothing to be with the man she loves.
The suspense, drama, passion, and everything else in between reminded the Internet of the similarities between Euphoria and the hit GMA series Ika-6 na Utos. Both shows just make you want to chuck your midnight snack at the screen and tell those ladies that they could find a better man elsewhere. Ika-6 Na Utos did drag for 383 episodes to Euphoria's 17 which meant whatever adrenaline the creators tried to sustain drained the heck out of the viewers.
Gen Z (2021)
Starring: Chienna Filomeno, Jerome Ponce, Ricci Rivero, Kent Gonzales

Similarity/ies to Euphoria: Gen Z kids and their Gen Z problems

We saved the best for last because this one is actually the closest Pinoy teleserye to Euphoria. Gen Z is a youth-oriented show that strays from the usual shallow plots and themes we're used to. It shines a light on Gen Z's struggles with relationships, mental health, stereotypes, and striving to make your dreams come true. Viewers might find similarities between them and each of the characters. If you're recovering from Euphoria and you want the lighter version, go for Gen Z. 

Check us out on Facebook, Instagram, Twitter, and YouTube, and be the first to know about the latest news and coolest trends!