8 Eye-Catching Billboards Along EDSA (For The Wrong Reasons)
By Luanne Arevalo

When you're among the many Filipinos who ply EDSA on a daily basis, the billboards that fester the road become your source of entertainment once you've gone through all the updates on your social media accounts. We have to admit: advertisers are getting more and more creative with how they try to attract the attention of their audience. Many of them are eye-catching—but some of them, sadly, for the wrong reasons.
Here are some with that may need to be brought back to the drawing board.
BELO MEDICAL GROUP
"Don't get mad. Get beautiful." You'd have to be keeping tabs on showbiz happenings to know where this ad featuring Sunshine Dizon is coming from. Otherwise, you'd end up getting a different message. And hey, shoutout to all the fierce kontrabidas who are still fab even when they're mad.
SNOW CAPS GLUTATHIONE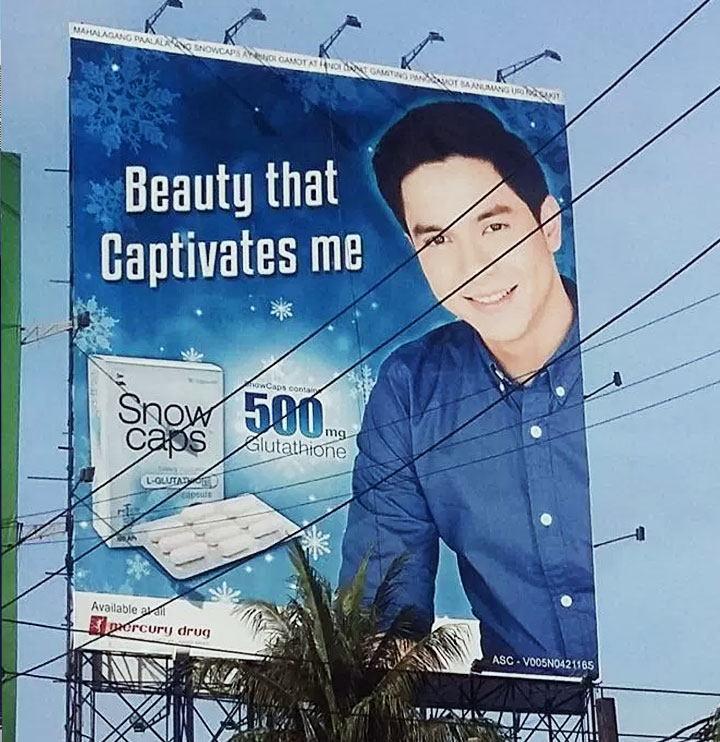 The billboard features everyone's fave bae looking so handsome that he's glowing. "Beauty that captivates me." Uhm, may we ask who the object of "beauty" is in the copy? Since there's no other person in there, are we saying Alden is beautiful? Sabagay, he IS a beautiful man…
KATINKO OINTMENT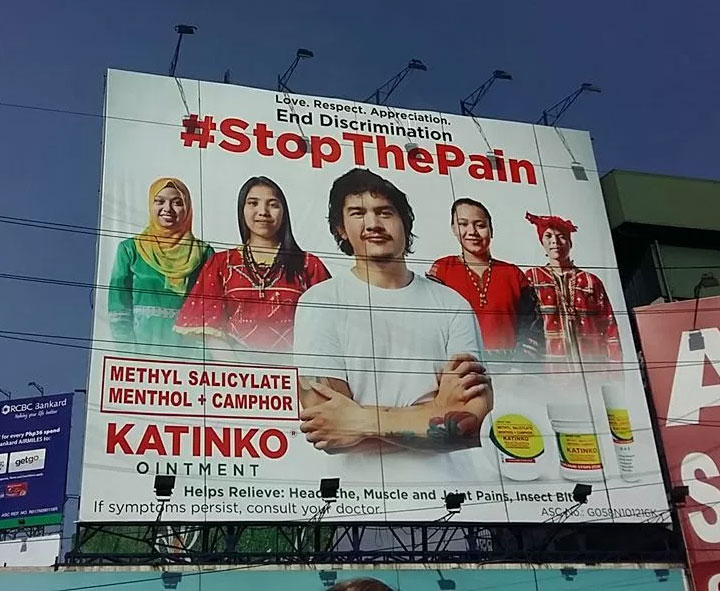 We'd love to laud the effort to promote "love, respect, and admiration," but this billboard is hella confusing man. Would we be able to stop the pain when we slather on Katinko to relieve our headaches and insect bites? And Baste Duterte is the perfect advocate, because?
#disconnect.
BENCH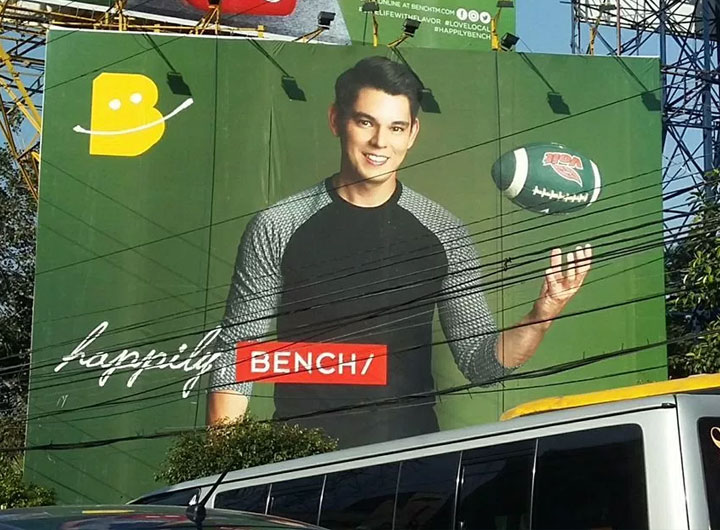 The popular brand is already bringing on the Christmas feels, but we wish they didn't slather on too much makeup on Richard Gutierrez. It's a little distracting. We mean, look at those lips…
AURA RUZ AESTHETIC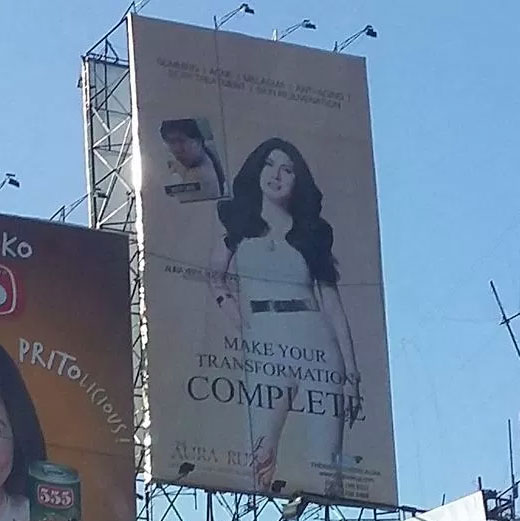 This billboard is a big "screw you" to all those songs and campaigns telling you to love yourself. Why go for simple self-improvement when you can literally transform yourself from that to THAT?
DIVAS LIVE IN MANILA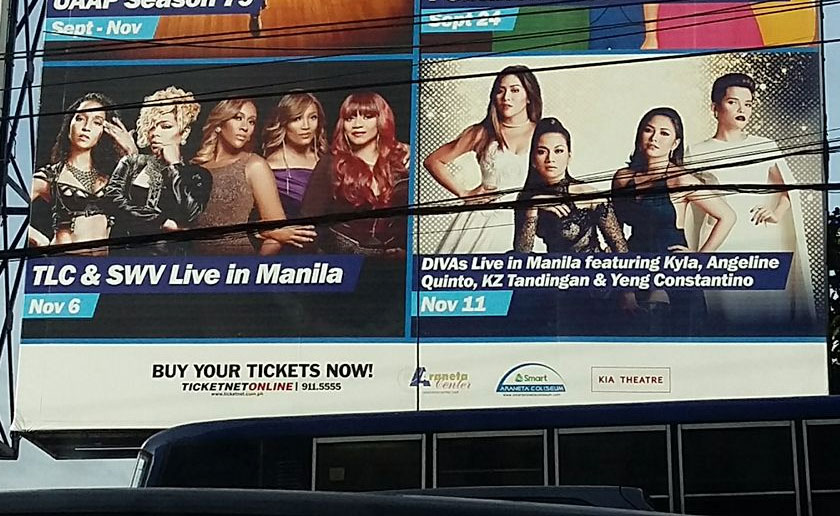 Kyla, Angeline Quinto, KZ Tandingan, and Yeng Constantino are all divas, yes. But we're pretty sure they've been based in the country all this time, and so we wonder what warranted the "Live in Manila" bit. Hiyang-hiya naman sa mga dumayo pang TLC and SWV.
ST. PETER'S CHAPEL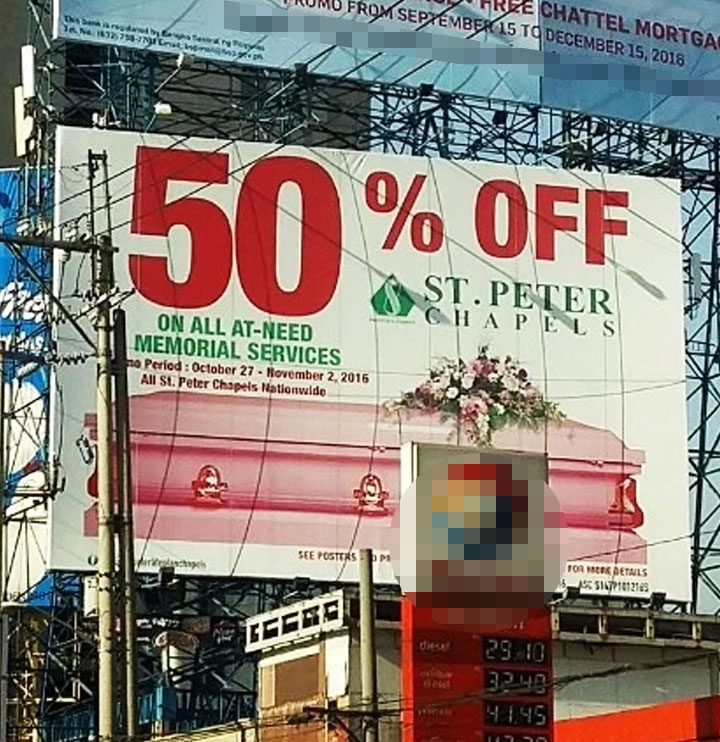 "50% off on all at-need memorial services," the ad promises, with a pink coffin to boot. And it's available for only a limited period of time! Are we supposed to hurry now? Keep it classy, guys.
CONTOURS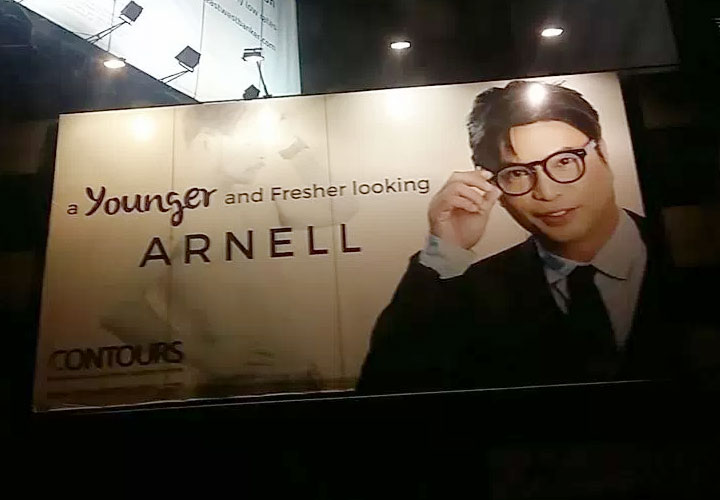 It was quite a challenge figuring out exactly what this billboard was trying to sell. Eyeglasses? Hair product? Or–gasp!–Arnell Ignacio himself? We can't help but think that, what with that half-naked photo in the background (You'd have to squint to see it), not to mention that caption.
Seen any other billboards that caught your attention for the wrong reasons? Tell us about them below!