It's not just the Care Emoji that's new with Facebook. They've recently revamped the design of their desktop version, and everyone's slowly getting Facebook's new update. Haven't seen it on your account yet? Here's what you can look forward to.
Mobile look on desktop

Facebook is starting to bring the updates from their mobile platform on the desktop version. This new update actually has a lot of changes inspired by the mobile version, the most obvious one being the icons at the top bar.
Easier to navigate


They kept the sidebars from Facebook Classic, which has always been helpful in navigating the site (especially if you know how to use it properly), but the new dashboards for Home, Friends, Watch, Marketplace, and Groups are designed to help you find what you're looking for much faster. If you want videos, you get a dashboard just for videos. Here to shop? Just go to Marketplace and you'll find all sorts of things curated just for you.
Bigger text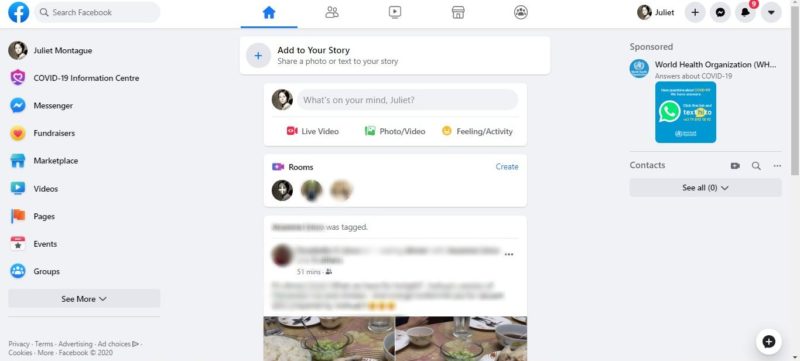 Think the old Facebook had such tiny text? Complained to their help center about it? Well, they heard you. So now the desktop version always feels like it's shouting at us. Not sure how we feel about this, but the Facebook moms are probably happy. We're just imagining seeing this on a bigger screen . . .
Cleaner look

If the old Facebook looked too crowded, the new Facebook has more breathing room for the eyes. While the font might be large, the design compensates with much needed space in between.
Dark mode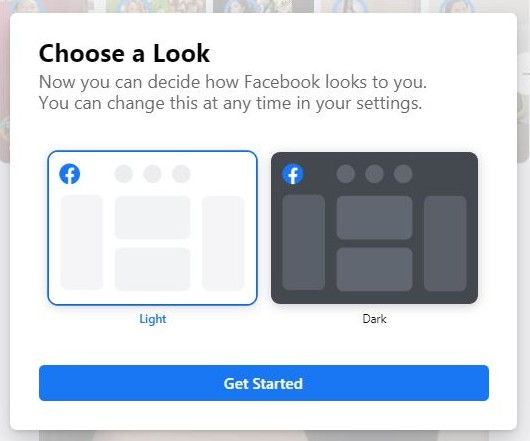 After nearly all mobile platforms adopted dark mode, everyone's looking for it on desktop, too. So Facebook is following suit. You can easily turn it on and off through that little triangle at the top bar. Because sometimes, the glare of your computer screen is just blinding.
Switch accounts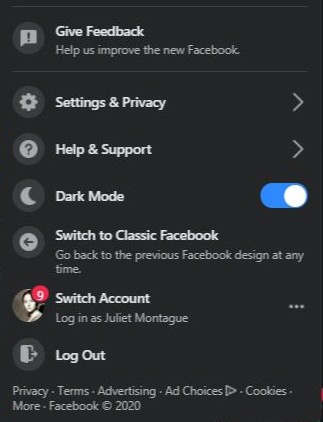 If you're handling multiple accounts — personal and business or whatever you need the extra accounts for — you've probably felt frustrated with how much you need to log in and out and in and out. Well, with this new update, you can go back and forth between accounts easily! Just click that "Switch Account" button when you're ready to go.
(And just make sure you don't leave your account details on any shared computer . . .)
Messenger Rooms

This couldn't have come at a better time. With the need for social distancing because of the ongoing worldwide health crisis, there's an increasing demand for video conference platforms, and of course, Facebook isn't going to let itself fall behind. Hence, the birth of Messenger Rooms.
With this feature, you can create a "room" where you can host free video calls and invite up to 50 people with no time limit (unlike Zoom's limited 40-minute session). You can control who sees your room by choosing who to invite or sharing a link to limited people. And as long as anyone has the link, they can join, even if they aren't your Facebook friend or they don't have Facebook or Messenger. And of course, you can "lock" your room, too, especially if you don't want new people to join, and no one can enter if you're not there. 
P.S. Facebook is bringing this feature to Instagram and WhatsApp, too!
Don't like it?

A lot of people don't like change. And many of them would probably frown at this update. So if you want to go back to the old classic design of Facebook, just click that little triangle drop down button at the top bar and select "Switch to Classic Facebook." Don't worry — you can still use Messenger Rooms even in classic. Just no dark mode, unfortunately.
So far, Facebook hasn't said anything about removing the old interface design completely, so if you don't like the new update, you can use classic Facebook for as long as you want.
What do you think of the new update? Are you excited to get it? Or would you prefer the old design? Tell us below!