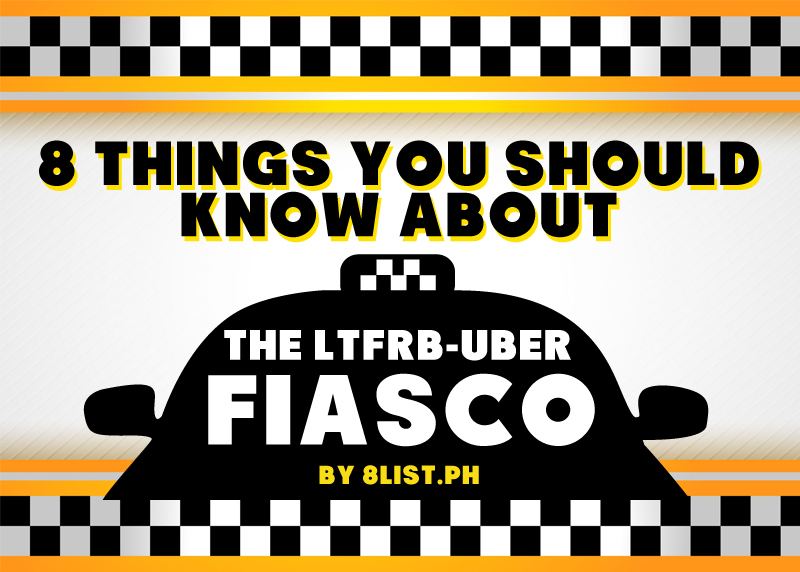 The "war" between the Land Transportation Franchising and Regulatory Board (LTFRB) and online vehicle servicing operator Uber has escalated quickly over the last week, starting a clamor among netizens on Facebook.
So what is really happening between these two and how are commuters affected and involved in it?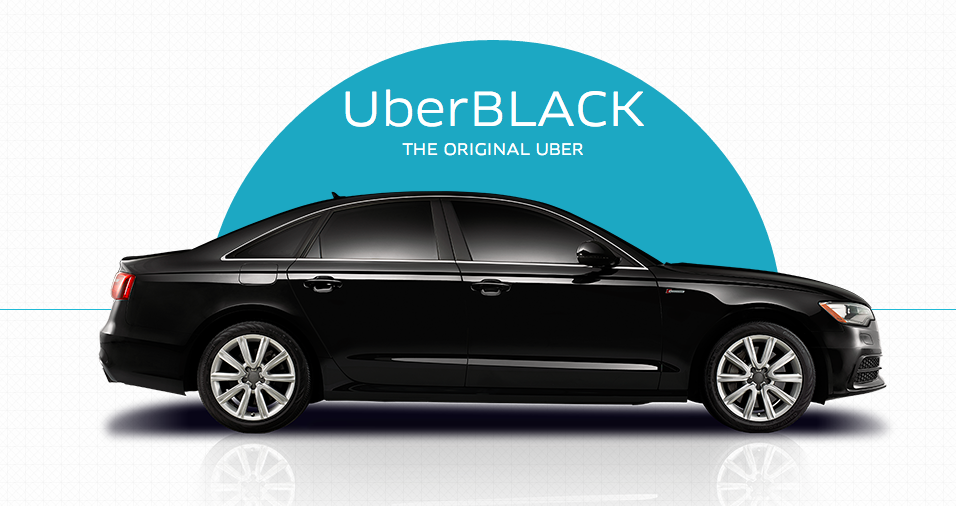 It was October last year when LTFRB started apprehending Uber-operated cars, along with cars associated with Tipid and GrabCar. An SUV was fined P200,000 because, according to LTFRB, it did not have the franchise to operate in public.
This raised Uber Philippines' attention and said that what LTFRB did was "unfairly done."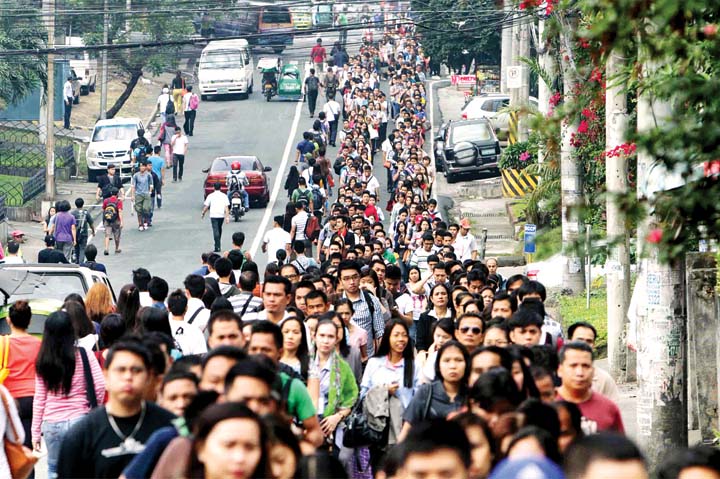 The power of social media prevails! Commuters expressed their anger on social media, saying that Uber is a harmless operation that helps them to go through their everyday commute better, faster and safer. Instead of picking on online vehicle servicing operations, why not go after menacing, abusive and defiant taxi drivers?
"Let's compromise." No, that's not a line from your favorite chick flick. That's what the Department of Transportation and Communications (DOTC) said to online vehicle servicing operators and added that they must "work together… for the benefit of the people."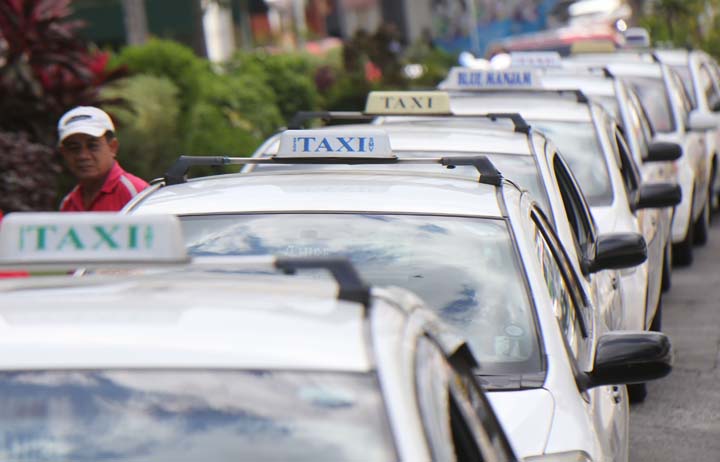 January this year, LTFRB announced that it will start accrediting pre-arranged taxi services used by Uber, Easy Taxi and GrabCar. These services will fall under the Transportation Network Vehicle Services (TNVS). TNVS will require all drivers of these online operated cars to get of their professional licenses and unlimited franchise permits from LTFRB's offices.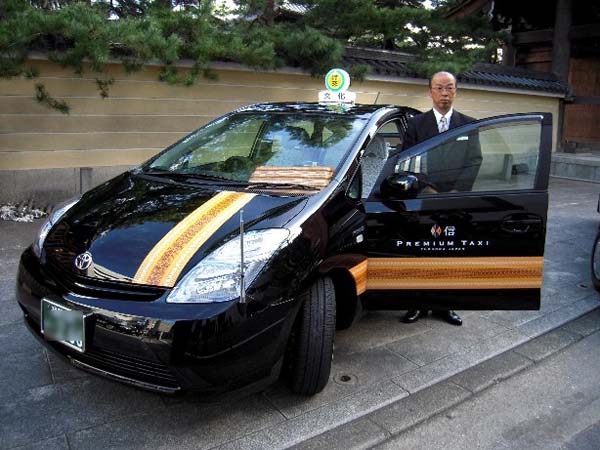 In March, LTFRB said that it will soon introduce a brand of transportation service that will compete with Uber, GrabCar, GrabTaxi, and EasyTaxi. This new service is called Premium Taxi, which will cost higher than other cab services. But wait, there's more. One month later, LTFRB announced more transportation services, Airport Bus and Bus Rapid Transit, to "ease traffic congestion, not kill the taxi industry."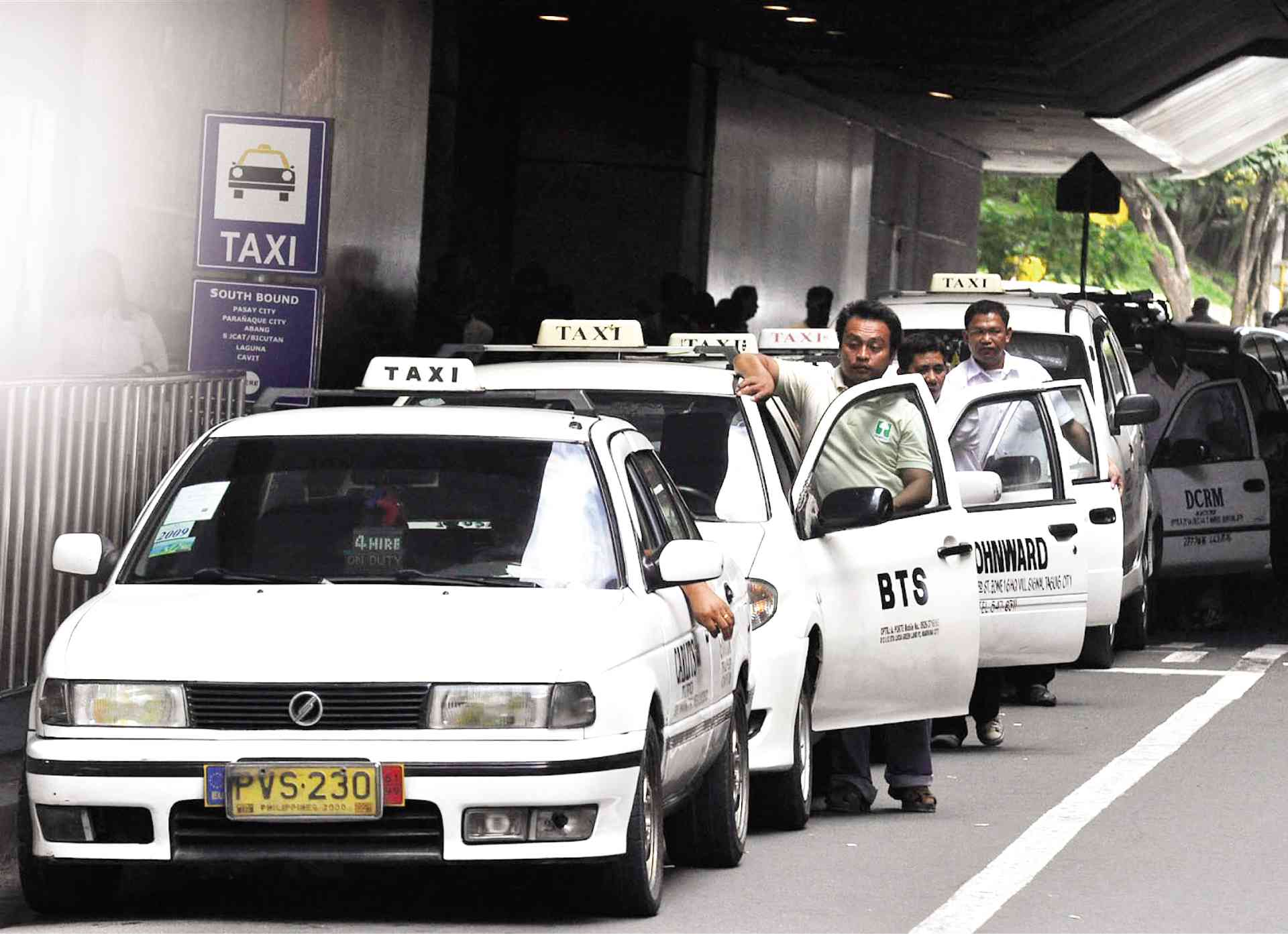 If they thought it was over, they thought wrong. Regular taxi operators claimed that it was unfair that online vehicle servicing operators were allowed by the government to roam the streets and look for passengers at the same time as two other transportation services (Airport Bus and Bus Rapid Transit) were also to be implemented.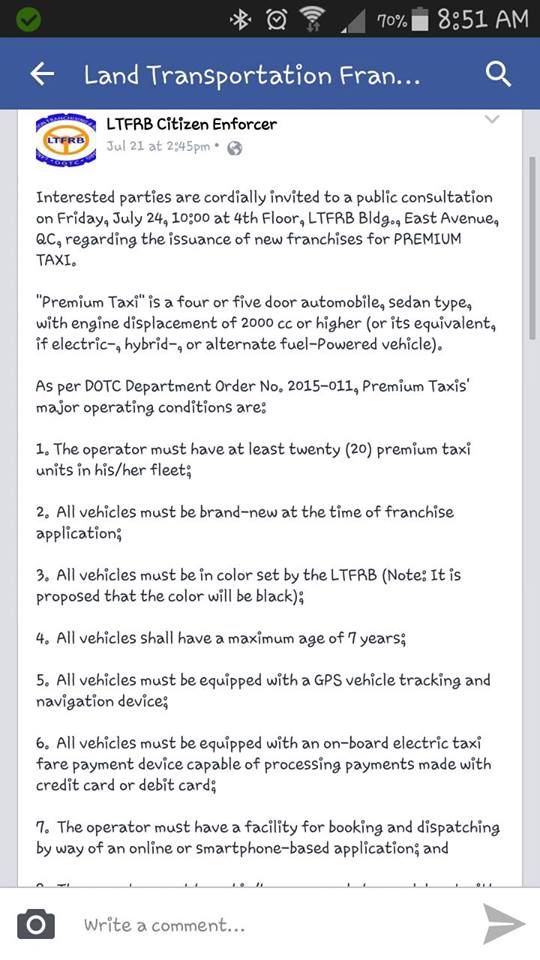 On July 21, the Citizen Enforcer Facebook page of LTFRB had a post looking for bidders for the Premium Taxi, which were supposed to be sedan type and with installed CCTV's inside the vehicles. LTFRB allegedly deleted the post when it started grabbing attention, but journalist James Deakin got the chance to take a screenshot and shared it online. This happened about the same time as LTFRB declared that it will start apprehending unregistered Uber-operated cabs (GrabCar has already completed its requirements) on August 21.

Posting again on Facebook, LTFRB denied allegations of its alleged ownership on Premium Taxi and dispelled rumors that it was going to use Premium Taxi to collect money. They added that it will still apprehend unregistered Uber-cars but their actions won't mean that they will put company out of business.
To back things up, LTFRB also linked an article from Top Gear that explains the whole thing. The article also includes a transcript of the conversation between journalist James Deakin and LTFRB's lawyer Yves Gonzalez about the viral FB screenshot which allegedly mislead citizens.  The agency's page since then has been posting updates by also linking its posts to its tweets . Uber, according to the post on LTFRB's wall, has agreed to complete its accreditation:
This feud will greatly affect commuters once the clampdown starts and possibly deny them of their preferred means of transportation. But everyone should also be vigilant and know all the sides to the story to be well-informed and updated.
Share your thoughts about this story by commenting below!