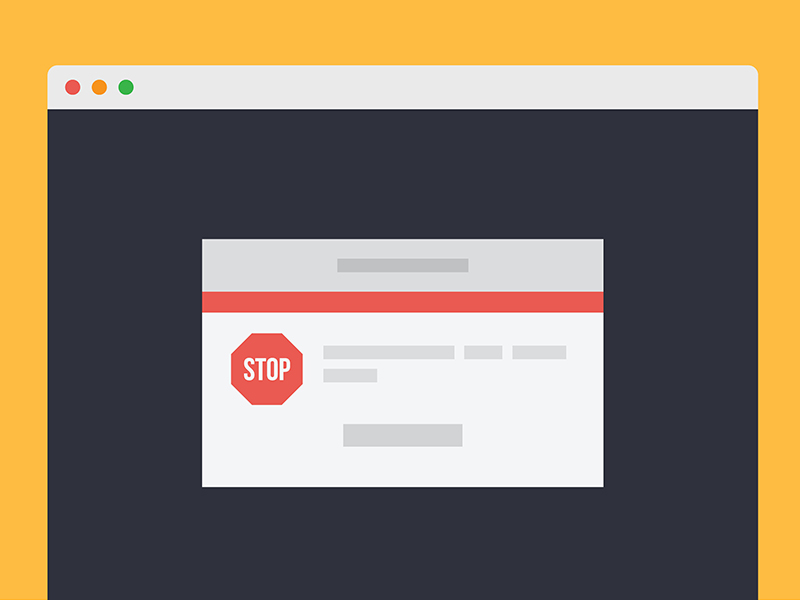 Fake News Websites You Should Be Wary About
By Baxter Jacinto

It seems that fake news website have been rampant these days, spreading propaganda and threatens to dumb down people more—worsening one's ability to distinguish facts and lies. It does not help that Facebook has fallen victim to the spreading and contribute to the virality of these sites, unable to distinguish real ones from fake. The Center for Media Freedom & Responsibility (CMFR) has pointed out red flags to assess if a website is possibly fake, that you can check out here.
Meanwhile, we've compiled a couple of fake news sites that you should be wary about. Again, think before you like and share!
8. Pinoy Trending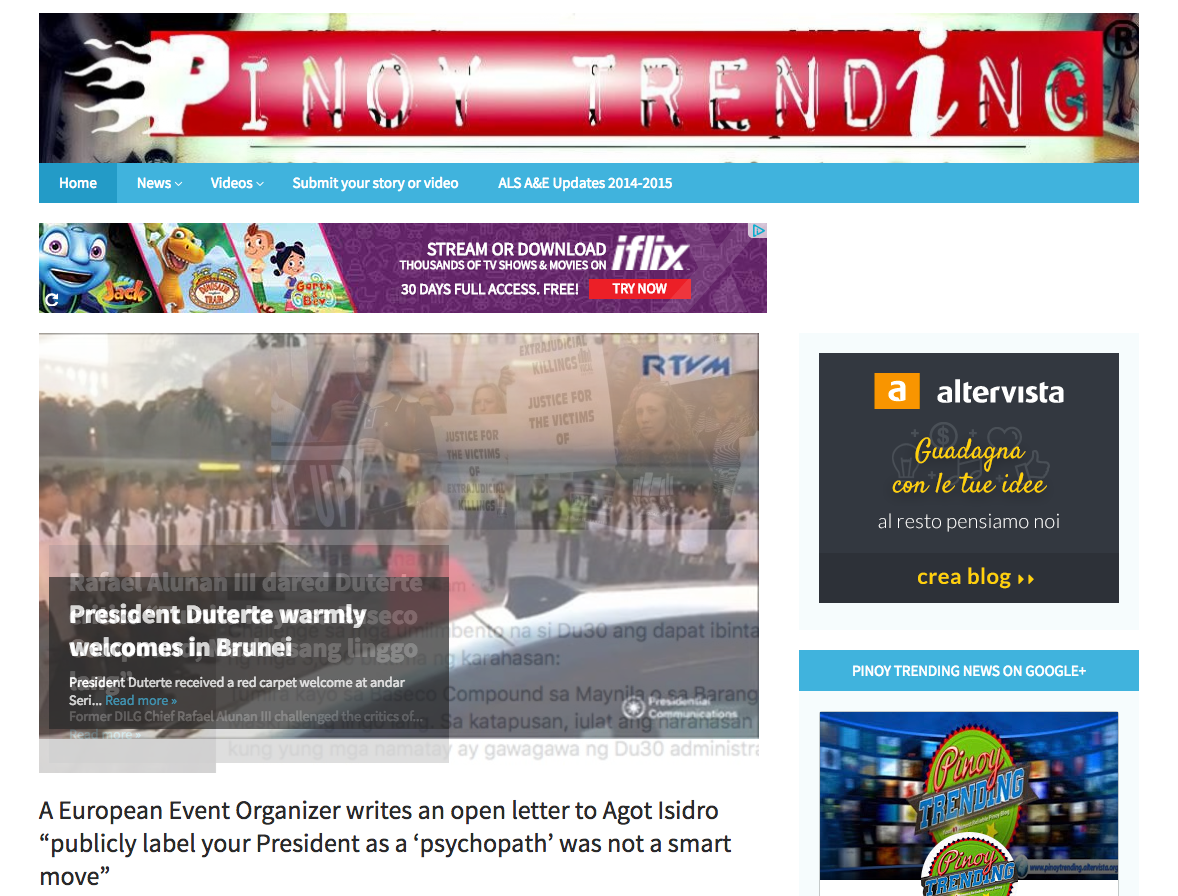 pinoytrending.altervista.org
It doesn't have an About Us and Contact Information and it openly accepts stories and videos without any editorial guidelines; and its disclaimer looks like it was copy-pasted from its host.
Notable Headline: "Can we Americans borrow him for a while?" President Duterte got a support from an American who lives in the Philippines
We can clearly see that there was no source attributed at all as to where the quote came from. Let's not fall for that.
7. XOLXOL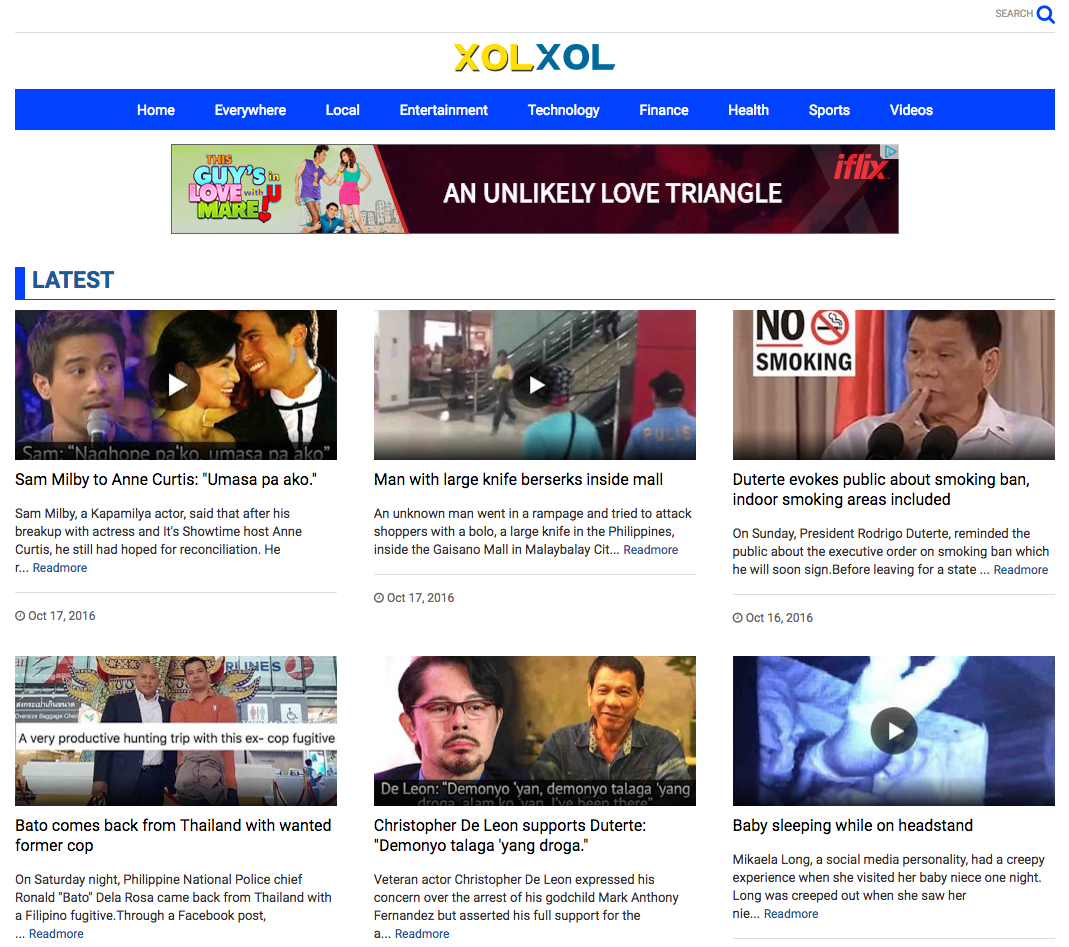 xolxol.ph
They point out in their About Us that "Xolxol.ph is not your typical tabloid or blog as we are not into formal writing," but in the next few sentences they contradict themselves and say "Expect to have some quality reads." So we expect to read quality news but it doesn't employ formal writing? How does that work?
Notable Headline: Japanese artist Ayumi Endo meets Duterte; donates P2 million
Yes, Ayumi Endo did indeed meet Duterte but where did the P2 million donations for the anti-illegal drug campaign come from? We scoured the internet for more information regarding said donation and only found other fake websites trumpeting the same headline.
6. News Trend PH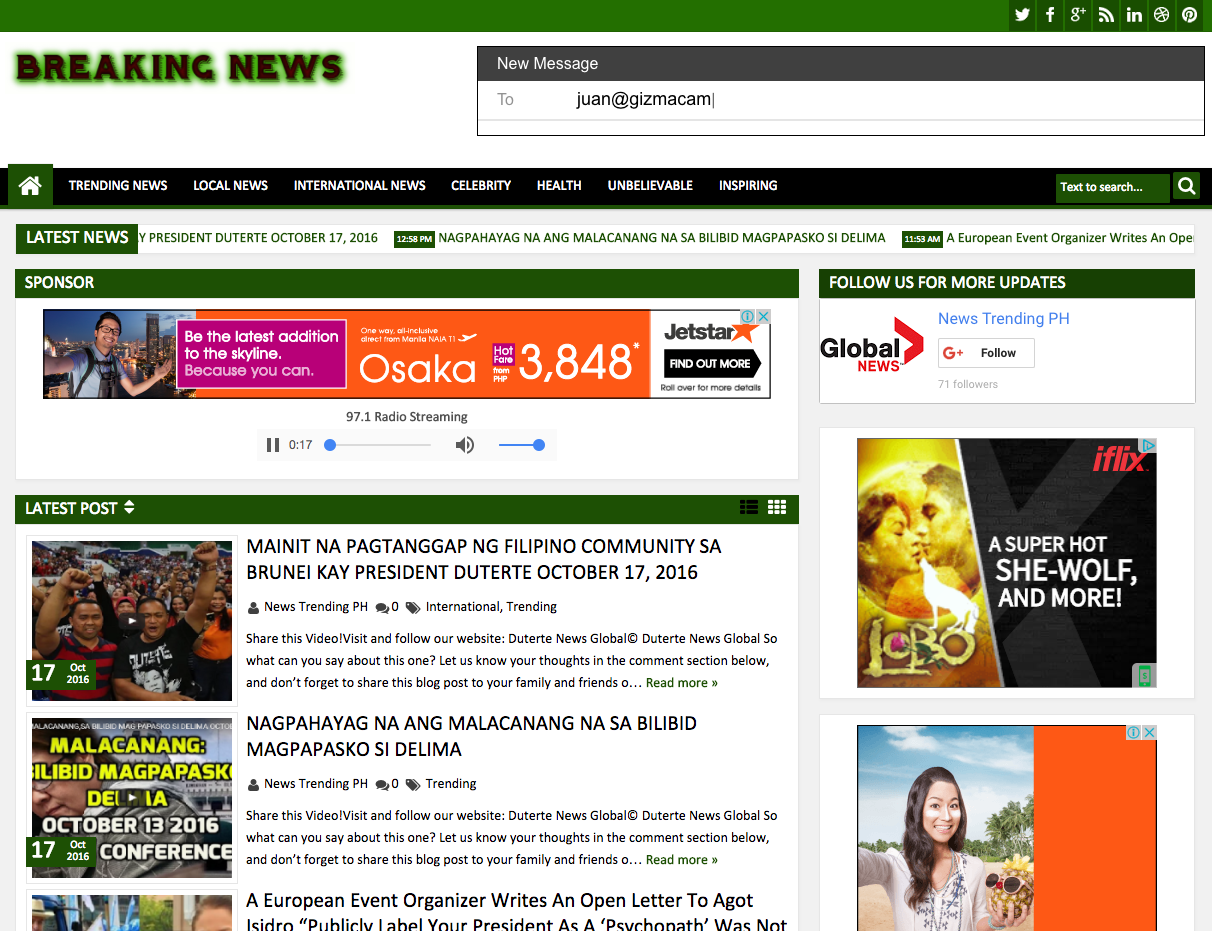 newstrendph.com
The site pushes the Duterte News Global Facebook page really hard. Should we trust a site that is, dare we say, biased?
Notable Headline: WARRANT OF ARREST kay Sen.De Lima at sa iba pa inilabas na mga pulis handa na para arestuhin sila ngayon."
What's interesting here is that its source leads to another site that has exactly the same template.
5. Pinoy World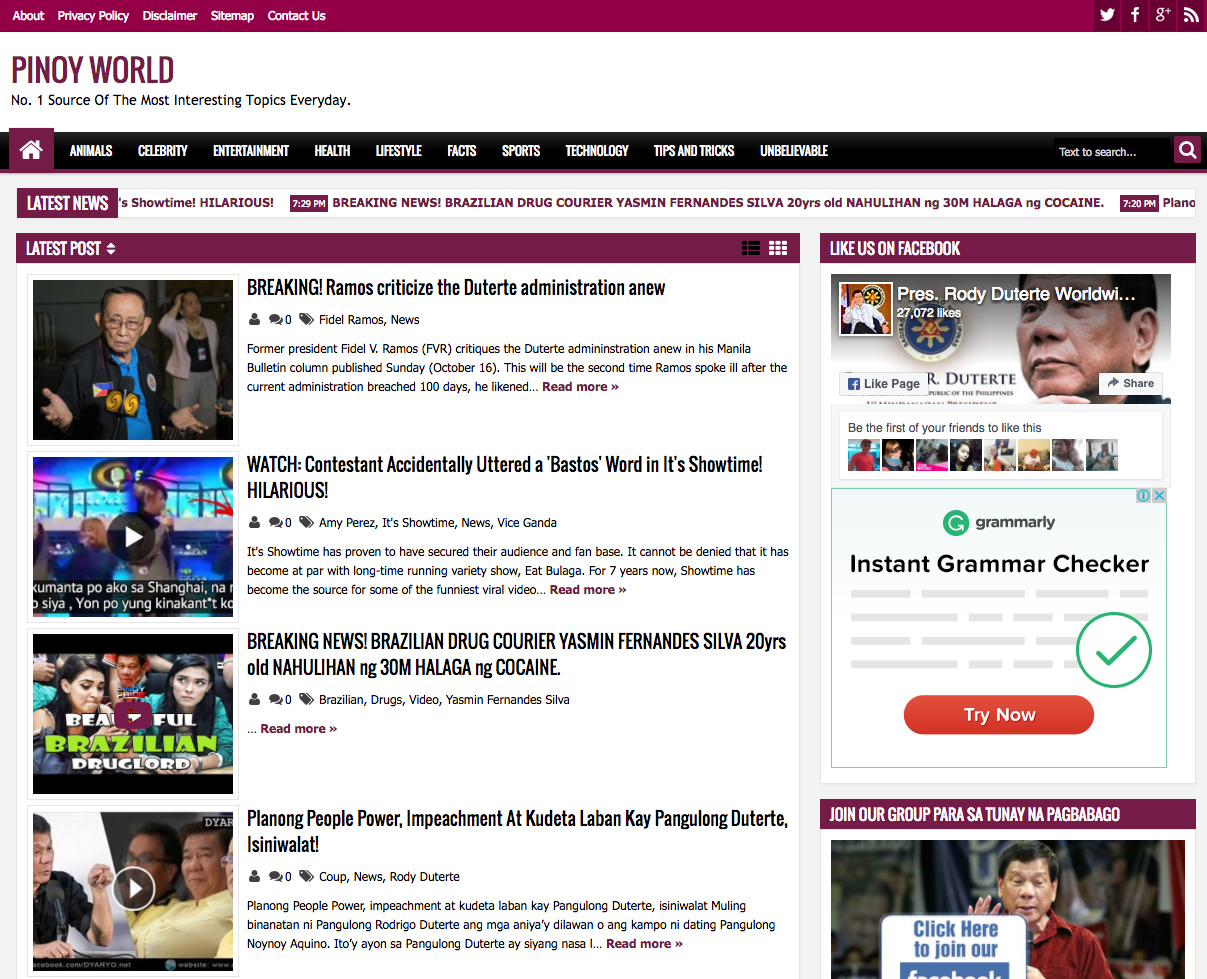 pinoyworld.net
Their About Us and Disclaimer are dead links, but its Facebook link leads to Pres. Rody Duterte Worldwide Supporters. I suppose everyone deserves the benefit of the doubt.
Notable Headline: ABS-CBN Might Reduce Agot Isidro Scenes at 'Ang Probinsyano' After Strong Demand from Social Media
Nowhere in the article do you see an official quote from ABS-CBN;  instead what we see are the shared sentiments of Duterte supporters.
4. FILIPNEWS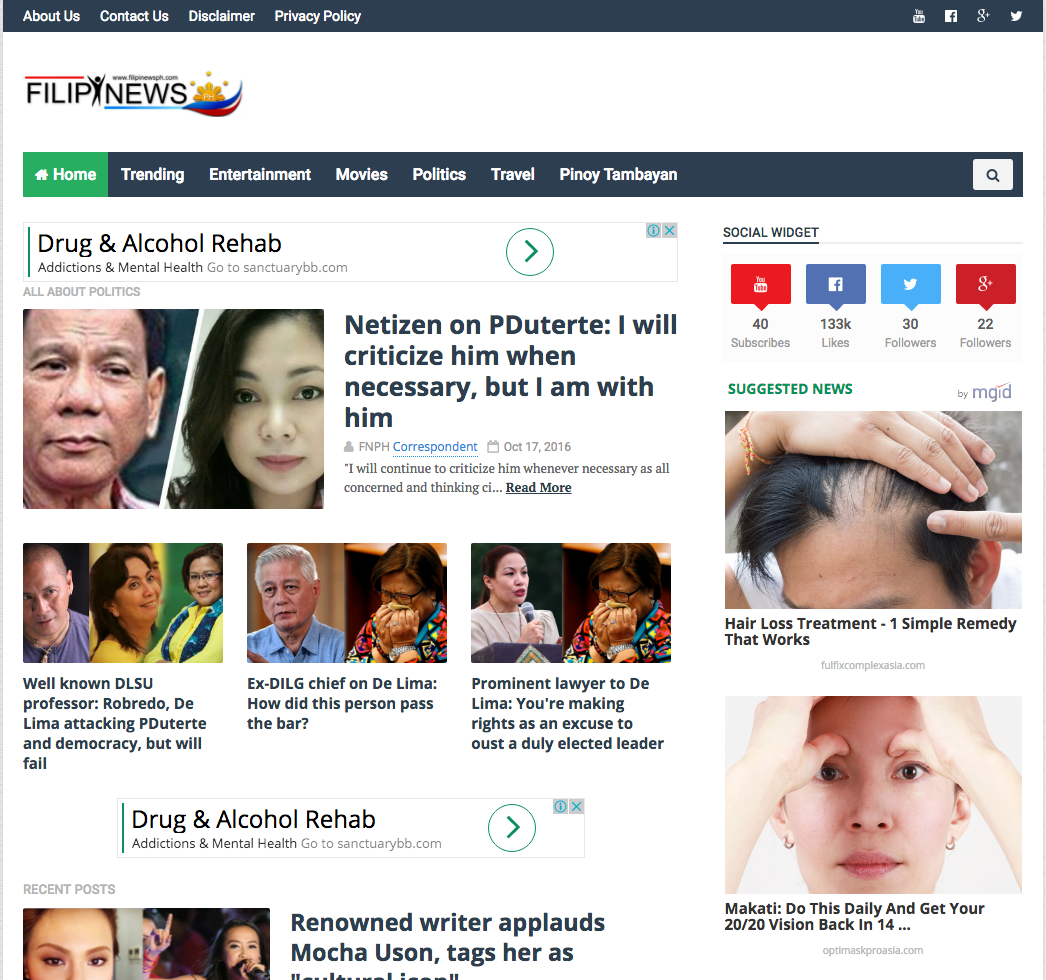 filipinewsph.com
Their Disclaimer says "all the information on this website is published in good faith and for general information purpose only." Now let's put that to test.
Notable Headline: DLSU professor slams Agot Isidro: You should be ashamed of yourself/
Political science professor lambasts Agot: I don't care if you are a best actress awardee
Filipnews is suggesting obviously that you should double post when you can't decide which headline is meaner to make a point. A certain Antonio Contreras supposedly accosted Isidro. But it amuses us somewhat how in the article they only put hyperlink on the first name Antonio, and leave out the most important part of the name Contreras.
3. Pinoy Trending News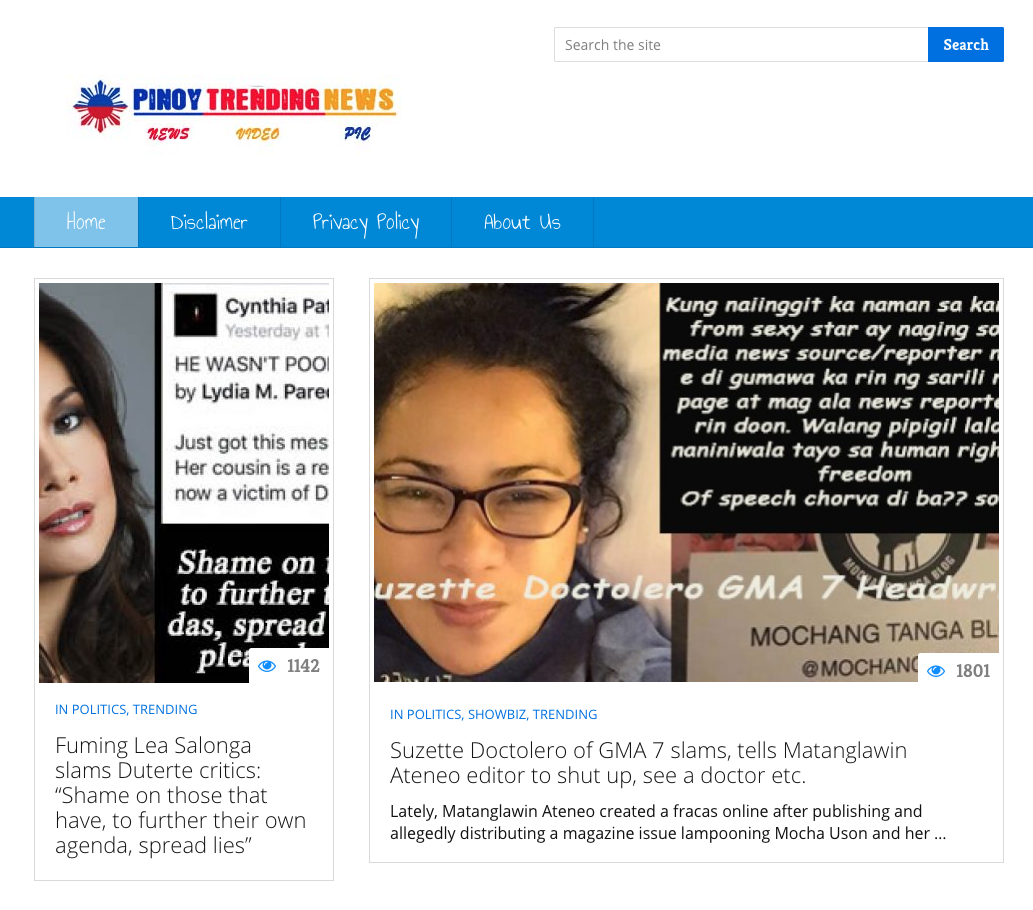 Now this site washes its hands in its Disclaimer, saying "we encourage you to obtain more information from as many sources as possible widely available online. Take note that no, only one source can provide you with all of the information you may need to become a competent individual."
Yes, we need more sources when writing. But from which sources exactly? Are Facebook posts okay? And we're not really sure what they mean when they say "no, only one source can provide you with all the information you may need to become a competent individual."
Notable Headline: Atty. Rivera blasts gay fashion blogger who wishes ill to the Philippines because he hates Duterte
So what was the purpose of pointing out that the fashion blogger was "gay" in your headline?
2. Pilipinas Online Updates
Just scanning their About Us and Disclaimer section already makes you cringe with how it contradicts itself. Their About Us section ends with "with so much content sharing happening everyday we want to assure you that all content that we share here everyday are real."
But let's jump into their Disclaimer section "makes no representations, warranties, or assurances as to the accuracy, currency, or completeness of the content contain on this website or any sites linked to this site."
So we're reading something real but not really? Wait what?
Notable Headline: Two Filipino Reporters falsifying information against Duterte face wrath online!
The author's opening line "I am no Duterte fanatic. I criticize him more scathingly than anyone when his mouth is out of line. But this time, Duterte really didn't say anything wrong." Hey man, no one's accusing you of a being a DU3 fanatic. Setting that aside, your source leads to a blog that looks like a diehard fanatic of… well you know who.
1. Kalye Pinoy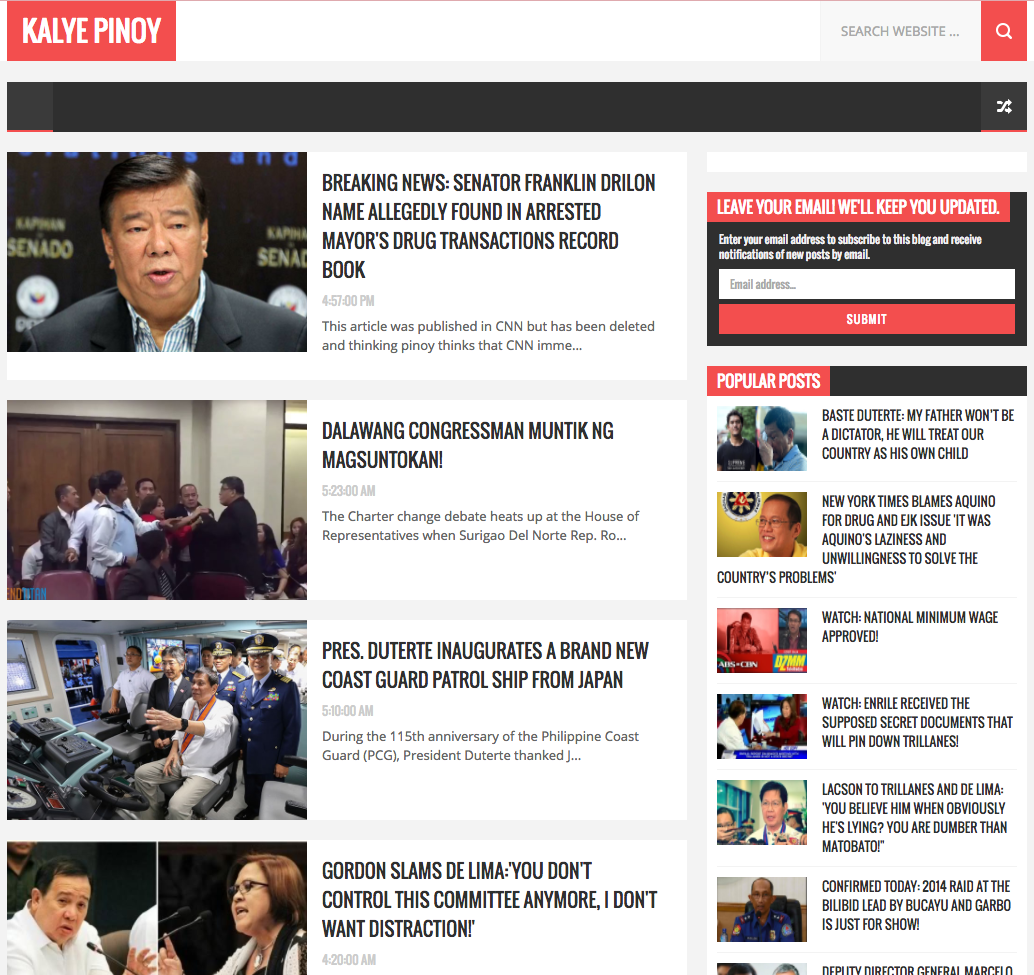 Navigating the site can be a pain in the ass with the multitude of pop-up ads that you have to go through before you can even go to an article. The content of its articles are very dogmatic, and yet in their disclaimer it says "KalyePinoy.com makes no representations, warranties, or assurances as to the accuracy, currency or completeness of the content contain on this website or any sites linked to this site." Oh, the irony. And where have we read that before?
Notable Headline: BASTE DUTERTE: MY FATHER WON'T BE A DICTATOR, HE WILL TREAT OUR COUNTRY AS HIS OWN CHILD
Now if you check its very source at the end of the paragraph it'll lead you to filipinewsph.com which is another fake news site. It spreads like the black plague and they have one common hero.
What other fake news sites should netizens be wary about? Share the links below!